Millard Ayo Voted 2018 Most Influential Young Tanzanian
Blogger & On Air Personality, Millard Ayo has been voted the 2018 Most Influential Young Tanzanian in the 2nd edition of the annual ranking poll by international rating firm, Avance Media.
Millard Ayo was nominated in the Media category whiles he amassed the endorsement from voters who participated in the 2018 polls of the 50 Most Influential Young Tanzanians.
Millard Ayo is the founder of AYO TV and Millardayo.com, Tanzania's most recognized, trusted and reliable digital media company with the biggest social media following and the largest online audience in Tanzania. Millard also works with Clouds FM Tanzania as on air personality.
The ranking which was launched in 2017 by Avance Media had footballer, Mbwana Samatta being voted the 2017 Most Influential Young Tanzanian.
Following keenly in the 2018 ranking are: last year's winner, Mbwana Samatta (Footballer), Jokate Mwegelo (District Commissioner), Faraja Nyalandu (Shule Direct) and Diamond Platnumz (Musician) who were voted among the top 5 most influential young Tanzanians.
District Commissioner for Kisarawe, Jokate Mwegelo who was nominated in the Law & Governance category also got the nod as the leading woman on the list crowning her feat as the 2017 Most Influential Young Tanzanian woman.
Sharing insights about the 2018 year's polls, Prince Akpah, MD of Avance Media mentioned; the ranking was instituted to highlight the works of young Tanzanians who are contributing in diverse ways towards the advancement of development in Tanzania and across Africa.
Avance Media also runs same initiative in Kenya, South Africa, Nigeria, DR Congo, Ghana & Cameroon in partnership with various organisations and is expected to release a global ranking in 2019.
Below are winners in the various categories:
Business – William Mshery – Vijana Think Tank
Entertainment – Diamond Platnumz – Musician
Law & Governance – Jokate Mwegelo – District Commissioner, Kisarawe
Leadership & Civil Society – Doris Mollel – Doris Mollel Foundation
Lifestyle – DJ Ommy Crazy
Media – Millard Ayo – Blogger & On Air Personality
Personal Development & Academia – Badru Juma Rajabu – Youth of United Nations Association of Tanzania
Science & Technology – Jumanne Mtambalike – Sahara Ventures
Social Entreprise & Philanthropy – Faraja Nyalandu – Shule Direct
Sports – Mbwana Samatta
Below is the list of Avance Media's 2018 50 Most Influential Young Tanzanians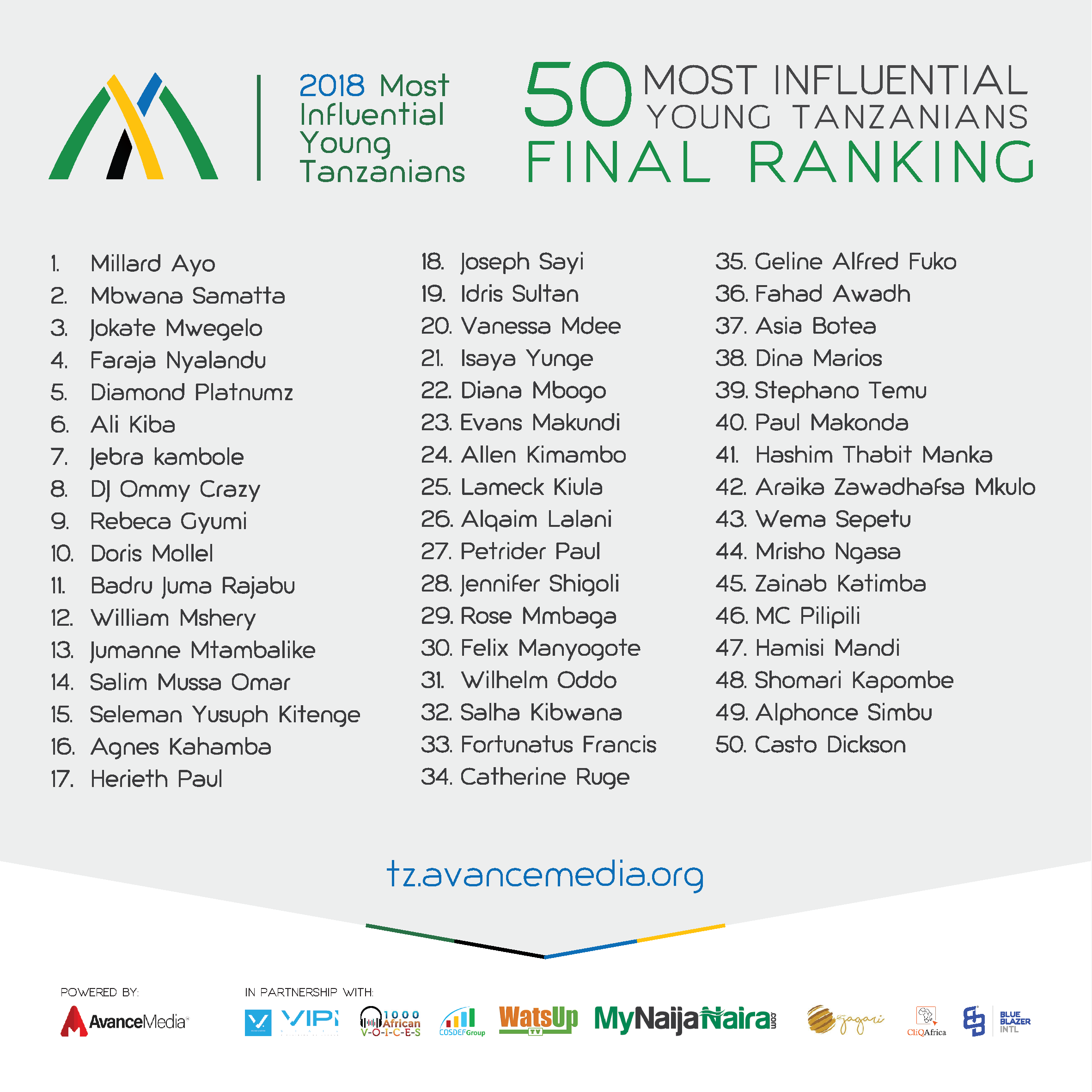 Millard Ayo (OAP)
Mbwana Samatta
Jokate Mwegelo (District Commissioner)
Faraja Nyalandu (Shule Direct)
Diamond Platnumz (Musician)
Ali Kiba (Musician)
Jebra kambole (Advocate)
DJ Ommy Crazy (DJ)
Rebeca Gyumi (Msichana Initiative)
Doris Mollel (Doris Mollel Foundation)
Badru Juma Rajabu (Youth of United Nations Association of Tanzania)
William Mshery (Vijana Think Tank)
Jumanne Mtambalike (Sahara Ventures)
Salim Mussa Omar (Green Light Foundation)
Seleman Yusuph Kitenge (African Network of Youth Policy Experts)
Agnes Kahamba (Tupaze Sauti Foundation)
Herieth Paul (Model)
Joseph Sayi (TV1/Kwese)
Idris Sultan (OAP)
Vanessa Mdee (Musician)
Isaya Yunge (Somaapps Technologies)
Diana Mbogo (Millennium Engineers Enterprise)
Evans Makundi (Evmak)
Allen Kimambo (Zaidi General Enterprises Limited)
Lameck Kiula (Jambo Bukoba)
Alqaim Lalani (Tumaini la Maisha)
Petrider Paul (Youth for Change Tanzania)
Jennifer Shigoli (Malkia Investments Company Limited)
Rose Mmbaga (World Merit Tanzania)
Felix Manyogote (Child in Action Foundation)
Wilhelm Oddo (Nlab)
Salha Kibwana (Her Africa)
Fortunatus Francis (Photographer)
Catherine Ruge (Member of Parliament)
Geline Alfred Fuko (Tangible Innitiative for Local Development Tanzania)
Fahad Awadh (YYTZ Agro Processing)
Asia Botea (Botea Designs)
Dina Marios (OAP)
Stephano Temu (Vlogger)
Paul Makonda (Regional Commissioner)
Hashim Thabit Manka
Araika Zawadhafsa Mkulo (Safe Space)
Wema Sepetu (Actress)
Mrisho Ngasa
Zainab Katimba (Member of Parliament)
MC Pilipili (Comedia)
Hamisi Mandi (OAP)
Shomari Kapombe
Alphonce Simbu
Casto Dickson (OAP)
The 2018 50 Most Influential Young Tanzanians ranking was conducted by Avance Media in partnership with Blue Blazer International, VIPI State, Jagari Designs, COSDEF Group, 1000 African Voices, CliqAfrica, WatsUp TV, & MyNaijaNaira.com
For More information kindly visit tz.avancemedia.org or email md@avancemedia.org, +233242307379