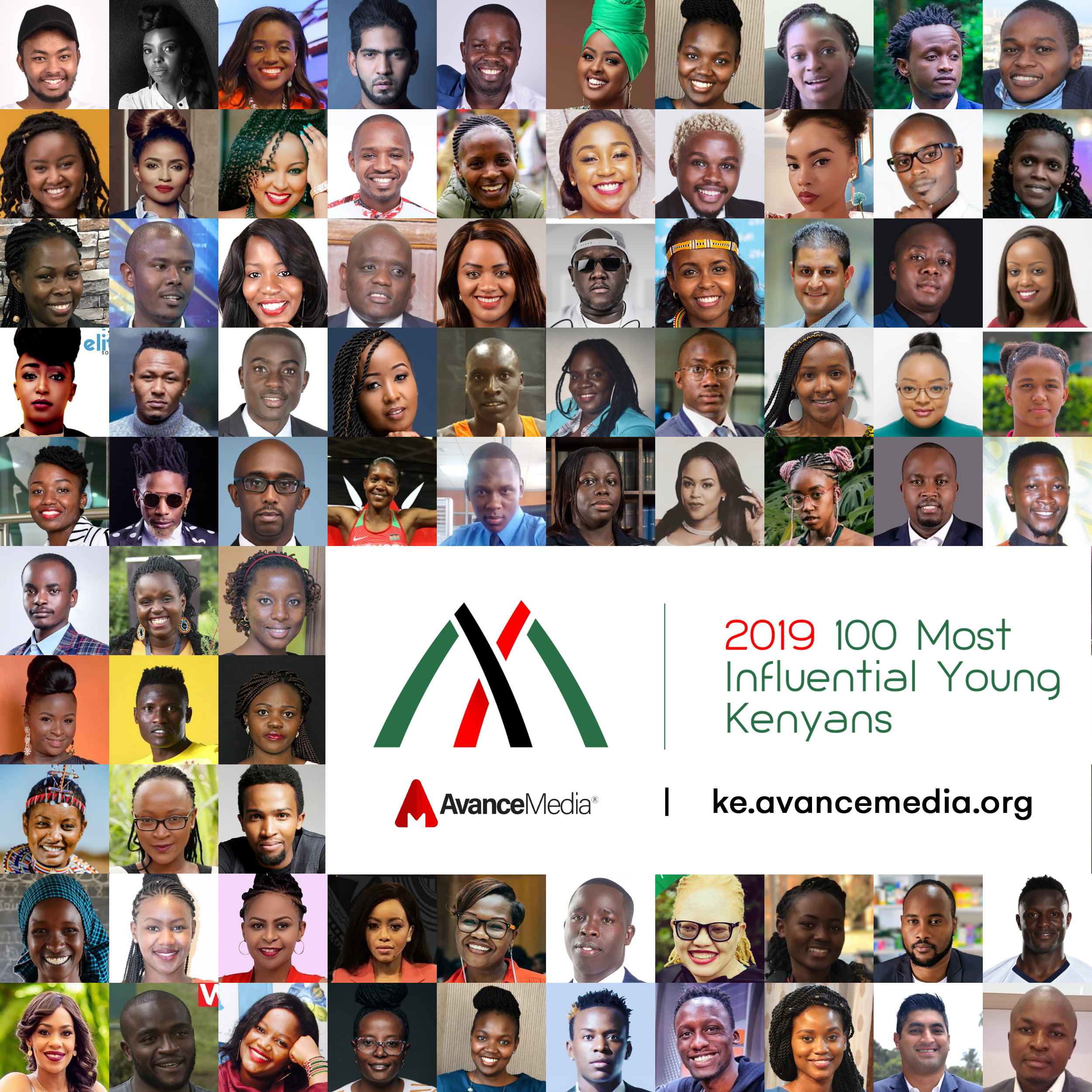 24 Jan

Profiles: 100 Most Influential Young Kenyans

The most anticipated annual list of young Kenyans, 100 Most Influential Young Kenyans, which is curated by leading PR & Rating firm, Avance Media, has been released.

Currently in its third edition, the annual ranking by Avance Media has helped highlight the works of young Kenyans across the world and has seen notable personalities such Daniel "Churchill" Ndambuki (2016) and Darshan Chandaria (2018) voted as the Most Influential Young Kenyans in the previous years.

The 2019 list features a record of 56 females and 44 males according to Prince Akpah, MD of Avance Media. He further cited that, "the list serves as an encouragement to young Kenyans who are accomplished in their industries and continue to build a distinguished brand for themselves and influence over others. This list also urges those honoured to continue striving harder so their stories can inspire other young people to also contribute their quota to the development of Kenya and the continent of Africa."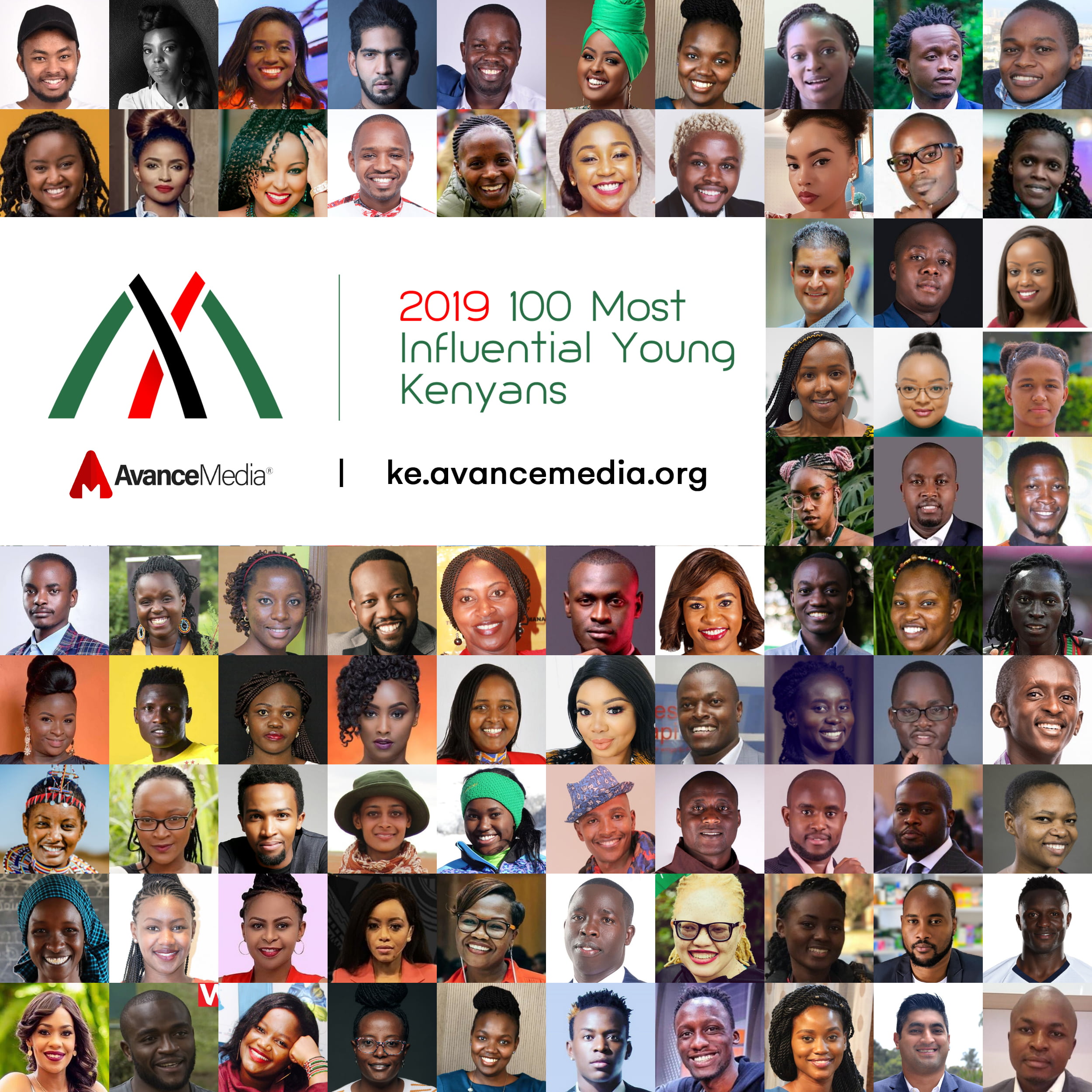 Honourees cut across diverse sectors with these inspiring young change-makers and leaders making great strides as entrepreneurs, musicians, activists, media personalities, social entrepreneurs, public servants and politicians.
Public voting has been opened via ke.avancemedia.org for the public to decide who among the 100 honourees served as the most influential young person in 2019.
Avance Media is also spearheading related annual rankings for Ghana, Nigeria, Tanzania and South Africa.
Below is the list of nominees arranged in their respective categories:
BUSINESS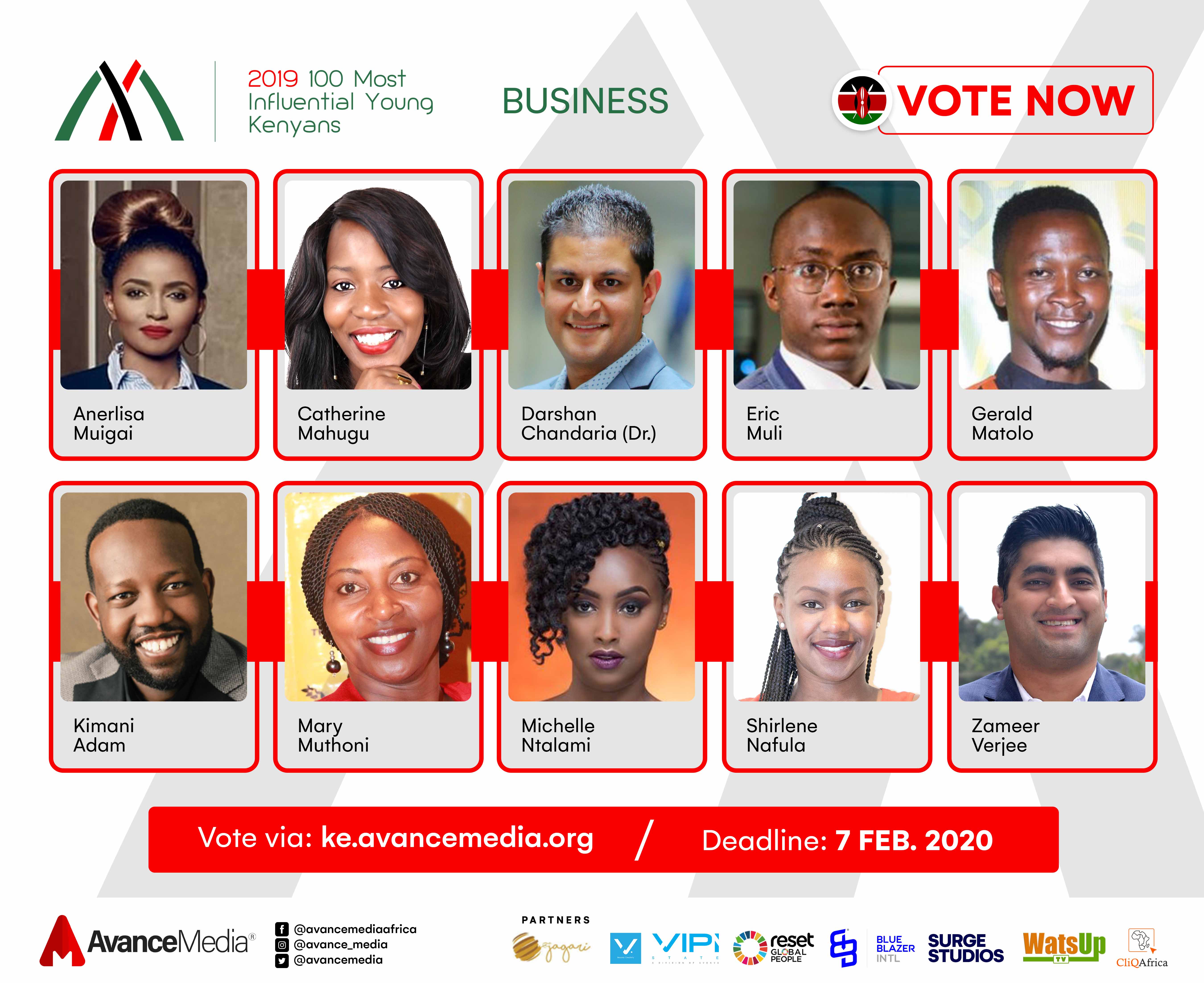 Anerlisa Muigai [CEO, Nero]: Anerlisa Muigai is a Kenyan entrepreneur, the founder and Chief Executive Officer of NERO a company that produces Executive drinking mineral water.
She was introduced to the world of business at an early age. In 2013 she decided to go all out on her own in an industry somewhat similar but very much unlike that chosen by her mother. Inspired by the growth and expansion of the beverages industry, she started her own company, NERO.
NERO is a local Kenyan creative brand company, focused solely on the design, production and distribution of quality high-end products for the sophisticated customer. With a carefully combined selection of imagination, resource and research, NERO has recently launched its premier product: Executive Still Water.
Catherine Mahugu [CEO, Chiswara]: Catherine Mahugu is a globally acclaimed entrepreneur. She is a software engineer by profession and changemaker by passion. Catherine is a certified human-centred design expert, a skill acquired at Stanford University.
Currently, she is the founder of Chiswara (www.chiswara.com) is an agri-tech venture that offers an equitable coffee experience for coffee farmers & consumers. Chiswara's online platform connects local coffee producers directly with global consumers. Partners committed to the company's growth and impact include Alibaba, UNCTAD, International Finance Corporation (IFC) and the Egyptian Ministry of Investment and International Cooperation (MIIC).
Catherine Mahugu is also the Founder of Soko (www.shopsoko.com). Soko is an ethical fashion brand and manufacturing platform that expands access to economic opportunity for artisans in emerging economies. Notable press that has featured Soko products include Vogue and Glamour magazine. Iconic women such as Michelle Obama, Lupita Nyong'o, Nicole Kidman, Oprah Winfrey and Emma Watson have been styled with Soko's jewellery.
As an award-winning entrepreneur, she has been invited to speak to tens of thousands of attendees by several organizations including the Economist, Alibaba, Financial Times and Harvard University. She has been featured by Forbes as a Top 30 Entrepreneur, Top 100 Female Founders by INC magazine & Top 100 Women by BBC. She has also been featured by CNN, CNBC, Vanity Fair, American Airlines in-flight magazine, South Africa Airways in-flight magazine, World Bank and other mainstream media. However, it is not these accolades that define her, but rather the impact that she has through her work.
Darshan Chandaria (Dr.) [Group CEO, Chandaria Industries]: Dr. Darshan Chandaria is the Group CEO and a Director of Chandaria Group. He holds an undergraduate Business Management degree from Cardiff University and is a fellow of the 2017 Senior Executive Program from Harvard Business School. In 2018, he was the youngest ever East African recipient of an Honorary Doctorate from United Graduate College & Seminary International, USA. 
Over the past 10 years, Darshan has built Chandaria Group into one of the largest and most diversified business groups in Africa. The group's operations include Tissue, Paper & Hygiene Products Manufacturing, Real Estate, Venture Capital, Insurance, Banking, Automobile Manufacturing, Mining, Flexible Packaging, and Solar Energy Generation and employs over 3,000 people across Kenya, Tanzania, Uganda, India, UAE and the United Kingdom. 
Darshan has built Chandaria Industries into the largest Tissue & Hygiene products manufacturer in East & Central Africa. He has an impressive list of Kenyan, African and international awards and recognitions.
Eric Muli [CEO, Odyssey Capital]: Eric Muli is the CEO of Odyssey Capital, the first and only company in East Africa that offers niche financing to low and middle-income earners. 
Eric is passionate about impact ventures and also very much interested in government policy and its implications on business and a country's economy. His goal is to play a major role in the fight against poverty in developing countries. 
Eric Muli attended Babson College where he majored in Economics and Marketing. As a Kenyan entrepreneur, Muli has developed a strong passion for community development and impact investing and participates in a variety of community uplifting projects in both Kenya and the United States. He is currently the president of Africa's first rating and review platform, Zabamba. He is hoping to launch a similar platform for college students in the United States.
Odyssey Capital is a non-deposit taking financial institution offering financial products and services on the African continent. 
Gerald Matolo [CEO, Angaza Africa Technologies]: Gerald Matolo is the Founder and CEO of Angaza Eco Technologies, a clean energy firm that is committed to a sustainable environment and achievement of zero waste. 
Professionally, he has worked for top energy generation companies such as Thika Diesel Combine Cycle Power Plant and at the Olkaria V geothermal power plant.
He has also consulted for multinationals such as the MasterCard Foundation and the National Youth Commission under the Ministry of Youth and Gender.
Aside from Angaza, Matolo spends his time running Startup Front. SF is a human development program that seeks to put an end to unemployment by equipping teenagers and university students with entrepreneurial skills that are required to start, run and grow sustainable ventures from an early age.
Matolo has grown up as a hands-on person, helping is mechanic father to fix cars at their home garage.
He is passionate about Africa: its beautiful environment, its vast resources and its magnificent people.
Kimani Adam [CEO, Nature Expeditions]: Kimani Adam is the CEO of Nature Expeditions, an award-winning global hospitality brand known in creating & executing life-changing bespoke luxury photographic safaris across Africa for close to 30 years.
His professionalism is centred on innovative & tangible holistic solutions, process value-adds + strategic execution capabilities to fast target realization in any project or organization that he is involved with. 
Mary Muthoni [President, Women in Business Community Network]: Mary Muthoni is the 1st Female Director (Women & Gender) at the Kenya National Chambers of Commerce & Industry (KNCCI) and the Founding & Executive Director of St-Petroc Premier School and Chairs its Board. She serves as the Chairperson Women In Business Kenya and Champions trade & gender inclusion in the private sector and public sector through the establishment of Women In Business Kenya (KNCCI-WIB).
Her contributions have received recognition from the Kenya Council of Governors making her the holder of the 2017 Devolution Warrior Award, due to her role in Promoting Women Empowerment in Delivery of Public Service particularly in championing women's access to Government Procurement Opportunities (AGPO).
Mary is the founder of the Women in Business Magazine, and the 1st ever Women in Business Awards Kenya. She sits in the Tobacco Control Board of Kenya and is a director in the African Women in Business Alliance. 
Michelle Ntalami [CEO, Marini Naturals]: Michelle Ntalami is the creative and entrepreneurial force behind Kenya's first organic hairline for Black women with natural hair, Marini Naturals.
Michelle Ntalami is a strategic brand and marketing expert with a wealth of branding and design knowledge.
Shirlene Nafula [Managing Director, Crystal River Products]: Shirlene Nafula is a 27-year-old multiple award winning Business Woman. She is the Founder and CEO of Crystal River Products Ltd; a Manufacturing company for bio-based beauty and hygiene products. Crystal River products are known for their excellent quality and affordability. CR also specializes in making gift packages for corporate and individuals on special occasions.
Shirlene has served as the Convener of Youth in Business, Kenya National Chambers of Commerce and Industry. She is also a co-founder for Centre for economic empowerment and development- CEED. She has also been a speaker on matters youth with regards to Africa Continental Free Trade Area.
Zameer Verjee [CEO, Studio A-Z]: Zameer is the founder and CEO of Zamco Holdings Limited (Studio A-Z) an interior design & fit-out firm based in Karen Nairobi.
Studio A-Z is an international award-winning firm and has completed hundreds of various projects. Which include, residential, commercial, cooperate & hospitality spaces. Studio A-Z has then grown into a firm that branched into build works/construction, and has also branched into complementary business such as lighting division.
His plans for Zamco Holdings is to branch into complementary services to design & architecture such as wall finishes, flooring, fixtures & fittings, new machinery, new software etc.
ENTERTAINMENT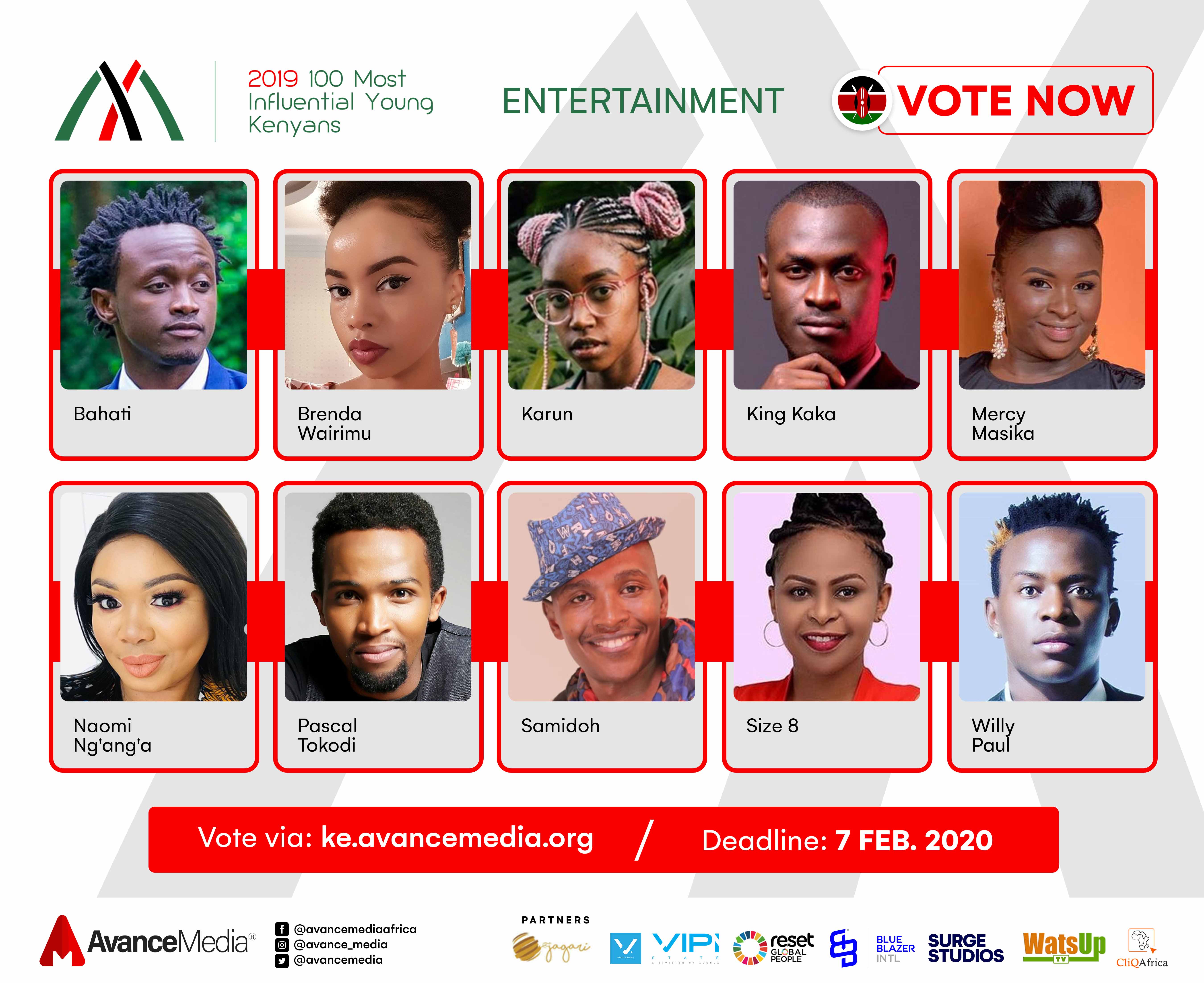 Bahati [Musician]: Bahati is a Kenyan gospel Musician.
Since his first breakthrough musically, Bahati started a project for disabled children in Komarock, Disabled Children Monitor (DCM) which has been set to help children with disabilities around the slums of Kayole.
Bahati has launched a music recording studio EMB RECORDS which is meant to promote music of his kind. Through this project, Bahati has promised to be launching new artists through EMB Records every year. 
Brenda Wairimu [Actress]: Brenda Wairimu is a Kenyan actress and model known for her role in the soap opera Mali. 
Brenda has appeared in several television series. In 2009, she made her debut to television when she was cast as one of the actresses in, Changing Times. She played Shareefah together with an ensemble cast of Nice Githinji and Ian Mugoya. In 2011, she was cast as one of the lead characters in Kenya's soap opera, Mali. She played Lulu a bubbly daughter of Gregory Mali and Mabel. She played alongside, Mkamzee Mwatela, Mumbi Maina and Daniel Peter. In 2012 she starred in Pan-African drama Shuga. 
Karun [Musician]: Karun Mungai is an alternative R&B musician based in Nairobi, Kenya. She is a Berklee College of Music alumni who is featured on the Forbes Africa Top 30 Under 30 list 2019 but is most known for being the former first lady of Nairobi's BET nominated hip hop group Camp Mulla.
Karun has most recently released hit R&B records like 'Roses', a feature with Ukweli of East African Wave, 'Make Believe' featuring the much sought after Blinky Bill, and 'Glow Up' a self-love anthem promoting body positivity and female camaraderie. 'Glow Up' is the first single off of her next project Dubbed 'The Glow EP' set to be released later this year.
Since embarking on her solo career, She has released 2 solo projects; Her Debut Album 'Sun & Moon' (2014) of which the song 'Interlude (Sun)' was featured in an episode of Fox TV's 'The Resident' (S02E12) and her 'INDIGO' EP (2016) of which the single "Need U the most" was premiered on the revered FADER Magazine.
King Kaka [Musician]: King Kaka born as Kennedy Tarriq Ombima in Eastlands Nairobi Kenya is a Kenyan HipHop artist.
A year after his high school completion, he signed a 2year recording contract with Sneed Music. Where he did the much-hyped album,'Tales Of Kaka Sungura' which had hits such as 'jam nakam, the much talked about Dodoma ft Harry Kimani, Dreams and Prodigal Son' and guest appearances such as Abbas, Chiwawa, Zakaa, Anto-neosoul, Oddinary and more. The album a different sound of Hip Hop fused with deep lyrics, story-based and a touch soul.
King Kaka is currently running several initiatives & organizations that deals with gender violence, child molestation, empowering the African child and mostly make people realize their dreams thus THE DREAMS CAMPAIGN and the TUBONGE INITIATIVE.
Mercy Masika [Musician]: Mercy Masika is a Kenyan award-winning gospel singer, songwriter and composer.
She is also a worship leader at Nairobi's Jubilee Christian Church and is involved in a variety of mentorship programs. 
Naomi Ng'ang'a [Actress]: Naomi Wambui Ng'ang'a is an actress and radio presenter. 
She made her debut in the entertainment industry for her role in high school drama, Tahidi High. The role in the drama became her breakthrough. In 2011, she was one of the main cast of television series, Demigods. In 2013, she was cast as one of the four protagonists in soap opera, Sumu la penzi. She played alongside Serah Ndanu, Avril Mwangi and Joyce Maina. In 2014 she played in the erotic drama film, Fundi-Mentals. From July 2015, she hosts in StarTimes Swahili talk show, Sema Nami. Apart from television professions, she is a radio presenter in One FM.
Pascal Tokodi [Actor]: Pascal Tokodi is a musician, actor, comedian and songwriter. He debuted as a professional actor in 2012 when he featured in Citizen TV's Makutano Junction gig, a few months after completing high school, taking the role of Thomas. He appeared on shows such as Groove Theory (Africa's first TV Musical drama), Pray and Prey, Machachari and Wrath and Selina (2018). His music debut was in 2016, with singles, "Sitaki" and "Mama".
In 2017, he released more songs and collaborations. Among them were Hii si Kwaheri ft friends of CEEL, Forget ft King Kaka (rapper)|, Milele ft King Kaka (rapper), Asante Mama ft Rapper Phill, African Lady and Songa.
In 2018, he featured in the Maisha Magic East's riveting Swahili Telenovela dubbed Selina, where he played Nelson
Samidoh [Musician]: Samuel Muchoki Ndirangu, better known as Samidoh is a Kikuyu musician, who has mastered the art of juggling his gun and guitar.
Samidoh joined the Kenya Administration Police in 2013 and his first operation was at Eastleigh-Nairobi after which he was posted to Mpeketoni in Lamu County. After serving in Coast Region, he was transferred to Daadb in Garissa County and it's from there that he launched his music career that has now blown up like a supernova.
His first song popularly known as "Ndiri Mutwe Mwega" which, as we speak, has amassed a mind-boggling 2.1 Million views on YouTube, a rare feat for a Kikuyu Benga. 
Two years since he launched his career, Samidoh's fame has spread like bush fire… As his fortunes have grown bigger and bigger.
With hits like Niwe Ndarathimiirwo (1.7m view) , Kairitu Gakwa(1.6m views) , Riari Itheru ( 1.1m views), Murata wa Ngai ( 1.3m views) and Wendo Wi Cama (2.5m views), the unostentatious star has cemented his name as the Prince of Mugithi, , pulling in hundreds of fans to a single show and creating a near-stampede in locations where his presence is rumoured to be.
Size 8 [Musician]: Linet Masiro Munyali professionally known as Size 8, is a Kenyan gospel singer, songwriter and actress. Formerly a secular artist, Size 8 is known for her singles "Shamba Boy" and "Moto". In April 2013, she confirmed that she was born again by releasing her first and critically acclaimed gospel single "Mateke". As an actress, she is most notable for portraying a role in legal comedy Mashtaka.
Munyali was discovered by Clemo, a Kenyan producer and co-founder of Calif Records when she auditioned locally and later signed on the Record label. She released "Shamba Boy", "Silali" and "Vidonge". As of April 2013, she confirmed to have crossed over to the gospel music industry, having been born again and subsequently releasing her first single "Mateke". She has released others like "Moto", "Yuko na Wewe", "Jemedari" and "Afadhali Yesu".
Willy Paul [Musician]: Wilson Abubakar Radido is an award-winning Kenyan artist and songwriter from Nairobi and the founder of Saldido International entertainment.
Paul was named male artist of the year at the 2013 Groove Awards alongside his mentor Gloria Muliro, who took the female artist of the year award. 
He first gained recognition after recording the song "Sitolia" with Muliro which was an object of controversy after several claims by Willy that he was not earning much from the song.
Despite constant criticism, with accusations of secularism emerging from various quarters, Willy Paul's songs have continued to chart, mainly because of his strong appeal to a loyal youthful fan base. "Jigi Jigi" peaked at number one in all major charts in Kenya, including Mdundo Weekly Top 100, the Top 40 Singles Chart, and the Local Top 20 Hits on Music Charts Ke.
 LAW & GOVERNANCE
Boniface Mwangi [Founder, Ukweli Party]: Boniface Mwangi is one of the most vocal and courageous Kenyans of his generation. 
Recognized globally for his passion and excellence in photography, this photographer-cum-activist could not resist the call to activism after witnessing first-hand the brutality that disadvantaged Kenyans experienced in the wake of the Post- Election Violence in 2008. He then established Picha Mtaani a travelling photography exhibition telling of the violence. 
The travelling photo exhibition toured across Kenya and drew more than 2 million people.-  The tour of the exhibition offered a platform for individual reflection, honest dialogue, interpersonal healing and community reconciliation. 
In 2012 Boniface founded PAWA254, a hub for creatives in Kenya where journalists, artists and activists find innovative ways of achieving social change. 
At 36, he has been a guest of the state on many occasions for championing justice and calling out powerful leaders for their wanton corruption and blatant violation of human rights. This has earned him friends and foes alike. His commitment to promoting social change has also come at a heavy price. As a husband and father, his wife and children have endured hostilities from different quarters. The escalation of these hostilities has seen him being threatened with harm and/or death by powerful forces in government. 
Like many Kenyans with a challenging upbringing where basic needs were not always met, Boniface Mwangi is all too familiar with the struggles of the ordinary Kenyan. He has worked as a bus-park sweeper, house-boy and hawker. He even served time in Approved School. 
Despite monumental odds, he has risen, discovering photography at a young age and applying his entrepreneurial brilliance to break free from the clutches of poverty. Those who have worked with Boniface Mwangi can attest to his diligence, compassion and self-drive.
He has twice won the CNN Multichoice Africa Photojournalist of the Year Award and is the youngest Prince Claus Laureate. New African Magazine named him one of the 100 Most Influential Africans of 2014 and 2016 and he is also a senior TED Fellow. Time magazine recognized him as a Next Generation Leader in 2015 and was selected as Kenya's Top 40 under 40 men 2016. He was named as top 100 Kenyans 2019.
Boniface Mwangi continues to wage a spirited campaign against oppressive establishments. Although at one point he stood alone, today his movement has gained traction with many – inspired by his vision and consistency – adding their voices to champion for a better Kenya.
He is the author of Unbounded – a poignant and riveting memoir that captures his incredible journey. 
Catherine Waruguru (Hon) [Women's Rep, National Assembly]: Catherine Wanjiku Waruguru is a Kenyan Politician from Laikipia County. She is the current women representative for Laikipia County and a member of Jubilee Party.
Before joining politics in 2013, she served as Access Kenya's manager for the Nanyuki zone. In 2013, the defunct TNA Party led by President Uhuru Kenyatta nominated her to the Laikipia County Assembly.
This served as her springboard as she successfully vied for the Laikipia Women rep seat on a Jubilee Party ticket in last year's polls.
She is the current women representative for Laikipia County. She is a member of the Jubilee Party. In 2013 she resigned from her job at Access Kenya to join politics as a nominated MCA.
Dennis Itumbi [Secretary of Innovation, Digital and Diaspora Communication, Office of the President]: Dennis Itumbi is the Secretary of Innovation, Digital and Diaspora Communication in the Office of the President of the Republic of Kenya, based in State House Nairobi. He is also the team Lead at www.nexus.or.ke Digital strategy.
He also runs a Digital Business Company dealing with online reputational management, Digital PR and Google Optimization.
He is Kenya's foremost and most visible and influential digital strategist and blogger. He went to the Kenya Institute of Mass Communication, located in Nairobi South, where he earned a diploma in Journalism, he is currently a Masters student of New Media, Governance and Democracy at Leicester University in the UK.
He was named Kenya's Journalist of the year in 2007/2008 by GJLOS.
Duke Mainga Echate [Executive Committee Member, Kisii County]: Duke Mainga Ondiba Echate is the current County Executive Committee Member (CEC) for Culture, Sports, Youth and Social Services, County Government of Kisii, Kenya.
Previously, he worked as Chief Marketing Officer at the Kisii University (Nairobi Campus). He also worked as a Sales and Marketing officer at Kenya Commercial Bank (KCB).
Duke Mainga Ondiba Echate came to the limelight through the "The Vijana Tujitegemee Initiative" which greatly focused on fighting for the Youths' space in leadership and Governance across the County and Country at large between 2013-2015 at the age of 21 years. This propelled him into the position of the Kisii County Youth Leader representing 9 constituencies. He, later on, vied for the post of Member of Parliament in the 2017 General elections emerging 4th out of 15 contestants. In October 2017 he was appointed into his current position. He is also the current Secretary-General for the CEC's Caucus comprising of 470 County Executive Committee Members across the Country. Some of his notable achievements are Construction of a modern stadium for young people in sports within Kisii County, provision of wheelchairs to 300 disabled men and women, sponsored more than 20 street children studying in primary schools across the county.
He holds a Masters Degree in International Relations from the University of Nairobi (UoN) and a Bachelors Degree in Education (English & Literature).
Duke Mainga Ondiba Echate is passionate with Youth Leadership, Gender Mainstreaming, Rights of People Living with Disabilities and respect for Rule of Law.
Gideon Keter (Hon) [Youth Rep, National Assembly]: Gideon Keter is the Member of Parliament in the Republic of Kenya representing the youth. He started his leadership life at an early age, in the year 2013 he was the Secretary-General Eastern Africa Region Model of United Nation, the assembly for the youth within East Africa. Currently, Hon. Keter is the Chairman of Jubilee Party Youth League and also the President of Youth Senate.
He is the founder and current President of Youth Senate, a national youth organization with over 200,000 members and 47 county officials and over 2000 members of youths from the diaspora, to raise a generation with a difference of the next community leaders.
Hon. Keter is the Organizing Secretary in Kenya Young Parliamentarian Association, this is an association of Members of National Assembly and the Senate.
He is committed to helping people to find solutions to the problem they face. He knows the real problem of corruption, poor governance, youth unemployment, and insecurity. He dares to do the right thing to see his communities work better. As a national youth leader, he is responsible for seeking opportunities, formulating policies that can benefit the young once of this country.
Jessica Mwenje Mayavi [Partner, MMC Africa Law]: Jessica is a Partner at MMC Africa Law and ranks being one of the founders of a secondary school, Chimoroni Secondary School, in her village in Kakamega County as one of her greatest achievements so far in life.
Jessica is currently a partner and head of the real estate department at MMC Africa Law, a top-tier commercial law firm. She became a partner at 29, a big leap considering that she joined as an intern in 2010.
She is driven by the impact of her work in the society. According to her, mixed-use development is relatively novel in the country and creating a niche and being the go-to-lawyer in that field is a big achievement.
Besides her work in real estate, the lawyer also wears many other hats. Apart from her day job, she heads a sponsorship programme for Kenya School of Law students, which is run by MMC Africa. 
Naisula Lesuuda [Member of Parliament, Samburu West constituency]: Hon Naisula Lesuuda became the first woman to be elected as a Member of Parliament (MP) from Samburu County in August 2017 to represent the people of Samburu West constituency in the Kenyan National Assembly. She is the current Chairperson of the Regional Integration Committee and a member of the Budget Committee in Parliament.
Hon. Lesuuda's political journey started in 2013 when she was nominated to serve as a Senator in Kenya where she also served as the vice-chair of the Kenya Women Parliamentary Association (KEWOPA). Before that, she ran a Media consultancy firm and worked as a trainer and workshop facilitator. She has worked as a journalist for the Kenya Broadcasting Corporation (KBC) as a News Anchor, Reporter and host of Good Morning Kenya. 
Hon. Lesuuda who is a communication and Community Development graduate and currently pursuing an MA in Public Policy and Administration has been recognized for her achievements as a legislator, journalist and activist. She is a founding member of the Peace Caravan, an initiative to advocate peace throughout Kenya by collecting and broadcasting peace-related news, lobbying and visiting conflicting pastoralist communities; that led to her becoming the youngest awardee of the Order of the Grand Warrior of Kenya (OGW) in 2011. In the same year, she received the International Labour Organization's (ILO) Wedge Award for Outstanding Professional Women.
In 2017, she was one of the Mipad Global top 100 under 40 most influential people of African descent in politics and governance in Africa and across the Diaspora. In the same year, she was selected by the World Economic Forum among 100 young leaders, under the age of 40 who are tackling the world's most complex challenges with innovative approaches. In 2014, she was recognized by Forbes Magazine among six Kenyan women in their annual list of 20 Youngest Power Women in Africa.
She was voted as one of the five winners of the 2018 inaugural One Young World Awards. She bagged the World Politician of the Year Award for outstanding contribution in peace and education in her community.
Hon Naisula Lesuuda is the Founder and Executive Director of Naisula Lesuuda Peace Foundation, a non-profit making organization that promotes peaceful coexistence of pastoral communities, empowers vulnerable children from marginalized communities to access quality education and universal healthcare as well as economically empowering women and youth in Samburu County.
Ndindi Nyoro [Member of Parliament, Kiharu Constituency]: Ndindi's political career began in Kenyatta University when he was elected as a student leader in 2006 to represent over 40,000 students in the University Senate. 
After exiting as a student leader, Ndindi served his district association of university students as the chair and later in Mount Kenya association of university students in the same capacity.
In 2016, Ndindi co-founded a stock brokerage firm, Investax Capital. Investax Capital is the largest stockbroker agency in Kenya with several branches. Later in 2016, Ndindi started yet another firm, Telesec Africa, to deal with construction, civil works, water engineering and drilling.
In 2017, Ndindi threw his hat into the ring for Kiharu Parliamentary Seat when the incumbent Member of Parliament and a buddy Irungu Kang'ata opted not to defend his seat and instead contest for Murang'a County Senate seat. 
Ndindi trounced 11 competitors and clinched Jubilee Party ticket in the party primaries. In August 2017 general election, Ndindi won as a Member of Parliament (MP) for Kiharu constituency.
Sakaja Johnson [Senator, Nairobi]: Sakaja Johnson is the current Senator of Nairobi County, following his election to the position on 8 August 2017 General Election in Kenya. Previously, he was a nominated Member of Parliament (National Assembly), in office since 2017. He was nominated to Parliament by The National Alliance (TNA) party which is part of the ruling Jubilee Coalition (now Jubilee party). 
He served as the National Chairman of The National Alliance (TNA) until 9 September 2016 when the party merged with 12 others to form the Jubilee Party.
Stephen Sang (H.E.) [Governor, Nandi]: Governor Stephen Sang is the current Governor of Nandi County, serving his first term following the August 8th 2017 general election. He previously served as the county's representative to the Senate.
He is an advocate of the high court and a holder of a Bachelors of Law degree from the University of Nairobi. Sang is a legal expert with interest and experience in governance, democracy and devolution. He is the current chair of the Intergovernmental Relations Committee at the Council of Governors.
Governor Sang is among Kenya's youngest politicians with an admirable leadership track record.
While at the senate, he served as the chairperson of the Sessional Committee on Delegated Legislation, was the Vice-Chairperson of the Committee on Legal Affairs and Human Rights and a representative of Kenyan Parliament in the Inter-Parliamentary Union (IPU).
LEADERSHIP & CIVIL SOCIETY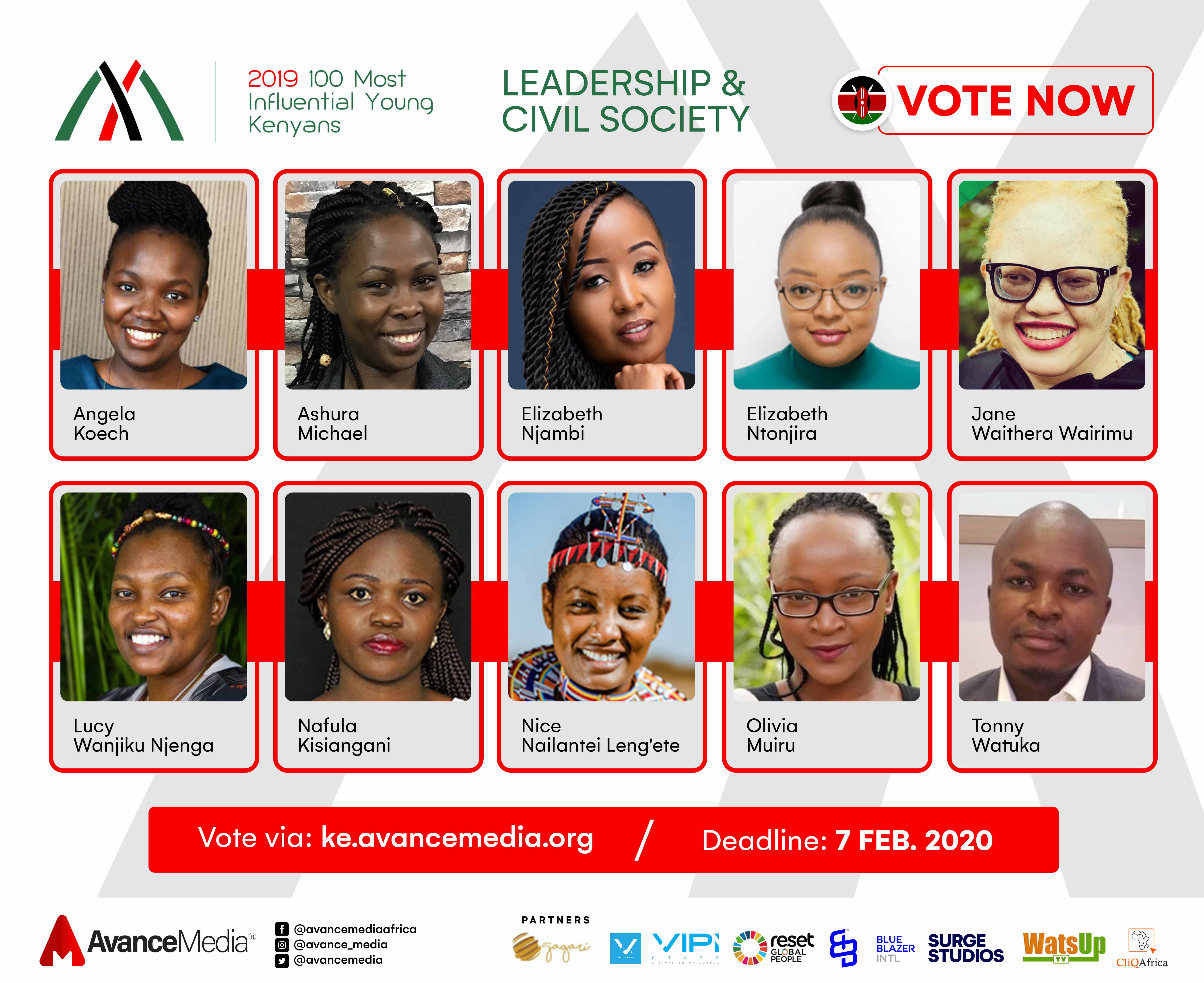 Angela Koech [Group CFO, GT Bank East Africa]: Angela is the Group CFO of GT Bank East Africa. She joined the bank in January 2015 having previously worked at PricewaterhouseCoopers for over five years, in Kenya and Rwanda. 
She is a business leader in financial risk management, audit, strategy formulation, implementation and monitoring.
She also oversees the finance functions of GTBank Rwanda and GTBank Uganda.
Angela is a certified accountant, with an ACCA qualification. She holds a Bachelor of Commerce degree in Accounting from Strathmore University, an IMIS Diploma from the Institute of Management Information Systems, UK and is a member of ACCA-UK.
Ashura Michael [Speaker, East African Youth Parliament]: Ashura Michael is a young deaf human right and Gender activist in Kenya. She has a Diploma in Law, Certified from the University of Illinois Urban-Champaign with Civil Leadership Certificate, certified with Political, Leadership, women leadership certificate from Michigan State University and Governance program by Fredrich Ebert Stiftung . She also holds a Bachelor of Arts in Gender and Development from the University of Nairobi.
Her experience truly represents the life of a deaf person in Kenya hence her ambition for law. She is passionate in advocating for the Rights of Persons with Disabilities in Kenya as evidenced in her role as an ambassador of SlumCoder Family representing PWDs; She was also a member of Young Voice, a Leonard Cheshire Disability project to support young people with Disabilities through campaigning for disability rights and equal access; She was a co-chair for Youth Council of UNICEF'S Global Partnership on Children with Disabilities; She has served several national and international organizations.
Ms Ashura has taken part in many campaign activities including; leading a group of young voices campaigners to advocate for Sign Language Interpretation services during news segments on television, availability of materials in Braille for the blind and many services for persons with disabilities. She tries to help ensure that Persons with Disabilities in Kenya enjoy the same rights as other citizens. 
She is the Founder and Director of Free a Girl's World Network (FGW-N), an organization that aims to empower the girl child to explore her world freely without social-cultural and economic boundaries.she travels around the world sharing information about Persons With Disabilities, women, youth and assuring young girls with disabilities that disability should not get in their way of achieving their dreams.
She started the first-ever TV show in Africa, The Handshake with Ashura, that aims to empower, motivate, educate, influence, challenge and inspire young women from all walks of life in Signs TV, first-ever TV station in Kenya and Africa that propagates social, economic, political and talent development of persons with disabilities through this she won SDGs ambassador award, utumishi bora award, digital inclusion award, diversity award and many others, currently she is a board of director for the National Council of Persons with Disabilities, co-chair of the Africa Charter on democracy election and governance Kenya chapter and a new East Africa youth Legislative Assembly speaker.
Elizabeth Njambi [Senior Marketing Manager, Uber]: Elizabeth currently serves as the Senior Marketing Manager at Uber in East Africa. She is one of the leading young women in tech and was named as top 25 women in digital in 2018 by digitalk Africa. She has previously served as brand and partnerships lead at OLX across Africa and the Middle East.
Elizabeth Ntonjira [Head of Global Corporate Communications, AMREF]: Elizabeth is the Head of Global Corporate communications at AMREF where she provides leadership for all Amref Health Africa's corporate communications working in collaboration with the African, European and North American offices to position Amref as a premier organization for lasting health change in Africa.
Elizabeth (Lizz) Ntonjira was the IBM Communication Manager for Central, East and West Africa leading external communication activities supporting business issues of major consequence to IBM and the business units in 25 sub-Saharan countries as well as acting in a consulting capacity, providing communication advice and counsel to executive line management. 
She is a strategic communications specialist and has a vast experience managing and overseeing, external relations, stakeholder engagement, digital innovation, integrated communications & public relations, marketing, media relations and journalism practice, public policy and business strategy; experience she has gained within several roles in the public, private and international development sectors spanning over 10 years.
Jane Waithera Wairimu [Executive Director, Positive Exposure]: Waithera is the founder & Executive Director Positive Exposure- Kenya www.positiveexposure-kenya.org an albinism education and advocacy organization. Through PE-Kenya She promotes inclusive communities that uphold the rights of persons with albinism to empowerment, equality, dignity, justice and self-reliance, through advocacy, public awareness, economic empowerment, education & Mentorship. 
She is a fierce & proactive human rights advocate, social entrepreneur and mentor. 
She has over 10 years' experience in disability rights, management, development and leadership, particularly on issues of persons with albinism (PWA) a community of high alert in Africa. She uses her unique, larger than life personality to change mindsets on albinism, a rare genetic condition that she was born with. 
Ms Waithera holds a BA in Leadership and Management and is currently pursuing her Masters of Science in Management & Organization Development at USIU-Africa, additionally, she holds relevant certifications and training in Human rights, social entrepreneurship & public policy. She is also a recipient of different local and international awards for her continuous work on albinism with a focus on diversity & inclusion through innovative, sustainable and creative ways of raising awareness and reducing the stigma associated with the condition.
Lucy Wanjiku Njenga [Team Leader, Positive Young Women Voices]: Lucy Wanjiku Njenga is a visionary young leader committed to making the lives of girls and young women better. As a young woman living with HIV and from a poor background, she defied all odds to rise as she lifts others.
She is the Founder and Team Leader of Positive Young Women Voices, a community-based organisation in Dandora, Nairobi that aims to empower adolescent girls and young women to reach their highest potential. She has used her story of encouragement to inspire change and to remind girls they can be anything they want to be. This has led her to gain local, national and international recognition of her work as she truly lives as a changemaker.
Nafula Kisiangani [CEO, Ubuntu Development Solution]: Nafula Kisiangani is a Social Justice Advocate, the Founder and C.E.O of Ubuntu Development Solution. Ubuntu Development Solution was founded with a strong belief and vision to empower a socially responsible society working in unison to promote Human Development. They focus on affordable and simplified models to support individuals and organizations to enhance social development and link them with resources to increase their impact. The company envisions a dignified and productive society.
Due to her dedication in transforming Africa, Nafula is a Tony Elumelu Entrepreneur 2019. Previously, she was recognized as a Global Champion for Change- Women Economic Empowerment 2016/2017 by Empower Women, a function of UN Women. She was also a nominated candidate for the position of Secretary-General UN Envoy on Youth in 2017. Nafula is a Young African Leadership Initiative fellow- Civic Leadership and a candidate in Binti Uongozini. She is committed to fostering inclusive development in all orders.
Nice Nailantei Leng'ete [Human Rights Activist, AMREF]: Nice Nailantei Leng'ete, 29, is the End FGM/C Global Advisor with Amref Health Africa. A Maasai woman from Kenya, Ms Leng'ete challenged the social norms of her male-dominated community from the age of eight in her quest to end the harmful practices of Female Genital Mutilation (FGM, also known as Female Genital Cutting or FGC) and child marriage. Through her efforts, and with the support of Amref Health Africa, Ms Leng'ete educated elders, boys and the young men (known as Morans) in her community with new messages about sexual and reproductive health and rights. Over time, the Morans accepted her as a leader, which enabled her to work with women, girls, men, boys, cultural leaders and elders to eliminate the practice of FGM/C and replace it with alternative rites of passage for girls that maintain the cultural celebration of the transition to womanhood without FGM/C.
Today, Ms Leng'ete is a respected community advocate and a recognized global youth leader. She received the Postcode Hero Award in March 2019. In April 2018, she was named to the TIME 100 list of the most influential people in the world. Africa Youth Awards listed her among the 100 Most Influential Young Africans in September 2018. She was honoured as one of three BBC Outlook Inspirations Award recipients in June 2018. In February 2018 she was chosen as a Women Deliver Young Leader – one of only 300 young people from around the world – and in March 2018 she received the Annemarie Madison Prize. A recipient of the 2016 Mandela Washington Fellowship for Young African Leaders, as well as the 2015 Inspirational Woman of the Year Award from the Kenyan Ministry of Devolution, Ms Leng'ete has been singled out as an innovative change-maker dedicated to advancing gender equality.
Olivia Muiru [Executive Director, B Lab]: Olivia is the Executive Director and founder of B Lab East Africa. In her role, Olivia is working on building a community of people using business as a force for good in the region; from recruiting B Corps to capacity building for organisations in the region. Before this role, Olivia was the Global Partner Manager at B Lab supporting its network of regional partners. She also worked as a Standards Analyst helping companies going through the B Corp Certification process, and supporting impact investors to measure and report their social and environmental impact.
Before joining B Lab, she worked at Microfinanza Rating (MFR) as a Social Rating Analyst in their African Regional office. During her time with MFR, she worked with Microfinance Institutions in Sub-Saharan Africa in rating their social impact and running target client focus group discussions.
Olivia was recognised in 2017 as an Emerging Leader by Skoll and Mastercard Foundation and 2018 Top 40 Under 40 Women in Business in Kenya. She serves in the B Lab East Africa Board and is part of the Sustainable Inclusive Business, an arm of Kenya Private Sector Alliance Foundation, Circle of Influencers.
Tonny Watuka [Consultant, Ernst & Young]: Tonny is a tax agent in Kenya and a rising star in finance and tax policy analysis, currently working with Ernst & Young, Nairobi office, as a senior consultant specializing in Mergers and Acquisitions (M&A) tax. He has been integral in major M&A transactions in Kenya, Sub-Saharan Africa and Europe. He has authored numerous articles on contemporary topics including future of accountancy and taxation of cryptocurrencies and digital economies.

He is also a founder of Sahibu Mentorship Forum, an organization working on youth empowerment and campaigns against drug and substance abuse in rural Kenya. Tonny draws his aspiration from high achievers and is an avid reader of nonfiction materials who also enjoys playing scrabble during his free time.

LIFESTYLE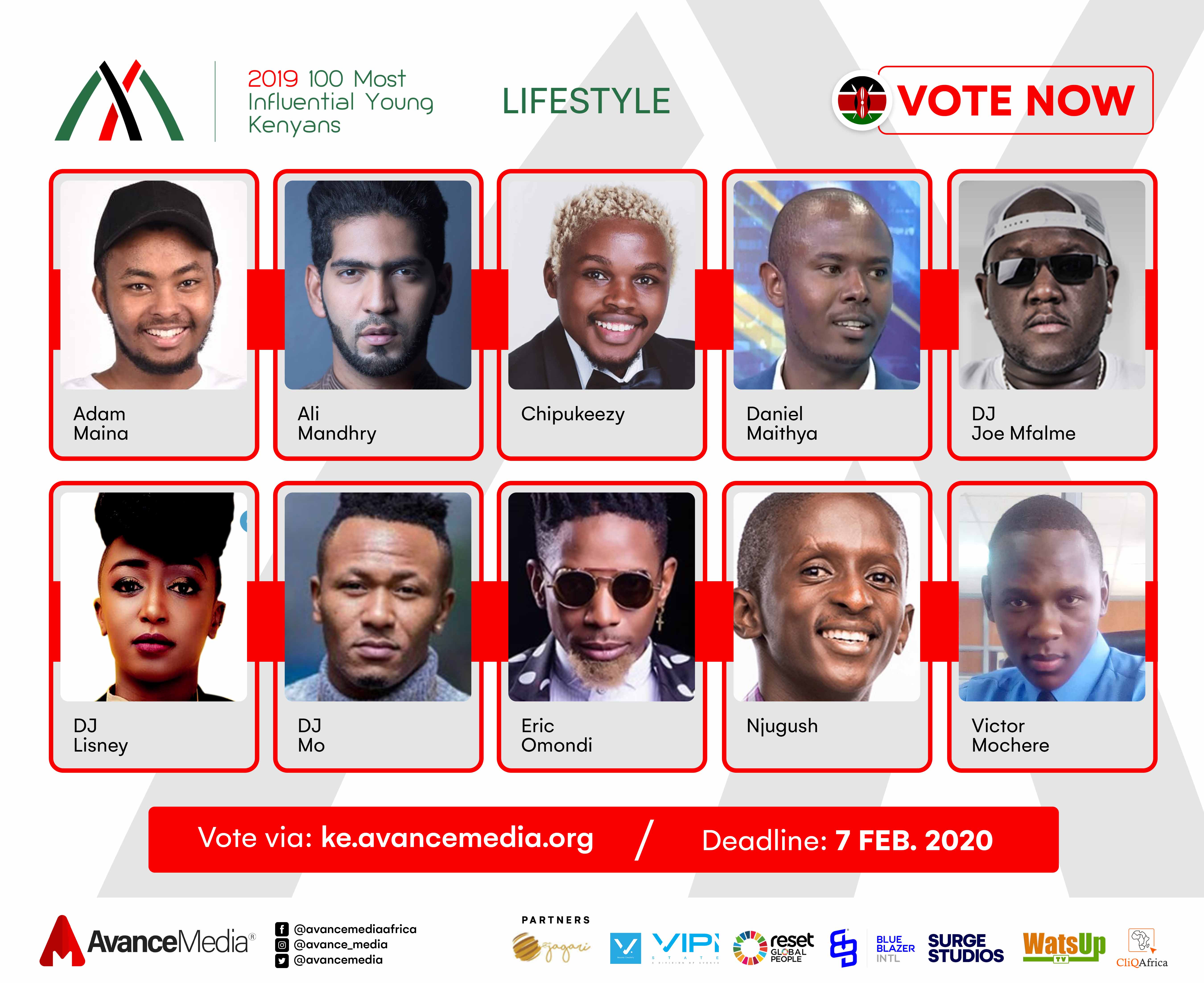 Adam Maina [Social Media Influencer]: Adam Maina is a Kenyan social media personality focusing mainly on lifestyle, sports and entertainment. Adam featured in the 2018 100 Most Influential Young Kenyans list by Avance. He documents his life and travels, adventuring all over the world and also other experiences on his social media platforms.
Through his career, he has worked with top brands including Google, Guinness, OPPO, Bountiful Safaris, Jumia Kenya, Magical Kenya among many others. His posts have charismatic, personal touches to them, which helps users connect with him. Adam proves that showing off your personality and interests can gain you a significant fandom.
Besides his career, Adam Maina operates a social media outfit Hepi Digital which mentors and offers opportunities to upcoming and established social media influencers and linking clients with influencers for various campaigns. 
Adam strikes the balance and blends of fun lifestyle topics and serious issues like mental health awareness and road safety. As an influencer, he's had some awesome partnerships and is often seen at some of the most coveted events in and around Africa!
Ali Mandhry [Chef]: Ali Said Alamin Mandhry, also known as Chef Ali L'artiste, is a TV celebrity chef in Kenya.
Mandhry currently hosts a cooking show dubbed Food Time that broadcasts on Pwani TV and Celebrity Kitchen Raid on Zuku Entertainment Channel 100 that broadcasts Internationally. previously he hosted a cooking show on NTV Kenya, Tamu Tamu: Kenyan Cuisine with a Twist and also Pilipili Jikoni, a Swahili radio program on Pilipili Fm in Mombasa.
Mandhry also co-hosts Power Breakfast every Thursday on Citizen TV Kenya 
Mandhry is an author and writes the 'Eats' recipe column every Saturday on eve woman magazine, it is published on standard newspaper 
Mandhry is a judge on the first Kenya's reality cooking competition, Kikwetu Supa Chef, which airs on K24. Mandhry owns the L'artiste Pastry Factory and is a representative of Kenya's Chef Association. Mandhry was appointed the brand ambassador for Kericho Gold Tea. He has been named among the top 5 reigning chefs of African cuisine by Africa Style Daily. He has also been considered among top male chefs in Africa by DSTV.
Chipukeezy [Comedian]: Chipukeezy known privately as Vincent Muasya is a comedian who started his career on the Churchill show. He once said in an interview that he used to visit carnivore so that he could tell Churchill how good he was and one day he was lucky to talk to him. Churchill asked him to audition. He says that he auditioned frequently but the director thought he was not good enough.
On April 2nd 2018, he launched his show named 'chipukezy show" which he refers to as the real house of fake news. 
Daniel Maithya [Social Media Influencer]: Daniel Maithya is the CEO & Founder of RoyalTrendia, Digital Media Trainer, Content Creator, Marketer, Social Media consultant for businesses and events
He has a proven background in digital media training, brand, digital and communications expertise and successfully drives growth. Passionate about integrated marketing, trends in technology, impactful brand strategies and experiences in growing brands and developing new ones.
Through his specialities, he has been able to serve clients not only in Kenya but Uganda, Rwanda, Somalia, UK and Australia.
He has also featured in several TV and radio in Kenya interviews discussing matters social media and its impact on businesses and individuals.
Some of the brands he has worked for are Safaricom, Nation Media Group, NCHRD Kenya, Somalia Business Awards, Women In Rwanda organization, The Eastern Africa Standby Force (EASF), Konza Technopolis, COFEK, Little Ride among others
DJ Joe Mfalme [DJ]: He is known as Nairobi's hottest sensation and the Reigning Top Media And Award Winning Dj in Kenya. He works with Capital FM and was the winner of the 2010 Pilsner Mfalme Hottest Media DJ.
His Favourite genres of music are Reggae, Dancehall, Crunk and Ol'Skul hip Hop.
DJ Lisney [DJ]: LindaLiza Felix aka Dj Lisney is one of Kenya's top female deejay who has worked in various high end branded clubs and concerts in Kenya and abroad, gaining professional knowledge and expertise in good party presentation formalities. 
The decision to venture into deejaying was inspired by her passion for quality music and the need to fill the gap of highly demanded female deejays. She is the Lead brand Deejay from Elite Sounds; being a successful Event company in Kenya with a team of renowned deejays in the industry. 
Dj Lisney expresses fashionable appearance; Friendly, confident and outgoing personality. She embraces extensive knowledge of the music industry and can mix any genre. Her comprehensive knowledge of the DJ industry has propelled her to be a voice of women in Africa hence her desire to be the best has able brush shoulders with the likes of Etana and currently being a lead personality for one of the Top TV shows in Kenya with Dr Ofweneke for Standard Media Group. 
DJ Mo [DJ]: DJ Mo is 2010, 2013 & 2014 DJ Of The Year at the Groove Awards. 
He is a trusted BRANDs Ambassador and hosts Crossover101 on NTV and Capital FM
Eric Omondi [Comedian]: Eric Omondi is a Kenyan comedian and entertainer known for his youtube channel that draws millions of views.
He was voted as amongst the top 10 Africa funniest Men, he is largely popular from his appearance on Churchill show. He later left Churchill to do his show dubbed Hawayuni that aired in KTN, he also did somewhere in Africa and Untamed.
 Njugush [Comedian]: Njugush is a famous comedian, MC, influencer, and mentor who plays various roles.
Known for being a funny guy who cracks the ribs of his fans every time he goes on air. In 2018, he was voted among the 100 Most Influential Young Kenyans. 
MEDIA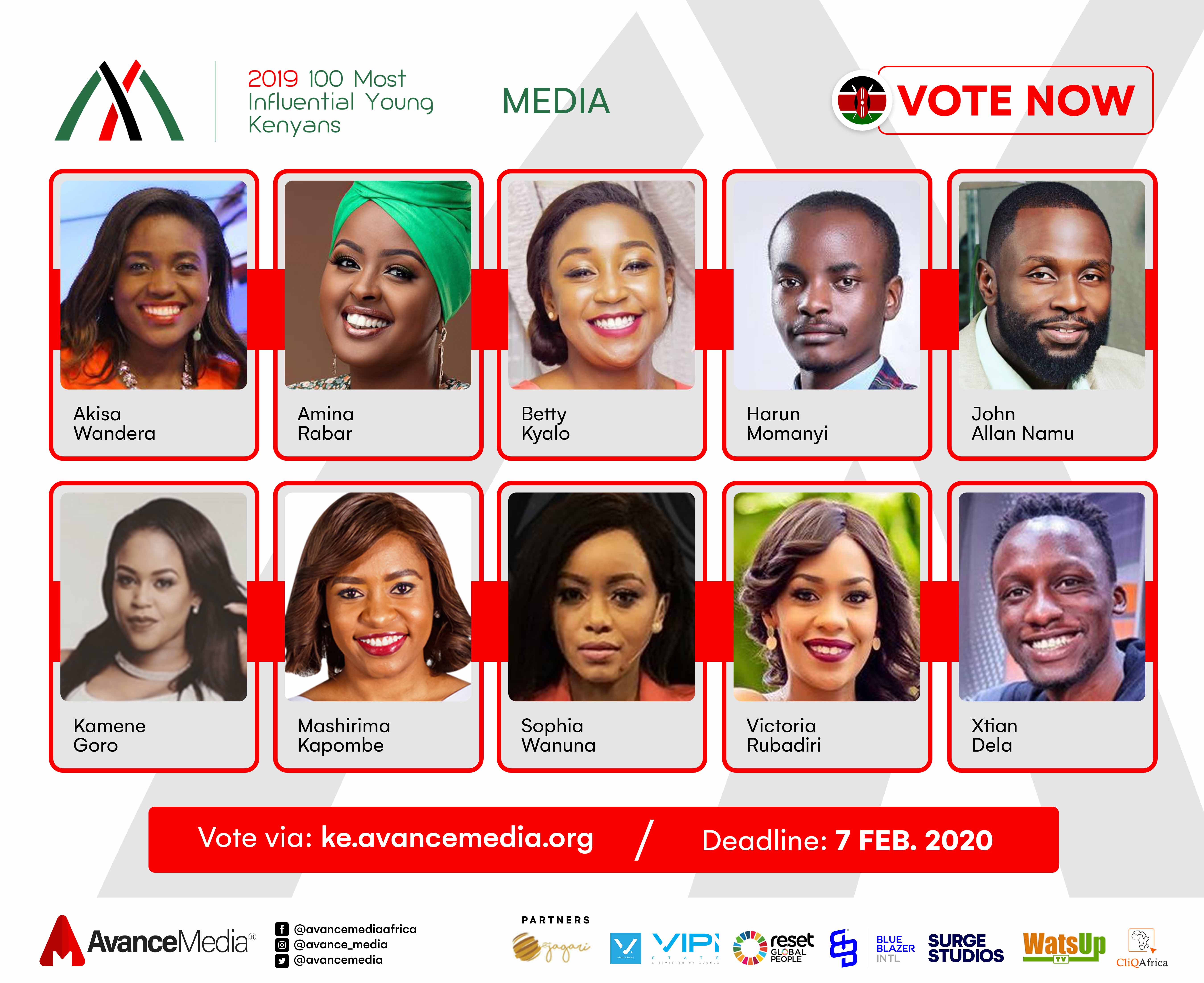 Akisa Wandera [OAP, KTN]: Akisa Wandera is an On-Air Personality with KTN. She started her career at Korea Owned GBS TV Station before joining Ebru TV from March 2014 where she was a News Anchor and presenter of Tabletalk TV Show.
She later joined Kenya Television Network KTN and made her debut on Prime Time News in March 2016 when she was introduced to the viewers by a co-host Ben Kitili.
Akisa Wandera studied at the Kenya Institute of Mass Communication in Nairobi from 2010 and graduated in 2013. Akisa was the first runners up in the category of Best Presenter of the year, during Media Council's, Annual Journalism Excellence Awards In 2015.
Amina Rabar [OAP, Capital FM]: Amina Abdi Rabar is Kenya's top award-winning media personality, entertainment queen and one of our largest influencers. Her reach spans national listenership on radio, national viewership on TV and the prolific and ever-growing Amina Army on social media. She has worked with local and international brands, corporates and NGOs to deliver on their brand reach, recognition and mandates.
She currently hosts Capital in the Morning on Capital FM, The Trend Live on NTV and The Turn Up on MNET. Previously she has been the host of Hits Not Homework on Capital FM, Alfajiri on K24, Moments on Ebony Life, The Ultimate Challenge on KTN and has been the voice of Coke Studio Africa over several years.
Amina has a resonance with the youth because they love her natural Charisma and authenticity that they find relatable and real. She is the
voice of a generation.
Amina is also a talented singer, songwriter, an entrepreneur and she also runs a book club.
Betty Kyalo [OAP, KTN]: Betty is a Senior Anchor at KTN News Channel, Motivational Speaker and a Professional MC
Betty Kyalo is a well-known news anchor at KTN. Her story is a great example of a prosperous woman who can be a great example of what a hardworking woman can achieve in the modern men's world. She's in her own words a Mum, a Journalist, a Corporate MC, a Brand Influencer. And a Believer of positive energy. She also is a businesswoman and one of the most interesting and beautiful women in the media industry. 
Harun Momanyi [Journalist]: Known for his groundbreaking interviews with A-list celebrities across the globe, Harun Momanyi is a Kenyan-born and raised lifestyle and entertainment journalist. He covers all things fashion, luxury, music and pop culture.
He has notably interviewed top international celebrities, including Hannah Lux Davis, Ty Dolla $ign, Yemi Alade, Vanessa Mdee & Susan Bennett.
Starting his journalism career as the chairman of the press club in his former high school, he has consistently outdone himself in the industry. He was first published as a blogger at age 17, ranking top 10 countrywide in a writing contest organized by Storymoja Africa and the British Council. By age 20, he has collaborated on articles with several international artistes.
His work has appeared on reputable publications including Business Insider Sub-Saharan Africa, OkayAfrica, The Star and others.
Apart from being a journalist, he is a youth empowerment expert and career advisor. He has worked with UN SDSN Youth as a Global Schools Ambassador. Through the role, he reached over 50,000 young people and mobilized them to uptake the SDGs and work towards contributing to sustainability in the long term.
He has also had several accolades, including being a BBC Komla Dumor Award finalist and a Forbes Africa 30Under30 nominee. As a sustainability champion, he has been chosen to be a P4G Next Generation Influencer by the DTU Skylab at the Technical University of Denmark. He represented Kenya at the P4G Summit in Copenhagen back in 2018.
Harun is a Fellow with the Young and Emerging Leaders Project (YELP) by LéO Africa Institute as of 2019.
He is a Parsons x Teen Vogue Industry Essentials fashion program alumnus.
As an influencer, Harun has done blog reviews for brands such as Uber Kenya, Crowne Plaza Hotels, Bentley Nairobi, Kempinski Hotels, GQ Insider, Park Inn by Radisson – Nairobi and Condé Nast International Luxury Conference.
John Allan Namu [Journalist]: John-Allan Namu is an investigative journalist and the CEO of Africa Uncensored, an investigative and in-depth journalism production house in Nairobi, Kenya.
He founded African Uncensored, an independent media house set up by Kenya's finest investigative journalists. Their goal is to investigate, expose and empower.
Kamene Goro [OAP, Kiss FM]: Michelle Kamene Goro is a media personality who made a start at Ebru Tv where she was a news anchor and later moved to radio. The renowned NRG breakfast show host Kamene Goro moved to Kiss 100 Fm with his co-host Andrew Kibe as from June 14, 2019. 
While in her third year at the University of Nairobi, Kamene Goro got an opportunity to go for a screen test on TV. This experience would stamp the start of her renowned media vocation. At age 21, Kamene Goro was a Prime Time commentator and columnist at Ebru TV. Kamene facilitated while at Ebru TV incorporate Just the Facts, The Weekly Report, and Africa in a word.
Kamene left the TV station in September 2015 yet later rejoined the organization in 2017 and accepted the job of head of news. Be that as it may, Kamene left the station in late 2017. 
At present, Kamene Moved to Kiss 100 from NRG Radio's morning breakfast show with cohost Andrew Kibe. Also, she is an MC and gathering host.
Mashirima Kapombe [OAP, Citizen TV]: Mashirima Kapombe is a Kenyan TV personality and News Achor working for Citizen TV. Before joining Citizen TV she was working as a reporter at KTN where she was a Swahili news anchor.
She is the face behind Citizens TV's Nipashe each Thursday. She likewise has the Monday Prime Time news announcement named "Monday Report". The release sees the reporters move to start with one town then onto the next, under an uncommon tag called "Resident Townhall". She has close to Trevor Ombija and Waihiga Mwaura.
Sophia Wanuna [OAP, KTN]: Sophia Wanuna is a Kenyan beauty reporter and host for several TV Shows in KTN Kenya. She hosts shows like KTN morning express show. She is also a news anchor for the Weeknd Prime News which airs at 9 PM on Saturdays.
Victoria Rubadiri [OAP, Citizen TV]: Victoria Rubadiri is a well sought-after Kenyan journalist known most for her ability to connect with her audience and tell compelling stories. She currently co-anchors Kenya's most-watched primetime news broadcast Sunday Live on Citizen TV. Victoria also anchors the Citizen Weekend primetime news bulletin on Saturday. She has worked in radio and television for almost a decade both in Kenya and the US.
She graduated with a Bachelors Degree in Broadcast Journalism from Temple University in Philadelphia, Pennsylvania. Victoria was one of the minds behind Kenya's top-rated talk show 'Victoria's Lounge.' She hosted it for three years attracting nearly a million viewers per episode, touching on topics ranging from mental health, gender equality and governance. 
Victoria is also a mentor, running the popular platform Girlfriend Confidential Talks, and is a Bill and Melinda Gates Foundation Goalkeeper.
Xtian Dela [Journalist]: Aurther Mandela, better known as Xtian Dela, is a Kenyan YouTuber. Blogger, social media personality and a radio presenter. In 2014, he won the Best Personal Blog in the African Bloggers Awards and the Most Influential Twitter Personality in the Kenyan Social Media Awards. In the same year, he was nominated at the Africa Social Media Award for the Social Media Hero in Africa, Twitter Handle of the Year in Africa and Influencer of the Year in Africa Awards. Still, in 2014, he started an initiative on Twitter called #BringBackOurKDFSolders to force the Government of Kenya to bring back the Kenya Defence Force (KDF) who had been deployed in Somalia at that time to combat the Al-Shabab. The initiative was picked up by BBC who did a story about it.
On 19 May 2018, he joined NRG Radio Kenya as a presenter, hosting the popular Hip Hop Show Full Throttle, alongside Grammy Award-winning Radio Personality Fatman Scoop and DJ Mr Vince.
In 2018, he was named among the Top 100 Most Influential Young Africans on the Continent by Africa Youth Awards, the biggest African youth awards scheme which recognises the achievements of young Africans, young change-makers on the continent and beyond. 
PERSONAL DEVELOPMENT & ACADEMIA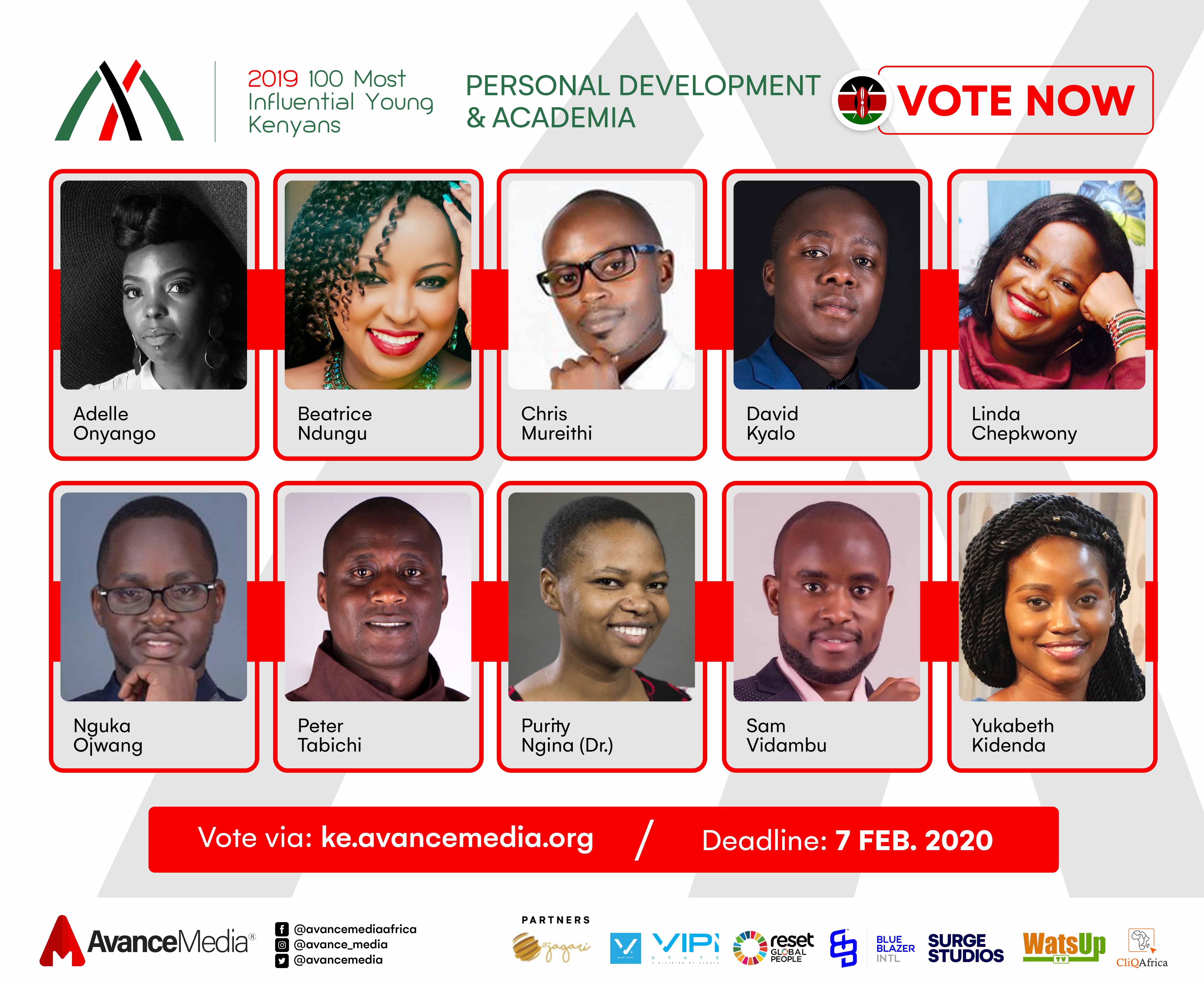 Adelle Onyango [Founder, The Adelle Onyango Initiative]: Adelle Onyango is a Kenyan media personality who has gained international recognition for her efforts to empower Kenyan women and youth. She was named as one of Africa Youth Awards 100 Most Influential Young Africans for 2019; OkayAfrica's 100 extraordinary African women for 2018; and BBC's 100 inspirational and innovative women in the world for 2017.
Adelle is the creator of two podcasts: Legally Clueless, which is establishing a new Unapologetically African narrative through documenting different stages of the unique human journeys of everyday people; as well as PursePective, an audio-visual podcast where women share their stories and experiences as they relate to gender equality, and men are allowed to respond with their perspective. 
Adelle is also the founder of The Adelle Onyango Initiative (AOI), an advocacy organization that works to educate the public and raise awareness of issues facing vulnerable populations, specifically women and youth, as well as the progress being made to alleviate these issues.
Under the Initiative are over 4,300 registered members who are beneficiaries of the job shadow programs and mentorship opportunities the initiative facilitates through its partners.
AOI has also partnered with Carolina for Kibera (CFK) to create Safe 24/7, a program that will offer free group therapy and support groups for survivors of sexual violence. Through Safe 24/7, survivors can build a network of support where they connect, ask questions, and communicate with counsellors and/or other survivors about what they are experiencing.
Beatrice Ndungu [Motivational Speaker]: Beatrice Ndung'u is a Public Relations and Branding consultant. She is widely known in East Africa as one of the best and most creative marketing and branding experts. She works with politicians, celebrities and businesses across East Africa and has made a huge name for herself. She has won several awards in her profession, some being Africa's exceptional excellence marketing and branding expert of 2019, Africa leading women awards winner Nigeria, African young achiever Award Global icon awards the USA, Nominee top women in business Kenya 2019 etc. 
Other than that, she is known for her motivational talks and philanthropy that led her to win the Pan African Humanitarian Award on youth empowerment and community building. The award was for the bravest and the most daring, as well as the most strategically sound and forward-looking media personality in Africa.
Chris Mureithi [Motivational Speaker]: Chris Mureithi is a growth expert, a Personal and Corporate development Consultant, Author of three best-selling books, an international motivational speaker extraordinaire, Business strategist and an entrepreneur. He was named one of the most influential people under the age of 40 in Kenya in 2017.
He is an award-winning human capacity development expert who helps individuals get the best of themselves and organizations get the best of their people. His key areas of focus are Growth, Change and Transformation in different aspects of life. He achieves this through training programs, speeches, mentorship and writing. He has consulted for and worked with diverse organizations with the singular aim of unlocking the potential of their employees, turning followers into leaders and leaders to merchants of impact. 
David Kyalo [CEO, Koncepts & Events Ltd]: David Kyalo founded Koncepts & Events Ltd in 2014 while studying at Kenyatta University in Kenya.
Being a student leader in charge of events and entertainment at the university, Kyalo grew passionate about his role and decided to register a business.
At the time, he and his partner only had $15 to register the business and worked from one of the rooms at the university.
Their first project was to organize a kids' festival-themed event.
The event took place; however, the clients had swindled Kyalo and his partner of over $2,000 because they did not sign a contract; a lesson well-learned for the young co-founders.
After that, they made sure to put in measures to bootstrap their business.
Koncepts & Events now specializes in event planning, catering, marketing and public relations.
Since then, they have worked on over 80 events, 35 marketing projects and have won nine awards.
Some of the clients they have had include the World Bank Group and Red Cross.
Kyalo has seven full-time employees and over 10 on-contract employees, based on the magnitude of the project.
Linda Chepkwony [Founder, Abraham Lincoln Youth Initiative]: Linda is an award-winning entrepreneur from Kenya. She is first youth in the history of Kenya to win an award on exports through the 254 Youth Entrepreneurship and Mentorship Award for 2019. 
She is the president and founder of Abraham Lincoln Youth Initiative, an organization that does philanthropy and community work through various initiatives and programs, as well as President/Founder of Kenya Youths in Trade and Business that empowers youth and women to get into International Trade especially exports and leverage on the opportunities and its benefits to create employment opportunities for themselves/others and economically empower themselves.
She is a member of the NATIONAL AGOA COMMITTEE and was to be part of the team that developed the Kenya National AGOA Strategy for 2018-2023.
Nguka Ojwang [Executive Director, Brook of Hope Foundation]: Nguka Ojwang is a pharmaceutical practitioner by profession, life coach and very passionate about youth mentorship and leadership development. He is the Founder of Brook of Hope Foundation; an organization that champion youth participation in social, economic and political agenda as the main drivers.
He finds inspiration in finding solutions for the problems in society. He is motivated by the idea of helping people overcome their circumstances, develop the potential of leaders and organizations to become world-class. He is an Expert in Personal Development and is very passionate about Mentorship, Motivational Speaking and Event Hosting. 
Nguka Ojwang' is an alumnus of Mount Kenya University with a passion for youth mentorship. He is also the founder, Brook of Hope Foundation, a CBO that deals with youth mentorship, charitable services and community reach out programs.
Peter Tabichi [Teacher]: Peter Tabichi is a science teacher who gives away 80% of his monthly income to help the poor. His dedication, hard work and passionate belief in his student's talent have led his poorly-resourced school in remote rural Kenya to emerge victorious after taking on the country's best schools in national science competitions.
Peter teaches at Keriko Mixed Day Secondary School in Pwani Village, situated in a remote, semi-arid part of Kenya's Rift Valley. Here, students from a host of diverse cultures and religions learn in poorly equipped classrooms.
He is the winner of the 2019 Global Teacher Prize and was ranked among the 100 Most Influential Young Africans 2019.
Purity Ngina (Dr.) [Lecturer, Strathmore University]: Dr Purity Ngina scored a measly 235 marks in KCPE but went on to become Kenya's youngest PhD holder in biometrics at 28.
Dr. Ngina is also an Alumni of Egerton University where she studied a Bachelor of Education Degree (Sciences: Mathematics and Chemistry) between 2009 and 2013. She was then awarded a scholarship after graduating with a first-class of 75 points. She pursued a Master's Degree in Applied Mathematics at Egerton University between 2013 and 2015. She graduated when she was only 25 years old.
The young scholar is currently lecturing Calculus to students pursuing Actuarial Science, Financial Engineering, and Financial Economics at the Strathmore University.
Sam Vidambu [Founder, Global Mentorship Programme]: Sam Vidambu is the Founding Director and CEO of Ambigen LTD. He is one of the youngest executives at one of the most successful recruitment and startup firms in East and Central Africa.
Vidambu is also the President of Global Student Mentorship Program, a youth empowerment organization whose aim is to mentor one million youths in ten years.
For over 7 years in the corporate sector, Vidambu has built a reputation as one of Kenya's most outstanding business transformative leaders, a mentor and a go-getter. He is the recipient of various Awards, the latest being 254 Youth Entrepreneurship Awards, in the category of Social Entrepreneurship, as a recognition for his program aimed at equipping youths with skills to solve social problems. Vidambu is a bachelor's degree holder and is currently pursuing his Masters Degree at Mount Kenya University. Apart from that, Vidambu is a CPA-K Holder and a *Lecturer at Candor International College where he teaches Entrepreneurship, Finance and Accounting*.
Being a Certified Coach, Vidambu's passion in lives' transforming and youth empowerment has seen him serving in various boards e.g The Eagles Mentors, Global Business Forum among others.
Vidambu and the Global Student Mentorship Program are also supporting hundreds of Bright students in high schools who are from *needy* backgrounds. This is from the proceeds of the mentorship programs in schools and campuses through *Sam Vidambu Foundation.* 
Vidambu is also a Mentor at Safaricom Mpesa Academy at Thika, Wings to Fly by Equity Bank and Blaze BYOB by Safaricom.
He has hold mentorship programs to over 300,000 students in over 600 schools and colleges across 47 counties, he has also taken part and participated in various TV and Radio Youth Shows just to mention a few, Full Circle With Joyce at Switch Tv, JKL at Citizen Tv, Youth Cafe at KTN, Real Talk With Tamima at Switch Tv, Upclose With Betty Kyalo at K24 Tv, Chipukeezy's Show At Ebru Tv, Entrepreneurship Tuesday at KUTV, Business AM at Metropol Tv, Good Morning Kenya With Ram Aguko at KBC Tv, 10 Over 10 With Willis Raburu at Citizen Tv, Jeff and Hamo in the Morning at Hot 96 FM, Tina Ogal and Munai General at Citizen Radio, Maisha Connect with Mwende and Clemmo at Radio Maisha, among others.
Having done mentorship in Over 6 African countries including Kigali in Rwanda, Kampala in Uganda, Dar es Salaam in Tanzania, Johannesburg in South Africa, Accra in Ghana, Lagos in Nigeria, Windhoek in Namibia, teaching young minds that it's possible to begin from where you are using what you have.
With all having been said and done, Vidambu is a son, a brother, an uncle, an author and a mentor to hundreds of thousands.
Yukabeth Kidenda [CEO, Teach for Kenya]: Yukabeth Kidenda is the CEO at Teach For Kenya. Teach for Kenya is an independent partner in the global network: Teach for All. TFK is committed to ensuring that every Kenyan child receives a decent education that enables them to thrive in the 21st Century. They believe that learning is a lifelong journey and are further committed to developing leadership in classrooms and communities to ensure all children can fulfil their potential. Before this, she was a Leadership Facilitator at ALX. ALX is an initiative of the African Leadership Group that seeks to empower recent college graduates with real-world experience and skills, a powerful network of employers and innovative problem-solvers, and a platform to launch a career of impact and purpose. She previously served as the Fellowship Director at Metis an organization that seeks to accelerate the pace of Education reform across the African continent by supporting Africans running high-quality education initiatives. She is the founder of Human Link, an organization that provides mentorship, academic assistance and supplies to at-risk youth in Kenya.
She holds a Bachelors Degree in Business Administration and a Minor in Marketing from Strathmore University. She has a deep abiding passion for improving the lives of those around her which she believes is at the core of all development work. She was recently featured in the Strathmore Alumni magazine for her outstanding work with Human Link. She is a Mentor and regularly consults on matters to do with innovation in education. 
She served as a volunteer teacher in Honduras from 2013-2014 and is fluent in Spanish.
Yukabeth worked as a Skills Program Manager at Microsoft from 2015-2017, where she led the adoption of the organization's tools, curriculum, and certifications in over 6 countries across East and Southern Africa.
SCIENCE & TECHNOLOGY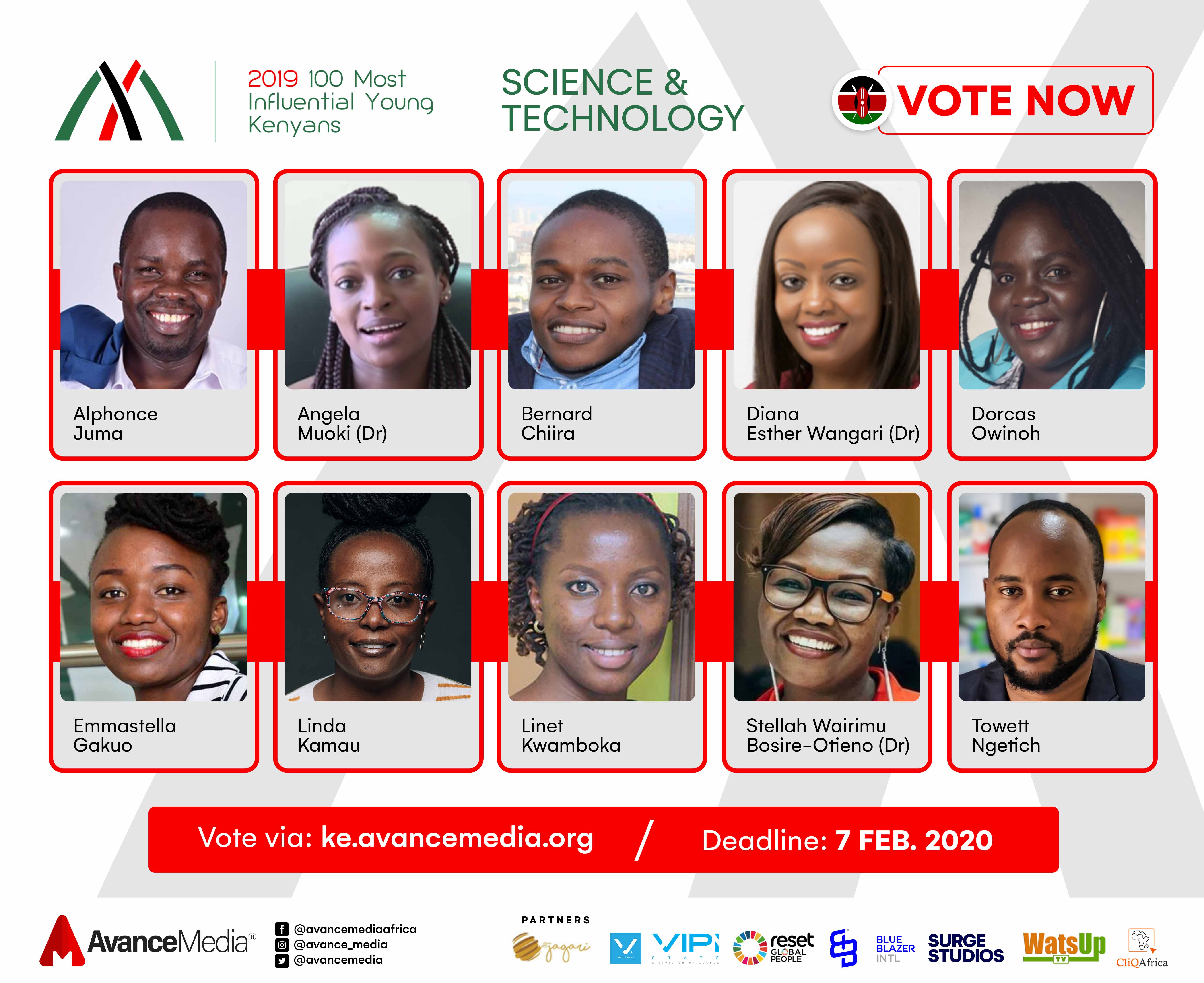 Alphonce Juma [CEO, Oracom Kenya Web Solutions]: Alphonce Juma is a YALI Alumni, Winner of 2018 KCB Lions Den, Kenya's Representative at the GES2015, Winner Under 30 Young Entrepreneurs, CIO Awards Nominee and graduate of Information Sciences, Moi University. 
As a Founder & CEO, Oracom Group, he focuses on offering Web Solutions, managing a team of 46 staff members. 
Alphonce has over 10 Years' Experience as an IT Consultant specifically focusing on Web Development, Domain & Hosting, E-commerce Solutions, Mobile Solutions & Bulk SMS, Digital Marketing Training, SEO, Photography & Video Production, Digital Media Buying and Building of Technology portals to solve various challenges in the community. 
Currently, Alphonce is the Founder My Leader Kenya MLK (voted, most improved youth-led organizations by KNCCI – Kenya National Chamber of Commerce and Industry); a network of Youth Advocates focusing on Training & Youth Empowerment. Currently, the network has a membership of over 20,000 youth. 
Alphonce has also founded Mybigorder Kenya, an e-commerce platform for SME inter-county linkage. 
Alphonce is also the founder of OraDMT – a Digital Marketing Training Institute that offers training on Digital Marketing, Design Thinking and Entrepreneurship. OraDMT is the 2019 winner of DIA Awards as best Digital Marketing Training Institute.
His mission is to see more Kenyans empowered and able to create solutions to their challenges. He plans to fully use Technology & Design thinking as an enabler for both individuals, small & large companies to have an online presence and be #DigitallyFit. 
He started the company ten years ago in Kayole slums – Nairobi, Kenya and worked from a small cyber café. Previously, he had worked in 6 companies in 1 year aggressively seeking experience to help me stand on my own. Today he prides in 10 years of progressive growth in the IT industry running over 5 brands under one roof.
Angela Muoki (Dr) [Plastic, Reconstructive & Aesthetic Surgeon]: Angela is a plastic, reconstructive & aesthetic surgeon and tutorial fellow in a field that very few women have ventured into.
When she enrolled for a Bachelor's of Medicine and Bachelors of Surgery degrees at the University of Nairobi, she did not take long to settle on becoming a surgeon.
She interned at Meru Teaching and Referral Hospital where she cemented her passion for the profession.
Bernard Chiira [Chair, ASSEK]: Bernard Chiira is the Chairperson of ASSEK, the National Association for Startup and SME Enablers of Kenya as well as serve as an advisor and mentor in accelerators and Incubators in Kenya. He is the Director at AT2030 Innovate Now at Global Disability Innovation Hub, a newly launched Innovation ecosystem. He is purpose-driven and passionate about positive living, inclusive innovation, technology, startup-ecosystem building and venture capital.
He holds a Bachelor of Science Degree in Business and Information Technology, and a Master Degree in Mobile Telecommunication and Innovation from Strathmore University. Credentials for Venture Capital and startup ecosystem development from Stanford University.
Diana Esther Wangari (Dr) [CEO, Checkups Medical Centre]: Dr Diana Esther Wangari is the CEO and co-founder of Checkups Medical Centre in Kenya. 
Checkups Medical Centres utilize in-house developed technology, iSikCure; to provide access to rapid diagnostics, consultation and last-mile drug distribution through its delivery services both in urban and rural areas. Under her leadership, Checkups has rapidly grown with projected revenue of over 1 Million Dollars by its first anniversary. Having established partnerships with insurance and pharmaceutical companies including Sanofi, Novartis and Roche.
Dr Diana as the co-founder also serves on the board of Sagitarix Limited, a health technology company that developed ZiDi, a health management information system serving over 60 Facilities in over 6 African Countries.
Dr Diana is a graduate of the University of Nairobi, School of Medicine and is a member of the Kenya Medical Association. A firm believer of communication is a critical driver of policy change, she served as the pioneer journalist-in-residence at the Institute of Tropical Medicine (ITM) Antwerp, Belgium and served as a columnist for Code4Africa, The Star Newspaper and The Standard Newspaper Kenya. She has been a contributor for Thomson Reuters (UK), Citizen News Service (India), LoveMattters (RadioNetherlands) and Prospekt Africa.
Dorcas Owinoh [CEO, LakeHub Foundation]: Dorcas Adhiambo Owinoh is the director and a founding member of the LakeHub Foundation, a technology and social innovation hub that aims to decentralize access to technology, growing entrepreneurship, and social innovation. Through LakeHub, Dorcas has created an open and supportive space where young and talented developers, creatives, entrepreneurs and social innovators in western Kenya meet to network, learn from each other, brainstorm, and find solutions to societal challenges. As a leader in the technology community, Dorcas leads the Village Code Project, a program that aims to bridge the digital divide among youths in Western Kenya by teaching children in villages problem ideation, conceptualization, design, computer programming, and entrepreneurial skills. 
Her work and mentorship on this program have empowered 300 young girls to successfully build mobile apps aimed at providing solutions to health, equality, education, gender, and environmental issues. In the future, Dorcas plans to start an innovation academy to continue teaching digital and design skills to African youth.
Emmastella Gakuo [Co-Founder, Savanna Circuit Tech]: Emmastella is the co-founder and COO of Savanna Circuit Tech, a Kenyan company specialising in innovative solutions in the AgriTech space.
With a background in entrepreneurship and communications development, Emmastella oversees the full spectrum of business operations including project management and strategy development, branding and partnerships. In addition to her work, she contributes to campaigns of food handling, safety, and hygiene in local women and youth groups as part of Shared Value initiatives for Savanna Circuit Tech. Emmastella is passionate about solving local issues with a global perspective with the help of technology, creativity, diversity and human-centred design.
Linda Kamau [Director, Akirachix]: Linda Kamau is the Managing Director and Co-Founder of AkiraChix. For 8 years working as a software engineer, she found herself being the only woman of colour in a leadership position working with people from over 10 different countries and it's with this inspiration that she co-founded AkiraChix.
As a way to address poverty, unemployment and gender inequalities in the access and use of ICTs, AkiraChix mission is to provide hands-on technical training and mentorship to young women to increase the number of skilled women in tech and positively impact the community. They believe that access to education and training is of paramount importance for young women to support them in moving out of the vicious cycle of low-skills, low-productivity and low-wage employment and as a pathway to bridging the gender gap in IT. Removing barriers for access to training and education is thus essential for achieving highly competitive young women with 21st-century skills in IT. 
Her work has been featured on NPR, BBC Click, Huffington Post, PBS NewsHour as well as drawn interest and visits from high-level personalities such as former UN Ambassador Bank Ki Moon and President Uhuru Kenyatta and she was named an Obama Foundation Leader: Africa, 2018.
As the leader of an organization at the forefront of getting more women in the technology field, Linda continues to champion the diversity and inclusion of women in the technical workforce. With skilled women, you are assured not only of economic changes, but also a shift in societal norms.
Linet Kwamboka [CEO, DataScience Limited]: Linet is the founder and CEO of Data Science Ltd a Data Analysis and Research Company established in Kenya to focus on providing services to the local private and public (Enterprise, Government and CSO/NGO) business space in understanding and using available and new data to gain insights for better planning, resource allocation and profits making.
Linet has been at the forefront of coordinating the Kenya Open Data Initiative and the Open Government Partnership for the Government of Kenya and the World Bank. She has also been a Software Engineer with Carnegie Mellon University and Stanford University.
Linet holds an undergraduate degree in Computer Science from the University of Nairobi and is self-taught in geographic information systems (GIS), data analysis, and mining. She has been recognized as an unsung hero by the American Embassy in Kenya for her efforts to encourage more women to work in technology and computer science in August 2018, Linet Kwamboka was named as one of the "100 Most Influential People In Digital Government". The list was compiled by Apolitical, a London, United Kingdom-based non-government global network, which assists public servants find the ideas, people and partners they need to solve the challenges of governing.
Stellah Wairimu Bosire-Otieno (Dr) [CEO, Kenya Medical Association]: Dr Stellah Wairimu Bosire-Otieno, is a Kenyan physician and corporate executive, who serves as the executive director of the Kenya Medical Association (KMA).
Following the completion of her internship, she was employed by Avenue Healthcare, a network of Urgent Care Centers, as the Physician Manager of the Embakasi location. There, she managed a team of fifteen healthcare workers and ensured proper provision of services, for two years (2014 until 2016). 
Since September 2013, Dr Bosire-Otieno has served as the Vice-Chairperson of the HIV/AIDS Tribunal of Kenya. In this capacity, she focuses on advancing human rights and access to justice for persons affected and infected by HIV/AIDS. Effective October 2016, she was appointed as the Chief Executive Officer and Secretary to Board of Kenya Medical Association, industry advocacy and advisory group.
Towett Ngetich [CEO, Uthabiti]: Towett Ngetich is a leader and an SDG goalkeeper seeking to build healthy communities ensuring they achieve global goal 3. Good health and Well-being 16. Peace and Justice Strong Institutions through science and technology.
At 23 he founded Uthabiti Health, a social enterprise that focuses on fighting counterfeit medicines by safe proofing the pharmaceutical supply chain through; medicine quality testing, distribution and retail track and trace solution. And to date, they are empowering communities to verify drugs straight from their phones using their modern technology blockchain platform.
At Uthabiti, they merge technology and pharma. Their works are pegged on quality tests results which are attached to labels generated from blockchains, which are then pinned to each certified drug. This data is maintained across supply chains and can be verified by SMS triggered by the consumer's phones query.
To date, they have scaled their operation across 2 Counties in Kenya and have successfully built a network of pharmacies – distributing quality, tested and labelled medicines to 52 retail points. They have carried out 5,600 + verifications and in all instances, assuring safety and quality of dispensed health products.
He is a proud associate with global awards including Queens Young Leader award by H.M Queen Elizabeth, Goalkeeper award by Bill and Melinda Gates Foundation, USAID inclusive health award, Transparency International Anti-Corruption Social Entrepreneur and a Forbes Africa "Future of Pharma" feature.
SOCIAL ENTREPRISE & PHILANTHROPY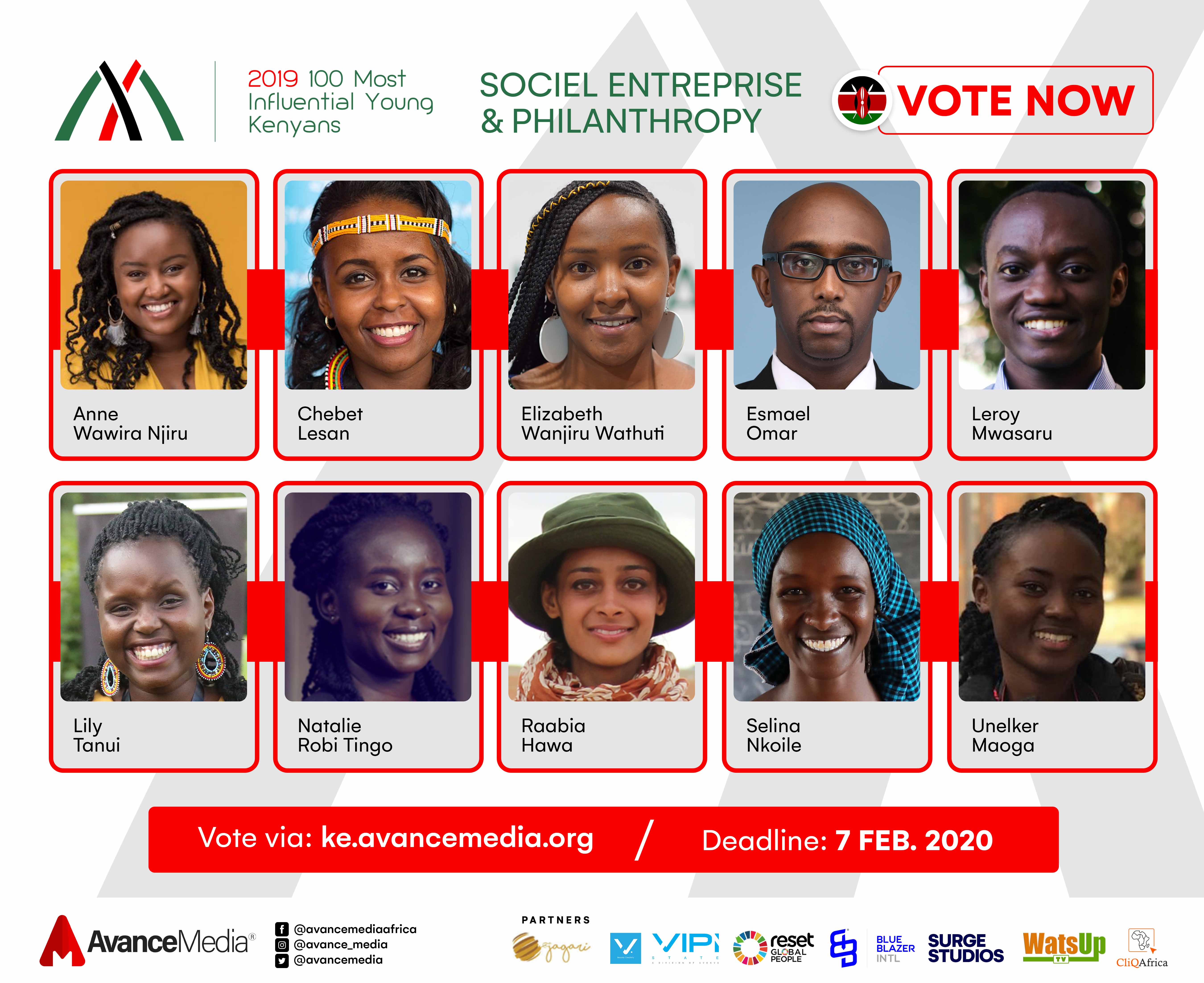 Anne Wawira Njiru [Founder, Food4Education]: Anne Wawira Njiru, is a Kenyan businesswoman, entrepreneur, human nutritionist, and philanthropist, who serves as the executive director of Food 4 Education, an organization that cooks, prepares and distributes nutritious meals, at subsidized prices to over 2,000 poor school children in Ruiru, a suburb of Nairobi, the capital city of Kenya.
In 2011, at the age of twenty, Wawiru then an undergraduate in Adelaide, Australia invited 80 friends to a Kenyan themed meal. She charged $20 per plate, raising the equivalent of KSh126,000 at that time.
With those funds, Food 4 Education (F4E) was founded. Starting with the construction of a make-shift kitchen, F4E started feeding their 25 first students. That was followed by fundraising campaigns on the internet. Over time, the number of children receiving subsidized school lunches increased.
According to Wawira Njiru, it costs Ksh25 (approx. US$0.25) to provide a meal to an elementary school child in Kenya. The parents or guardians are asked to contribute KSh10 (approx. US$0.10). F4E provides the balance.
To bridge the financial gap, F4E hired a full-time chef, constructed a new modern kitchen and began to deliver cooked-to-order-meals to corporate clients in the nearby Nairobi neighbourhoods of Kilimani, Kileleshwa, Westlands, Upper Hill and the central business district of the city.
Chebet Lesan [CEO, BrightGreen Renewable Energy]: Chebet Lesan is Founder and Chief Executive Officer of BrightGreen, a Kenyan company that designs and produces eco-friendly charcoal from agro and organic waste. 
Between 2016 and 2018, BrightGreen sold over 500 tons of briquettes, saving customers upwards of $35,000, impacting the lives of more than 50,000 Kenyans, preserving 5,000 tons of trees, and providing livelihoods for over 100 value chain actors, including 30 women distributors. In 2017, Her Majesty Queen Elizabeth II honoured Lesan with the Queen's Young Leaders Award. She is also a recipient of Kenya's Ministry of Energy Innovation Award, Australia Award Fellowship, MIT D-lab Fellowship, Mandela Washington Fellowship and a One Young World Ambassador and Speaker.
Elizabeth Wanjiru Wathuti [CEO, Green Generation Initiative]: Passionate environmentalist and climate activist from Kenya, Elizabeth is the founder of Green Generation Initiative (GGI), a full member of The Greenbelt Movement, board member of the Elephant neighbours centre and a youth council member of the International Reserva: The Youth Land Trust. Due to her outstanding passion, leadership and personal commitment to environmental conservation and societal issues, she received the Wangari Maathai Scholarship Award from The Greenbelt Movement, Kenya Community Development Foundation and the Rockefeller Foundation.
She previously served as the chairperson of Kenyatta University Environmental Club and holds a Bachelor's degree in Environmental Studies and Community development. She was honoured internationally with The Diana Award 2019 for going above and beyond in her daily life to create and sustain positive change. Her environmental conservation efforts were also recently recognized by the Duke and Duchess of Sussex 
She was a regional finalist for Africa for the UN Young Champions of the Earth 2019 due to the impact that her organization which nurtures young people to be conscious of the environment while promoting green projects has had. Recently, while attending the climate change conference of parties (COP25) in Madrid, Spain, she received the young climate champion 2019 award from the Green Climate Fund (GCF). 
She raises environmental awareness through her website www.lizmazingira.com which was declared the best environment blog 2018 by Bloggers Association of Kenya. She has showcased her climate action solutions in over 10 high-level international conferences such as; Global Landscapes Forum in Germany, ss12th International seminar on sustainable regions in Spain and also the UNFCCC resilient frontiers conference that took place in Songdo, South Korea in April 2019. 
Esmael Omar [President , Global Youth Coalition to End FGM]: Esmael is an international development professional with 10 years' experience, specializing in gender, women's health, SRHR, VAWG and GBV. He is passionate about improving the health and quality of life for women and their children through strategic leadership, programme management, movement building and capacity development for social norms change. Through his strong leadership and interpersonal skills, he has established meaningful relationships with relevant stakeholders, making projects or programmes he initiated and supported successful and sustainable. Esmael has taken every opportunity to further his education, obtaining his Bachelor and Master of Arts Degree in International Relations from United States International University – Africa.
Currently, Esmael serves as the President of the newly formed Global Youth Coalition to End FGM and Child Marriage where he provides strategic direction and technical support to various country youth networks committed to End FGM and Child Marriage in over 80 countries. Up until recently, he worked as a Program Manager – Inclusion, for the Global Observatory for Inclusion (GLOBI), where he supported capacity building training for persons with disabilities (PwDs) on FGM and provided technical oversight in the development and adaptation of the Prohibition of Female Genital Mutilation Act. No. 32 of 2011 into accessible formats (braille, easy-to-read, large-print and audio versions). 
Before working with GLOBI, Esmael served as a Country Lead in Kenya for The Girl Generation (TGG), where he contributed towards developing the social movement to end FGM and enabling the scaling up of social change communication. He also supported in-country capacity building; membership and partner engagement; and resource leveraging work. 
Previously, Esmael worked for Diaspora Community Services (DCS) in New York, U.S as a Community Outreach Specialist where he provided outreach services in the community about the DCS Medical Benefits Assistance Program. He also served as the Regional Focal Point for Eastern Africa for the Global Youth Coalition on HIV/AIDS (GYCA) where he made significant contributions to the various movements that support young people's access to sexual and reproductive health and rights, drawing attention to the disproportionate impact of new HIV infections on young people. His passion for working with young people led him to start AFYAFRIKA, a small non-profit, youth-led and youth-serving organization that aims to improve health and self-sufficiency among underserved youth. In 2009, it won an MTV "Staying Alive" award in recognition of its role in finding creative approaches to fighting HIV and AIDS in his community. 
Esmael is a 2010 Sexuality Leadership Development Fellow (Lagos, Nigeria), 2011-2012 Jeanne Sauvé Fellow (Montreal, Canada) and 2016 Community Solutions Program Fellow (New York, USA). He is passionate about forging partnerships across institutions, and communities to empower youth, mobilize action, and build community resilience to end harmful cultural practices and all forms of violence against women and girls.
Leroy Mwasaru [CEO, Greenpact]: Leroy is a Kenyan social entrepreneur who is mainly involved in renewable energy, e-commerce and human-centred design education. His works have a unique focus on poverty alleviation and socio-economic empowerment.
At the age of 16, when he founded Greenpact, a social enterprise that began as a high school project to provide alternative renewable energy to local communities and institutions in Kenya.
His work with Greenpact has been featured by CNN, The HuffPost, Forbes, UpWorthy, Grist and local media in Kenya. He runs CampBuni, a social enterprise teaching design thinking to high school students and CommCycle, a trading platform to facilitate peer-to-peer trading.
Leroy is a One Young World Ambassador, a Harvard Social Innovation Collaborative Fellow, a Resolution Fellow, the youngest 2016 Tony Elumelu Entrepreneurship Programme fellow and Royal Commonwealth Society Fellow.
Lily Tanui [Founder, Tree Growers Association of Kenya]: Lily Tanui is a 20 years old Environmental enthusiast.
She has planted more than 5000 trees in schools, churches, forests at homesteads during ceremonies and influenced planting of thousands of other trees by friends. My passion for nature started when she was young. 
In high school, (Bunyore Girls' High School) she created an environmental club, to educate the students on the effects of climate change and how they could join hands to help in its mitigation. They planted more than 2,000 trees and celebrated the world environment day. This was quite impressive as there had been no such a club before. She also spearheaded environmental education within the school which led to my election as the Environmental Captain in 2016. It is also in the same year, that she got a scholarship to attend an exchange program, Yale Young Global Scholars 2016 in Connecticut USA, on Sustainability Energy and Environment. From the program, she got empowered to be a renewable energy advocate. 
When she came back she worked with Sistema Bioblosa, a biogas company to have farmers install the biogas units in a bid to curb climate change. About 1000 units have been bought since then, hence reducing use or wood as fuel. She has attended several environmental conferences, such as the Global Landscapes Forum as a youth landscapes leader, United Nations Environment Assembly 3 and 4, which have enabled her to learn more on ways they could tackle climate change and expanded my network with likeminded people. They also enabled her to register the organization, Tree Growers Association of Kenya, whose main objective is mitigating climate change through planting trees and using renewable energy. She creates awareness in gatherings and also online, on the importance of not only planting trees but taking care of them to maturity to mitigate climate change and using green energy. They have also set up a tree nursery with about 3000 tree seedlings to promote conservation.
She is also an ambassador for Work Her Dream Organisation, an NGO that champions for girl child Education and She mentor girls on the importance of education and how it has created so many opportunities for me. Giving back to society is one of my priorities and whenever she gets the opportunity to do so it's always life-changing.
In April 2019 she was nominated by DIAR AWARDS for the Environmental Champion Award and emerged the 2nd Runners up. In September 2019, she became a recipient of the Society for Ecological Restoration Regional Awards – Award for excellence in Restoration (Africa). She treasures the awards and they mean so much in my activism. However, my aspirations span far beyond what she had accomplished thus far.
Natalie Robi Tingo [Founder, Msichana Empowerment Kuria]: Natalie Robi Tingo is a Youth Power Accountability Advocate from Kenya working towards the fulfilment of Global Goal 5 target 3 using awareness and youth-led accountability. A survivor of violence herself, she is influenced by her own experiences growing up in a community where 8 in 10 girls wake up to the reality of having their genitalia cut off and being married as children.
She founded Msichana Empowerment Kuria to give young girls and women a voice, and to end Female Genital Mutilation and all other forms of violence against women and girls. She has facilitated village dialogues on ending the cut, leveraging innovation to build sustainable models and initiatives to accelerate the abandonment of the cut and to demystify myths and misconceptions on FGM as a social norm.
Raabia Hawa [CEO, Walk With Rangers]: Raabia gave up a successful career in TV to work with rangers in the field in Kenya, and founded the Ulinzi Africa Foundation – East Africa's first NGO to raise awareness of the challenges faced by rangers in their fight against poaching.
Raabia now has more than 10 years' experience in the field – a life that can be incredibly tough, but also immensely rewarding. Foot patrols will start around 8 am and lasts all day, with the team "tracking, listening out for sounds of human activity, chopping or talking, and also taking in and identifying any out of the ordinary smells such as burning or rotting flesh".
Raabia is keen to pass her motivation on to the next generation of Kenyans. "In 20 years I hope that we will have fostered a new generation to think of wildlife in a different value system – and I believe we are getting there," she says. "Young Kenyans do not see wildlife as a commodity and I hope that transcends globally where their intrinsic value and ecosystem services are cherished enough to push governments to do the right thing and to develop and grow sustainably."           
Selina Nkoile [Founder, Nashipai Maasai Project]: Selina Nkoile was born and raised in Mosiro, Kajiado County. Despite her upbringing in a traditional Maasai homestead, Selina seized her only chance at receiving a quality education and become the first generation of girls from Mosiro to complete primary education in Naning'oi Primary School – the only facility of its kind in a more than 500 square kilometre radius. After graduating from Enoomatasiani Secondary School, Selina went on to earn a diploma in Cultural Tourism from the University of Nairobi as she continued taking courses and training in sustainable agriculture, social entrepreneurship, advocacy and policy communication. She then secured employment to support herself and family financially. However, as she rose in the business world, Selina could not turn her back on the countless girls who were still being robbed of their opportunity to receive an education. In 2017 she resigned from her work to finding Nashipai Maasai Community Projects, a community-based organization that focuses on providing Maasai girls with opportunities for education and success by eliminating FGM, child marriage, and other barriers to education. 
Nashipai currently supports Naningoi Girls' Primary School – the very same school which empowered Selina to enjoy a successful and fulfilling life. Because of Nashipai's incredible work, in 2019 Selina spoke in The Philippines at a conference sponsored by TICAH – Trust for Indigenous Cultures and Health. She also represented Nashipai in Germany at the International Conference on Climate Action. Selina and her work has been featured in well-known news outlets such as Al-Jazeera, ONE.org, and Young African Leaders Initiative (YALI Network)
Selina, now 26 years old, is passionate about empowering Maasai girls to thrive through quality education, using sustainable Agriculture (Permaculture) to combat climate change, and growing her network of professional contacts to create even more positive change in the world.
Unelker Maoga [Founder, Konservation]: Unelker is a conservationist and community developer. With expertise in advocacy, research and project management, she holds a BSc. Environmental Science from the University of Nairobi and a Course. Sustainable Innovation Design from Aalto University, Finland and UoN C4D Lab.
Unelker started in wildlife conservation as a research intern at the Kenya Wildlife Service and Save The Elephants in Samburu National Reserve where she contributed to coral reef conservation and the long-term monitoring of elephants. Her work in philanthropy begun after she was awarded the Wangari Maathai Scholarship Fund in 2016 by the Green Belt Movement where she remains a member and ambassador.
In 2017, she founded Konservation, a not-for-profit organization based in south-west Kenya that enhances environmental stewardship, empowers women and encourages young people to be involved in the sustainable development of rural communities, to whom they all owe their origin and progress. As a Pan-African, Unelker is convinced that no matter how meagre their capacity or resources, young Africans have the means to protect and develop what is theirs, ensuring that under-developed communities grow and thrive. Konservation's work in climate change education has impacted over 2000 young people in rural agricultural villages and has increased access to solar technologies in 120 homes that previously lacked access to electricity. Her work is jointly funded by National Geographic and Global Greengrant Fund and proudly supported by the Kenya Community Development Foundation.
Unelker has received recognition from the U.S. Ambassador to Kenya and the UN Young Champions of the Earth during World Youth Day. In 2018, her work in the environment and sustainable development won 2nd runners up at the WWF Africa Youth Awards in Conservation. Unelker is also a 2018 Youth Climate Leader, 2019 One Young World ambassador, 2020 National Geographic Explorer and soon to be one of the youngest Mandela Washington Fellows.
SPORTS
Beatrice Chepkoech [Athlete]: Beatrice Chepkoech Sitonik is a Kenyan long-distance runner who specialises in the 3000 metres steeplechase. She is the current world record holder in that event running 8:44.32 in 2018. With that time she became the first woman to break 8:50 and 8:45. She was also a bronze medallist over 1500 metres at the 2015 African Games.
Chepkoech began her career in road running, taking top three placings in 2014 at several low-level races in Germany and the Netherlands. She switched to track running in 2015 and set a 1500 m best of 4:03.28 minutes to win at the KBC Night of Athletics. This time placed her just outside the top twenty athletes for the season and she was the fifth fastest Kenyan. A bronze medal in the event followed at the 2015 African Games. 
Chepkoech ended her 2015 season with a run in the 2000 metres steeplechase at the ISTAF Berlin and this prompted her to try the full 3000 m Olympic event. She made a successful transition and on the 2016 IAAF Diamond League circuit, she ran 9:17.41 minutes for fourth at the Prefontaine Classic before taking second at the Stockholm Diamond League. She ranked fifth in the world upon entry to the 2016 Rio Olympics.
She finished 2nd at the 1500m in the 2018 Commonwealth Games.
In July 2018, Chepkoech shaved eight seconds off the women's world record in the 3000 m steeplechase, winning IAAF Diamond League Monaco race in 8:44.32. Highlights Video on YouTube.
Brigid Kosgei [Athlete]: Brigid Jepscheschir Kosgei is a Kenyan marathon runner who won the 2018 and 2019 Chicago Marathons and the 2019 London Marathon. She is the current marathon world record holder for women running in a mixed-sex race, with a time of 2:14:04 achieved on 13 October 2019 at the Chicago Marathon. This bettered the previous 16-year-old world record by 1 minute 24 seconds, and the women's Chicago Marathon record by 3 minutes and 14 seconds.
Kosgei has finished in the top two in eight of the nine marathons that she has run in her career. She came second at the 2016 Lisbon Marathon behind Sarah Chepchirchir, in a personal best time of 2:24:45. Her time was faster than the previous course record. In 2017, Kosgei won the Bogotá Half Marathon and came third at the Copenhagen Half Marathon. She came second in the 2017 Chicago Marathon in a personal best time of 2:20:22. Her time was the sixth-fastest ever time at the Chicago Marathon. Weeks later, she won the Honolulu Marathon, beating the course record by over five minutes. In 2018, Kosgei came second in the London Marathon behind Vivian Cheruiyot. After injuring herself during the Bogotá Marathon, Kosgei decided to run the Great North Run, to practice ahead of the 2018 Chicago Marathon. She finished the event second, behind Cheruiyot. Kosgei later won the Chicago Marathon, after breaking away from a group of two other Kenyans and three Ethiopians after 30–35 kilometres (19–22 mi) of the race. She set a personal best time of 2:18:35. During 2018, Kosgei also won a cross country event in Eldoret, Kenya and the Kalya Half Marathon in Kapenguria, Kenya.
Kosgei won the 2019 London Marathon, becoming the youngest woman to win the event. This is the third-best time in London after Paula Radcliffe in 2005 with 2:17:42 and Mary Keitany 2017 with the world record 2:17:01. At the 2019 Great North Run, Kosgei won in a course-record time of 1:04.28, 23 seconds faster than the previous half marathon world record set by Joyciline Jepkosgei.
She won the 2019 Chicago Marathon on 13 October 2019 in a world record time of 2:14:04, an improvement of her personal best by more than 4 minutes.
Emily Muteti [Swimmer]: Emily Muteti is a 20-year-old swimmer from Kenya, who began swimming at age nine and made her international debut in 2011 in South Africa where she bagged a handful of medals.
She has worked immensely hard to get to where she is currently but still believes there's room for getting even better and hopefully represent Kenya in the next Olympics in Tokyo,2020.
She currently studies and trains in the Grand Canyon University in Arizona in a bid to take her further in life.
Emily has represented Kenya in several swimming championships all over the world from Africa to Spain: 2013-FINA World Championships, Spain, 2015-Fina World championships, Russia, 2016-FINA swimming championships (25m), Canada and 2017-FINA World championships, Hungary.
Emmanuel Korir [Athlete]: Emmanuel Korir is a middle-distance runner from Kenya. In 2017, he set the indoor world record for 600 meters. As of 22 July 2018 he is ranked as the sixth fastest athlete over 800 m of all time, with a personal best of 1:42.05.
In 2017, he left the UTEP Miners for a professional running contract with Nike, Inc.
While at UTEP, he was coached by gold medallist Paul Ereng.
Faith Kipyegon [Athlete]: Faith Chepngetich Kipyegon is a Kenyan middle-distance runner and the current Olympic champion in the 1500 m women's having won the Rio Olympics on 16 August 2016. She won the gold medal at the 2017 World Championships and the silver medal at the 2019 World Championships.
She is also the Commonwealth champion having won the gold medal at the Commonwealth Games in Glasgow, Scotland with a time of 4 minutes 08.94 seconds. She won the gold medal at the 2011 World Youth Championships in Athletics, and a gold medal the next year at the 2012 World Junior Championships in Athletics. At the 2012 Summer Olympics, she competed in the Women's 1500 metres but got 9th in the 3rd heat and failed to qualify for the finals. She won the women's junior race in the World Cross Country Championships in 2013. She competed in the 2013 World Championships in Athletics and Came in 5th place in the final with a time of 4:05.08.
In 2017, she won two Diamond League races in Shanghai and Eugene. Her best success of this year was the first place at the 2017 World Championships, becoming only the third woman in history to win both the Olympic and World Championships 1500m race.
Margaret Nyairera Wambui [Athlete]: Margaret Nyairera Wambui (born 15 September 1995) is a Kenyan middle-distance runner specialising in the 800 metres.
In her first international competition, she won the gold at the 2014 World Junior Championships. She later competed at the 2015 World Championships without advancing from her heat. At the 2016 World Indoor Championships, she won the bronze medal. That same year she competed at the 2016 Summer Olympics, setting a new personal best of 1:56.89 in the final, which also earned her a bronze.
In 2019, it was revealed that Wambui was born with the 46, XY karyotype and an intersex condition after her qualification for IAAF women's competition was affected by the association's new regulations for athletes with XY disorders of sex development, testosterone levels above 5 nmol/L, and androgen sensitivity.
Michael Olunga [Footballer, Kashiwa Reysol]: Michael Olunga is a professional footballer who plays for Japanese club Kashiwa Reysol and the Kenya national team as a forward.
On 1 September 2017, Olunga was loaned to La Liga side Girona FC, for one year. On 13 January 2018, he made his La Liga debut against Las Palmas scoring a hat-trick in 22 minutes during a 6–0 win, becoming both the first Kenyan player and the first Girona player to score a hat-trick in La Liga.
On 10 August 2018, Olunga joined Japanese club Kashiwa Reysol.
On 24 November 2019, he scored eight goals for Kashiwa in a 13-1 victory over Kyoto Sanga.
He scored his first goal for the Harambee Stars in a friendly against South Sudan which resulted in a 2–0 win. During the 2019 AFCON Olunga scored a double to complete a comeback against Tanzania. The first which was the equalizer, was a spectacular overhead kick while the second, the winner was a powerful left-footed shot from the outside of the 18-yard box and off the woodwork.
Sabrina Simader [Skii champion]: Simader was born in Kenya, and moved to Austria when she was three years old, where she picked up the sport. Her mother is Kenyan while her father is Austrian.
Simader represented Kenya at the Winter Youth Olympics in 2016 in Lillehammer, Norway.
Simader competed for Kenya at the 2018 Winter Olympics in the alpine skiing events. Simader became the first female and alpine skier to compete for Kenya at the Winter Olympics. Simader is aiming for a top 20 finish in her events.
She won Sports of the year AWE Award 2017 in Berlin
Victor Wanyama [Footballer, Tottenham Hotspur]: Victor Mugubi Wanyama is a Kenyan professional footballer who plays as a defensive midfielder for Premier League club Tottenham Hotspur and captains the Kenyan national team.
Wanyama became the first-ever Kenyan player to score in the UEFA Champions League when he scored the first goal in Celtic's 2–1 win over Barcelona on 7 November 2012. 
He has earned over 50 caps for the Kenyan national team since making his international debut in May 2007 at the age of 15.
William Ambaka Ndayara [Rugby Player]: William Ambaka Ndayara is a Kenyan rugby union player, currently playing for the Kenyan national sevens team as well as for Manawatu in New Zealand's Mitre 10 Cup. He has previously played professionally for French Rugby Pro D2 team, Lyon OU, and the South African Currie Cup side, Western Province. His regular position is a winger.