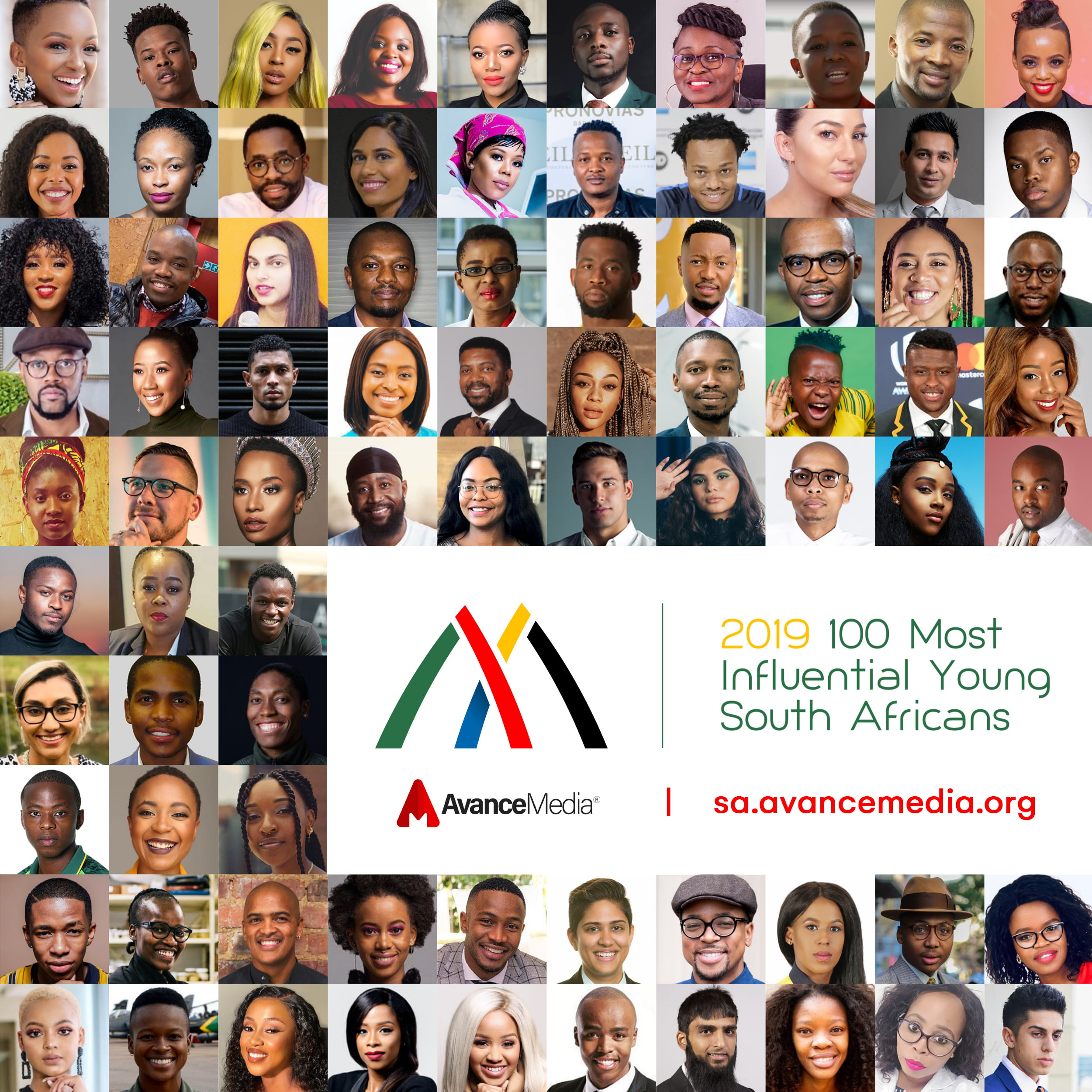 22 Jan

Profiles: 2019 100 Most Influential Young South Africans

The most anticipated annual list of young South Africans, 100 Most Influential Young South Africans, which is curated by leading PR & Rating firm, Avance Media, has been released.

Currently in its fourth year, the annual ranking by Avance Media has helped highlight the works of young South Africans across the world and has seen notable personalities such Trevor Noah (2016), Dr. Mbuyiseni Ndlozi (2017) and Caster Semenya (2018) voted as the Most Influential Young South Africans in the previous years.

The 2019 list features a record of 54 females and 46 males according to Prince Akpah, MD of Avance Media. He further cited that, "the list serves as an encouragement to young South Africans who are accomplished in their industries and continue to build a distinguished brand for themselves and influence over others. This list also urges those honoured to continue striving harder so their stories can inspire other young people to also contribute their quota to the development of South Africa and the continent of Africa."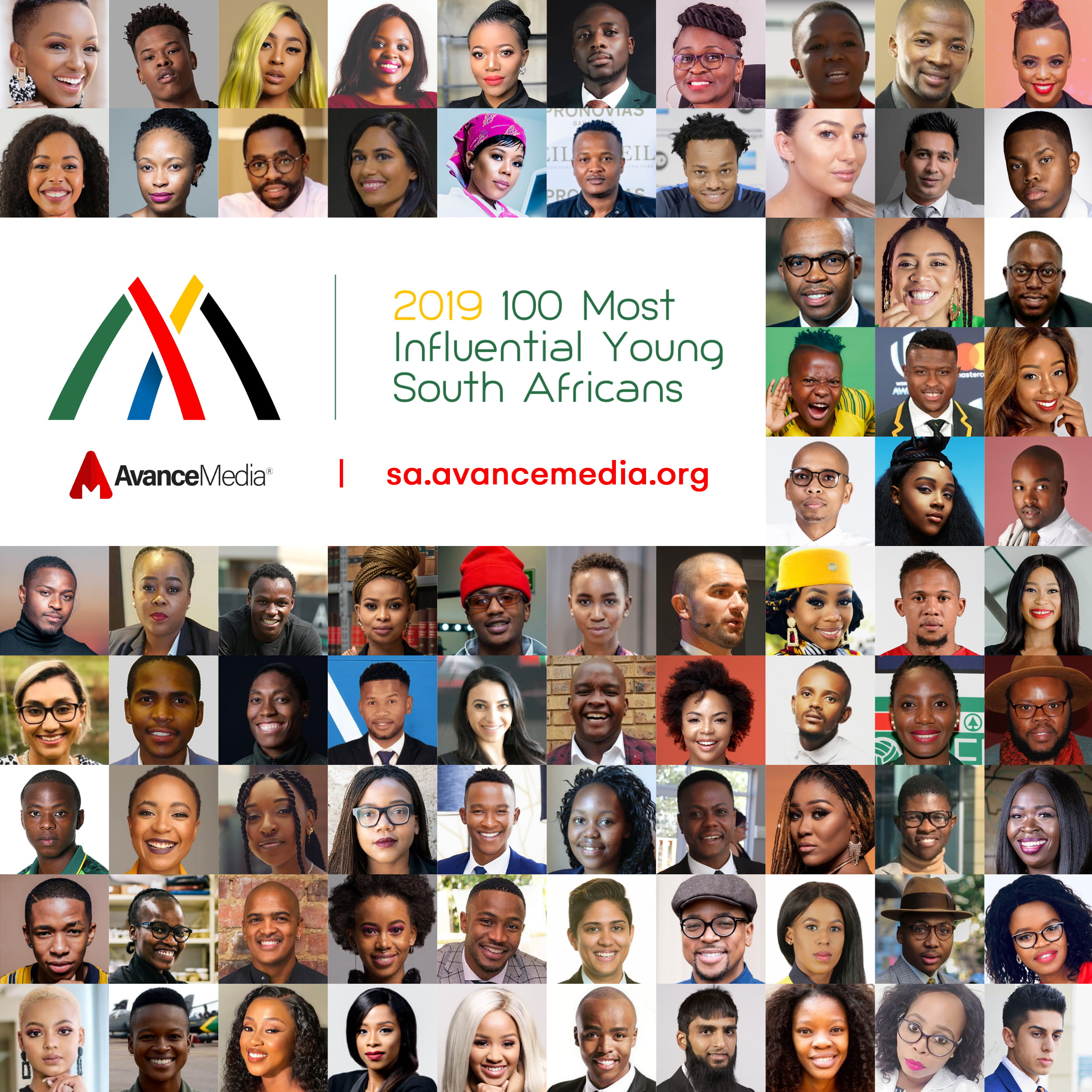 Honourees cut across diverse sectors with these inspiring young change-makers and leaders making great strides as entrepreneurs, musicians, activists, media personalities, social entrepreneurs, public servants and politicians.
Public voting has been opened via sa.avancemedia.org for the public to decide who among the 100 honourees served as the most influential young person in 2019.
Avance Media is also spearheading related annual rankings for Ghana, Nigeria, Tanzania and Kenya.
BUSINESS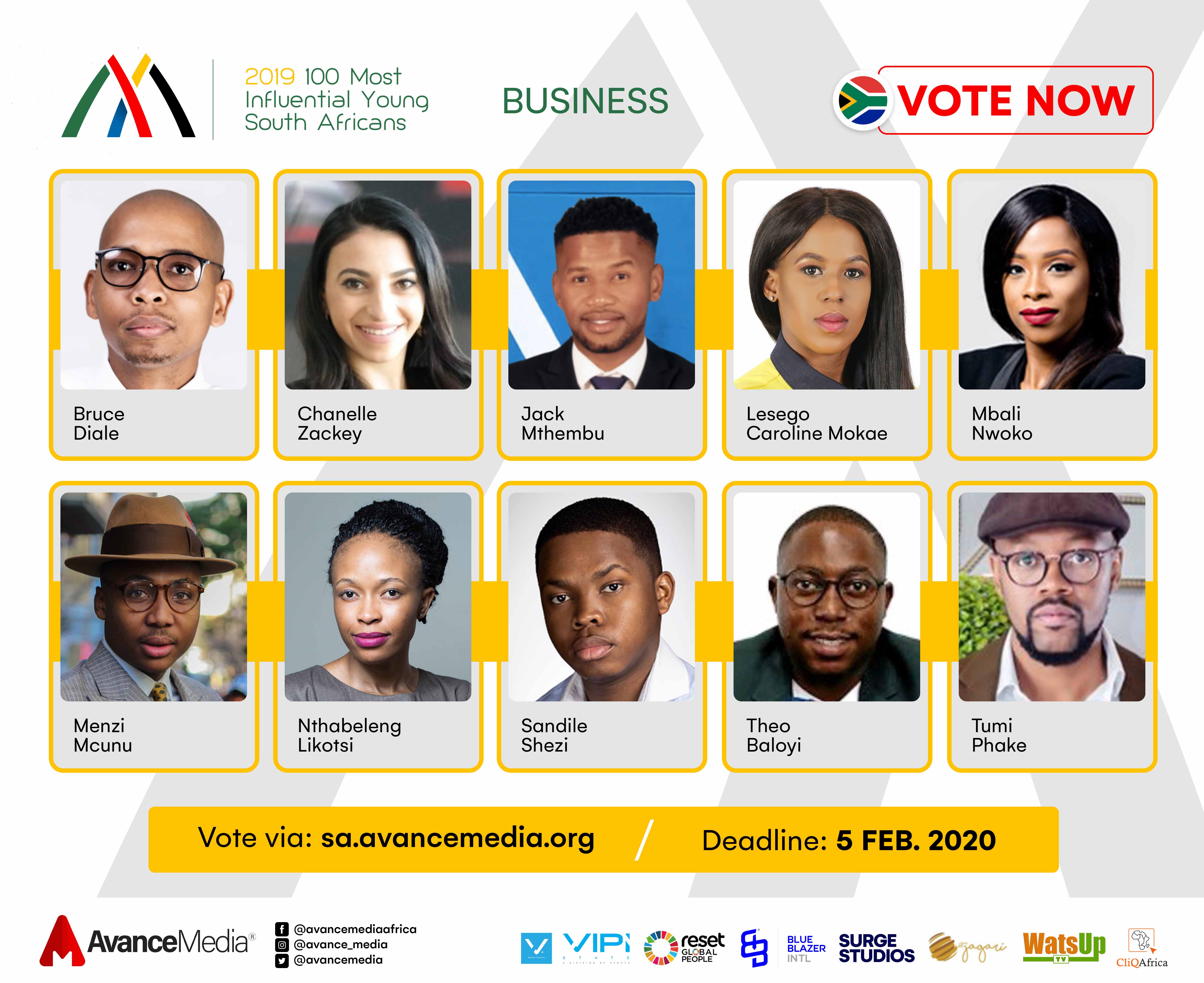 Bruce Diale [CEO, Brucol Global Development]: Bruce Diale is a young agriculturist born and raised in the rural landscapes of Sekhukhune in a village called Ga-Marishane in the Limpopo province. He is the founder and managing director of Brucol Global Development, an agricultural consulting company that is innovating the agricultural landscape by providing skills development, mentorship and financial support to farmers in the most remote rural areas of South Africa. He is an award-winning entrepreneur who was recently named as one of the Forbes Africa 30 under 30 most promising youth, he graduated in a B.Sc. in agriculture, is completing an MBA and is inspiring change through food security innovations and propelling job creation through agriculture.
Brucol is also a co-inventor with patent rights for an innovative tower Gardening technology called Gardenizly which has thus far created over 10 000 food secure households in both Limpopo and Mpumalanga. His primary objective is to be the change this world deserves. Through building the rural agricultural landscapes of not just South Africa but the world at large
Chanelle Zackey [National Marketing Director, Ferrari]: Chanelle is currently the National Marketing Director at Ferrari South Africa.
Most importantly Chanelle is passionate about empowering the youth. In 2017 she launched the first official "Ferrari Internship Program" within her organization. The project was launched to allow young, ambitious and passionate individuals to learn and engage with the brand at an operational level.
Chanelle believes it is truly rewarding to be able to empower and support hardworking and determined individuals as they take the first step in advancing their careers."
Jack Mthembu [CEO, First One Adventures]: Jack Mthembu is a multi-award winning entrepreneur, a youth ideation coach and a public speaker. Mthembu is the founder of First One Adventures, Teens Entrepreneurs Connect (TEC) and Lets Africa NPC.
Mthembu's entrepreneurial strives were evident from as early as in Grade 3. Having entrepreneurial grandparents, who would give their grandchildren packets of sweets to sell instead of money, they planted the seed of entrepreneurship in Mthembu's life at an early age. Such habits of buying and selling curried on with Mthembu, throughout his primary and high school studies.
In June 2018, Mthembu was recognized by Forbes Africa on its annual 30 Under 30 list, alongside other business recognitions and awards such as making the BBQ Awards in 2019. Mthembu is solving the issue of South Africa's education system not equipping young people with essential life skills, necessary for learners' development and growth in Entrepreneurship, Leadership, and Problem-Solving Skills.
Lesego Caroline Mokae [co-founder, Ditsogo Projects]: Lesego is an award-winning entrepreneur (won an award for the most influential woman in business and government in the engineering sector in the SADC South 2019) and Forbes Africa 30under30 2019 young leader.
She was born in a rural village called Rooikraal and later moved to Segwaelane which is also a rural village. She worked as a brand ambassador for a bank, got promoted within 4months to a consultant then worked her way up until she was a manager leading a team of 15people and later resigned to focus full-time on the business.
Growing up in areas surrounded by mines she was fascinated about how the majority of the youth wanted to work there rather than have companies that will service those mines and her love for constantly fixing things sparked the love for engineering. Ditsogo Projects was born out of an identified GAP of lack of ladies in the engineering field, the passion to inspire, motivate and carry the torch for those who will follow our footsteps.
Ditsogo Projects is a 100% Black women-owned company established in 2012 but started operating in 2015 due to the challenges we encounter in this male-dominated field. We specialize in steel fabrication, plant maintenance and the supply of steel products. Since our operation, we have given jobs to more than 55people and we plan on growing the business and employing more people. We plan on being the most preferred manufacturer in Africa.
Mbali Nwoko [CEO, Green Terrace (Pty) Ltd]: Mbali Nwoko is an award-winning commercial farmer, entrepreneur, speaker and columnist. She is the CEO of Green Terrace which is an agribusiness based in Boksburg, Johannesburg that farms high-value vegetable crops and supplies to leading retailers, food processing companies and the fresh produce markets across South Africa.
Green Terrace was established in 2016 farming on 2 hectares and has since grown to farm on 14 hectares of open land, 10 greenhouses and 10 shade net structures. We focus on farming high-value vegetable crops and supply leading retailers, food processors and fresh produce markets across South Africa.
Menzi Mcunu [CEO, Afrocentric Gentlemvn]: Menzi Mcunu is a multi-award winning digital entrepreneur and content creator and founder of Lifestyle Brand, Afrocentric Gentlemvn. Menzi has worked with leading global brands creating content and brand consulting for them, creating value and helping these brands relate and reach larger audiences. Born to an entrepreneurial family in Johannesburg, Menzi has always been enthusiastic about entrepreneurship and creating profitable solutions to various problems within South Africa. Menzi started his brand Afrocentric Gentlemvn at the tender age of seventeen while on a trip to India in which he was subsequently inspired by the culture of tailoring and made to measure in the country.
His approach to brand partnerships has been organic and authentic content creation which resonates with a modern South African audience. Through the establishment of his creative consultancy – Pretty Much. He has created a platform in which he can partner with brands and help them extract new insights and manoeuvred their digital presence online.
Menzi has been recognised as a Forbes Africa 30 under 30 honoree. He has won the GQ best-dressed man of the year award 2017 and has also won Jameson Man of Character award 2017.
Nthabeleng Likotsi [CEO, Young Women in Business Network Cooperative Bank]: Ms Likotsi is the Executive Chairperson of the Young Women in Business Network (YWBN). She is an assertive, tenacious team leader and player dedicated to the economic freedom of young women.
Ms Likotsi has a very strong desire to realise financial inclusion of a large swathe of South Africa's unbanked and underbanked consumers, majority of whom are women and out of the banking system and or have no bank access. She's an advocate for greater transformation of the banking sector to ensure it reflects the country's demographics in terms of ownership and participation.
Being a self-starter and believer in rising above challenges; Ms Likotsi has steered YWBN into great success and is now the Managing Director of YWBN Co-operative Financial Institution, a new formation conceived of an idea to realise the objective of making basic financial services more accessible to unbanked and underbanked consumers by minimising time and distance to the nearest bank retail branch as well as reduced banking and transaction-related costs through mobile digital technology.
Sandile Shezi [CEO, Rivoltare Pty Ltd]: Sandile Shezi, is the founder and CEO of Global Forex Institute.
Sandile Shezi is among the youngest millionaires in South Africa. His rise to the top was not smooth. He had to take risks that would have otherwise changed his life. His decision to venture into the high-risk Forex market favoured him. He is, in turn, giving back to society through an institution, the Global Forex Institute, which trains individuals on how to trade. He also has a foundation, the Sandile Shezi Foundation, which also gives back to the community. His area of focus is the country's unemployment rates. He believes that the Forex market is a good venture for South Africans.
Sandile Shezi was voted 2018 Most Influential Young South African in Business. He has so far expanded his business to Dubai, Ghana, Kenya, Swaziland, Lesotho and Zambia in 2019.
Theo Baloyi [CEO, Bathu]: Bathu was founded in 2015 by Theo Baloyi with the sole aim to tell a proudly untold South African township story to the world. Bathu is a common universal slang word mostly used in townships across South Africa in referral to any type of shoe, this word has existed in South African township for decades now.
Theo Baloyi identified a niche in the retail business to conceptualize and establish a shoe brand around the commonly used universal word with a deep sense of meaning in the black society and tell this beautiful untold story to the world.
Tumi Phake [CEO, Zenzele Fitness]: Tumi Phake is a South African based entrepreneur, author and speaker. He is the founder and chief executive officer of Zenzele Fitness Group, a fitness and wellness company that operates 18 branches facilities across South Africa. Some of Zenzele clients are as follows: Discovery health, BMW, Anglo American, ABSA, De beers, Liberty Life, Hollard Insurance, Wits University, Alexander Forbes, Rand Refinery etc.
His company was the first black company to build a chain of health clubs that primarily offers services to corporations and Universities. A multi-award-winning entrepreneur, who won, 2017 South African entrepreneur of the Year Award. Tumi also serves as an advisory board member for the Tshwane University of Technology.
A former banker with seven years in the industry, specialising in structured lending and investment banking. During this time, he identified a gap in the South Africa market, that health clubs are only accessible to a few people in South Africa and had a passion to create a fitness and wellness to all South Africans.
Phake previously served as a junior board member for FNB Wealth. In 2015, he was recognised by the Mail & Guardian's Top 200 Young South African's list, an initiative that recognises South Africans under the age of 35 who are groundbreakers in various industries. In 2016, Phake was selected as a South African ambassador for the prestigious Young African Leaders Initiative (YALI) in the United States of America, a leadership programme established by former President Barack Obama for young African Leaders. During the programme, he studied Business and Entrepreneurship at Virginia Commonwealth University and had the great honour of meeting former president of the USA, Barack Obama. He is now contributing to the entrepreneurial development journey of others as a business mentor at the Allan Gray Orbis Foundation.
ENTERTAINMENT
Bontle Modiselle [Actress]: Bontle Modiselle is a South African actress, television presenter, radio personality, dancer, choreographer, singer and model. In 2015, she starred in the dance film Hear Me Move, which resulted in her receiving an Africa Movie Academy Award nomination for Best Actress in a Supporting Role.
In March 2018, it was announced that Modiselle was chosen as the new face of Revlon South Africa, alongside actress Michelle Mosalakae and television presenters: Luthando Shosha and Kim Jayde Robinson. In their promotional commercial, she was featured as a dancing personality promoting the term "Dance Proof" concerning their ColourStay makeup.
Cassper Nyovest [Musician]: Cassper Nyovest, is multiple awards winning South African rapper, songwriter, entrepreneur and record producer. Born and raised in Mahikeng, North West, he is regarded as one of the most successful artists in South Africa. In 2014, he established his record label, Family Tree Records. Nyovest rose to fame with the release of his debut studio album, Tsholofelo (2014) which produced the successful singles "Gusheshe" and "Doc Shebeleza".
With his success of selling out tickets for his concert, Fill Up The Dome (2015) which was held at Ticketpro Dome in Johannesburg. The success of the event pursued Nyovest with the affix "Fill Up" to instigate more concerts in different stadiums annually, including Orlando Stadium (2016) and FNB Stadium (2017), also both in Johannesburg, Moses Mabhida Stadium (2018) in Durban, and Royal Bafokeng Stadium (2019) in North West.
Nyovest released his eponymous studio album, Refiloe, released on 31 October 2015, at his Fill Up The Dome concert. The album collaborates with several international artists including The Game, DJ Drama, Stonebwoy and Casey Veggies. He followed his success with his critically acclaimed third album Thuto (2018) and his kwaito-focused fourth studio album, Sweet and Short (2019)
Emtee [Musician]: Emtee, is a South African rapper best known for his debut hit single, "Roll Up". Emtee was signed to Ambitiouz Entertainment, a South African independent record label. His debut album Avery was certified platinum by RISA on 1 July 2016.
Lady Zamar [Musician]: Yamikani Janet Banda, known professionally as Lady Zamar, is a South African singer and songwriter. Born in Tembisa, East Rand, Gauteng and raised in Mamelodi, Pretoria, Gauteng to a Zambian father and South African mother. She mainly incorporates on house music. In 2019 she was a guest judge on Idols South Africa.
Lady Zamar initially formed a duo with Junior Taurus, and together they had success with their debut album Cotton Candy. Soon after its release, she announced that she was moving to a solo career. Her first solo album, King Zamar, was released in March 2017. in February 2018 the album was certified gold, in June 2019 it was certified double platinum.
In 2017 Lady Zamar won the Song of the Year Award at the DStv Mzansi Viewers Choice Awards for her song Charlotte, produced by Prince Kaybee. At the 2018 South African Music Awards she won the award for Best Dance Album.
Her second solo album Monarch was released on 21 June 2019,
Moozlie [Musician]: Moozlie is a rapper and television presenter.
In October 2017, she released her debut mixtape, named Versus. The mixtape was supported by 3 singles which are "Recipe", "Getting Cash" and "Bum Bum" featuring Gemini Major.
As of 2018, she returned as a presenter revival for the VUZU Amp (currently 1Magic) flagship show "V Entertainment" alongside Somizi Mhlongo.
On 07 September 2018, she released her first debut album, "Victory". The album is supported by its lead single, "Vatela" featuring Kid X.
In early 2019, Nomuzi partnered with Volkswagen SA and Drive Dry in making an awareness campaign which deals with reducing texting and driving. The campaign was supported by a shocking and controversial video which shows Moozlie doing an Instagram live update then gets into an apparent car crash. The video was released before the public became aware of the campaign which led to consternation on social media
Nadia Nakai [Musician]: Nadia Nakai Kandava is a South African rapper and songwriter.
In Nadia's early career, she gained recognition through her work on numerous mixtapes, which opened the door for her appearance on SABC 1's Battlestations as a presenter and talent judge. In 2014 Nadia featured on Riky Rick's "Amantombazane Remix" alongside established Hip Hop acts Okmalumkoolkat, Kwesta, Ginger Trill, Kid X and DJ Dimplez. The single was nominated for a South African Hip Hop Award for Song Of The Year.
After signing with Family Tree Media, Nadia released her debut single with the label "Money Back". This single was well received and went on to aid as a soundtrack for numerous shows/ adverts such as MTV Base and S.A's ETV soap-Rhythm City. Nadia followed up the single with the release of her EP: "Bragga" which debuted at number 2 on the iTunes hip hop chart.
In 2017 Nadia Nakai released HIT SINGLE "Naaa Meaan" featuring Cassper Nyovest which placed her as the first female hip hop artist to clock over 1M views on YouTube in South Africa. The music video was nominated for best video SAMA (2018) and she followed up with the club sensation "Yass Chic" in 2018
Nadia's efforts earned her a Best Female nomination at the SA Hip Hop Awards (2017) and Best Collaboration nominations at both the SA Hip Hop Awards (2017) and Metro FM Awards (2017) for featuring on Gemini Major's "RaggaRagga", the pair performed the single at both award ceremonies respectively. SAMA (2016), She was amongst the "Do like I do remix" features and won the best remix.
Nasty C [Musician]: Nasty C is a rapper, songwriter and record producer. He gained public recognition after releasing his mixtape, Price City (2015) which produced the successful single, "Juice Back".
After releasing two mixtapes and one EP, Ngcobo released his critically acclaimed debut album Bad Hair (2016), and Strings and Bling (2018) which was associated and supported by his first tour, The Ivyson Tour.
He was the youngest recipient for an award at the 2015 South African Hip Hop Awards, namely the Best Freshman Award.
Sho Madjozi [Musician]: Maya Christinah Xichavo Wegerif, known professionally as Sho Madjozi, is a South African rapper, singer, songwriter, actress and poet. Regarded as one of the best performers in Africa, Madjozi incorporates the Tsonga culture through her music and public image, as well as Swahili lyrics.
Sihle Ndaba [Actress]: Sihle Ndaba is an actress with an immense passion for her craft.
She studied for a national diploma in musical theatre at the Tshwane University of Technology, shares some details about herself and indicates that the entertainment industry and her fans have not seen anything yet – and should brace themselves.
Thuso Mbedu [Actress]: Thuso Mbedu is a multiple awards winning actress who was nominated for an Emmy Award for her role in the telenovela Is'Thunzi, which has been called "one of the most compelling television programmes on South African television" by Mail & Guardian.
LAW & GOVERNANCE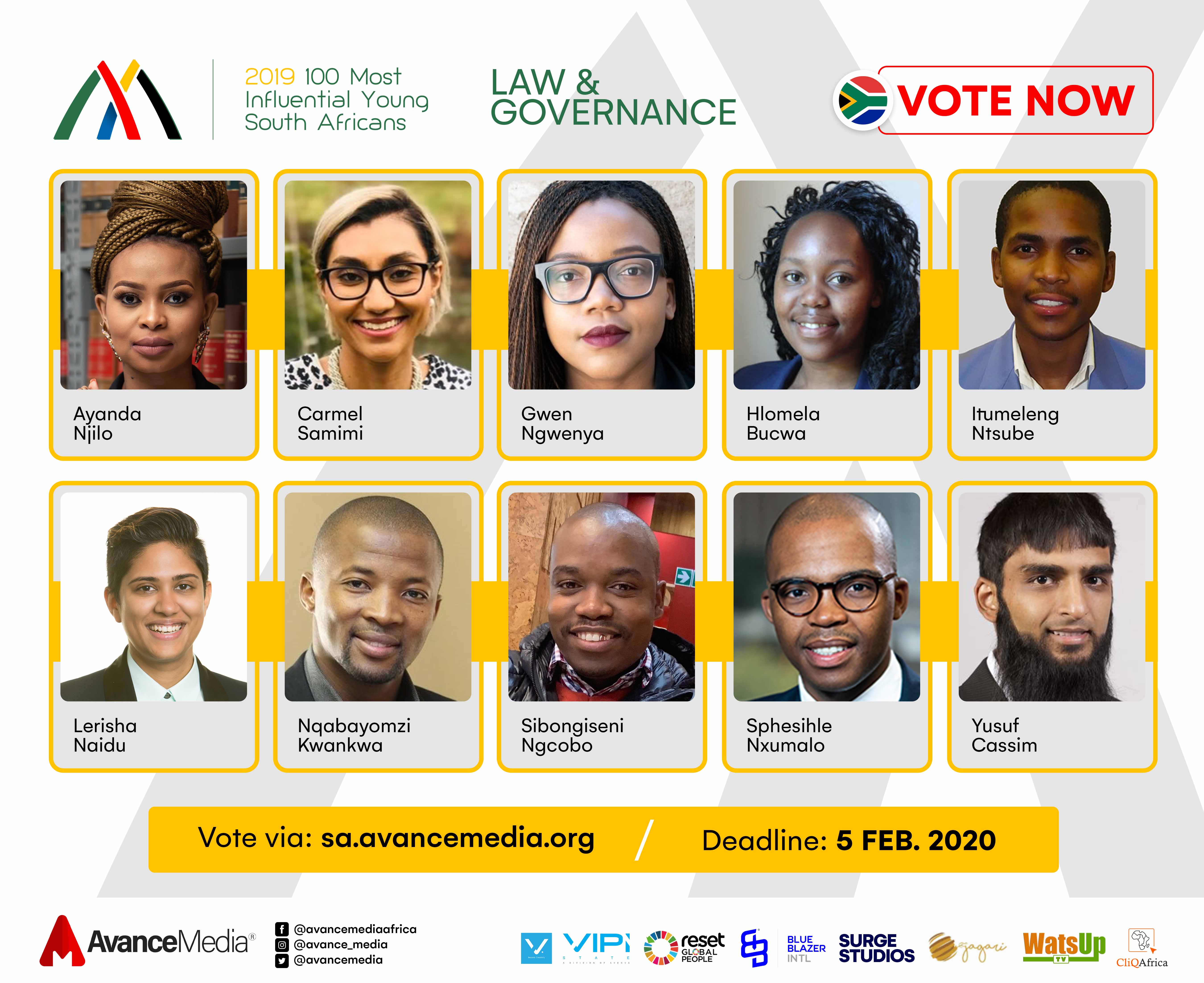 Ayanda Njilo [Director, Murphys Attorneys]: Ayanda Njilo is a Director at Maseko Murphy Njilo and Razano Inc, and she specialises in Employment, Sports and Entertainment law.
She has represented and advised major football clubs, major rugby clubs, sports associations, corporate clients, multi-nationals, state departments and bargaining councils in employment and sport-related disputes.
Her experience includes advising clients on unfair dismissals, unfair labour practices and unfair discrimination. She appears and acts for various clients in employment-related disputes before the Commission for Conciliation, Mediation and Arbitration (CCMA) and various other bargaining councils. She also regularly advises clients about contracts, disciplinary proceedings which involves the drafting of charge sheets, disciplinary codes and policies and chairing disciplinary enquiries.
Ayanda has appeared and acted for clients before various sports dispute resolution bodies. She has also acted as a Prosecutor for the South African Institute of Drug-Free Sport and has assisted as a committee member of the South African Football Association National Disciplinary Committee presiding over matters relating to misconduct in football under the auspices of SAFA.
Ayanda's experience also extends to immigration law where she has advised clients on visa or permit applications.
Ayanda is a force to be reckoned with. She is hardworking and believes that she sets the standard that others measure themselves by.
Carmel Samimi [Legal Director, Africa, Reckitt Benckiser]: Carmel Samimi is the Legal Director, Africa at Reckitt Benckiser with a distinguished track record in the good and beverage industry. Before joining Reckitt Benckiser (their brands include Dettol, Strepsils, Veet and Gaviscon) amongst others, Carmel was senior legal counsel and Company Secretary for PepsiCo and before that legal senior counsel for PepsiCo UK and Legal Counsel for the Coca-Cola Company.
Carmel is a passionate advocate for the advancement of women and girl children in Africa. Carmel has spent the last 5 years at PepsiCo establishing a well-funded and sustainable women's development network and platform which has hosted some global icons in women's leadership. She has partnered with several South African NPOs that are dedicated to keeping the girl child in school.
Gwen Ngwenya [MP & Head of Policy, Democratic Alliance]: Gwen Ngwenya is a South African academic, politician and Head of Policy for the opposition Democratic Alliance. She resigned from the post of Head of Policy in January 2019 but returned in November 2019. As a Member of Parliament for the Democratic Alliance in the Fifth Parliament, she served on the Standing Committee on Finance. She has also served as COO of the South African Institute of Race Relations, Africa's largest classically liberal think tank.
After completing her studies, Ngwenya worked as an economics researcher for a competition economics firm in New Delhi, India. Afterwards, she worked as an economist in the UK focusing on the pharmaceutical and airline industries. She was an accounts manager for international financial, software, data, and media company Bloomberg, before becoming a chief operating officer for the South African Institute of Race Relations (IRR). After leaving her post at the IRR, she was sworn in as a Member of Parliament for the Democratic Alliance on 27 February 2018, serving as the party's Head of Policy.
Hlomela Bucwa [Member, National Assembly]: Hlomela Bucwa is a South African politician, a member of the Democratic Alliance. In 2016 she became the youngest Member of Parliament in South Africa.
She began her career in politics while in the university but became actively involved in 2011 as an activist for the Democratic Alliance Student Association. After joining the school's SRC in 2014, she became president in 2016 and served on the university's highest decision-making body, the NMMU Council. In August 2016, she was among three candidates selected to represent the Democratic Alliance in contesting for a seat in the National Assembly. She was sworn into parliament in November 2016 and she became the Baby of the House taking over the title from Yusuf Cassim. During her term of office at the National Assembly, she was a member of the Portfolio Committee on Higher Education and Training
Itumeleng Ntsube [Member, National Council of Provinces]: Itumeleng Ntsube is a Member of the National Council of Provinces and the African National Congress.
In the national council of provinces, he serves on the Select Committee on Education and Technology, Sports, Arts and Culture, Select Committee on Health and Social Services, Select Committee on Land Reform, Environment, Mineral Resources and Energy, Select Committee on Public Enterprises and Communication and Joint Standing Committee on Defence
Lerisha Naidu [Partner, Baker McKenzie]: Lerisha Naidu is a partner in Baker McKenzie's Antitrust & Competition Practice Group in Johannesburg.
Lerisha advises and represents international and domestic clients in mergers and acquisitions, prohibited practices (including cartel-related matters), and compliance and risk mitigation. She has appeared before the Competition Tribunal of South Africa in merger proceedings and has also worked on matters relating to clients involved in Tribunal proceedings.
Lerisha has acted in several high-profile matters involving industry-wide and global cartels (eg, in the construction, aviation and gas industries), interim relief applications, contested mergers and dawn raids. She has also participated in several compliance initiatives, including training sessions for firms' employees related to competition risk mitigation.
Lerisha was Named as 'Up and Coming in Competition Law' in the Chambers Global Guide 2019 and as a Next Generation Lawyer in the Legal 500 Europe, Middle East and Africa (EMEA) Guide 2017
Nqabayomzi Kwankwa [Deputy President & Chief Whip, United Democratic Movement]: Born in Middledrift, Eastern Cape, Nqabayomzi Kwankwa is one of the youngest members of the parliament in South Africa.
Before climbing the political and professional space, Nqaba was a taxi driver in Gugulethu Township, Cape Town. He also worked as a cleaner and a security officer to support his studies which then qualified him as a banker.
Today Nqaba is the Deputy President and Chief Whip of the United Democratic Movement (UDM), also a founder and Chairperson of the African Parliamentarians Association for Human Rights (AfriPAHR).
Except serving in so many governmental committees, Nqaba was awarded the following: Outstanding International Leadership: Extraordinary People's Award – 2015, MP of the Year: Sunday Times – 2016 and Citizen's Choice of the Year Award: SAPAS – 2017.
Sibongiseni Ngcobo [Member, National Assembly]: Sibongiseni Ngcobo was born on the 30th of May 1995 in a deep rural community called eMangwaneni in Bulwer, KZN. He matriculated from Indala High School in 2012 and enrolled at the University of KwaZulu Natal (UKZN) in the following year, where he attained a Bachelor of Arts in Philosophy, Politics and Law in 2015.
During his time at UKZN, Sibongiseni Ngcobo always showed a strong sense of leadership and he was elected onto the SRC for two consecutive terms, enabling him to help many students resolve issues such as NSFAS related challenges, accommodation, computer labs and many other issues. In 2016, a year after he had attained his degree, he started an LLB at UKZN and later that year he was elected as a DA councillor under Richmond Municipality at the age of 21, making him one of the youngest councillors in the country. As a councillor in Richmond, he served on two committees, namely, the Information and Communication Technology & Social Services Portfolio Committee and the Municipal Public Accounts Committee.
In May 2019, he was elected as one of the youngest Members of Parliament at the age of 23. He serves on the Women, Youth and Persons with disabilities Portfolio Committee. He will also be pursuing his LLB Degree at the University of South Africa (UNISA) this year. Sibongiseni strongly believes that the country needs effective, ethical and reliable leadership to solve its problems. He was influenced greatly by the story of Dr Martin Luther King Jnr. Who was an African-American Civil Rights Movement leader in America in the 1960s'. He was particularly moved by Dr King's sense of selflessness in his fight for justice, equality and racial integration.
Sphesihle Nxumalo [Associate, Baker & McKenzie]: Sphesihle Nxumalo is a corporate lawyer (an Associate Attorney) at Baker McKenzie, a Global Elite law firm and the world's strongest global law firm brand. Sphesihle was previously an Associate Attorney at ENSafrica, Africa's largest law firm, before joining Baker McKenzie. Sphesihle has been hailed as one of the prolific young lawyers at the age of 26 by Corporate South Africa evident through his engagements in high profile business seminars, involving a matrix of issues including the topical Fourth Industrial Revolution conducted under the auspices of Deloitte as well as Deal Making. His astute business and legal intelligence has earmarked him as a "Young Lawyer to Watch".
For his involvements in a plethora of activities/initiatives in the country, Sphesihle was recognised as a Top 100 Young Mandela in South Africa in 2018 by News24 in partnership with Naspers. Sphesihle has also been nominated and awarded the 'Millennial Champion' Award by Baker & McKenzie for being an excellent lawyer in 2019. Sphesihle has also been awarded the "Excellent Progression in Chosen Career" Award by Peermont Global in 2019 for his significant achievements in law and role in society.
Sphesihle has been featured in various local and regional publications, including SANKOFA – the African Union's very own publication, as a youth leader of note. Sphesihle was also featured by Dr Nik Eberl on The Future Leadership Forum which has over the years featured business, political and leadership magnates of our time. For all these reasons, I believe Sphesihle, at just an early age of 26, is without a shadow of a doubt one of the Most Influential Young South Africans.
Yusuf Cassim [Member, National Assembly]: Yusuf Cassim is a South African Democratic Alliance politician, a Member of Parliament (MP) and the Federal Leader of the DA's Student Organisation (DASO) and a former interim Leader of the DA Youth, who took over the position when Mbali Ntuli stepped down. He is the former President of the Nelson Mandela Student's Representative Council 2012. Cassim is also the party's MP for Higher Education.
From a sequestered small portion of the Eastern Cape Province, Elliot, and now perceived in his community as a leading example to the youth. Azola Mlota – Brand & Social Media Influencer has made a use of social media as one of his tool to connect and promote various brands., Azola Mlota used to his PR skills which he acquired from the Central University of Technology, Free State to work with major brands such as Trace Mobile, Viceroy DJ competition search 2016, Free State event ceremonies (Golden Bean Music Awards) and currently on another well-respected event ceremony based in the Gauteng province (Mzansi Kwaito and House Music Awards), as head of its Public Related and Social Media communications.
LEADERSHIP & CIVIL SOCIETY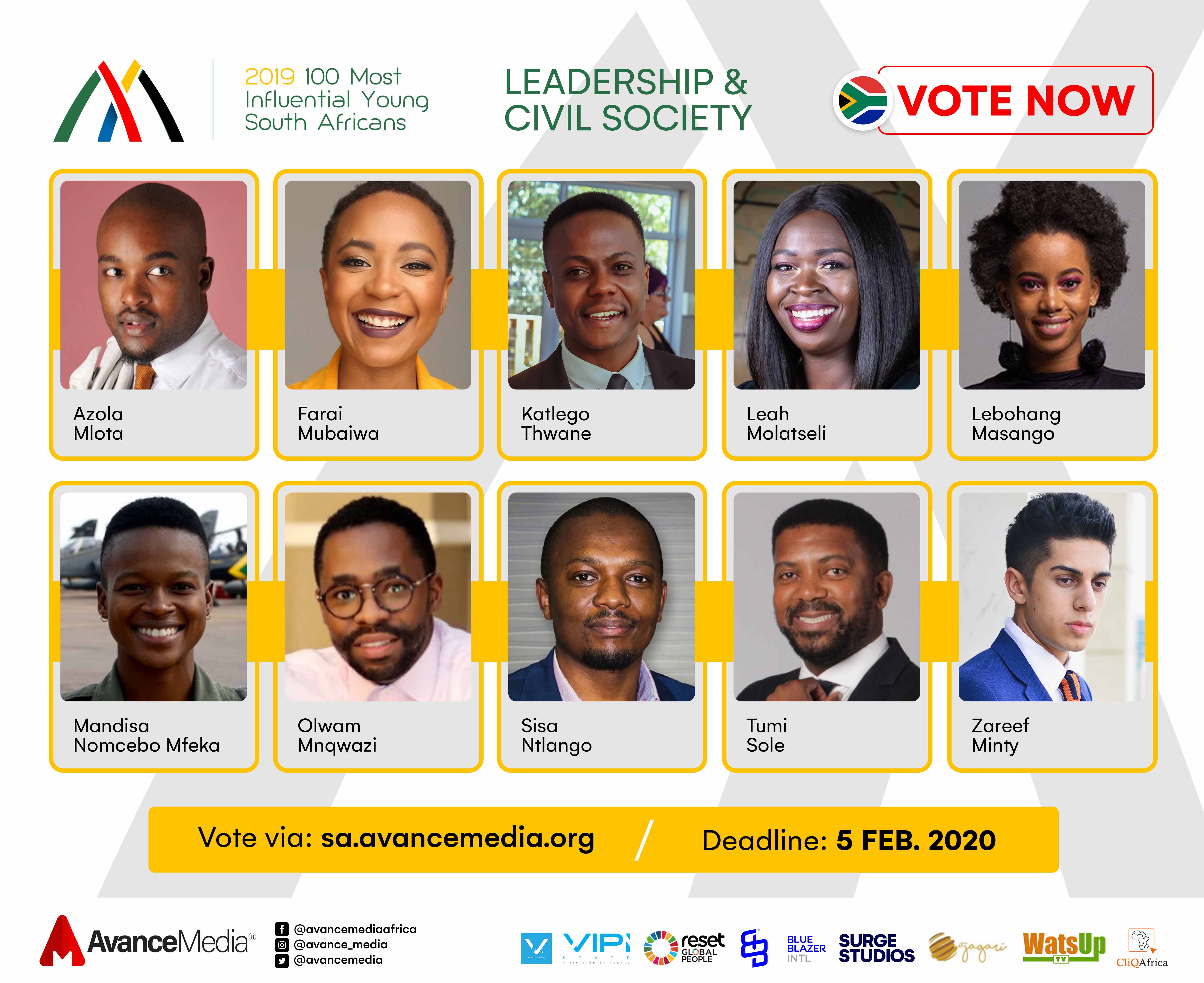 Azola Mlota [PR Specialist, Azola Mlota PR]: Azola Mlota's career breakthrough started when he enrolled at Central University of Technology, Free State, 2013 to study Language Practice and Public relations communications, having no idea what the course entailed but had to take it for the sake of a parent and peers. Having to see how Students use social media to interact daily around the campus, Azola Mlota saw an opportunity of using such platforms( Twitter in particular) to grow Himself and that of the organisation his working on. Followed by the realisation that Social Media is also Public Relations, as you have to deal with various people but now on a wider scale. Azola engaged himself more to the people by working with events and SA brands, resulting for him to be interviewed at Cliff Central and recognised by one of the big companies in the Free State (Gaeitsiwe Group) to be its heard of PR and Social Market the Free State Award ceremony, Golden Bean Music Awards.
In contributing his PR skills particularly in these awards ceremony that created his creative angle in aspects of social media marketing which he introduced exciting twitter and video interviews of media personalities across South Africa to share a motivation of success to the awards. His social media analytics and following grew rapidly. Late 2016 was the radical turning point of his life. For the first time, people having to see how hype the awards were pushed by him; the SABC 2 Morning breakfast show (Morning LIVE, hosted by Sam Marshall) called him with his PR assistant, Rethabile Hlalele, to speak about these awards and that followed by Metro FM (The Soul Express with Marian Lartey) 702 Talk Radio with Wasanga Mehana , Ikwekwezi FM, Kofifi FM and print media to mention a few.
Farai Mubaiwa [Founder, Africa Matters]: She is the co-founder of the youth-led organization Africa Matters. Africa Matters empowers young Africans to lead through leadership skills, capacity building and community impact projects.
She is also a project manager at The Aurum Institute, a leading African TB and HIV research and implementation institute. Before Aurum, she was an intern at the South African Institute of International Affairs (SAIIA). She achieved a distinction for her MSc in the Political Economy of Emerging Markets at King's College London. Her dissertation on South African Private Companies and Black Women, examined the effect of the Employment Equity Act (affirmative action policy) on the representation, corporate experience and career projection of black women and received a mark of 85%. Before her Masters, she worked at Deloitte as an analyst for Strategy and Operations Consulting.
Farai is a Queen's Young Leader for South Africa for 2017, a TEDx speaker, a One Young World Ambassador and a King's Principal's Global Leadership Award Recipient. She was recently named as one of the top 100 Mandela's of the future by Media24.
Katlego Thwane [Founder, Atlegang Bana Foundation]: Katlego Thwane is the founder and CEO of the Educational & Youth Development-Non Profit Company Atlegang Bana Foundation and a private tutor.
He is an ambitious, passionate young man and 2017 winner of Young Community Shapers and a leader of the boys and girls friendly society. He is a social entrepreneur, mentor, inspirational speaker, 2018 Lead SA hero for October 2016 eduweek award winner under the category educator who cares and goes the extra mile in ensuring that children do exceptionally well.
Leah Molatseli [Founder, Lenoma Legal]: Leah Molatseli is a young African woman who believes in the empowerment of women. She grew up in the Free State, in Bloemfontein. Studied LLB at University of the Free (UFS), and graduated in 2010.
In 2016, she started a legal consulting company, at the start of 2017 due to market need, changed the company into a legal tech company. She has continued to lead the company into greatness.
She founded Lenoma Legal, a legal tech company which allowed for legal document capability.
Lebohang Masango [Author]: Lebohang Masango is a PhD student and holds a Master of Arts degree in Social Anthropology from the University of Witwatersrand, South Africa. She is the award-winning author of children's book, Mpumi's Magic Beads (David Philip Publishers, 2018), which is available in all 11 of South Africa's official languages. The book has been awarded the 2019 South African Literary Award for Children's Literature and the Exclusive Books IBBY SA Award for Best Writer. She has also written The Great Cake Contest as part of the voluntary literacy initiative Book Dash in 2018.
Lebohang is the UNICEF Volunteer Program Ambassador and an inaugural Zanele Mbeki Fellow in feminist leadership. As an Anthropologist, she has lectured first years at North-West University and has upcoming academic publications in the fields of Medical and Social Anthropology. She is also a poet and a writer working in service of her feminist politics. With her immense passion for children's literacy, Lebohang regularly hosts storytelling sessions in schools, bookshops and community libraries. Lebohang has been published in Mike Alfred's Twelve + One (Botsotso, 2014), a poetry anthology of Johannesburg poets and To Breathe Into Another Voice (Real African Publishers, 2017), a Jazz poetry anthology edited by Myesha Jenkins. She has read her poetry in South Africa, Zimbabwe and the UK. She currently narrates the Sunday afternoon audio-documentary What's Wrong With Groovin' on Kaya FM. 
Mandisa Nomcebo Mfeka [Pilot]: Mandisa Mfeka joined the South African Air Force in 2008 and earned her wings a year after starting flying school in 2010. Now she is South Africa's first black female combat pilot.
In 2008, she joined the SAAF and was enrolled at Central Flying School in Langebaan, Western Cape in 2010. Mfeka went on to get her wings in 2011.
Major Mfeka joins the ranks of another female pioneer, Second Lieutenant Thokozile Muwamba, who also made history in 2017 by becoming Zambia's first female fighter pilot. At the time Muwamba told the local newspaper Times of Zambia, "Men are not the competition but counterparts that one should work with. Women should begin to participate and realise their abilities.
Olwam Mnqwazi [Director, Black Hat Leadership Academy]: Olwam Mnqwazi is the founder and Managing Director of Black Hat Group where he applies all the 15 years' worth of leadership and research experience to develop other leaders build organisations.
Olwam holds a BA degree majoring in Industrial Psychology and Public Administration from the Nelson Mandela Metropolitan University (NMMU) where he worked at the Centre for Integrated Post School Education and Training (CIPSET) from 2012 to 2016. He further added an Honours Degree in Development Studies at the now Nelson Mandela University. He is now in the process of registering for his Masters in 2019. Olwam is married to Nonkululeko Alunamda Mnqwazi and they both live in Nelson Mandela Bay with their daughter, Mibal'Emihle Mnqwazi.
As the He has held numerous leadership positions in the community, church and the university, which include the following:
Sisa Ntlango [Director, Deloitte]: Sisa Ntlango, is a Partner in Risk Advisory at Deloitte and has over 13 years' experience in Governance, Risk and Regulatory (GRR) advisory. He is the partner responsible for GRR in the Eastern Seaboard (KwaZulu Natal and Eastern Cape) and serves as the Public Sector Leader for Risk Advisory service line nationally.
Sisa has worked extensively with all spheres of government in South Africa. He was a Guest Faculty Member for the University of Stellenbosch Business School: Executive Development for the Integrated Performance Management for Effective and Efficient Impact in 2016.
Tumi Sole [Founder, Country Duty]: Tumi Sole is the creator and founder of #CountryDuty, a social movement that brings together all South Africans regardless of race or creed. As a corporate attorney with experience in human rights litigation, employment law and dispute resolution, Sole is currently reading for his Master's in Law, specialising in commerce and business Law at the University of the Witswatersrand.
His successes with #CountryDuty have seen him appear in numerous South African media platforms and create the biggest hashtag to hit the country.
Zareef Minty [Author]: Zareef Mint is an LLB graduate at the University of the Witwatersrand in South Africa. Zareef is a thought leader and innovator. Zareef became the youngest national youth president in South African history at the tender age of just 19. He ran in the 2014 national general elections where he was 5th on the party's parliamentary candidates list. Zareef is a motivational speaker, where he speaks at schools around South Africa every fortnight.
He also writes for the largest online newspapers agency in South Africa called News 24, he contributes articles based on politics, law, business and current events nationally and globally. He also writes for TeenZone which is a major teen magazine in South Africa, his articles and pieces are based on lighter topics like love, relationships, and self-improvement.
Zareef Minty made the Mail and Guardians Top 200 Young South Africans under 35 list in 2014 under the politics category. The Mail and Guardian is one of the most competent and reliable newspapers in South Africa. Zareef is very involved in University leadership where he was the Treasurer of the Law Students Council, the all faculty Treasurer, the Chairperson of the Black Lawyers Association and the Chairperson of the Student Discipline Committee.
Zareef has made huge waves in the transparency of management regulations for students.
LIFESTYLE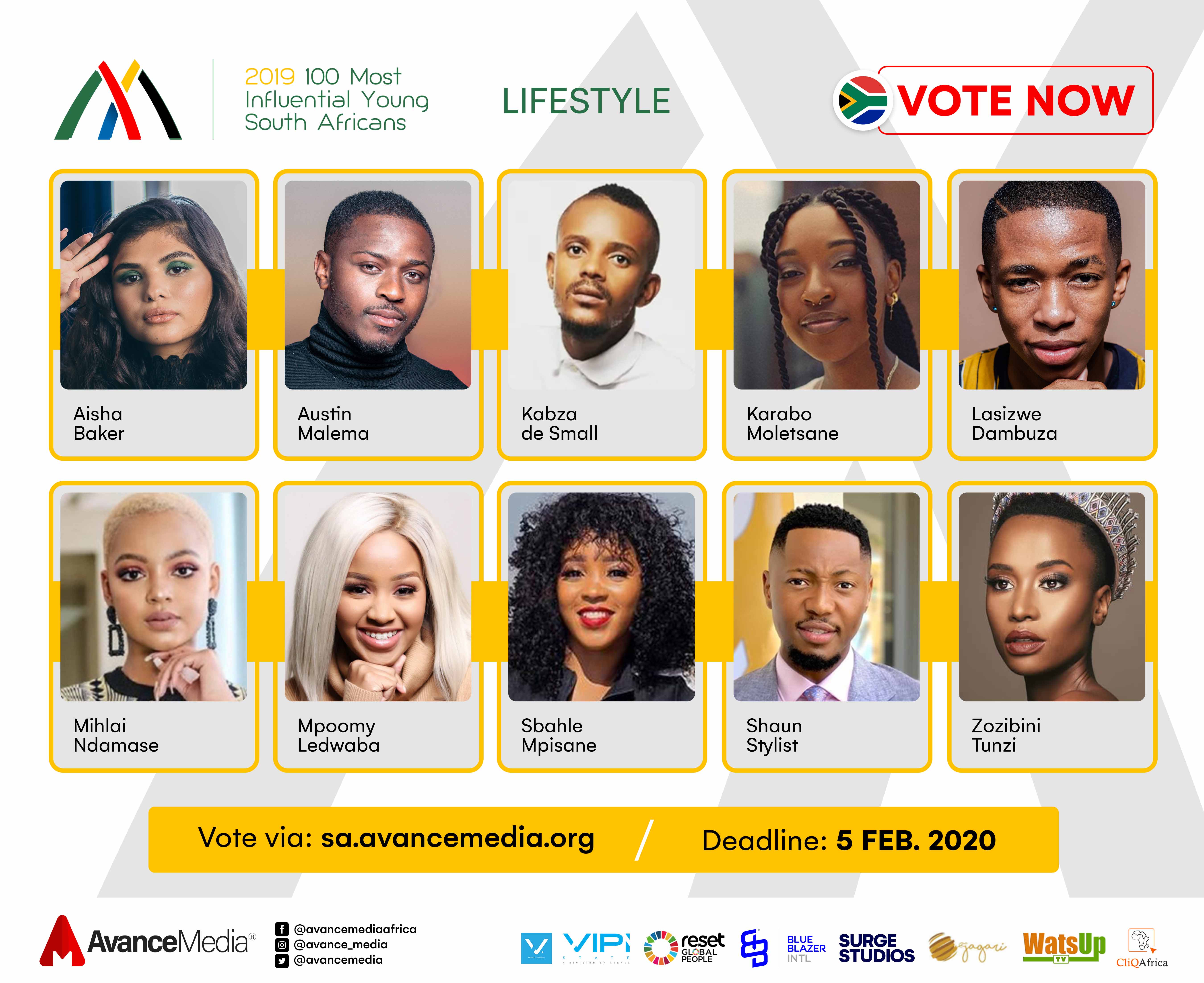 Aisha Baker [Blogger]: Aisha Baker founded BakedOnline in 2009 when launching her first blog bakedtheblog.com as a first-year student. "I am pretty blessed to run a business I am so passionate about, Baked is all about getting high on life, being fiercely feminine and inspiring women across South Africa and the world."
Aisha's followers and readers have empowered women, opinion makers, culturally and socially engaged, ambitious, decisive and have a taste for all things stylish.
In 2016 Aisha was nominated by Nickelodeon as their favourite African blogger at the Nickelodeon Kids Choice Awards and received Glamour South Africa's glamorous woman of the year award in the same year. In 2018 she graced the cover of Cosmopolitan for their influencer issue. Most recently Aisha has been nominated for a 2019 Global Social award in the Inspiration & Influence category and won E! Entertainment Africa's Pop Culture Social Media Award.
With her platforms, Aisha hopes to create a space where young millennial women and moms, like Aisha, can interact with content that is relevant to their lives in Southern Africa, the United Kingdom and the United Arab Emirates.
Austin Malema [Photographer]: Austin Mpho Malema is a 28-year-old photographer, who became a fast favourite on the South African creative scene. An award-winning editor and highly acclaimed photographer, Austin's undeniable talent has paired with his distinctive online personality to make him one of the best-known creatives working today.
Born in rural Venda, Austin moved to Johannesburg as a teenager. He holds a BA Honors Degree in Motion Picture Medium from AFDA. He has also worked as a Junior Lecturer at his alma mater.
As an editor, he has been involved in many successful projects – including SAFTA award and Student Academy Award-nominated film Kanyekanye. He is also no stranger to the small screen, having played key editing roles for shows like The Queen and Skeem Saam.
Despite his massive success in this regard, Austin has proved that he is both multi-skilled and versatile. As a key figure in pop culture photography, he has shot for Cassper Nyovest's Fill Up concerts, AKA's Supa Mega shows, as well as a range of awards shows, where online audiences flock to his Twitter page to see the best shots of the night.
As Austin's network and proficiency have grown, so too has his portfolio. He has moved well beyond the 'event photography' box to include editorial, marketing and advertising and influencer photography and content creation to his large arsenal of skills.
With a keen sense of the South African creative landscape and a well-liked personality, he is also a natural fit for brand collaborations and influencer campaigns.
Kabza de Small [DJ]: Kabza De Small, is a South African DJ and record producer. Born in Mpumalanga and raised in Pretoria, he is regarded as the "King of Amapiano".
Motha is often referred to as the "King of Amapiano", concerning his music style and sales. He is considered as the best-selling music artist of amapiano, and also one of the pioneers concerning the genre. With his breakthrough in 2018, he became one of the few artists to popularize amapiano. On 3 December 2019, Spotify South Africa, named Motha as the most-streamed South African artist in the platform for 2019.
Karabo Moletsane [Illustrator]: Karabo Poppy Moletsane (27) is a Multi award-winning Illustrator, Designer and Street Artist from Vereeniging South Africa. In 2019 Moletsane formed part of the Forbes Africa 30 Under 30 list and was named Creative of the Year by Between 10and5. Moletsane is an artist fueled by her passion to preserve the African aesthetic and represent underrepresented communities.
"I am inspired by the visual aesthetic of Africa, both contemporary and traditional. Our aesthetic has a long rich heritage rooted in constant innovation and hybridity. I believe that every African carries this with them daily and I believe that it is in every day seemingly mundane events where this aesthetic is at its most beautiful to me. So I set out to preserve and celebrate it in my work and represent the unrepresented." Moletsane says.
With a degree in Visual Communication from The Open Window Institute. Karabo uses unconventional canvases to tell a story of contemporary Africa. She has done so by leaving her mark on the iconic Soweto Towers, on Google Doodles over International Women's Day, on a Times Square billboard in New York, in a Grammy Nominated videos, on murals all over the world and most recently on a sold-out collection of Nike Air Force 1's she and the brand released worldwide in November of 2019.
In the 5+ years of Karabo's career, she has had the opportunity to work with brands/people such as; the Wall Street Journal, Apple, Nike, Google, Black Coffee, The University of California, project (RED), Pharrell Williams, Greenpeace Africa, G-Star Raw, Woolworths, Calvin Klein, Nedbank, Sony Music France, Cotton: On, and Coca-Cola to name a few.
Currently, Karabo continues to use her art to preserve the African aesthetic locally and globally too with projects in Zambia, USA, Australia, Sweden and Ghana coming up in 2020.
Lasizwe Dambuza [Comedian]: Lasizwe Dambuza was born on the 19th of July 1998 at Lesedi Private Hospital in Soweto Johannesburg to mother, Lindiwe Dambuza who was a nurse at the Hospital and father Menzi Mcunu.
Lasizwe attended primary school in Meredale, South of Johannesburg from 2005 – 2010. He continued his education at Mondeor High School from 2011 – 2016.
Lasizwe has a passion for entertainment and empowering audiences. He started his career through social media by uploading videos and simulating how South Africans act. He is driven by a passion to stay on top of his game with fresh ideas and new concepts.
Lasziwe's career has seen him conquer the entertainment industry as a young comedian, TV personality, radio presenter, actor and internet sensation. His hilarious comedic videos have earned him over a million followers on his social media platforms combined.
His greatest achievement in 2019 was launching season two of his reality show on MTV called @Lasizwe Fake it till you make it. This reality show was the first African reality show on the channel and has had an amazing viewership since the launch of season 1.
Lasizwe has worked well with many brands such as Burger King, Mobicel, international brand Daniel Wellington and has featured in a Nando's TV commercial. Lasizwe was also the first and only Teen Marketing Manager for Fanta. Lasizwe has shown the ability to engage with his fans across all creeds, cultures, genders, and multiple platforms. He is the brand ambassador for Anova Health Institute's Young Heroes which empowers the LGBTI community across South Africa. Lasizwe's skits and videos always feature himself addressing everyday situations and challenges and he has made appearances on shows such as MTV Base, "You got Got, SABC 3'S 'The Scoop and SABC1's " The real Goboza. The world is ready for this Young entertainment King, and this is only the beginning.
Mihlai Ndamase [Beauty Content Creator]: Mihlali Ndamase was born and raised in KwaZulu Natal in South Africa. She is a South African makeup artist who is popular for her Youtube makeup tutorial.
Mpoomy Ledwaba [YouTuber]: Mpoomy Ledwaba is a mother, wife, entrepreneur and YouTuber who influences everyone who follows her in all aspects from the fact that she dropped out of university to pursue her dream of starting her nail salon which has now risen to be one the best nail bar salons in Johannesburg. She is juggling all this with motherhood and marriage and a YouTube channel.
Nompumelelo Ledwaba better known as Mpoomy lives her life to inspire women to go after their dreams, encourage a beautiful relationship with God. Mpoomy is only 24-years-old and is already making waves in the beauty entrepreneurial space as the owner and founder of Aneno Nail & Coffee bar, which is a combination of her sister and her name: Ane- anele No-Nompumelelo.
Sbahle Mpisane [Fitness Guru]: Sbahle Mpisane was born and bred in Durban Kwa-Zulu Natal, she started a movement of health for woman and made it a trend in South Africa, she makes Bootcamp to give back to the less fortunate not just in South Africa but Africa wide.
Her keenness for fitness is what makes her famous in contemporary South Africa. Sbahle Mpisane is now known across the country and beyond. Many people admire her dedication to keeping her body fit and assisting others to do the same. What is most striking is that she is a young lady who discovered her passion early. Here is all you need to know about her.
She founded a boot camp program known as Fitness Bunnie to assist other people in their path to fitness. Since then, she is commonly known as Fitness Bunny. She spends at least one hour daily at the gym working out to maintain the body she has. Through her Instagram, she has met some of her clients who want to keep fit as well. She often uses this social media platform to motivate people to stay physically active. Her boot camps are in Durban where she resides with her family. She now runs the boot camp every week.
Shaun Stylist [Style Influencer]: ShaunStylist is the youth influencer with a good heart and very humble
Zozibini Tunzi [Miss Universe]: Zozibini Tunzi is a South African model and beauty pageant titleholder who was crowned Miss Universe 2019. Tunzi had previously been crowned Miss South Africa 2019. She is the third woman from South Africa to win the title, and the first black woman since Leila Lopes was crowned Miss Universe 2011.
Tunzi began her pageantry career in 2017 when she was accepted as one of the top 26 semifinalists of Miss South Africa 2017, although she was not selected as one of the twelve finalists. She returned to pageantry to compete in Miss South Africa 2019. On 26 June 2019, Tunzi was confirmed as one of the top 35 semifinalists of the competition, among initial applications. After further auditions, Tunzi was announced as one of the sixteen finalists on 11 July.
MEDIA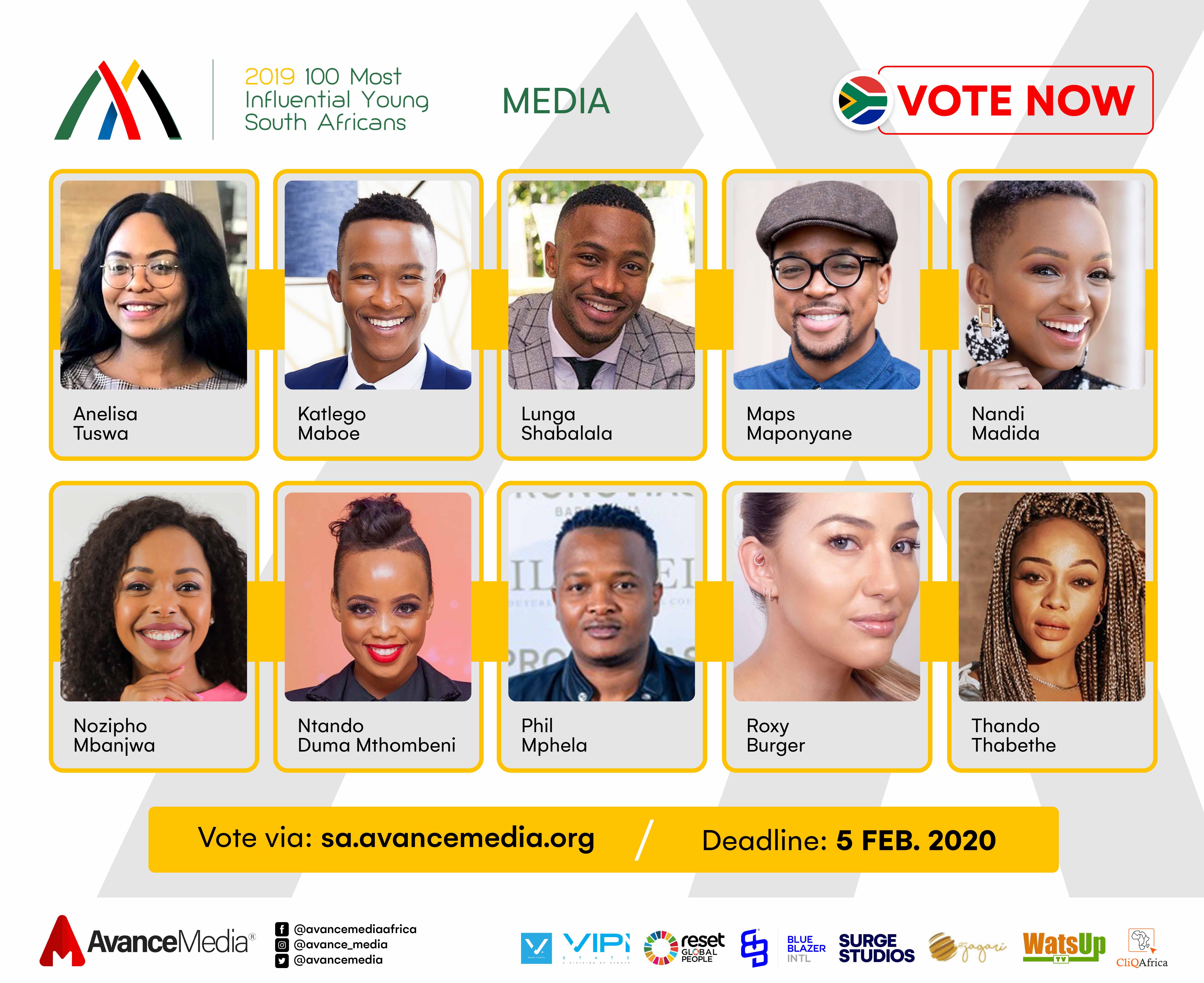 Anelisa Tuswa [Journalist]: Anelisa Tuswa is a Business Journalist for ETV News and Sport, and a resident Market News Analyst for The Glenzito Super Drive with Glen Lewis and Nathi Ndamase on Radio 2000.
The 26-year-old, Business Journalist has an excellent track record in both academia and the Media Industry. She has worked for companies such as eNCA and CNBC Africa.
Her passion for Business News is distilled by her love and passion to educate the average South African about the Economy and Business related concepts. Outside News, Anelisa visits High Schools around the Western Cape, teaching and motivating High Schools about the basic principles of money.
Katlego Maboe [OAP]: Katlego Maboe is the host of Expresso Show and was the second season of Strictly Come Dancing (2014 and 2015).
He was awarded the title of Presenter of the Year at the 2015 and 2016 South African Film and Television Awards (SAFTAs) as well as at 2016 YOU Spectacular Awards, Maboe has grown year-on-year into a well-known TV presenter, singer, voice-over artist, MC, model and actor.
He speaks fluent Afrikaans, English and Setswana, accompanied by an on-point sense of humour. Maboe effortlessly manoeuvres around any given situation and transcends any demographic border.
His show, Expresso was nominated for a 2014 SAFTA for the best variety show, has been on air since October of 2010 and continues to grow daily, reaching audiences all across the country and parts of Botswana, Lesotho and Swaziland. The show is also broadcast live on The Africa Channel in the United States of America.
Lunga Shabalala [OAP]: Lunga Shabalala is an actor, TV presenter and model. He rose to fame as a presenter on the SABC 1 entertainment and variety TV show, Selimathunzi. He got his first acting role on the soap opera The River, which he currently stars on.
In 2014, he was chosen as a co-presenter on the SABC 3 reality TV show, Man Cave alongside Janez Vermeiren. The show presents male contestants competing in male-themed adventurous tasks. He remained as official co-host for all six seasons of the show, ending in 2017.
In June 2016, he was chosen to co-host the red carpet at 2016 South African Music Awards at the Durban International Convention Centre, alongside Bonang Matheba and Pearl Modiadie.
In 2017, he announced that he would leave his role as co-presenter on Selimathunzi. He stated his reasons as needing "to explore other avenues" and that his fans "can expect bigger things from him shortly". His last broadcast was on 28 November 2017.
In 2018, he landed the role of Lindani, in what is arguably his first noticeable acting role, on the highly acclaimed M-net original production, The River that aired on Dstv's 1Magic channel. The show became one of South Africa's most popular TV shows, gaining critical praise.
Maps Maponyane [OAP]: Maps Maponyane is a television presenter, actor, fashion designer, speaker, model, creative consultant, voice-over artist, philanthropist and business entrepreneur.
Maponyane was named GQ's "Best Dressed Man" in 2011 and Cosmopolitan Magazine's "Sexiest South African Man" in 2013.
Maponyane is well known for playing a lead role in the South African film Tell Me Sweet Something, alongside good friend and fellow South African actress Nomzamo Mbatha. The film was released in South African theatres on September 4, 2015.
Nandi Madida [OAP]: Nandi Madida is a musician, actress, producer and media personality. She is passionate about celebrating women and encouraging them to follow their dreams. Nandi began her journey in the spotlight from an early age, beginning with her win as Miss Junior South Africa and continuing with numerous wins at various regional and national dancing and singing talent shows into her early teens.
Nandi landed her first television show at the age of fifteen as a presenter on SABC 2 kids show called Bling! Which she did for the next two years. Nandi has been featured as a vocalist on the chart-topping hit single "Tonight" by DJ Franky in 2011. In 2012, She signed with Universal Music and released her self-titled debut album "NANDI". Following her departure from Universal Music, Nandi returned to the studio and has since been working on various projects including her popular Freedom Day inspired duet entitled "Dance" with Zkes Bantwini released in 2015. Nandi also collaborated with K.O from SA's Cashtime Life crew for the widely popular hip-hop/R&B ballad
In 2018, Nandi became the executive producer for Made in Africa and was the BET Africa special correspondent for the 2018 BET Awards.
Nozipho Mbanjwa [Journalist]: Nozipho Mbanjwa is a conversation strategist moderating global conversations that are designed to have measurable outcomes. She is in demand for her unique and insightful ability to facilitate difficult conversations with courage, depth and breadth. As an internationally acclaimed conference moderator and Human Capital Advocate for The World Bank and Global Citizen, she has successfully moderated conversations for global and African institutions including, leading listed and unlisted multinational corporations, business schools, and civil society organisations that seek to leverage conversations for change.
Nozipho is also an award-winning financial markets broadcaster lifting the African business story through the lens of leadership, performance, the political economy, development finance, gender mainstreaming, and youth development.
Nozipho is an executive director at LRMG, a faculty member for Duke Corporate Education in Africa, a fellow of the Gordan Institute for Business Science's Centre for African Management and Markets (CAMM), a Tutu fellow, and in 2019 was named as one the Top 100 Most Influential Young Africans.
Ntando Duma Mthombeni [OAP]: Ntando Duma is a South African actress and television personality. She is best known as the presenter on e.tv's youth programming block, Craz-e, where she primarily featured on Craz-e World live. She is also best known for her portrayal of Zinzi Dandala on e.tv's soap opera Rhythm City.
He presented Sistahood, Craz-e and Shizniz. She joined the ETV's Rhythm City as Zinzi Dandala.
In June 2014 Ntando Duma was introduced as the new Craz-e presenter alongside fellow.
On Rhythm City she acts alongside Dumisani Mbebe who portrays the onscreen father Doc Dandala, Hlubi Mboya who portrays her onscreen sister Thandeka Dandala and Thembi Seete who portrays her onscreen mother Bongi Diamond, as well as Samkelo Ndlovu who portrays her on-screen father's love interest, Lerato, a rising music star.
Phil Mphela [OAP]: Phil Mphela is South African independent TV critic, Entertainment Commentator and TV Presenter. He chronicles the country's entertainment industry, particularly the television industry.
He is also a pop culture expert who works with brands to communicate and engage with young South Africans.
In 2010 he raised some cash and approached organisers of Feather Awards about covering the red carpet for his showreel. That shoot and subsequent interest in the viral video of his interview with Khanyi Mbau and Primrose Crous led to a start in a new career path as a Presenter. In 2011, he was approached by OwenKessel to be a presenter on their FanCam initiative which covered the behind-the-scenes footage for SABC 1's Class Act.
With Zoopy Phil has interviewed South Africa's biggest names in fashion, television, radio and music. From (our country's first daughter) Gugu Zuma, DJ Sbu, Dion Chang, Lira, Jeanne D, Michelle Botes, Connie Ferguson, to industry newcomers Kenny Kunene, AKA, among many others. He has also been invited to rub shoulders with international stars such as Kim Kardashian, Chris Brown, Trey Songz, Brandy, Charlize Theron, Kevin Spacey and Idris Elba
Phil is not one to sit on his laurels. This self-made man is always working on projects that continue to see him play a pivotal role in the South African entertainment industry. He is currently the brand ambassador for Datsun Go car, a media consultant and works with different stakeholders in the media, marketing and entertainment industry.
Roxy Burger [OAP]: Roxy's career started when she was chosen to represent KTV at the 2007 Kid's Choice Awards in Los Angeles, California and presented and produced Teen Gospel Live which broadcast live four days a week on the DStv religious channel ONE Gospel, beginning on 4 November 2007.
In 2013 she was the co-host (with Sade Giliberti) of the MTV magazine programme MTV Choice.
In 2014 she hosted the seventh season of Strictly Come Dancing on SABC3 and joined the channel's magazine/lifestyle show Top Billing as a presenter. She debuted on Top Billing on Thursday, 30 October 2014.
In 2015 she returned to host the eight season (her second) of Strictly Come Dancing.
In 2017 she hosted the E! Africa reality makeover series How Do I Look? South Africa, in which solves South Africa's most shocking fashion crimes as she and a team give makeovers to style-challenged participants.
Thando Thabethe [OAP]: Thando Thabethe is an actress, radio DJ, television host and the first-ever African brand ambassador for Nivea. She also is a presenter on her television show on channel TLC Thando Bares All. She played the role of Nolwazi Buzo on the South African soap opera, from 2014-2017 on Generations: The Legacy. She is also a radio DJ on 5FM, having started her radio career in 2008 at UJFM before moving to popular youth radio station YFM in 2011. At the same time, she landed the lead role of Thando Nkosi in the hit sitcom My Perfect Family which went on to see 3 seasons. She later joined 5FM in 2013 on The Roger Goode Show before landing her show weekdays on 5FM, The Thando Thabooty Show The Thabooty Drive. Other prominent works include club 808, Intersexions, Ngempela, Kowethu, 1s and 2s, and Single Guys.
In 2018 she starred in Housekeepers as Linda Ndlovu. In 2019 she starred in the lead role of Zinhle Malinga in the box office hit "Love Lives Here"
In 2019 she was nominated for best TV host & best talk show for "Thando Bares All" which aired on TLC, she walked away with the award for the Best Talk show.
PERSONAL DEVELOPMENT & ACADEMIA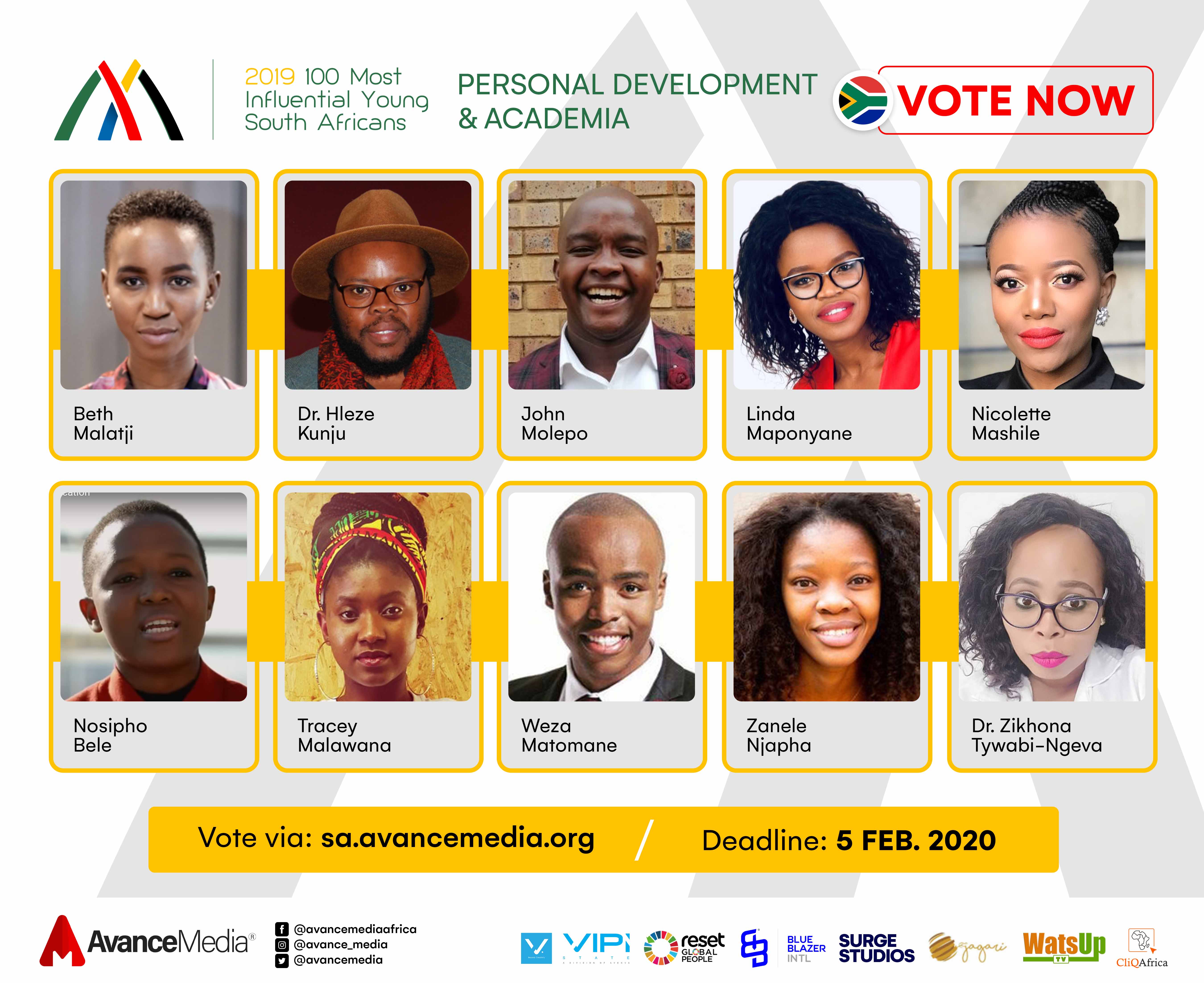 Beth Malatji [Director, Startup Grind Joburg]: Beth Malatji is a young African female challenging the entrepreneurship. She is the Director of Startup Grind JHB and she is the founder of Rebeth Wines, Local Representative for SA expansion at GoDaddy, Co-lead at Facebook Community Leaders Circle, and award winner of Silicon Valley Startup Grind rising star 2018.
Startup Grind is a global startup community designed to educate, inspire, and connect entrepreneurs. It is powered by Google for Entrepreneurs. We host monthly events in 250 cities and 100 countries featuring successful local founders, innovators, educators and investors who share personal stories and lessons learned on the road to building great companies.
Hleze Kunju (Dr) [Lecturer, Rhodes University]: Dr Hleze Kunju is famously known as the first Rhodes University scholar to write a PhD Thesis in IsiXhosa. The thesis is based on the Xhosa people who settled in Zimbabwe in the late 1800s and early 1900s. Kunju's thesis, which focused on allowing the community to relay their history, cultural and traditional survival stories has won several awards including the Most Outstanding PhD Thesis Award by the African Language Association of Southern Africa.
John Molepo [Lecturer, North West University]: John Molepo is a lecturer at the North West University. He is also an executive director of the South African Association of Public Administration and Management. He runs an initiative called #thusangwanageno which assist students with tuition, registration fees. He managed to assist more than 200 students with fees.
John Molepo, a lecturer at the School of Government Studies at the North-West University (NWU), was recently appointed as the national executive director of the South African Association of Public Administration and Management (SAAPAM).
SAAPAM is a national association that encourages and promotes good governance and effective service delivery through the advancement of professionalism, scholarship and practice in public administration and management.
John is not only an academic but also a youth activist. On an annual basis, he raises university registration funds for underprivileged students through his #ThusaNgwanaGeno campaign. "Earlier this year I put on in my graduation gown and stood at a busy intersection in Pretoria asking people to donate towards the cause. This year alone I was able to raise about R300 000 for disadvantaged students," concludes John.
Linda Maponyane [Founder, My Womanhood My Worth]: Linda published her first book titled Shadows Of My Scars, wherein she tells of her horrific experience of surviving 2 separate rape encounters and second time left on ARVs for 28 days after having bled for 7 hours. She then founded a ministry called My Womanhood My Worth to minister to rape survivors who see no hope or life beyond rape, she uses her testimony and her tenacity to counsel and mentor women who have been sexually violated. My Father's Blessing is her second book written to absent fathers as a daughter who grew up without her biological dad.
Linda Maponyane is also the Managing Director at Kenako Media House Pty Ltd established in 2017. Linda has invested her money, time and effort in building the media house to where it is today. Their services include Book Publishing, Television Production, and they currently stretching their horizon to Film Making.
Despite starting as a domestic worker, tea lady and cleaner at Transport Company within the shipping industry, her zeal for success pushed her to rise against all odds. She later grew in her roles within the industry and worked 12 years in the shipping industry as a senior export controller until she quit permanently due to depression after having been kidnapped, robbed and raped. In the midst of all that, obtained her BA degree in Psychology which she registered for while still a cleaner and is currently registered for her Bachelor of Honours in Communications.
She started a Wedding Boutique Store in 2013, importing Wedding dresses and evening wear. She closed down the boutique in 2019 to concentrate on growing Kenako. She is a mentor, leader and national speaker who has been featured on many TV and radio shows to share and motivate rape survivors to build their lives and purpose.
Nicolette Mashile [Founder, Financial Fitness Bunny]: Over the last five years, Nicolette Mashile has built a personal brand to be reckoned with by combining her love for speaking with her passion for personal financial education.
Born and raised in Mpumalanga, Nicolette made her way to Johannesburg after failing her Political Science degree at Rhodes University. Having been cut off by her parents, she slept on her sister's couch while trying to figure out her next move. During that time, she worked as a promoter, interned at a PR firm, taught at a Jewish school and even started a business where she was a sports coach.
She eventually worked herself up in the advertising industry where she became client services director on major client accounts for a Bryanston-based agency while enrolled in various educational programmes. Today she holds a diploma in Sports Management, a degree in Communication Science, an Honours degree in integrated organizational communications, a post-graduate diploma in Business Administration and is currently studying towards her MBA.
In 2015 the opportunity came for Nicolette to host GauTV's flagship talk show where she facilitated discussions between panellists about various social issues. She also hosted a radio talk show called Couch Sessions on Kofifi FM where she and her best friend would give their take on the hottest topics of the day.
The success of these shows resulted in Nicolette being cast as co-host of Daily Thetha on SABC 1 after having been a stand-in. She also portrays the role of Cynthia on SABC 1 popular soapie, Generations: The Legacy.
Having gone through various peaks and valleys in her career and finances, Nicolette decided to start sharing some of the lessons she learnt along the way on her Facebook page, Financial Literacy with Nicolette Mashile. The growth of the page resulted in a YouTube Channel which is racing towards the 100 000-subscriber mark where she shares personal finance lessons. Nicolette has also developed a financial literacy board game and currently penning down her first book. She has worked as an MC, panellist and key speaker at various events and with known brands, sharing her lessons in hopes of advancing personal financial literacy amongst Africans.
Nosipho Bele [Lecturer, University of KwaZulu-Natal]: Nosipho was given a Queen's Young Leaders Award in 2015 for her efforts to support young women in her community. She set up a programme called Mentor Me to Success, which provides one-to-one support to school pupils.
Bele was recognised for her efforts by becoming one of the first South African recipients of the Queen's Young Leader Award in 2015. She still oversees the programme and hopes to expand into KZN, where she is one of the youngest lecturers in the Arts department at UKZN.
Tutoring high school pupils in Nyanga Township, Bele found herself discouraged at their lack of confidence to pursue university studies, and decided to do something about it. She started her Mentor Me To Success initiative by inviting fellow UCT students to coach township learners, and to help with their tertiary applications.
Tracey Malawana [Deputy General Secretary, Equal Education]: Tracey Malawana is 25 years old, Tembisa born human rights activist. Who has dedicated her life in a struggle to advance human rights and achieve social justice. She is currently serving as the Deputy General Secretary of Equal Education – a movement of learners, teachers, parents and community members working for quality and equality in the South African education system, as part of a broader democratic struggle for a just and equal society.
She is a former coordinator and co-founder of the Healthy Living Alliance (HEALA) – which brings together like-minded organisations in a mission to improve the health of an increasingly obese South Africa. HEALA's overarching principle is to ensure that all South Africans have access to clean water and sufficient and healthy food. The alliance was established to reduce and prevent the alarming rate of non-communicable diseases in the country and also to raise awareness about the dangers of unhealthy food including sugary drinks.
Tracey is also an Atlantic senior fellow for health equity at Tekano and alumni at Common Purpose Africa Venture. She was titled a 2018 emerging leader in public health by PHILA awards through Public Health Association of South Africa (PHASA) and a 2019 M&G 200 young South African in the category of Civil Society. She is one of the stubborn so-called born frees who believes that the bank of justice is never bankrupt and that every government must provide quality services including education for all its citizens, especially children.
She draws inspiration from thousands of high school going learners called equalisers from Equal Education that she serves, who advances the standard of education against all odds through activism.
Weza Matomane [Speaker]: Weza epitomises the ideology of a black youth-led 4th Industrial revolution. He is the Executive Vice Chairman of Christopher Africa, an Artificial Intelligence company & CEO of WTG Media House.
Weza uses over a decade of experiences he gained working in diverse teams from a plethora of industries to present inspiring thought-provoking talks on team leadership, inclusion in the workplace, company cultural diversity, individual and team excellence, goal setting and vision alignment, industrial change, management and teamwork.
He has shared stages with the likes of Vusi Thembekwayo, Gill Oved, Ran Neu-ner, Lebo Gunguluza, John Sanei and Romeo Khumalo.
Weza delivered an engaging TEDx talk titled Social Genius. Where he excellently unpacked the importance of leadership and communication in dealing with cultural diversity and team dynamics often encountered in the workplace and social spaces.
Detailing how elite situational understanding can guide team leaders to win with people.
Zanele Njapha [Author]: Zanele Njapha is an award-winning international speaker. Skilled in Leadership Training, Business Coaching, Presentation, Public Speaking, and Dynamic Speaking. She focuses on institutional relevance in a rapidly changing organizational climate.
A strong business development professional working on assisting institutions with strategies to learn, unlearn and relearn for sustained success.
She is the founder of upcycling company Zutifil. Zutifil upcycles used billboards and banners to create stylish durable corporate gifts. The company employs co-operatives of elderly women in the township of Umlazi.
She is also the chair at ACADAID, an NPO that assists learners to achieve excellence in the subjects of Math, Science and Accounting. ACADAID gives employment opportunities to qualified passionate youth who wish to pass on their passion for the critical subjects of Math, Science and Accounting.
In 2018 Zanele launched her successful debut novel 'An Eye for Love'. A romance novel that explores the importance of allowing death to allow birth. The book has been well received and has received coverage on various media platforms.
Zikhona Tywabi-Ngeva (Dr) [Lecturer, University of Fort Hare]: Zikhona Tywabi-Ngeva (PhD) was born in Macibini Village, outside Ilinge Township, Queenstown, EC. She graduated from Durban University of Technology (DUT) with a PhD in Chemistry.
Zikhona worked as a research scientist trainee at the Council for Scientific and Industrial Research (CSIR), Durban. In the year 2014, she was a research visit PhD scholar at the University of Alabama in the United States of America. She completed her PhD degree in a record time of 3-years and has published her research work on high impact factor scientific journals and she has presented her work at international & national conferences.
Currently, Zikhona, is the youngest South African female lecturer in the Department of Chemistry, Nelson Mandela University (NMU). Before joining NMU, Zikhona worked at the University of Fort Hare, Chemistry Department, where she was the youngest and the only South African female lecturer. She has worked at various Universities as a lecturer and researcher, including the Durban University of Technology, University of Zululand, and the University of KwaZulu Natal. She has worked as a lab technician (in-service trainee) at Dunlop tyres manufacturing in Sydney Road, Durban.
SCIENCE & TECHNOLOGY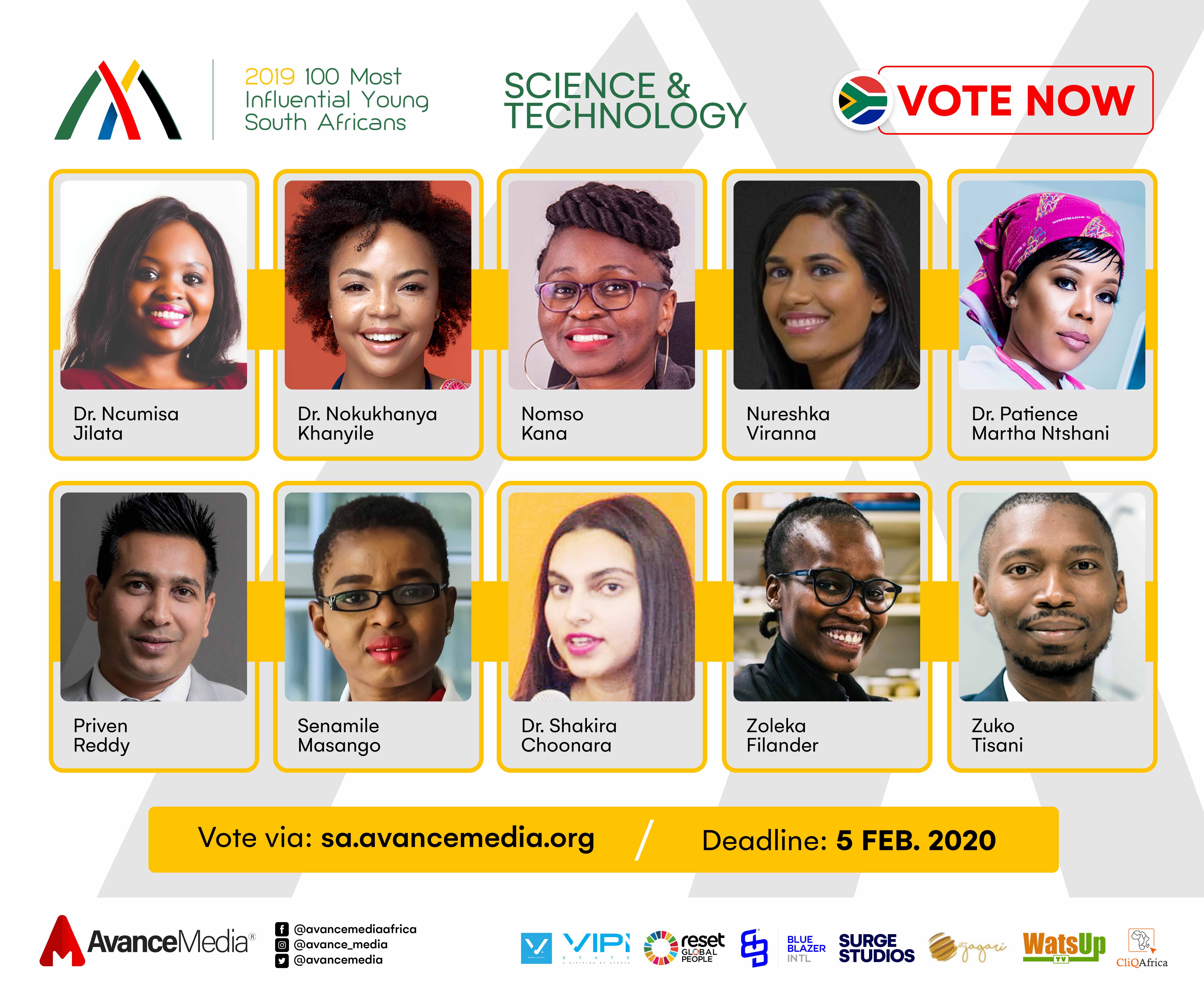 Ncumisa Jilata (Dr) [Neurosurgeon]: Dr Ncumisa Jilata started her medical education at Walter Sisulu University in Mthatha, East London, and conducted her internship at Charlotte Maxeke Johannesburg Academic Hospital. She did community service in Port Elizabeth, and further specialist training at the University of Pretoria, before completing a fellowship for the Council of Neurosurgeons of South Africa in 2017.
Africa's youngest neurosurgeon helps her patients harness the power of the central nervous system.
Mthatha-born Dr Ncumisa Jilata 29, is among the new batch of fellows for the Council of Neurosurgeons of South Africa, following their graduation at Glen ridge Church in Stamford Hill, Durban last week. The young achiever completed her Bachelor of Medicine, Bachelor of Surgery degree at Walter Sisulu University's Mthatha Faculty of Health Sciences in 2009. Even though there is still a lot to do, it is clear that the face of Neurosurgery is certainly changing in several parts of Africa. A hearty congratulations on the remarkable achievement.
Nokukhanya Khanyile (Dr) [Medical Doctor]: Dubbed the medical wonder woman by startupAFRICA, 28-year old Dr Nokukhanya Khanyile is the epitome of what hard work, commitment and passion can achieve.
Having qualified as a medical doctor in 2015 after completing her Bachelor of Medicine, Bachelor of Surgery at the University of Witswatersrand, Dr Nokukhanya has broken the mould of a stereotypical doctor.
Boasting a following of more than 100 000 on Instagram, Dr Nokukhanya uses social media to engage, educate and uplift her followers. She actively promotes physical and mental wellness in both her everyday regime and on her social media accounts which also covers beauty and lifestyle inserts.
A love for children has been the driving force behind her decision to pursue a career as a paediatrician (she is currently specialising in paediatrics) and her work at Marotholi Outreach, a programme aimed at eradicating malnutrition in children under the age of 5.
Understanding that mental health is as important as physical health, Dr Nokuhanya also regularly speaks on mental illness and promotes mental health through her work as the Vice President of Mental Matters, an organisation dedicated to the education and destigmatisation of mental illness, and the promotion of mental health in youth and society as a whole. She is a firm believer in approaching mental health holistically and partners with various specialists in several fields including financial, fitness and image consulting to build a healthy mind.
Despite her gruelling schedule as a medical doctor, Dr Nokuhanya is a familiar face and voice in the media and at events, promoting healthy living amongst South Africans as host, speaker and author. Her enthusiasm is infectious and everyone who comes into contact with her is encouraged to simply tackle life with an unapologetic eagerness to achieve their dreams.
She believes her passion for people is a trait that she credits to her close-knit family and circle of trusted friends. "I'm just a real girl in a big world tasked by an awesome God to save little people"
Nomso Kana [CEO, Sun n Shield 84 Technologies]: Nomso Kana is a Nuclear scientist by trade and working as an entrepreneur in the broadband infrastructure sector, she founded Sun n Shield 84 Tech, a broadband infrastructure solutions company that is designing connectivity networks and distributing passive fibre optic products. Shortly, it will be erupting a passive fibre optic plant that will produce fibre optic cables and equipment required for the last mile, FTTx and other sectors.
In 2014 she was appointed as a South African Delegation leader for the World sustainability energy forum based in Vienna Austria. In 2014 she was appointed as a South African Delegation leader for the World sustainability energy forum based in Vienna Austria. In 2017 She has been recently named as one of the top inspiring women in ICT by the kingdom of Netherlands through the SA embassy and CoCreateSA. Apart from her professional work, she was elected as one of the top 80 emerging leaders in science and technology in Africa and the Middle East and participated in TechWomen in 2013, an exchange program for women in STEM fields initiated by the former secretary of State Ms Hillary Clinton. Recently, Ms Kana was selected as the Power of 40 women to look out for in South Africa by Destiny magazine and has received numerous awards including Standford University (USA) for the work in girl child empowerment using ICT in Africa. In October 2018 Nomso received the Young Entrepreneur award by the African Women Innovation, Entrepreneurship Forum (AWIEF).
Nureshka Viranna [CEO, ShopLi]: Nureshka is a tenacious, driven and determined young lady that looks to improve the South African economy through eCommerce. She is the director and co-founder of Shopli, a specialist eCommerce company that designs and develops online stores and catalogues to give people an online presence that allows them to sell online. She manages everything from accounts to admin and even sales. She consults, advises and trains clients on how to use the platforms they design and develop and advises them on the best forms of marketing. Nureshka has come far having no previous experience in technology or business. She is also invited to speak at various events to educate people on the importance of an online presence. Nureshka served as a teacher immediately after completing her degree, Bachelor of Education. In the second year of teaching, she met her business partner and started Shopli Pty Ltd. In a matter of 3 months, Nureshka, become proficient in Photoshop, WordPress, Woocommerce, and Magento.
In January 2016, Nureshka started directing and running Shopli Pty Ltd full time, leaving teaching behind. This was a newfound territory and was daunting but she persevered and rose to the occasion. She received mentorship and training from her business partner. Shopli continues to support its large client base as well as working with new companies. With the scope in eCommerce, Shopli was recognised by Standard Bank and Nureshka was invited to pitch at their Technology Bootcamp in 2017. She was nominated for the Fairlady Santam Rising Star Award 2017. She was also nominated as an Inspiring Fifty nominee in 2017 and 2018. In August 2018, Nureshka was exclusively invited to Facebook Africa to learn on how best to use both Facebook and Instagram. She appeared in several publications including Destiny Connect, Lionesses of Africa and Leading Ladies Africa. All articles relay the principles she holds to strong esteem – breaking the norm, not letting your circumstances define you, not giving up and finding solutions to everyday problems through innovation.
Nureshka's most recent achievement was being featured as one of Forbes Africa's Top 30 Under 30. She was also featured on CNBC Africa discussing the challenges of the digital world with the likes of Aida Diarra, Bogolo Kenewendo and Mich Atagana. She is very passionate about what she does and always strives for perfection. Nureshka is a proudly South African female technology entrepreneur, something that is rarely seen in the country or the world.
Patience Martha Ntshani (Dr) [Anesthesiologist, Pretoria Heart Hospital]: Dr Patience "Pashy" Ntshani has, over the years, cemented her name as one of South Africa's leading female medical practitioners and public figures. She is a sought- after anaesthesiologist and keynote speaker with a true passion for mentorship. Her childhood aspiration was to become a medical doctor, as she was inspired by the local General Practitioner in the small village of Botlokwa, in Limpopo where she was born and bred.
She completed MCBHC at the Medical University of South Africa in 2008, followed by a Diploma in anaesthesiology with the Colleges of Medicine SA in 2011. Her fellowship in Anaesthesia was completed in 2016, making her internationally recognised and she was awarded the Best Achiever award from the Department of Anaesthesiology at George Mukhari Academic Hospital in that same year. She has since graduated with a Master's from Dr George Mukhari Academic Hospital in 2018.
She describes her work in the medical field as a calling and specializes in open-heart surgery. As a motivational speaker, Dr Pashy offers refreshing, effective tools that empower medical practitioners and laypeople alike.
Her life story is a powerful account of the importance of passion and hard work, having come from humble beginnings, and managed to achieve her dreams.
She is a wife, mother and mentor with a penchant for fashion and travel.
Priven Reddy [CEO, Kagiso Interactive]: Priven Reddy is the CEO of Kagiso Interactive which is ranked the best mobile app development group in Africa on multiple occasions.
It's taken 12 years, but not only is Priven Reddy a self-made billionaire at the age of 36, but he also sits at the helm of five companies with over 400 employees, and his companies have over R4 billion in assets.
His numerous accolades include: Best Artificial Intelligence App developers in Africa 2018, Best Mobile App developers in Africa 2018, Best Mobile App developers in Africa 2019 and M&AGlobal Awards – Best Mobile Application Development Company 2019 – South Africa
Senamile Masango [CEO, Senamile Masango Foundation]: Senamile Masango, popularly known as Sena, is founder and chairperson of Women in Science and Engineering in Africa ("Wise Africa"). Wise Africa is an NGO registered with the Department of Social Development, that: Provides leadership and role models for young people wishing to enter the fields of Science and Technology. Highlights and addresses challenges faced specifically by women in these fields.
Her career life has always been marked with determination and leadership attributes from an early age. Once, she opened her house as a study centre for Grade 10 –12 learners in her community, to whom she also provided Maths and Physics lessons, as well as career guidance. She also donated all her high school study material and books to learners who couldn't afford to buy prescribed textbooks, while she assisted University entrants with application process and fees.
The First African woman to conduct the first African-led experiment at CERN, PhD candidate in Nuclear Physics, Golden key member, Global Goodwill Ambassador, Humanitarian, Award-winning and nominee, Princess by birth from Zulu Royal household and one of South Africa's successful black woman scientist under 35 years, 2019 Mail and Guardian 200 young South African Science and Technology, New24's 100 Young Mandelas of the future 2019, Founder of Senamile Masango Foundation.
Shakira Choonara (Dr) [Public Health Researcher]: Dr Shakira Choonara (29) is an award-winning health researcher, bold activist and the 2017 Woman of the Year in Health, in South Africa (SA). She is a special appointment to the inaugural African Union Commission Youth Advisory Council and is serving as an independent public health practitioner carrying out cutting-edge work on gender and HIV in Africa for international organisations including UNAIDS.
Dr Choonara is notably, a recipient of several prestigious awards including being listed as the Africa Youth Awards 100 most influential Young Africans in 2018 and 2019, the National Research Foundation (NRF) Next-Generation Female Researcher, the Public Health Association of South Africa Emerging Practitioner, Destiny Magazine's Most Powerful Woman under 40 in SA, one of News24 100 Young Nelson Mandela's for the future and an Obama Africa leader.
Dr Choonara holds a PhD in Public Health, an Honours (Cum Laude) and a Masters in Demography from the University of the Witwatersrand, SA. She is renowned for her work in public health on the fronts of universal health coverage, youth advocacy and engagement, health governance, gender equality, disability and malaria prevention. She is widely published in the Lancet, BMJ Global Health and has contributed to the Economist and World Health Organization reports.
Dr Choonara has also made a marked impact on social justice outside of healthcare, particularly fighting corruption, discrimination, advocating for the rights of persons with disabilities and serves as SA's ambassador for non-racism.
Zoleka Filander [Scientist, Department of Environmental Affairs]: Hailing from a landlocked town in the Eastern Cape (Mount Frere), marine sciences was not a field she grew up knowing about. She was, however, always interested in science. The tipping point that first kindled her passion for marine science came at an Honors level, where she was exposed to the dynamic coastal biology, as well as the socio-political aspects, of the Dwessa-Cweba Reserve. After completing her undergraduate / Honors degree, at Walter Sisulu University, she moved to Cape Town where she finished her Masters at the University of Cape Town.
Soon after graduating, she was appointed as an Offshore Benthic Ecologist with the Department of Environment, Forestry and Fisheries; a position she currently holds today. She is concurrently pursuing a part-time PhD with Nelson Mandela University, with research interests focused on echinoid / deep-water coral taxonomy, canyon ecology, and conservation planning. Her work to date has contributed to national biodiversity assessments, ecosystem classification maps, and the establishment of a network of offshore marine protected areas. Furthermore, Zoleka is an influential science communicator and devoted to a variety of outreach initiatives, which have resulted in collaborations with Tenfold and Super Scientist (to name a couple). She was one of the first black women to be lead scientist on a research field campaign and has spent many months at sea discovering more about South Africa's uncharted oceans. In 2018; she was honoured to be named as one of the top 200 outstanding young South Africans (by the Mail and Guardian), one of the 100 young "Young Mandela's of the Future" (by News24), one of the top 40 outstanding South African women (by Destiny), and as a Young Innovator (by her employer). Through her efforts, she aspires to change perceptions and re-establish our connection with the ocean environment.
Zuko Tisani [CEO, Legazy Technologies]: Zuko is the founder of Legazy Technologies.
Zuko has enjoyed vast success in leadership positions from the Chairperson of the Humanities Student Council to the President of the Entrepreneurship Society. He was headhunted by one of the top four international management consulting firms, Accenture. Zuko took the opportunity to travel and to experience an international conference where he made strategic partnerships with the world's largest technology conferencing.
He founded Legazy in 2016. The company takes South Africa's brewing startup talent and exposes these talents to the world at the most recognized tech exhibitions to the world's most powerful tech communities.
SOCIAL ENTREPRISE & PHILANTHROPY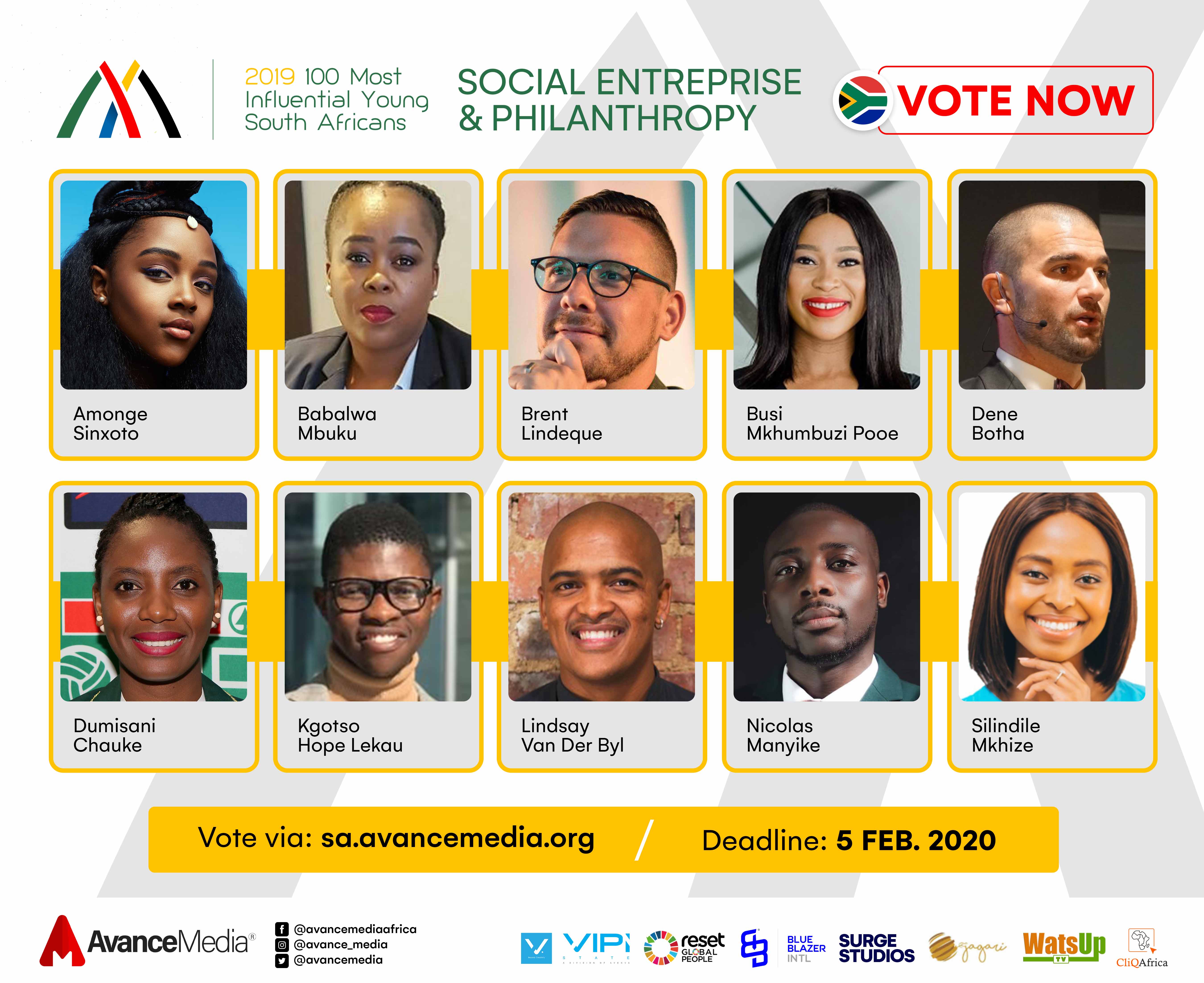 Amonge Sinxoto [Co-Founder, Blackboard Africa]: 18-year-old youth activist, social entrepreneur, public speaker and 2019's Global Teen Leader, Amonge Sinxoto, is an authentically African creative with a burning desire to represent what she feels it means to be an African youth in the 21st century. As the co-founder of Blackboard Africa, a youth Non-Profit Company, Amonge is at the forefront of driving the narrative of the continent into a new direction.
As a leader and young ambassador of national reformation, Amonge has been invited by global platforms such as Tedx, Google and Facebook amongst others, to lend her voice to key discussions around youth and she has already fulfilled speaking engagements on three continents. Amonge is currently studying for a BA Social Sciences, Majors: International Relations and Political Studies at the University of Witwatersrand (WITS) and with her envious achievements and accolades, the teenager disruptor is a future leader that we all should keep our eyes on.
Babalwa Mbuku [Managing Director, Ntombam Group]: Babalwa Mbuku of Ntombam Group has dedicated her life to seeing that no girls are left behind in the advancing of life in this generation. An entrepreneur and motivational speaker, she was driven to start a sanitary product's brand to assist girls from disadvantaged backgrounds to have access to adequate sanitary towels, so that they don't have to miss school because of a natural cycle they go through as young women. This disadvantage of young girls she learnt whilst running a Feed-A-Child campaign, where she cooked and delivered food to needy kids in informal settlements around East London, every week. She is the definition of humanitarian.
Babalwa has been featured on various TV & Radio programmes, as well as magazine and newspapers for her philanthropic strides to helping the needy.
Brent Lindeque [CEO, Good Things Guy]: Brent is a young South African that, due to an undying belief in the power of positivity, and a fair amount of luck has succeeded in achieving great things, in a small amount of time. His decision, to turn a frivolous internet drinking game nomination, into a Random Act of Kindness, literally Changed Everything.
Good Things Guy is the home of everything good, and those are the things that matter! Good Things Guy was officially launched on the 1 August 2015 to only promote good news, inspirational stories and promote only positive, upbeat media. GoodThingsGuy is a global, multi-platform media company that distils unique content across multiple media platforms.
Brent started Good Things Guy on the 1 August 2015 as a platform on a mission to change what the world pays attention to.
Recognised as one of the Mail and Guardian's Top 200 Young South African's as well as a Primedia LeadSA Hero, Brent is a modern-day family man, proudly South African, Passionate Entrepreneur, Determined Dreamer & a Primal Optimist whose story and vision is as inspiring as he is.
Busi Mkhumbuzi Pooe [Co-Founder, Tshimong]: Social Entrepreneur and Speaker, Busi Mkhumbuzi Pooe took centre stage as the Programme Director of the 16th Annual Nelson Mandela Lecture that was delivered by President Barack Obama. Her selection represented the latest in a series of accomplishments, each of which applied and built on the meaning of the last.
Mkhumbuzi Pooe is a Forbes Africa 30 Under 30 Honouree, Standard Bank Top Women Finalist, 100 Most Influential Young Africans Class of 2019, Inside Education Shining Star in Philanthropy, One Young World Ambassador, and has spoken at the TedWomen and TedXUCT conferences respectively. In 2016 she was invited to intern at the National Black Caucus of State Legislatures in Washington, USA, preparing her to use her talents and experiences in the creation of her own company, Tshimong.
Tshimong is a diverse group building a critical, engaged and empowered youth divided. As Chief Executive of Social Investments, Mkhumbuzi Pooe has created a coordinated framework through which public-private partners come together to build the capacity of young people to create jobs, and thereby combat youth unemployment.
Tshimong has partnered with leading organisations from corporates to charities and government. Over 4,000 young people have been directly impacted in the last 3 years through strategic, sustainable and innovative programmes. And over 1,000,000 young people have been reached through Tshimong's television and radio programs.
Dene Botha [Managing Director, Pride Factor]: Dene Botha is a self-taught entrepreneur who founded the Pride Factor life skills development platform to provide the youth of South Africa with the inspiration and guidance required to overcome the problems of unemployment and poverty.
Launched as a series of motivational workshops for teenagers in 2014, Pride Factor's aspirational messaging resonated with the youth from the outset and the company has grown into a multi-faceted educational institution that has positively impacted the lives of hundreds of thousands of young people countrywide through events, mainstream and social media platforms as well as an online academy offering courses in life skills, financial literacy and entrepreneurship.
Encouraged by the overwhelmingly positive feedback received from attendees, educators, charitable foundations and both private and public entities, but realizing that the majority of the demographic benefitting most from Pride Factor's programmes could not afford to attend the events nor to study the online academy's courses, Dene cashed in his investments and sold his house while developing a business model that now enables the knowledge-hungry youth to access these lifechanging benefits at no cost.
More than 120 interactive live events, featuring high-profile role-models who are passionate about passing on the secrets to their success to the next generation, have been run in schools, on university campuses and at youth gatherings and expos.
Pride Factor's media presence includes a television and radio partnerships, print coverage and vibrant social media platforms while the online academy has provided bursaries for hundreds of students to access the authentic and invaluable guidance necessary to create successful careers and fulfilling lives.
Building on the successful foundations of the past six years, Pride Factor is set to grow exponential in the 2020s and the model was also expanded internationally with
Dene successfully launching the Empowered Youth platform in London during November 2019.
Dumisani Chauke [Founder, Dumisani Chauke Netball Foundation]: Born in Malamulele, Limpopo, she is the 2nd born of three girls. Her love for sports started at Magangeni Primary School and moved Flora Park Comprehensive Primary School where she was the first head girl. She attended Capricorn High School where she made the SA u16 and SA u17 teams in 2002 & 2003
She graduated with a National Diploma in Sport Management from the Nelson Mandela (Metropolitan) University in 2008 where she was a netball player, coach and an executive committee member. 2012 she was elected as the Chairperson on Nelson Mandela Bay Basketball Association, the youngest and only female in the country at that time.
On 15th September 2017, she registered "Dumisani Chauke Netball Foundation" which aims to empower young girls through netball skills training, life skills and two community-based projects, pre-loved tekkies and sanitary towels.
She is a netball analyst for SuperSport and serves on the adjudicating panel of the Gauteng Sport Awards and was elected as Chairperson in 2019. She is an ambassador of the Nelson Mandela University Sports Department. In 2018 she was awarded the presidential award at the 2018 South African youth awards hosted by NYDA for the work through her foundation (DCNF).
Kgotso Hope Lekau [Founder, The New Generation International Foundation]: Kgotso Hope Lekau is the Founder of the New Generation International Foundation', Founder of the Brand Media Company named `BrandKHL'. He is a Multiple Award-winning Social Entrepreneur, Inspirational Speaker, Media Personality, Producer, Content Manager for a Global online Magazine called NextMag', a Columnist for a Local South African Online Magazine called Being Magazine', also a PR and Brand Strategist. Kgotso's interest ranges from Social Entrepreneurship, Leadership, Media, Politics, Tourism, Fashion, Arts and Jesus overall.
Kgotso Hope Lekau overcame cancer at a young age of 12 years old after a near-death experience; Kgotso used his experience to empower and discover his purpose and ventured into being the answer to many across the world from Africa, through his foundation impacting over 300000 young people from ages of 13 to 35 years.
Kgotso founded the New Generation Org now known as the NGIFoundation at age 16, a platform for young people to be empowered, nurtured for leadership, entrepreneurship and Life itself. Building a generation of young people who are passionate, vibrant and transforming their world. The New Generation Int'l foundation runs in SIX countries in Africa which are; South Africa, Ghana, Cameroon, Nigeria, Malawi and Zimbabwe.
In the past 7 years that Kgotso has been in the Social and media space, he has continuously grew his brand and has had phenomenal accomplishments, achievements and engagements from multiple awards & recognition local, national, continental & international e.g. Western Cape Peer Educator, Youngest leader of the Year, WCED RCL, chosen to lead youths in Southern Africa as the Regional leader under the Global Youth Leaders Forum, Top 100 Young Nelson Mandela, Changemaker, Future Africa Leader Nominee three times [2015,2017,2018], Global Youth Award by RoundtableGL & invited by Microsoft to their Tech Summit, Global Change Ambassador, Trailblazer of the Year in 2019 Southern Africa, First official columnist in the local South African Online Magazine, Face of Arts Africa and many more.
Kgotso Hope Lekau launched his Brand Media Company named `BrandKHL' which has impacted over 3 million people all across South Africa in 1 year of existence. BrandKHL works and collaborates with brand & companies in creating content for awareness, sales and traffic. Producing and creating new innovative platforms of impact and expand the vision of KHL. In the year 2018, BrandKHL kick-started with a radio show at Radio7551 called `Next Generation' reaching 3000 youths weekly, moved on to other platforms and one of the biggest achievement in 2018 was being chosen by News24 as Top 100 NM and shooting a documentary following the footsteps of Nelson Mandela.
In 2019, the brand grew and took over more media scenes in South Africa including Fashion, Arts and Television; one of the achievements is our tours, branding sessions, judging engagements and our very own Online TV Show #HangoutwithKG produced by Kgotso Hope Lekau.
He has had encounters & engaged with likes of President Ramaphosa, President Barack Obama, Former President Jacob Zuma, Former Mayor Patricia De Lille, Prince Buthelezi, Pearl Thusi, DJ Zintle, Lasizwe, Vusi Thembawayo, Siya Kolisi, Boity Thulo just to name a few.
Kgotso Hope Lekau has along yet to reveal to the world, through his story, work and life.
Lindsay Van Der Byl [Founder, Cycle 4 Change]: Lindsay van der Byl (Linzito Inspires) is a Social Entrepreneur, Motivational Speaker, Life Coach and host of The Motivational Brunch every Tuesday & Thursday 1873 FM
Lindsay van der Byl is a 33-year-old South African born Social Entrepreneur, Motivational Speaker, Athlete, Cyclists, Youth Life Coach specialising in Teen & Youth Mentoring. He is a News24 #100YoungMandela, a Primedia Lead SA Hero and as alumni of the Young African Leadership Initiative (YALI) serves as a member of the YALI Alumni Representative Committee. He is also an Athletics South Africa Level 1 Technical Official and a former Council Member of the Insurance Institute of Kwazulu Natal and has represented Border, Eastern Cape & Kwazulu Natal for Cross Country as well as Track & Field respectively. He is a seasoned negotiator having plied his trade as a Motor Liability Claims Negotiator in the Legal Departments of various short term Insurance companies. Lindsay is the founder of Cycle 4 Change a Social Enterprise that sees him and other change agents cycle from Pretoria (Union Buildings) to Cape Town (Parliament) to encourage people to read.
Nicolas Manyike [Founder, Property Stokvel Investment Club]: Nicolas Manyike is considered one of the South African top influential serial entrepreneur, He's the CEO of Tale PR & Communications, Award-winning publicist, speaker, property investor, Founder and chairperson of Property Stokvel Investment Club and Serial-entrepreneur.
Nicolas's entrepreneurship journey started when he was 18 years old, where he used to organize events and manage upcoming artists. Nicolas matriculation from Makhosana Manzoni high school in 2011.
2018 founded property Stokvel investment club CEO of Tale PR & Communications – Awarded best media provider of the year by Africa Financial Expo in 2017 -Awarded winning publicist, Awarded by African Financial Expo in 2017 – Founder of Nicolas Manyike Foundation, a non-profit organization, which through it he has given food parcels to more than 100 families.
Silindile Mkhize [CEO, Uber Affix]: Silindile Mkhize is a mother, a Retail Business Management graduate and a fashion designer. She is the Founder and CEO of Uber Affix (PTY) LTD, a 100% black-owned media company that is primarily focused on empowering women through various platforms. Under the umbrella of Uber Affix is Uber Affix Business, Uber Affix TV and Uber Affix Careers. Through her media company, she has astoundingly created the first-ever digital job classified specifically for women, with a mission to impact and change the lives of over 10 million women across Africa through Uber Affix (PTY) Ltd. Silindile is affectionately known as "Theesleigh".
She has spoken at several women empowerment events sharing the stage with respected women in business, and church leaders. Many have described her as a woman who is an advocate for positivity, women empowerment and God. Amongst many of her accolades, she is gracefully becoming one of South Africa's bestselling authors.
SPORTS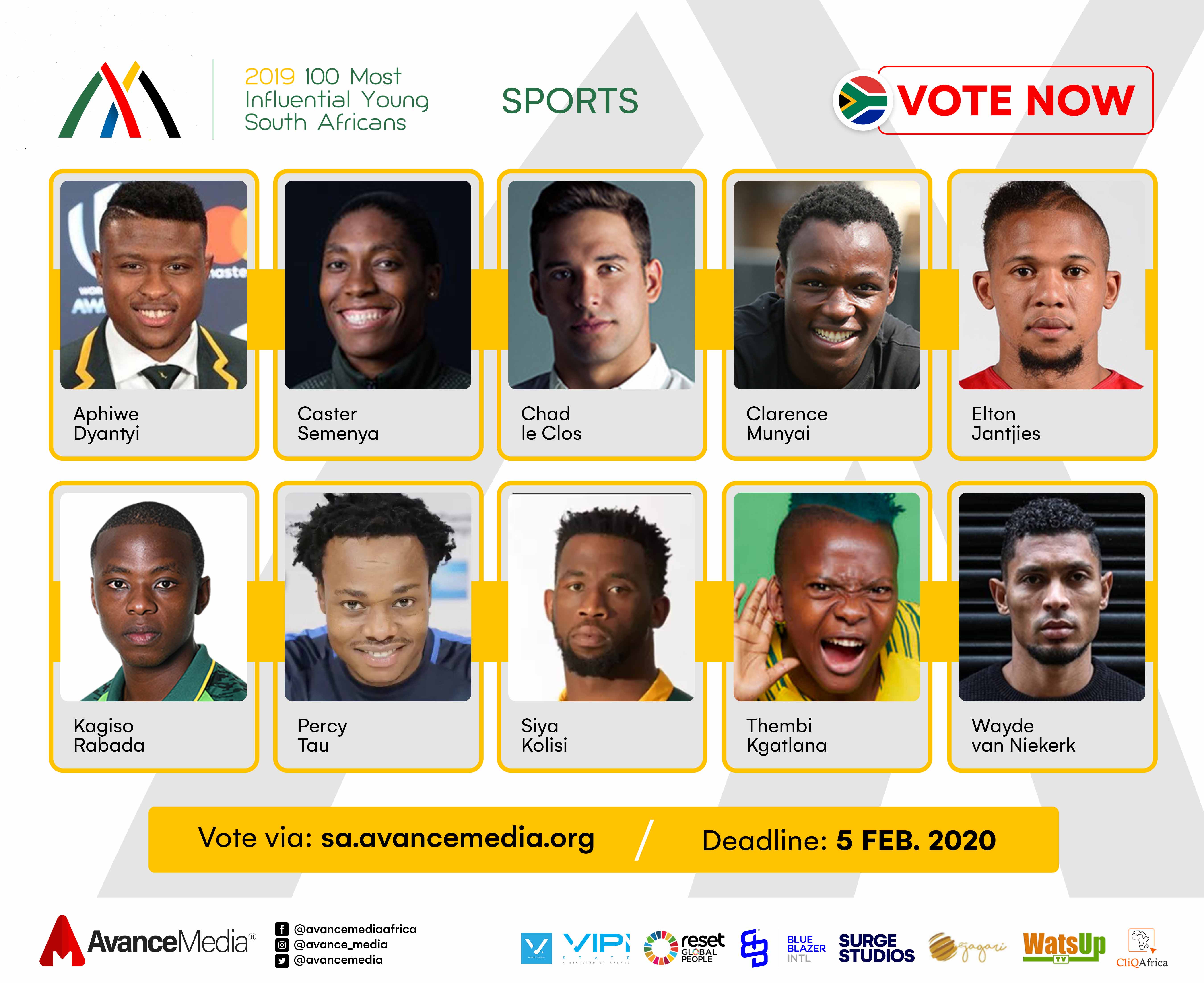 Aphiwe Dyantyi [Rugby Player]: Aphiwe Odwa Dyantyi is a South African rugby union player for the South Africa national team, the Lions in Super Rugby, the Golden Lions in the Currie Cup and the Golden Lions XV in the Rugby Challenge. His regular position is wing or centre.
Caster Semenya [Athlete]: Caster Semenya is a middle-distance runner and 2016 Olympic gold medalist. She won gold in the women's 800 metres at the 2009 World Championships with a time of 1:55.45, the 2016 Summer Olympics and at the 2017 World Championships in her new personal best, 1:55.16. After the doping disqualification of Mariya Savinova, she also was awarded gold medals at the 2011 World Championships and the 2012 Summer Olympics, all in the 800 metres.
In September 2019, Semenya joined the South African SAFA Sasol Women's League association football club JVW F.C
Chad le Clos [Swimmer]: Chad Guy Bertrand le Clos, OIS (born 12 April 1992) is a South African competitive swimmer who is an Olympic, World and Commonwealth Games champion as well as the Commonwealth record holder in the 50 and 100-metre butterfly. He won gold in the 200-metre butterfly and silver in the 100-metre butterfly in the 2012 Olympics in London, as well as silver medals in the 200-metre freestyle and 100-metre butterfly in the 2016 Summer Olympics. He also won five medals at the 2010 Summer Youth Olympics in Singapore. Le Clos has won the Overall Swimming World Cup four times: 2011, 2013, 2014, and 2017. In 2018, Le Clos claimed three gold medals in the 50m, 100m and 200m butterfly events at the Commonwealth Games. He also placed second in the 100m freestyle and third, along with teammates Cameron van der Burgh, Calvyn Justus and Brad Tandy, in the 4×100 medley relay. With another win in the 200m butterfly, Le Clos made history by becoming the first man to win three consecutive 200m butterfly Commonwealth titles.
In January 2017, Chad announced that he had appointed a new head coach, Italian Andrea di Nino, and joined the Energy Standard Swimming Club. He competed at the 2017 FINA World Championships in Budapest in July, winning gold in the 200m fly. 2017 also saw Chad honoured as Best Male Athlete of the Year at the ANOC (Association of National Olympic Committees) Awards in November, just before winning the FINA Swimming World Cup Series for the fourth time.
The XXI Commonwealth Games 2018 at the Gold Coast in April saw Chad make history in becoming the most successful Commonwealth swimmer of all time. His three gold's in the 50m, 100m and 200m butterfly along with a silver in the 100m freestyle and bronze in 4x100m medley relay brought his medal tally up to 17 in total.
Clarence Munyai [Athlete]: Clarence Munyai is a South African sprinter. He is the current South African record holder in the 200 metres, with a time of 19.69, set on 16 March 2018 at the South African national championships.
He is ranked 10th in the world 200 metres and the 11th in the world for the 300 metres. He competed in the men's 200 metres at the 2016 Summer Olympics. He finished 3rd in his heat with a time of 20.66 seconds and did not qualify for the semifinals.
Elton Jantjies [Rugby Player]: Elton Thomas Jantjies (born 1 August 1990) is a South African rugby union player for the South Africa national team, the Lions in Super Rugby and the Golden Lions in the Currie Cup.
Jantjies made his professional debut with the Lions (Super Rugby) during the 2011 Super Rugby season and his International debut with the Springboks during the inaugural Rugby Championship. He has received several significant sporting awards, including the SARU Young Player of the Year award (2010), and the SA U20 Player of the Year award (2010).
In June 2014 it was reported that Jantjies had signed a contract with Japanese side NTT Communications Shining Arcs who play in the Top League. This move meant that he would be ruled out for the 2014 Currie Cup Premier Division competition.
Jantjies made his international rugby test debut for the South Africa national rugby union team during the inaugural Rugby Championship against Australia on 29 September 2012, at Loftus Versfeld, however, his debut for the Springboks came in a non-test, uncapped game against the Barbarians in the 2010 end of year tests.
Jantjies was named in South Africa's squad for the 2019 Rugby World Cup. South Africa went on to win the tournament, defeating England in the final.
Kagiso Rabada [Cricketer]: Kagiso Rabada is an international cricketer who plays all formats of the game. Rabada, who is known by the nickname KG, is a fast bowler and plays domestic cricket for the Highveld Lions. He made his South African debut in November 2014 in limited-overs cricket before going on to make his Test debut in November 2015. Rabada attended St Stithians Boys College, leaving the school in 2013. By January 2018, he had topped both the ICC ODI bowler rankings and the ICC Test bowler rankings aged 22. In July 2018, he became the youngest bowler to take 150 wickets in Tests.
In July 2016, Rabada became the first cricketer to win six awards at Cricket South Africa's (CSA) annual dinner, including the prize for Cricketer of the Year. In June 2018, he again won six awards at CSA's annual dinner, including Cricketer of the Year, Test Cricketer and ODI Cricketer of the Year. In August 2018, Wisden named him the best young player in the world.
In July 2018 during the first test against Sri Lanka, Rabada surpassed the record of Harbhajan Singh to become the youngest ever bowler to take 150 wickets in Test cricket and also became the third-fastest South African to reach 150 test wickets in terms of matches.
In 2018, he took the most wickets in Tests by any bowler, with 52 dismissals.
In March 2019, Rabada took his 100th wicket in ODIs in the second ODI against Sri Lanka. In April 2019, he was named in South Africa's squad for the 2019 Cricket World Cup.
Percy Tau [Footballer]: Percy Tau is a South African professional footballer who plays for Belgian Pro League side Club Brugge on loan from Premier League club, Brighton & Hove Albion, and the South African national team.
Tau began his footballing career with Premier Soccer League side Mamelodi Sundowns where he made 100 appearances either side of a loan to Witbank Spurs. During his time with Sundowns, he won the league title twice and the CAF Champions League once and was named Footballer of the Year and joint-top-goalscorer in his final season with the club.
He joined Brighton in 2018 but, due to work-permit complications, was loaned out to Belgian side Union SG with whom he won the Proximus League Player of the Season award.
On 29 July 2019, Tau signed for Belgian side Club Brugge on loan for the 2019–20 season. He made his debut for the club on the 2 August against Sint-Truiden where he scored in the club's 6–0 home victory. On 13 August, he was sent off with for a second bookable offence during a 3–3 away draw against Dynamo Kiev in what was only his second career Champions League game. Brugge went through 4–3 on aggregate. Tau appeared in the 2–2 away draw at Real Madrid on 1 October, where he assisted the first goal.
Siya Kolisi [Rugby Player]: Siya Kolisi is a South African rugby union player who currently captains the South Africa national team and also plays club rugby for the Stormers in Super Rugby and Western Province in the Currie Cup. He generally plays as a flanker. In 2018, Kolisi was appointed captain of the Springboks, becoming the first black man to hold the position, and eventually leading the South African Rugby team to victory in the 2019 Rugby World Cup Final against England. In December 2019, Kolisi was named in New African magazine's list of 100 Most Influential Africans.
Kolisi was a member of South Africa under 20 side that competed in both the 2010 and 2011 IRB Junior World Championships.
He made his national team debut as Springbok 851 on 15 June 2013 against Scotland at the Mbombela Stadium in Nelspruit. He replaced the injured Arno Botha in the 5th minute and was named as Man of the Match as South Africa won 30–17. Nine further substitute appearances followed during the 2013 international season as he firmly established himself as a regular member of the national squad. Kolisi also played two matches in the 2015 Rugby World Cup playing for South Africa against Japan and Samoa.
Kolisi captained the South African team at the 2019 Rugby World Cup in Yokohama, Japan, defeating England 32–12 in the final to lift the Webb Ellis Cup. This was South Africa's third World Cup win, tying with New Zealand. Siya Kolisi is the first black captain of a World Cup-winning side
Thembi Kgatlana [Footballer]: Thembi Kgatlana footballer who plays as a forward for Beijing BG Phoenix F.C. in the Chinese Women's Super League and is a member of the South Africa national team.
In February 2018, Kgatlana moved to the United States to join the Houston Dash in the National Women's Soccer League. She was brought in by her former national team coach Vera Pauw. Kgatlana joined her South African teammates Janine van Wyk and Linda Motlhalo in Houston. Kgatlana made 16 appearances with Houston and she scored 2 goals. Kgatlana was waived by the Houston Dash, on 6 February 2019.
On 22 February 2019 Kgatlana signed with Beijing BG Phoenix F.C. in the Chinese Women's Super League. She was joined by South African teammate Linda Motlhalo who also made the move from Houston to China.
She represented her country at the 2016 Summer Olympics and the 2018 Africa Women Cup of Nations, where she won the Player of the Tournament and was the highest goal scorer. Kgatlana also represented South Africa at the 2019 FIFA Women's World Cup in France, where she scored her country's first goal ever in the tournament.
Wayde van Niekerk [Athlete]: Wayde van Niekerk is a South African track and field sprinter who competes in the 200 and 400 metres. In the 400 metres, he is the current world and Olympic record holder, and world and Olympic champion. He also holds the world-best time in the 300 metres.
Van Niekerk was the silver medallist in the 400m at the 2014 Commonwealth Games and took bronze in the 4×400 metres relay at the 2013 Summer Universiade. He also represented South Africa at the 2013 and 2015 Athletics World Championships. At the 2015 World Championships, he won the gold medal in the 400 meters. He defended his title two years later, in London, where he also won the silver medal in the 200 meters race.
On 8 August 2017, Van Niekerk successfully defended his 400 metres world title at the 2017 World Championships in Athletics in London with a time of 43.98 seconds. Two days later he finished second in the 200m in a time of 20.11 seconds at the World Championships. He became the first South African athlete to land two individual sprint medals at a single meet.