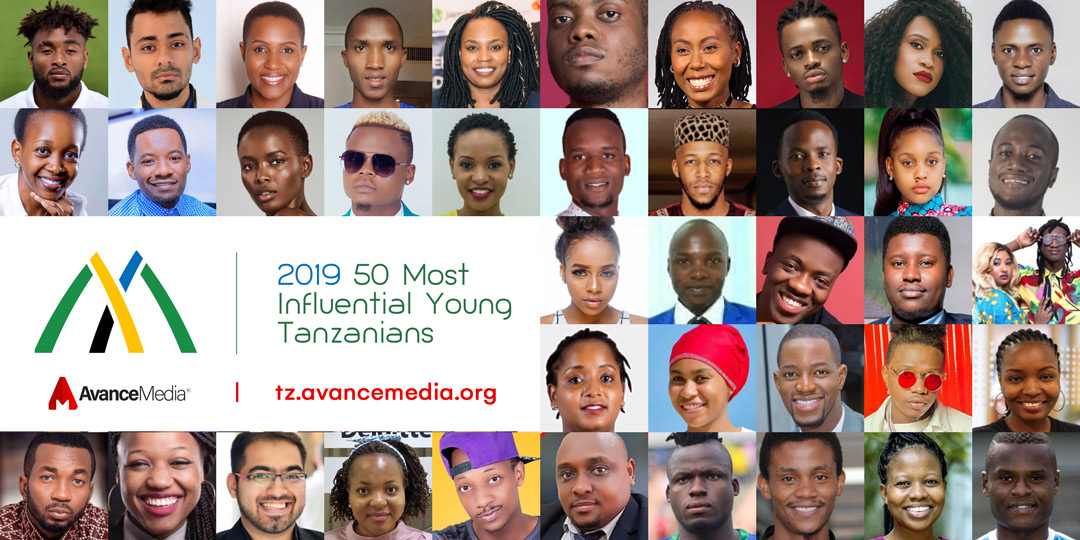 16 Jan

Profiles: 2019 50 Most Influential Young Tanzanians

The most anticipated annual list of young Tanzanians, 50 Most Influential Young Tanzanians, which is curated by leading PR & Rating firm, Avance Media, has been released.

Currently in its fifth year, the annual ranking by Avance Media has helped highlight the works of young Tanzanians across the world and has seen notable personalities such Mbwana Samatta (2017) & Millard Ayo (2018) voted as the Most Influential Young Tanzanians in the previous years.

Honourees cut across diverse sectors with these inspiring young change-makers and leaders making great strides as entrepreneurs, musicians, activists, media personalities, social entrepreneurs, public servants and politicians.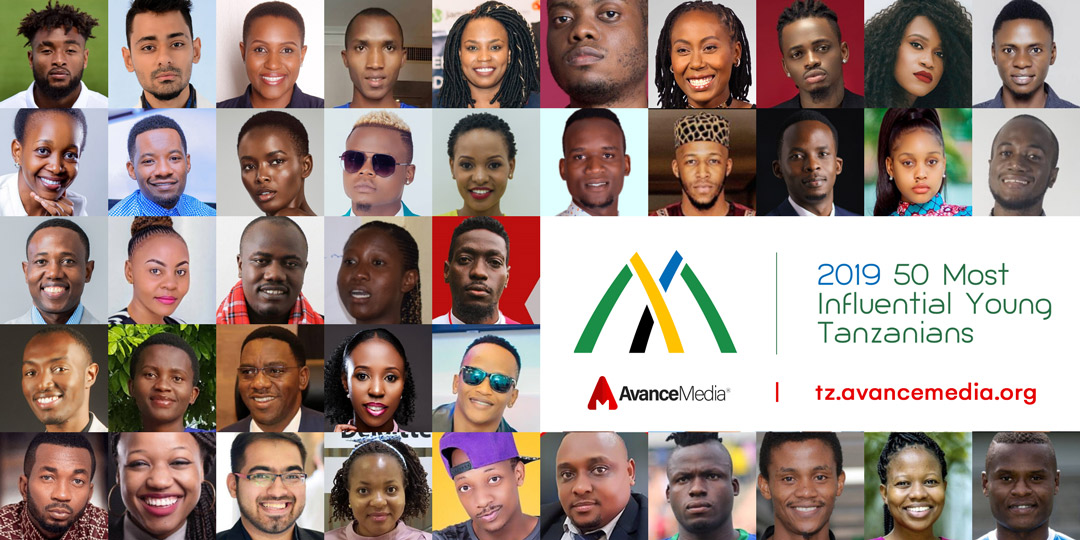 According to Prince Akpah, founder and MD of Avance Media, "the list serves as an encouragement to young Tanzanians who are accomplished in their industries and continue to build a distinguished brand for themselves and influence over others. This list also urges those honoured to continue striving harder so their stories can inspire other young people to also contribute their quota to the development of Tanzania and the continent of Africa."
Public voting has been opened via tz.avancemedia.org for the public to decide who among the 50 honourees served as the most influential young person in 2019.
Avance Media is also spearheading related annual rankings for Nigeria, South Africa, Ghana and Kenya.
Below is the profiles of nominees arranged in their respective categories
BUSINESS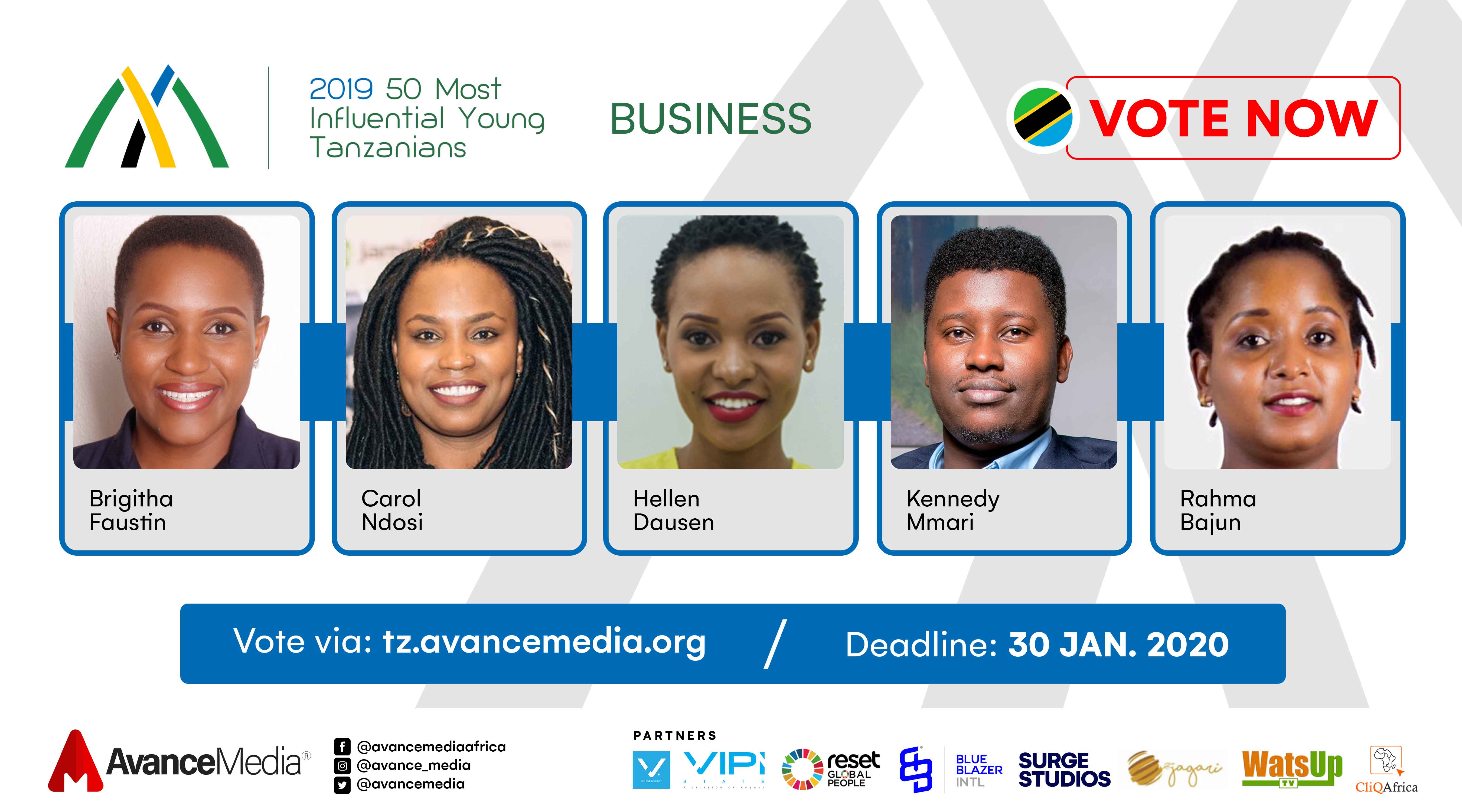 Brigitha Faustin [CEO, OBRI Tanzania]: Brigitha Faustin is the founder and managing director of OBRI Tanzania, a company that manufactures edible oils.
OBRI Tanzania makes edible oil under the OBRI brand. From raw materials to manufacturing, everything is done in Tanzania. OBRI Company is modelled as a co-operative social enterprise. Under this model, OBRI has empowered more than 230 local Tanzanian farmers who are organized under farmers associations in Tanzania by providing sustainable market channels for their produce. OBRI's cooking oils are sold in retail outlets across the country.
Carol Ndosi [CEO, Alta Vista Events]: Carol Ndosi is the Founder & CEO of Alta Vista Events, which birthed the largest barbecue festival in East Africa, The Nyama Choma Festival and Bongo Festival.
She is also the co-founder of a digital solution for farmers (KilimoUza), Global Goals Champion with the UN Tanzania, Board member for Kilimanjaro Project (environment preservation), Africa Youth Advisory Board with the African Leadership Institute and Her Initiative.
She has also launched a campaign called '100 Tanzania Sheroes, which spotlights 100 women from different fields and areas of work in #Tanzania as an initiative to inspire the girlchild with available opportunities.
Hellen Dausen [CEO, Nuya's Essence]: Hellen founded Nuya's Essence out of her passion for herbs, spices and botanical oils. Through her skincare brand, she has developed the belief that our skin has the power to heal itself, if given the right environment accompanied by various herbs and has been credited for owning the fastest growing skincare brand in Tanzania and Africa at large.
In 2010, she participated in the 2010 Miss Universe Tanzania beauty pageant and won which gave her the scholarship to study at the New York Film Academy and the opportunity to pursue a modelling and acting career.
Kennedy Mmari [CEO, Serengeti Bytes]: Kennedy Mmari is a Tanzanian public relations, strategic communications, and digital marketing practitioner. He founded and run Serengeti Bytes, a full-service Communications, Public Relations, and Digital Marketing agency based in Dar es Salaam, Tanzania. In September 2019, Clutch a US-based research, ratings and reviews site listed Serengeti Bytes as one of the 2019 Top 20 B2B companies in Africa.
With over five years of experience in the areas of Public Relations, Communication and Digital Media in both NGO and private sector, Kennedy is also an Associate Fellow of the Royal Commonwealth Society and Bill and Melinda Gates Foundation Goalkeeper, the honorary associations as a result of his commitment and contribution to various areas of Sustainable Development Goals in Tanzania.
Rahma Bajun [CEO, MnM Clothing]: Rahma is the founder and Creative Director of MnM Clothing Line, a clothing and designing company based in Dar Es Salaam. MnM focuses on bringing back the love of African Prints to people by producing fashionable and quality clothes, home decors, furniture's and other miscellaneous like toys, notebooks etc.
She was featured in the 2018 Forbes list of 30 most promising entrepreneurs in Africa.
Entertainment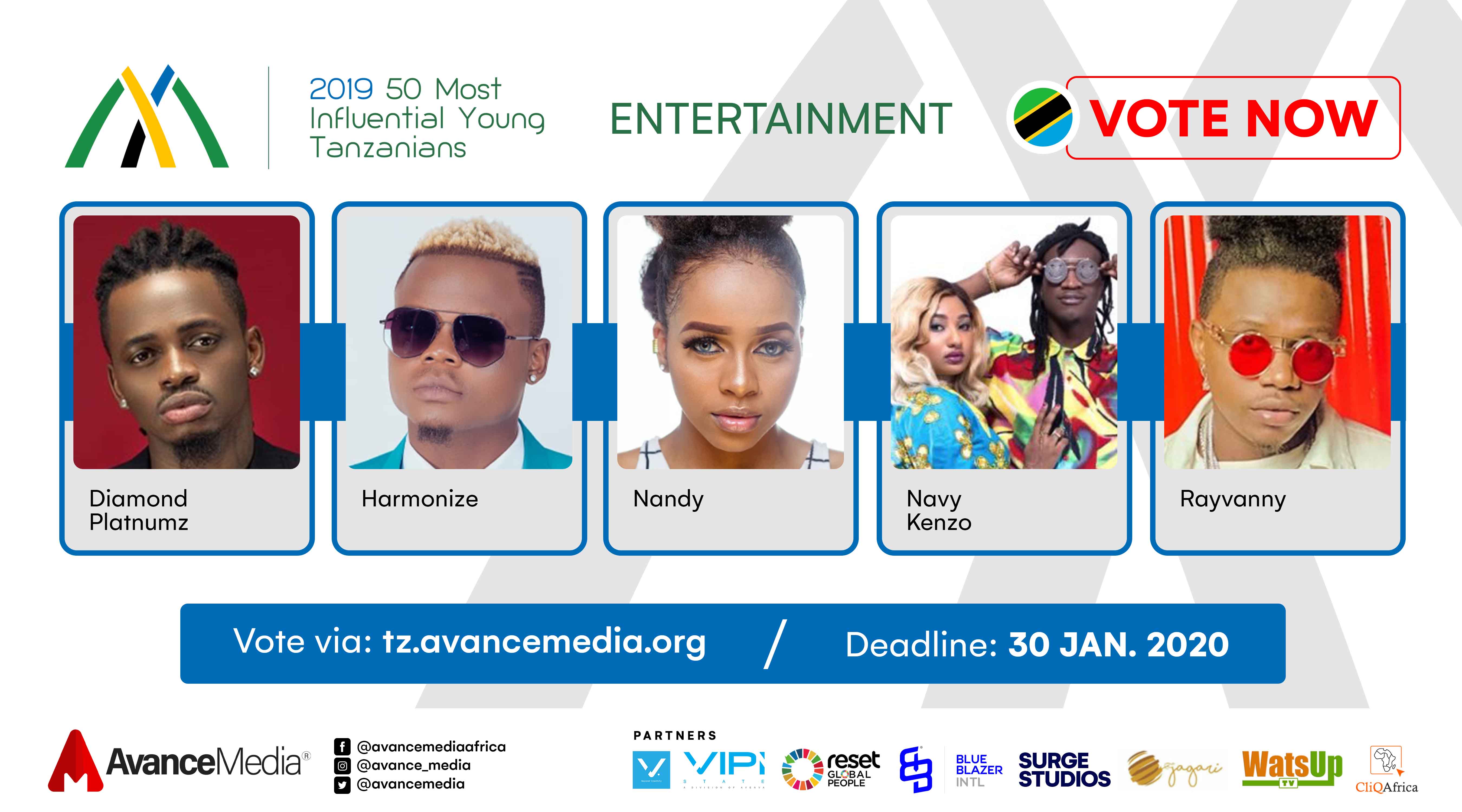 Diamond Platnumz [Musician]: Known privately as Nasibu Abdul Juma, Diamond Platnumz, is a multiple award-winning Tanzanian bongo Flava recording artist, dancer and entrepreneur.
He was the highest selling Tanzanian artist of ringtones by mobile phone companies in 2013, as well as being among the artists earning the highest income in the African Great Lakes region's music industry. Diamond also became the first African artist to accumulate as many as 2,520,778 subscribers on his YouTube channel.
He is currently the Founder and CEO of WCB Wasafi Records, Wasafi TV, Wasafi FM & Zoom Extra.
Harmonize [Musician]: Known privately as Rajab Abdul Kahali, Harmonize is a Tanzanian musician, songwriter and dancer who records music for his label KONDE MUSIC WORLDWIDE.
He is well known for his hit song "kwa ngwaru", featuring Diamond Platnumz after his music career in started in 2011. His first recordings did not hit. In 2015, he met Diamond Platnumz. His first song "Aiyola" was commercially successful. He is a recipient of several awards from WatsUp TV, AFRIMMA and AEA USA (in the US).
Nandy [Musician]: Nandy is a Tanzanian singer and songwriter who won the All Africa Music Awards best female artist in East Africa category in 2017.
She is currently Tanzania's Goodwill ambassador for UNICEF's water, sanitation and hygiene programme (WASH) that works in over 100 countries worldwide to improve water and sanitation services, as well as basic hygiene practices. The programme focuses on providing people with clean water and basic toilets.
In 2017 she released her hit single One Day which spearheaded her career and gave her a couple of opportunities as she was one of the few artists who participated in Coke Studio Africa in 2017 and later the same year she was nominated in the All Africa Music Awards as best female eastern Africa and won.
Navy Kenzo [Musician]: Navy Kenzo is a music duo made up of Nahreel and Aika.
The group have an album, 'ABOVE IN A MINUTE (AIM) which features big names in Africa such as Patoranking, Alikiba and Vanessa Mdee.
Rayvanny [Musician]: Known privately as Raymond Shaban Mwakyusa, Rayvanny is a Tanzanian musician, songwriter and Recording Artist Signed Under WCB Wasafi Records.
In 2016, Rayvanny was nominated for an MTV Africa Music Award in the category of Breakthrough Act 2016. In 2017 he was also nominated for several music awards, such as AEUSA for Best New Talent, Uganda Entertainment Award for Best African Act, and BET Award for International Viewers' Choice.
Law & Governance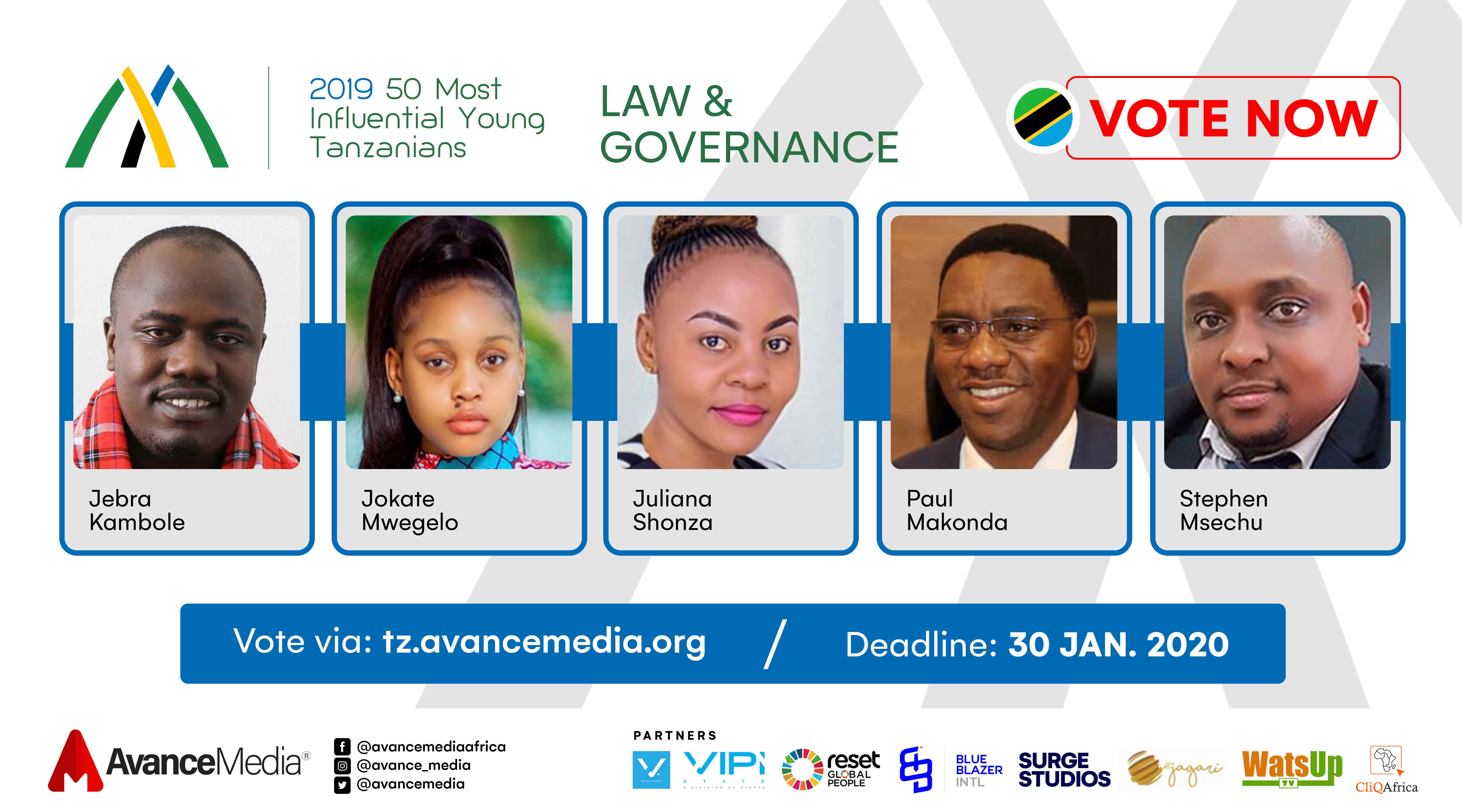 Jebra Kambole [Lawyer]: Jebra Kambole is an Advocate of the High Court of Tanzania and is the co-founder and head of Litigation of Law Guards Advocates, a multifaceted legal firm based in Dar-es-Salaam, Tanzania.
He is one of the few lawyers who participate in public education on law and human rights in the media and has been a regular guest on Star TV (Tanzania), East Africa TV, Clouds FM, EA Radio, and Radio Free Africa, amongst others.
He is a member of the Tanganyika Law Society Committee of Constitutional and Legal Affairs.
Jokate Mwegelo [District Commissioner, Kisarawe]: Jokate Mwegelo is the District Commissioner for Kisarawe appointed in July 2018 by the President of the United Republic of Tanzania.
Before being appointed, she was an entrepreneur and a media personality. She is a member of Chama Cha Mapinduzi where she previously served as Secretary in charge of Public Relations and Mobilization UVCCM – the youth wing of Chama Cha Mapinduzi.
She is one among Tanzania's youngest influential leaders and entrepreneurs
Juliana Shonza [Deputy Information Minister]: Juliana Daniel Shonza is the current Deputy Minister of Information, Culture, Arts and Sports, member of the ruling Chama Cha Mapinduzi (CCM) party and a one-term Member of Parliament having been appointed to the special seat reserved for women.
Shonza became involved in politics while she was at the University of Dar es Salaam as the Vice Chairperson of National Youth Council of Chadema. In 2013 she moved to Chama Cha Mapinduzi where she was appointed to the post of Assistant Secretary of Motivation at the CCM headquarters.
Paul Makonda [Regional commissioner, Dar es Salaam]: Paul Makonda is the regional commissioner of Dar es Salaam, Tanzania.
He gained popularity during a constitutional amendment referendum, where he was among a few members of a special parliamentary session, commissioned with preparing a draft for a new Constitution. He was the District Commissioner for Kinondoni before earning a higher appointment as the regional commissioner by the current President of the United Republic of Tanzania John Pombe Magufuli.
Stephen Msechu [Managing Partner, LawAge Consult]: Stephen Msechu is an advocate and Managing Partner of LawAge Consult a Law Firm located in Dar Es Salaam Tanzania. He has a Master of Laws Degree on Human Rights and Constitutional Law obtained from the University of Dar Es Salaam under the Tanzania-German Centre for Post Graduate Studies in Law-TGCL. Msechu has a work experience of ten years working on different areas on  governance and law as follows; Msechu's first employment was at Agenda Participation 2000 a national icon organization on democracy and good governance. As a Project Officer, Msechu investigated and authored numerous articles on corrupt practices by Tanzania leaders published on the Tanzania Corruption Tracker System. Msechu was later employed at the International Organisation for Migration as a Legal Expert playing a remarkable role in drafting the Anti-Trafficking in Persons Regulations.
In 2009 Msechu received a training on the legal and fiscal regime of the extractive industry enabling him to participate vehemently in the drafting of the 2009 Mineral Policy and later the Mining Act of 2010.  Later Msechu and other few Tanzania's who went to Accra Ghana (GIMPA) for a training on extractive Industry Governance made the Accra Resolution pledging to spread the knowledge obtained at GIMPA to other East Africans. Today the resolution has grown to an organization called HakiRasilimali an affiliate of Publish What You Pay Global and Msechu was the first volunteering Coordinator of HakiRaslimali.
In 2013 Msechu joined Tanganyika Law Society-TLS a National Bar Association of Advocates  where he coordinated the publication of the first ever Law Report published by a Law Society in Africa. He has over the years analyzed and commented on over 300 laws (including the notorious Cyber Crimes Act) submitted to TLS for commenting by the Parliament of the United Republic of Tanzania.
LEADERSHIP & CIVIL SOCIETY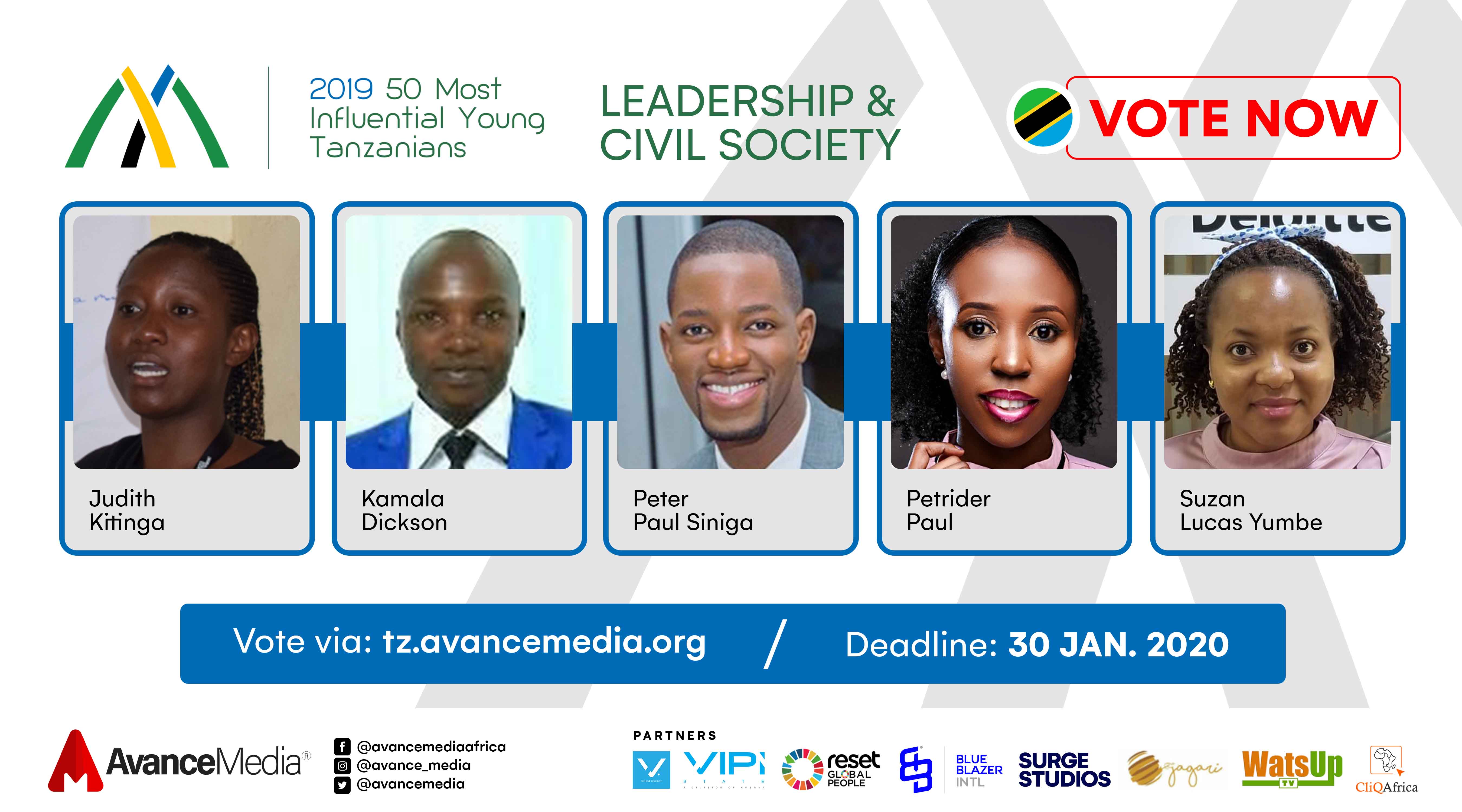 Judith Kitinga [Activist]: Judith Kitinga is a leading gender activist who carries the forte to change the plight of young girls and women in her country. She has been actively involved in fighting against sexual abuse, child marriage and gender discrimination and other forms of violence against women and girls
In her work, Ms. kitinga has canvassed for increased youth participation in national development, including adopting youth-friendly approaches in tackling gender inequality. She also intends to focus on data-driven accountability.
Kamala Dickson [Activist]: Kamala Dickson Mwombeki is a Tanzania and pan-African youth leader.
He is an East African youth champion on integration and an EAC advocate for better youth policies in Tanzania and the East African Community in order to ensure that Africa is moving to the next level.
Peter Paul Siniga [SDGs Champion]: Paul Peter Siniga, is an Image Consultant, Fashion Editor, PR Lead, Youth Advocate and Sustainable Development Goals champion for the United Nations in Tanzania.
In addition to working as a leading image consultant for over a decade, Paul lends his voice and time to empowering young Tanzanians through advocacy, addressing health and wellness, education, gender equality and entrepreneurship. Paul uses his platform to champion and campaign for development initiatives in Tanzania while growing his profile as a young leader beyond the shores of Tanzania.
Petrider Paul [Youth Advisory Council, African Union]: Petrider Paul is a member of the Youth Advisory Council set up by the African Union Commission. She is passionate about Gender Equality and serves as the team leader of Voice Out Gender-Based Violence Initiative which is aimed at reaching survivors and victims of gender-based violence and amplifying their voices.
She is also a member of the East African Youth Ambassadors Platform where she envisions an integrated East Africa with youth being at the forefront to instil good governance democracy and development.
Petrider holds a Post Graduate Diploma in Economic Diplomacy from the Centre of Foreign Relations in Tanzania and a BA in International Relations from the University of Dodoma in Tanzania.
Suzan Lucas Yumbe [Founder, Afyaplus Organization]: Suzan Lucas Yumbe is the water sanitation and hygiene activist and social entrepreneur, Founder and Executive director of AFYAPLUS organization.
She worked as a social worker under AFYAPLUS organization from June 2017 through water sanitation and hygiene (WASH) and women empowerment projects. Suzan started the small industry of reusable sanitary pads (Afyaplus Reusable) where she is working with local young women in Iringa Tanzania to produce sanitary pads; she hopes that this will help girls to stay in school during their menstruation period to increase their school performance.
Suzan have advocated for 22000 girls in schools to do better and empowering those who dropped out of schools due to different reasons through IMPROVE100 project which aim of empowering young women in leadership, Entrepreneurship, Innovation and Environment so that they can become self-employed and create jobs for other youth so as to reduce poverty level in Tanzania.
Suzan was nominated and awarded as Innovator of the year 2018 of SADC region by The Young Independent an international organization based in South Africa. In 2019 She was Selected, participated and awarded a certificate by YALI (Young African Leaders Initiative) RLC in the civic leadership track cohort 34, a one month program launched by former president of united states Barack Obama in 2015 to invest in next generation of African leaders and also Suzan was nominated as one of 100 Tanzania she hero of 2019 by The launchpad organization based in Tanzania.
LIFESTYLE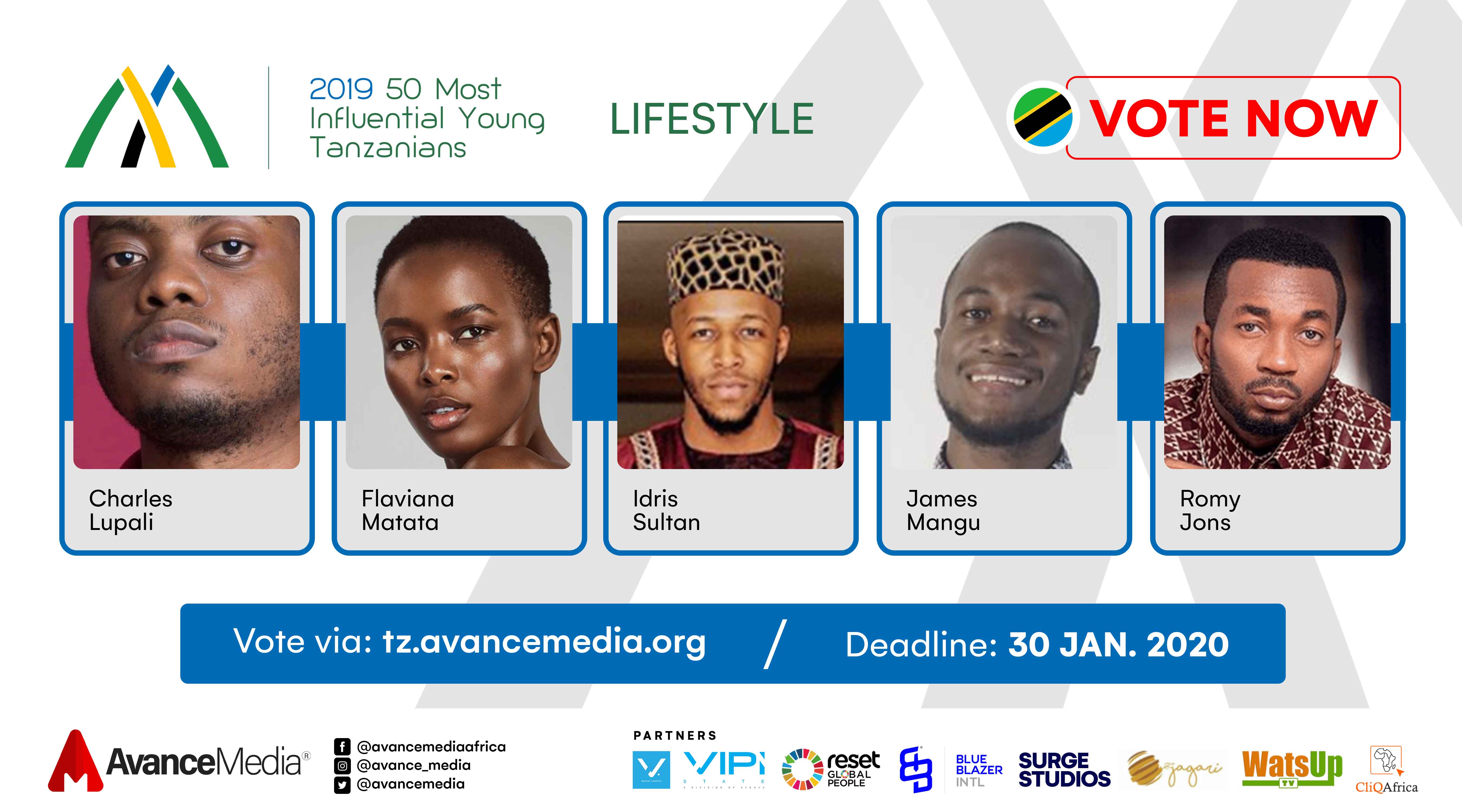 Charles Lupali [Animator]: Charles specializes in 2D animation projects for web series, advertisements and video game cut scenes. He is the creator of Tales of Kijenge, which is a project aimed at telling fictional stories about African societies around 500 BC and 100 AD.
With Africa facing socio-economic challenges, Charles sees animation as a channel that can provide an opportunity for young people from the continent to use it to creatively tell stories and create content that can be shared with the rest of the world.
Flaviana Matats [Model]: Flaviana Matata is a Tanzanian beauty queen and fashion model. She is one of the top seven list of models that have recorded the highest income in Africa mentioned by 2013 Forbes Africa. In 2017 she was mentioned by okay.com as one of Top 100 Women in Africa
Flaviana has featured in various prestigious magazines including Marie Claire, French Revue De Modes, Essence, Nylon magazine, Arise Magazine, FA Japan, the Hunger editorial, The Vision (magazine) – China, Grazia Italy and UK, Elle magazine, Schon Magazine, Dazed & Confused, Glass Magazine, L'Officiel and i-D Magazine.
She is the founder of the Flaviana Matata Foundation
Idris Sultan [Comedian]: Idris Sultan is a Tanzanian Actor, comedian, and Radio host who won the Big Brother Africa-Hotshots in 2014. He hosts the biggest comedy news show called SIO HABARI. Apart from that he also hosts his own stand-up comedies show.
James Mangu [Blogger]: James describes himself as Media Entrepreneur, Digital Marketer and Content Creator via Injili Online. He has an enviable history working in the online media industry as the founder of Injili online a platform which has reached many young people especially those at high risk of damage to their youth model.
Romy Jons [DJ]: Romy Jons is the official DJ of Diamond Platnumz
MEDIA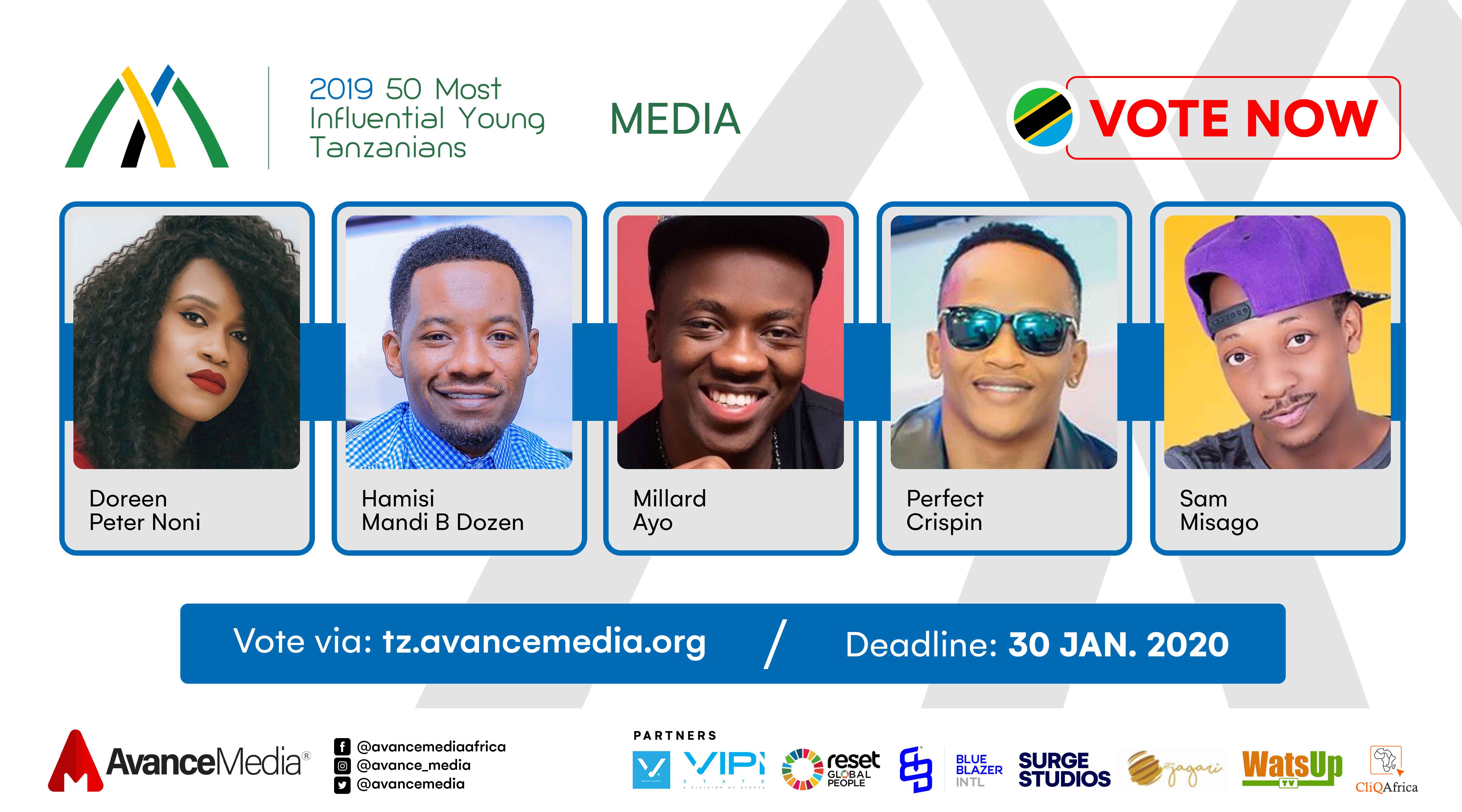 Doreen Peter Noni [CEO, 102.5 LAKE FM]: Doreen Peter Noni is the founder and CEO of Lake FM, a feel-good radio station broadcasting from the heart of Mwanza in Tanzania. Her main objective is to contribute to social and economic progress, using radio as a platform to creatively address challenges that lower-income earning citizens regular face.
Doreen holds a bachelor's degree in Multimedia from Nottingham Trent University. She is passionate about youth empowerment and entrepreneurship. Through engaging programming that enriches lives, she uses creative channels to help eradicate poverty and voice issues that are common in society, Her radio show, Tena Na Tena is an educational and inspirational platform featuring interviews of young and aspiring youth.
Hamisi Mandi B Dozen [Presenter, Clouds Media]: For years, Hamis Mandi nicknamed King of the afternoon Show or Bdozen has been mentioned by different media research companies as one of the best East African Media personalities.
Apart from the radio and media life, Bdozen is an entrepreneur who has managed to build his own clothing line Born To Shine which has been able to catch the tension and being worn by big names celebrities such as Joh Makini, Skalez, Wema Sepetu, Harmonize, Mbwana Samatta, Simon Msuva, Wizkid, Diamond Platnumz, Alikiba, Falz, Davido, Kiss Daniel, Vanessa Mdee, Nasty C, Khaligraph Jones, KO, Tekno, just to mention few.
He has also managed to establish a full-service public relation and communication consultancy company named 'Born To Shine PR' which is specialized in the entertainment industry and urban culture to bring the up to date development in technology.
Millard Ayo [CEO, Ayo TV]: Millard Ayo was voted the 2018 Most Influential Young Tanzanian. He worked early on as a media professional before he started his award-winning blog.
Apart from owning Ayo TV & millardayo.com, Millard Ayo is working for Clouds Media as a radio presenter for the show "count down" – aired every weekday from 7 am.
Perfect Crispin [Presenter, Clouds FM]: Perfect Crispin is a house hold name in Tanzania. He is a charismatic, easy going polite person, patient, hardworking and Kind young man based in Dar es salaam and working for the most loved and listened to radio station in the country Clouds Fm as a presenter/Host.
Born on the 17th of April 1989, Perfect crispin ventured into the media industry in the year 2013 and he has grown immensely since then. From being an award winning host of a very popular high school kids show called CLUB10 to hosting the best rated radio show in Tanzania Xxl, He has indeed had humble beginnings and he is growing everyday.
Sam Misago [Presenter, Sam Misago]: Sam Misago is an On-Air Personality, Digital Host, Tabloid Journalist, Rapper and Blogger.
PERSONAL DEVELOPMENT & ACADEMIA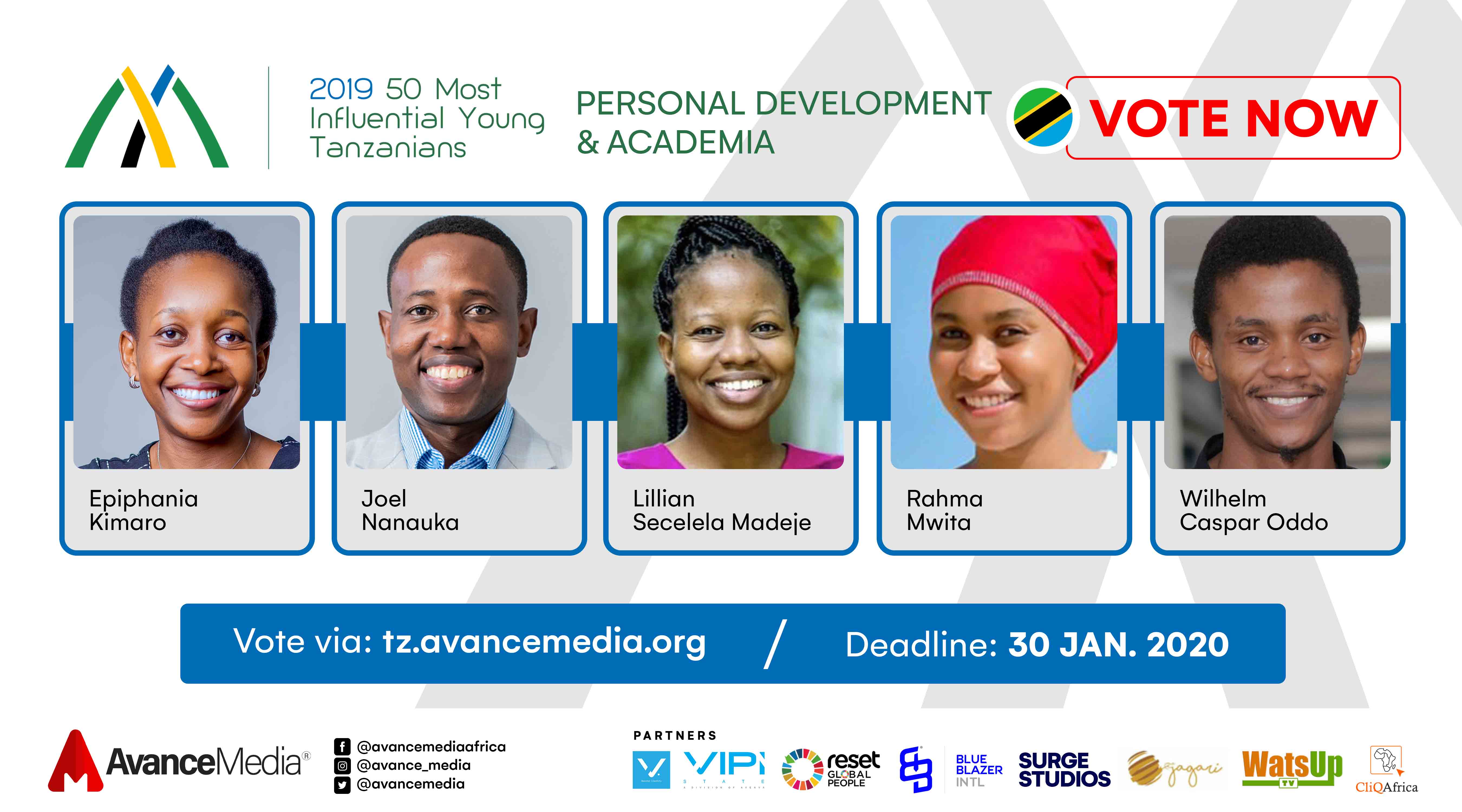 Epiphania Kimaro [Writer & Speaker]: Epiphania Kimaro is a Postgraduate Researcher at the University of Manchester where she is pursuing her PhD. in Development Policy and Management. Prior to this, she had received her Bachelor's degree in Computer science at the University of Dar es salaam, and a Master's degree in IT for the Oil and Gas Industry from Robert Gordon University in Aberdeen. Her professional career spans over six years where she worked in different roles in Information and Communication Technologies (ICTs) in the banking sector.
Epiphania is also a writer and a public speaker. She holds a strong conviction that personal development brings national development; meaning that, no matter how much a country is endowed with natural resources and financial abundance; development is sustained only by citizens who have committed to become more and do more, every day, striving to reach their highest potential. It is this conviction that fuels her passion to become her best and inspire others to do the same.
Her writings are published weekly on The Citizen newspaper in Tanzania and through her personal outlets on social and professional media (LinkedIn, Facebook, WhatsApp and Twitter) in order to reach as many people as possible. She also offers some of her spare time to mentor young adults in Tanzania.
Some of her other achievements include climaxing Mount Kilimanjaro; receiving multiple full scholarships for advanced education abroad; and most recently, being nominated as one of the 50 most influential young Tanzanians.
Joel Nanauka [Speaker]: Joel Arthur Nanauka is an internationally recognized Life Coach, Speaker and Author who has transformed many lives through his teachings.
He is passionate to see everyone discover his life purpose, maximize his potential and achieve his life goals. He has spoken and trained various institutions including the Irish Embassy in Tanzania, Tanzania Media Foundation, Sky chefs international, and Social Action Trust Fund just to mention the few. He has successfully coached and mentored Graca Machel women entrepreneurs, Africa Entrepreneurship Awards program and various individuals who have great testimonies of changed lives.
Joel is among the most sought speakers and trainers of our time, and his presentation methods have proved to deliver maximum impact to everyone who has ever attended his courses. Joel is married to Rachel and they are blessed with two beautiful girls, Joyous and Joyceline.
Lillian Secelela Madeje [Founder, Ekihya]: Lillian Secelela Madeje is the managing director and co-founder of Ekihya Consulting Limited, a company that works with businesses to build processes and improve efficiencies; co-creator and partner of Bits & Bytes, a tech conference that explores the ways that innovation and technology can come together to raise standards of living throughout society; and Niajiri Platform, an online platform that upskills youth to gain employability skills and matches employers to top talent.
Although qualitative research methodology and facilitation is her expertise, Lillian is also a seasoned communicator. She was the host of The Link, a popular radio show targeted to young Tanzanian businesspeople and +255 Kwanza, a television show about governance and civic duty than ran during the 2015 Tanzanian elections.
In addition to the Bachelor of Arts in Business Administration with an emphasis in International Business and Marketing / Economics minor that she earned from Park University, Lillian holds an MBA from the African Leadership University, School of Business (ALUSB) based in Kigali, Rwanda. She is also a proud recipient of the Sherwood Marlowe Memorial Award from her alma mater which recognizes alumni for volunteer services and civic engagement.
Rahma Mwita [Writer & Speaker]: Rahma is a Social Entrepreneur, Writer, Book Addict and Co-Founder of Open Youth Opportunities Tanzania where she provides a platform for incorporating youth opportunities such as internship, scholarships, fellowship, competitions, forum and jobs.
Wilhelm Caspar Oddo [Founder, NLab Innovation Academy]: Wilhelm Caspar Oddo is a Mandela Washington Fellow, Serial Entrepreneur with a passion for education, Children and Youth. In love with Environment, Health & Humanity. He started NLab Innovation Academy (NIA) which is a skills-building project intended to bridge the digital divide, eliminate social exclusion, promote independent living, enhance social, educational and employment opportunities for young people of all abilities and gender.
Wilhelm's big dream is to build an innovative and creative generation of young people who are solving community challenges, Also he advocates for gender equality by grooming boys and girls to respect each other and know they are equally important and capable of accomplishing anything.
Wilhelm co-founded Ushauri which is a virtual mentoring platform that is aiming at providing students with access to relevant professionals in their career fields, Co-founded Bribed which is a mobile app working to fight corruption. He is a writer and public speaker, 2015 Ambassador for the United Republic Of Tanzania at One Young World, YALI EA Fellow, Currently, Program Coordinator, Mentor & Trainer at Apps and Girls Foundation.
SCIENCE & TECHNOLOGY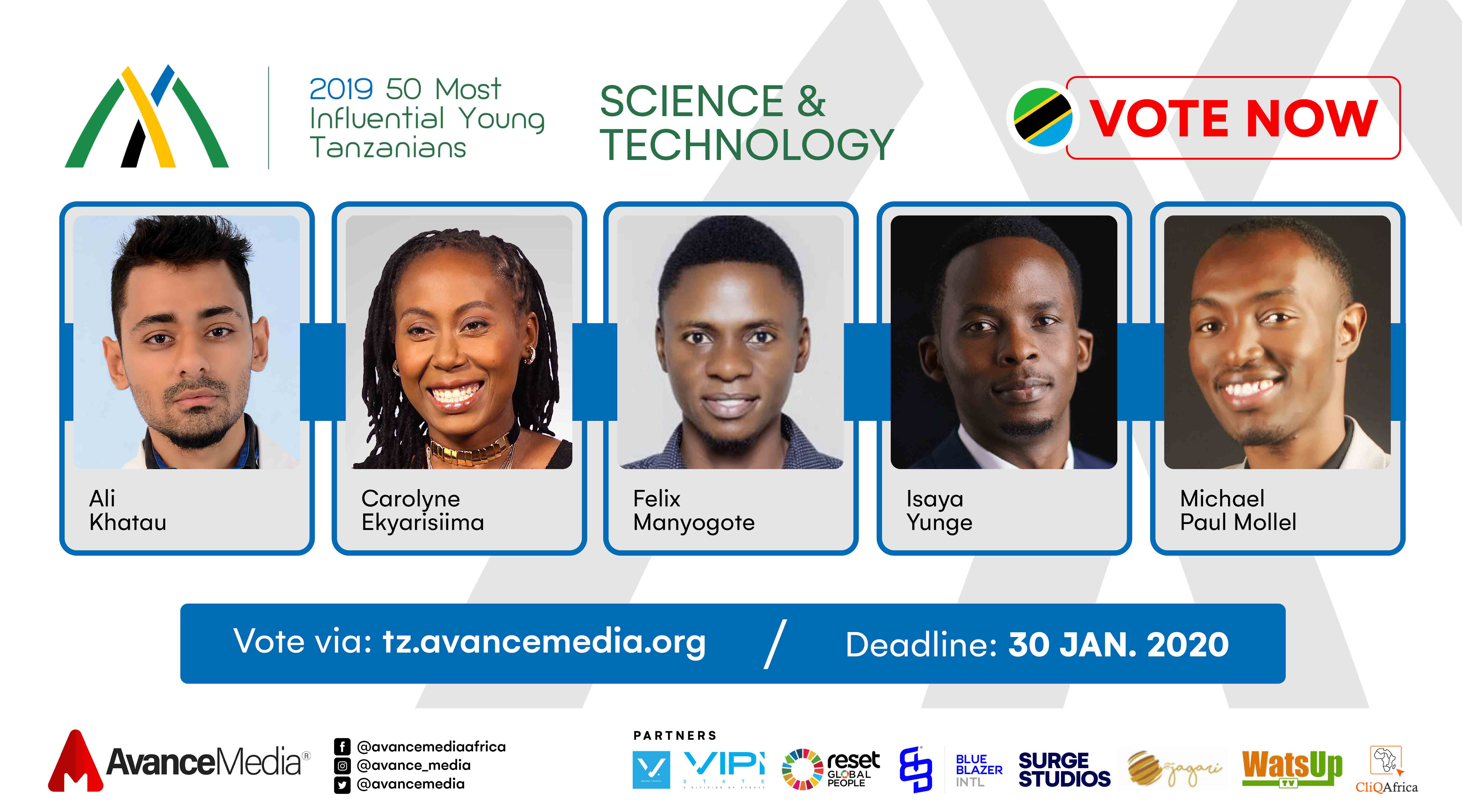 Ali Khatau [CEO, LyfPlus]: Ali Khatu is the CEO of LyfPlus which has been through the Andela program, selected for the DOT Dare to Change Tanzania competition and emerged 3rd winner in the SmartLabs accelerator and won training hosted by Vodacom, have been invited as one of the startups to pitch at Startup Istanbul and emerged 1st winner in the preliminary pitch for the local Slush Competition for a chance to pitch in Finland.
He was Personality of the month for May 2019 awarded by Motivating Africa, Star student of the quarter for the final quarter of 2018 at Hubert Kairuki Memorial University among 1000+ medical students, The Young Independents Top 100 youth in the SADC changing Africa 2018 and awarded the distinction of 'Associate Fellow' by the Royal Commonwealth Society of England."
Carolyne Ekyarisiima [CEO, Apps and Girls]: Carolyne Ekyarisiima, is a Mandela Washington Fellow, social entrepreneur and the founder of the Apps and Girls, a social enterprise that works to bridge the tech gender gap in Africa by empowering girls aged 10-18 years with the SupperPower of CODE and entrepreneurship skills to become effective leaders and TECH drivers using Technology to solve challenges in their communities. Carolyne holds a Bachelor's degree in Computer Science and a Masters in Information Systems from Kampala International University.
She is a Tigo and Reach for change Digital change maker and was awarded a certificate of achievement in 2014 for her great efforts in improving children's lives through innovation & digital technology at the Hackathon Prototype Change 2014 Sweden, MalikiaWanguvu2017 award recipient recognized for her great contribution in the STEM sector in Tanzania, 2017 Winner of NextGen franchising and Apps and Girls was awarded by UNDP and Sahara sparks for its devotion and persistence in supporting and inspiring ladies in Technology in Tanzania. Furthermore, Carolyne is a collaborator of the Obama foundation, mentor at First Global Robotics competition, Africa Entrepreneurship award and at Ushahuri virtual mentorship Platform. Carolyne also serves as the Technnovation Challenge and Africa Code Week regional Ambassador and recently spoke at the 2017 E-learning Africa conference in Mauritius about how empowering women with TECH skills is the biggest investment for Africa "An African WOMAN with superpower of CODE is a mighty sword for Africa" and joined President Baraka and Michelle Obama during the Obama summit for young leaders across the globe in Chicago
Felix Manyogote [CEO, MaMa Afya Initiative]: Felix Richard Manyogote is passionate about providing free door-to-door antenatal service and advocacy on male involvement in maternal health.
Felix received his Doctor of Medicine degree at Catholic University of Health and Allied Science. As a Program Manager at the Mama Afya Initiative, he is responsible for organizing free health screening for rural women and conducting workshops in rural schools on comprehensive reproductive health. Through his work, he won a 2017 United Nations (UN) Global Goals Award in the Leave No One Behind category. Additionally, he also is the Vice President at the Tanzania Medical Students' Association.
To Felix, "meaningful youth engagement" means putting youth at the centre of driving change and development.
Isaya Yunge [CEO, GOODSAM Technologies]: Isaya creates innovative new smart products combined with mobile software to address the needs of African communities. He is the founder and chief executive officer at GOODSAM Technologies using tech for good aiming to innovate, improve and perfecting technology experience by developing new solutions of interactions and design. Differentiating for high quality and innovative solutions for the massive market supply and strategic Afro-centric customizations.
He recently launched Smart Kaya LLC – a smart home technology company with a mission of turning every house in Africa into a smart home that will open opportunities to the digital economy in the continent.
Isaya Yunge was recognized by Forbes Africa 30 Under 30 as a promising change-maker in the continent and received "The Queens Young Leaders Award 2018" from Her Majesty Queen Elizabeth II, — for his work using technology to impact communities and lives with sustainable digital solutions. As an alumnus of the Harvard Ministerial Leadership Program, Isaya is passionate about advocating for a digital economy and tech startup-friendly environment, with the goal of inspiring innovation and African technological advancement and social systems transformation.
He spoke at the G8 Summit in Berlin Germany at the age of 17, after being selected as the UNICEF Africa Youth Ambassador at the G8 2007.
Isaya Yunge is an unshakable optimist, futurist, and visionary thinker who aspire to make digital products that make people feel an immense amount of joy and solve issues and problems in their lives.
Michael Paul Mollel [CEO, Jimz Technologies Co. Ltd]: In 2015, while pursuing an MBA, Michael noticed that both students and professors had problems with their laptops and had nowhere reliable to get them fixed. So, he created Jimz Technologies Co. Ltd with enough money to only pay for the first month's rent, a chair and a table. A year later, the business started to look up as the number of people in need of IT support grew.
Now, they operate globally, providing IT support services for international companies such as Tetra Tech and Winrock International. The team has grown from two to ten and sales have picked up. Mollel plans to open an office in another part of the country next year.
SOCIALENTREPRSIE & PHILANTHROPY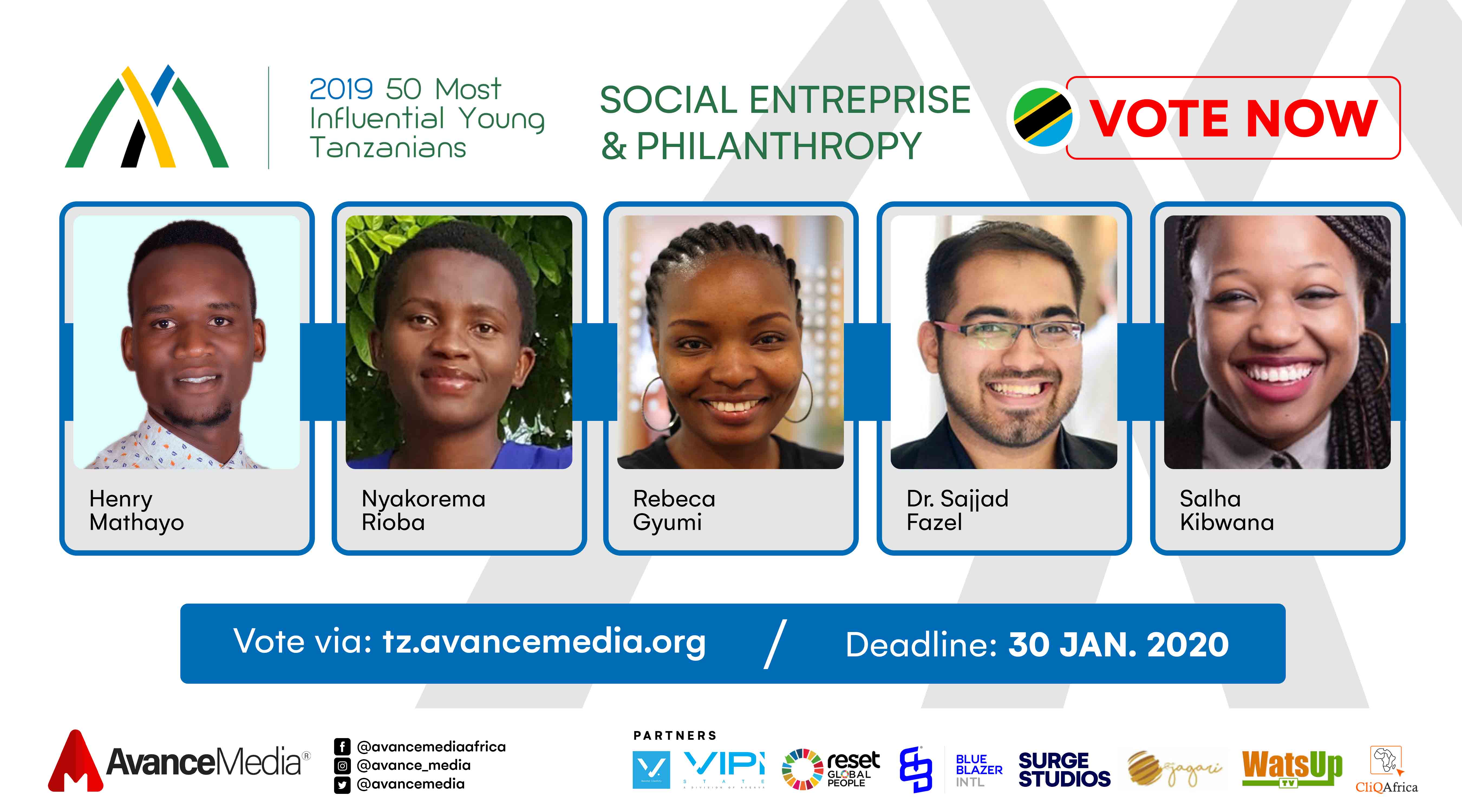 Henry Mathayo [CEO, Health Initiative Afrika]: Henry Mathayo is a changemaker, activist and social entrepreneur in Health sector with background field in Pharmacy from University of Dodoma, also he has been studying different online courses to improve my carrier.
He is the founder and CEO of Health Initiative Afrika, a company that work to promote Health care in Tanzania. Our mission is to address health challenges through Education, Technology and Innovation for community Development.
He has been named number 10 among 25 finalists in the social entrepreneurship program called Tujenge Tz Innovation challenge 2019. He is also an ambassador for UNITE2030 by The ID house, a global network for changemakers.
Nyakorema Rioba [CEO, EECO Initiative]: The idea to start EECO INITIATIVE came in 2014 when at age 29, when Nyakorema decided to provide the support she did not have when she was a teen, to other girls.
She is the author of the book called NITAKUWA MFANO, which she has donated to Read International, an International Organisation which create libraries in selected secondary schools in Tanzania.
She is very passionate about environmental protection, environmental education, Climate Change awareness education and advocated for them in her mentorship program.
Rebeca Gyumi [CEO, Msichana Initiative]: Rebeca Z. Gyumi is a Founder & Executive Director at Msichana Initiative, a Tanzanian NGO which aims to empower a girl child through education and address key challenges which limit girl's right to education. She has worked for over 8 years with Femina, a youth-focused organisation as a TV personality and youth advocate.
Rebeca is recognized nationally and internationally for her work in advancing youth and girls rights. She was named 2016 UNICEF global goals award winner for her work in advancing girls' rights in Tanzania. She was named among 2016 African Women of the Year by New African Woman magazine. Rebeca is a Global Shaper of the World Economic Forum and University of Cape Town Young Leaders Fellow.
Sajjad Fazel (Dr) [CEO, Afya Yako]: Sajjad Fazel is a Research Associate at Alberta Health Services working on cancer prevention research. He is a clinical pharmacist by training and an outspoken public health advocate. Prior to joining AHS, Sajjad was a policy researcher leading the smoke-free campuses initiative at the Canadian Cancer Society. He successfully advocated post-secondary institutions nationwide to adopt smoke-free policies in light of cannabis legalization.
Sajjad is passionate about reducing inequities and building healthy communities through public policy and community engagement. In 2016, Sajjad began Tanzania's first online health-promotion initiative, Afya Yako which not only impacted the lives of thousands of Tanzanians but also empowered other health professionals to use social media for health education.
He is a public speaker and regularly appears as a guest on several local and international Tv & Radio shows. Sajjad is an active member of the non-communicable diseases technical working group at the Ministry of Health in Tanzania and also serves on the board of several NGOs including Africa Tobacco Free Initiative and Knights Cabin. His experience working in developing nations with marginalized populations sparked his interest in public policy and its ability to improve population health and advance social justice.
Sajjad is currently working on a number of initiatives including combatting online health misinformation, making public health viral, and writing a Swahili health education book. He also invests his time in advising and assisting Tanzanian youths in their higher education and career pursuits. He hopes his story will inspire other young professionals to dream big and put Tanzania on the world stage.
Salha Kibwana [Co-Founder, Her Africa]: Salha started Her Africa as an Initiative late in 2016 between LAS Consultancy & Mint and Tea. Through the delivery of hands-on workshops in school, Her Africa programs in financial literacy, health awareness, personal hygiene, work readiness, and entrepreneurship aim to empower young girls to grow their entrepreneurial ideas, soft skills, decision making, manage their earnings, and secure better lives for themselves, their families, and their communities.
Salha is a PR and event planning maven, with several years of agency and PR experience. Her gift for spotting just the right story for the right media outlet at the right time has led to thousands of newsworthy placements.
Her Africa has a network of successful women that can help elevate one girl at a time and in turn change the narrative.
SPORTS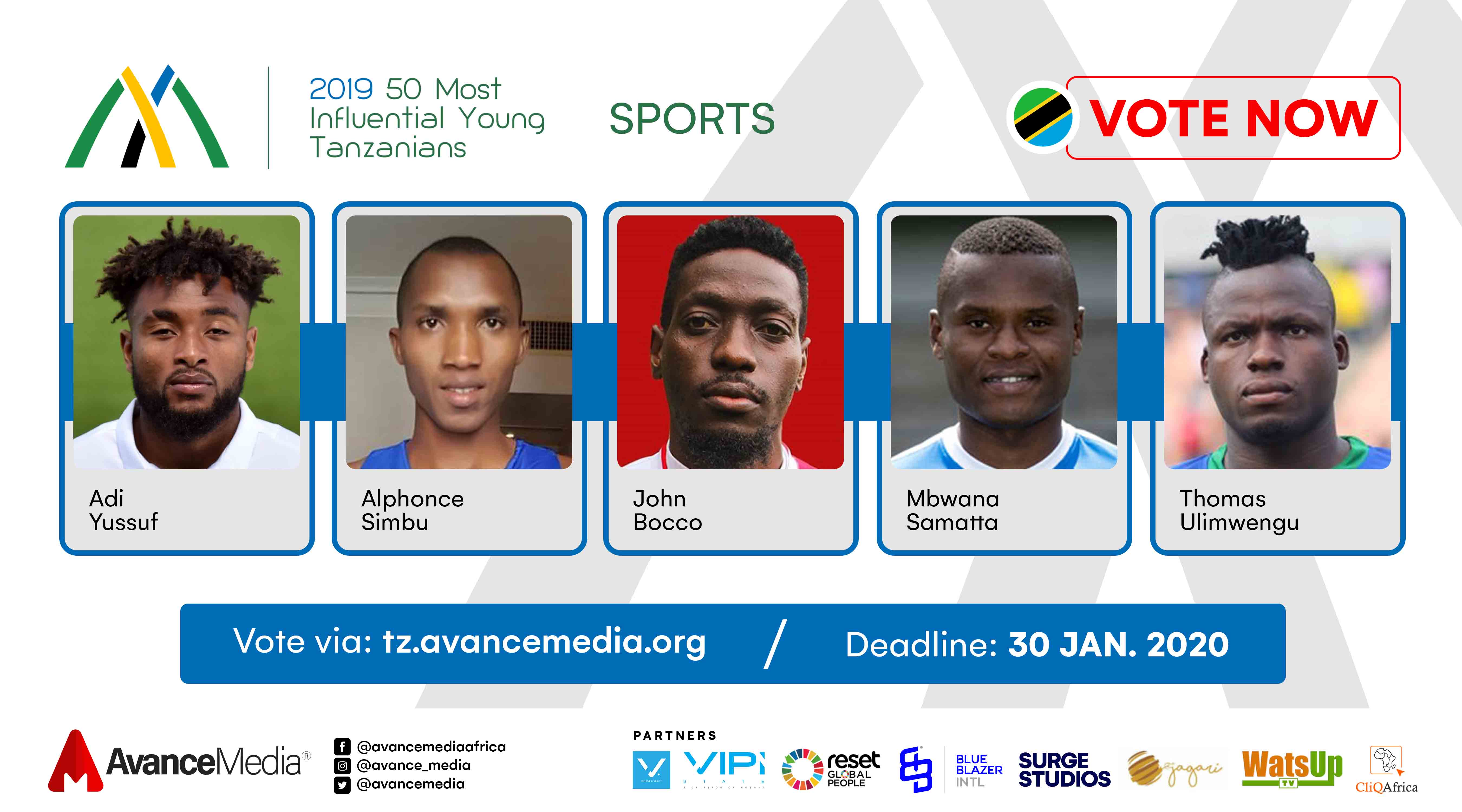 Adi Yussuf [Solihull Moors]: Abdillahie Abdalla Yussuf is a Tanzanian professional footballer who plays for Solihull Moors, on loan from Blackpool.
Yussuf was called up to the Tanzania squad in August 2015. He again linked up with the Tanzanian national squad in March 2016; however, he was unable to play in any matches due to a suspension. In May 2019, Yussuf was included in Tanzania's preliminary 39-man squad for the 2019 Africa Cup of Nations.
Yussuf made his international debut on 16 June 2019 in a friendly match against Zimbabwe in Cairo, Egypt.
Alphonce Simbu [Athlete]: Alphonce Felix Simbu is a Tanzanian long-distance runner who specialises in marathon. He competed in the marathon event at the 2015 World Championships in Athletics in Beijing, China.
He competed for Tanzania at the 2016 Summer Olympics in the men's marathon. He finished 5th with a time of 2:11.15. He was the flag bearer for Tanzania during the closing ceremony.
He won the 14th edition of the Mumbai Marathon on 15 January 2017.
John Bocco [Simba SC]: John Raphael Bocco is a Tanzanian international footballer who plays for Simba, as a striker.
Born in Dar es Salaam, Bocco began his career with Azam FC for nearly 10 years. He signed a two-year contract with Simba in June 2017.
He made his senior international debut for Tanzania in 2009 and has appeared in FIFA World Cup qualifying matches.
Mbwana Samatta [KRC Genk]: Mbwana Ally Samatta is a Tanzanian professional footballer who plays as a striker for and captains both Belgian side Genk and the Tanzania national football team. He was voted the 2017 Most Influential Young Tanzanian.
Samatta began his career as a youth player for Tanzanian club African Lyon in 2008. He turned professional in 2010 with Simba Sports Club, where he played for only half of the season before moving to TP Mazembe, spending a total of five years with them, initially becoming a first-team regular. He was named the 2015 African based Player of the Year and finished the season as the top goalscorer of the CAF Champions League as he helped TP Mazembe to win the title.
In January 2016, Samatta signed for Belgian side KRC Genk, helping them to qualify for Europa League and win the Belgian Jupiler League in 2019. He also finished the season as the top goalscorer for the Belgian Jupiler League. Also, he won the Ebony Shoe award in Belgium for his outstanding season with Genk.
In May 2019 he was awarded the Ebony Shoe award.
Thomas Ulimwengu [JS Saoura]: Thomas Emanuel Ulimwengu is a Tanzanian football striker who is currently playing as a striker for JS Saoura in the Algerian Ligue Professionnelle 1 and the Tanzania national football team.
Ulimwengu played a crucial role in Tanzania's promising but ultimately unsuccessful 2014 World Cup Qualification campaign. He scored critical goals against both Morocco and Ivory Coast. He went on to win the "Goal of the Year" award for his goal against Ivory Coast in the Tanzanian Football Awards.