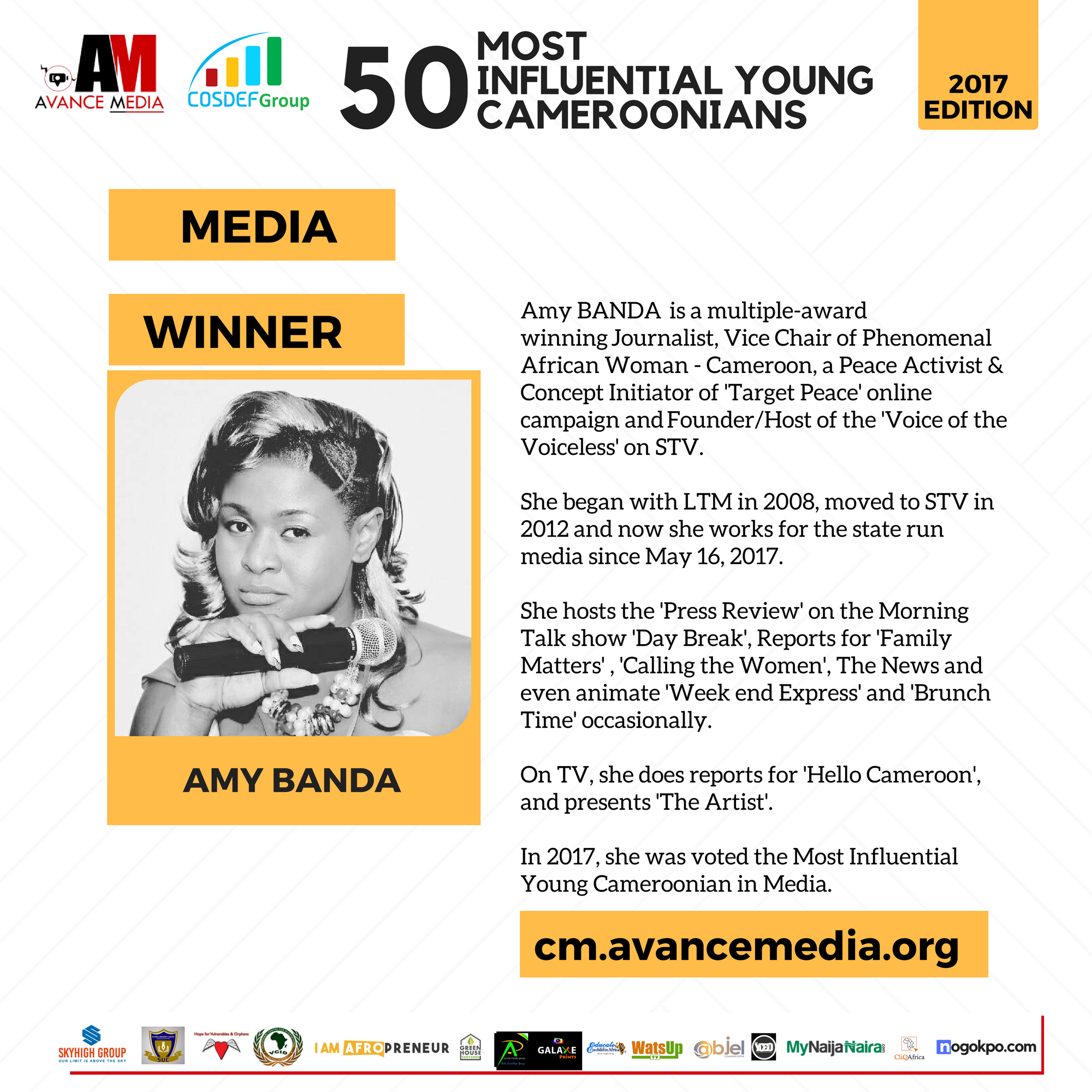 09 Apr

Amy BANDA voted 2017 Most Influential Young Cameroonian in Media

After a successful public Poll by international reputed rating establishment, Avance Media and the COSDEF Group Amy BANDA, Host of Amy Banda TV has been voted the 2017 Most Influential Young Cameroonian in Media in one of the most credible and respected rankings system that honours youth excellence in Cameroon.

Below are the Most Influential Young Cameroonians in Media as voted by the Public.
Amy Banda (Amy Banda TV)
Charles Ebune (CRTV)
Ngwane Hansel Masango (Hansel Media)
Bonteh Engelbert (Bonteh Media Network)
Calvino Wallang (Presenter)
Delly Singah (DellySingah Show)
The poll which drew public participation from over 90 countries voted Kungaba Fongoh Leonel, President of the Cameroon Active Youth Association as the 2017 Most Influential Young Cameroonian.
Feka Parchibell, CEO & founder of Hope for Vulnerables and Orphans (HOVO), Cameroonian Singer, Mr. Leo known in private life as, Fonyuy Leonard Nsohburinka, Dr Njang Mbeng Emmanuel, a medical doctor at the Fundong District Hospital and Joseph Fabrice Ondoa Ebogo, goalkeeper for Sevilla Atlético and the Cameroon national team also made it the top 5 most influential young Cameroonians respectively.
Prince Akpah, MD of Avance Media says he hopes the annual polls will inspire young people to create a positive environment that will encourage other            Cameroon youths to excel in their various endeavours.
 "I hope that by sharing their experiences, the various winners will inspire a whole generation and serve as mentors for other young people in their communities" said Joybert Javnyuy, CEO of COSDEF Group.
Profile of Amy BANDA, Cameroon's Most Influential Young Person in Media
Amy BANDA is a multiple-award winning Journalist, Vice Chair of Phenomenal African Woman – Cameroon, a Peace Activist & Concept Initiator of 'Target Peace' online campaign and Founder/Host of the 'Voice of the Voiceless' on STV.
She began with LTM in 2008, moved to STV in 2012 and now she works for the state run media since May 16, 2017.
She hosts the 'Press Review' on the Morning Talk show 'Day Break', Reports for 'Family Matters' , 'Calling the Women', The News and even animate 'Week end Express' and 'Brunch Time' occasionally.
On TV, she does reports for 'Hello Cameroon', and presents 'The Artist'.
In 2017, she was voted the Most Influential Young Cameroonian in Media.