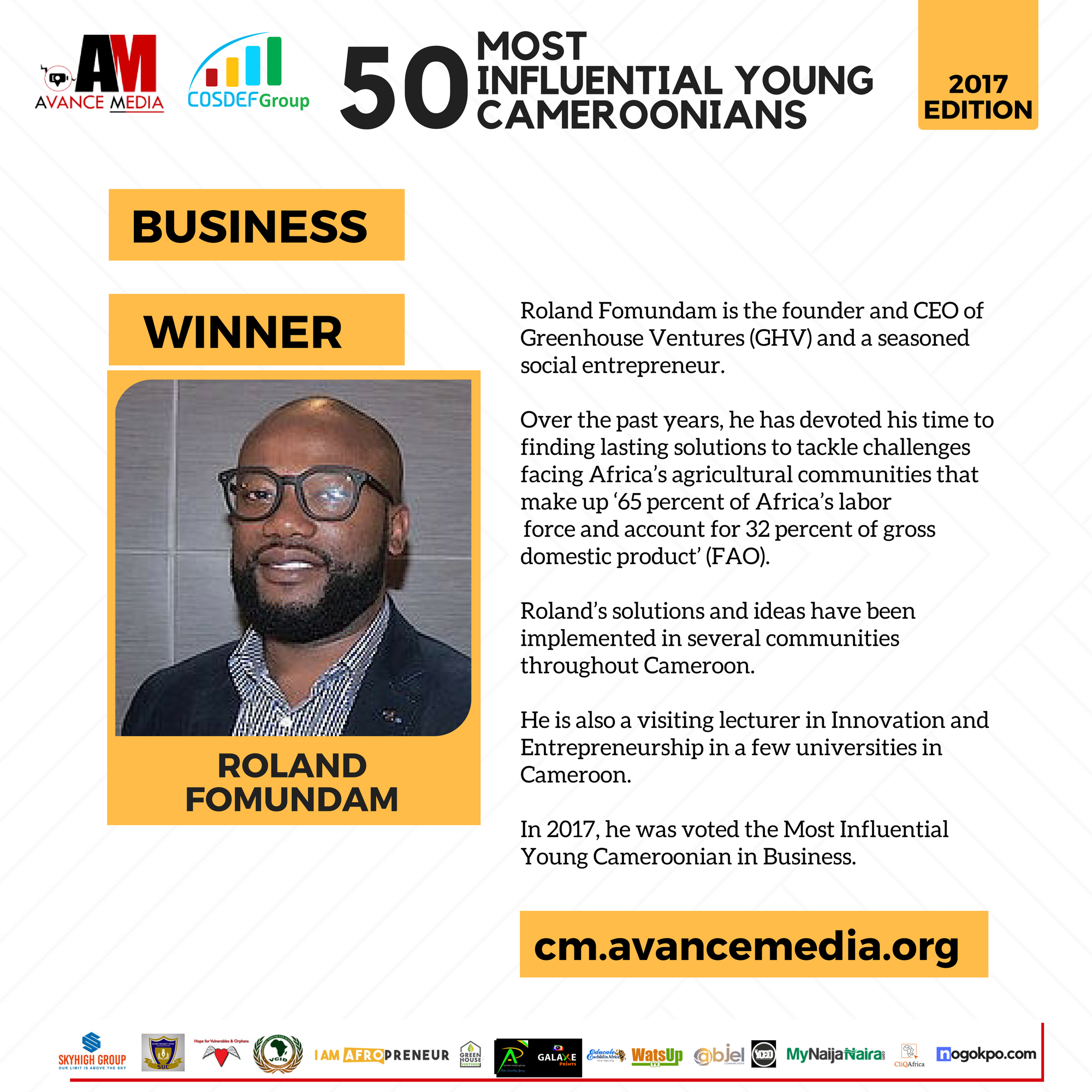 09 Apr

Roland Fomundam voted 2017 Most Influential Young Cameroonian in Business

After a successful public Poll by international reputed rating establishment, Avance Media and the COSDEF Group Roland Fomundam CEO of Greenhouse ventures has been voted the 2017 Most Influential Young Cameroonian in Business in one of the most credible and respected rankings system that honours youth excellence in Cameroon.

Below are the Most Influential Young Cameroonians in Business as voted by the Public.
Roland Fomundam (Greenhouse ventures)
Mfontoh Blaise Abenwi Shu (ThinkFast BC)
Clifford Ndecham (Skyhigh Group Plc)
Bamai Namata (Maibeta Inc)
Gilbert Ewehmeh (YES Cameroon)
(Dora) Bryant (LUX Global)
The poll which drew public participation from over 90 countries voted Kungaba Fongoh Leonel, President of the Cameroon Active Youth Association as the 2017 Most Influential Young Cameroonian.
Feka Parchibell, CEO & founder of Hope for Vulnerables and Orphans (HOVO), Cameroonian Singer, Mr. Leo known in private life as, Fonyuy Leonard Nsohburinka, Dr Njang Mbeng Emmanuel, a medical doctor at the Fundong District Hospital and Joseph Fabrice Ondoa Ebogo, goalkeeper for Sevilla Atlético and the Cameroon national team also made it the top 5 most influential young Cameroonians respectively.
Prince Akpah, MD of Avance Media says he hopes the annual polls will inspire young people to create a positive environment that will encourage other            Cameroon youths to excel in their various endeavours.
 "I hope that by sharing their experiences, the various winners will inspire a whole generation and serve as mentors for other young people in their communities" said Joybert Javnyuy, CEO of COSDEF Group.
Profile of Roland Fomundam, Cameroon's Most Influential Young Person in Business
Roland Fomundam is the founder and CEO of Greenhouse Ventures (GHV) and a seasoned social entrepreneur.
Over the past years, he has devoted his time to finding lasting solutions to tackle challenges facing Africa's agricultural communities that make up '65 percent of Africa's labor force and account for 32 percent of gross domestic product' (FAO).
Roland's solutions and ideas have been implemented in several communities throughout Cameroon.
He is also a visiting lecturer in Innovation and Entrepreneurship in a few universities in Cameroon.
In 2017, he was voted the Most Influential Young Cameroonian in Business.