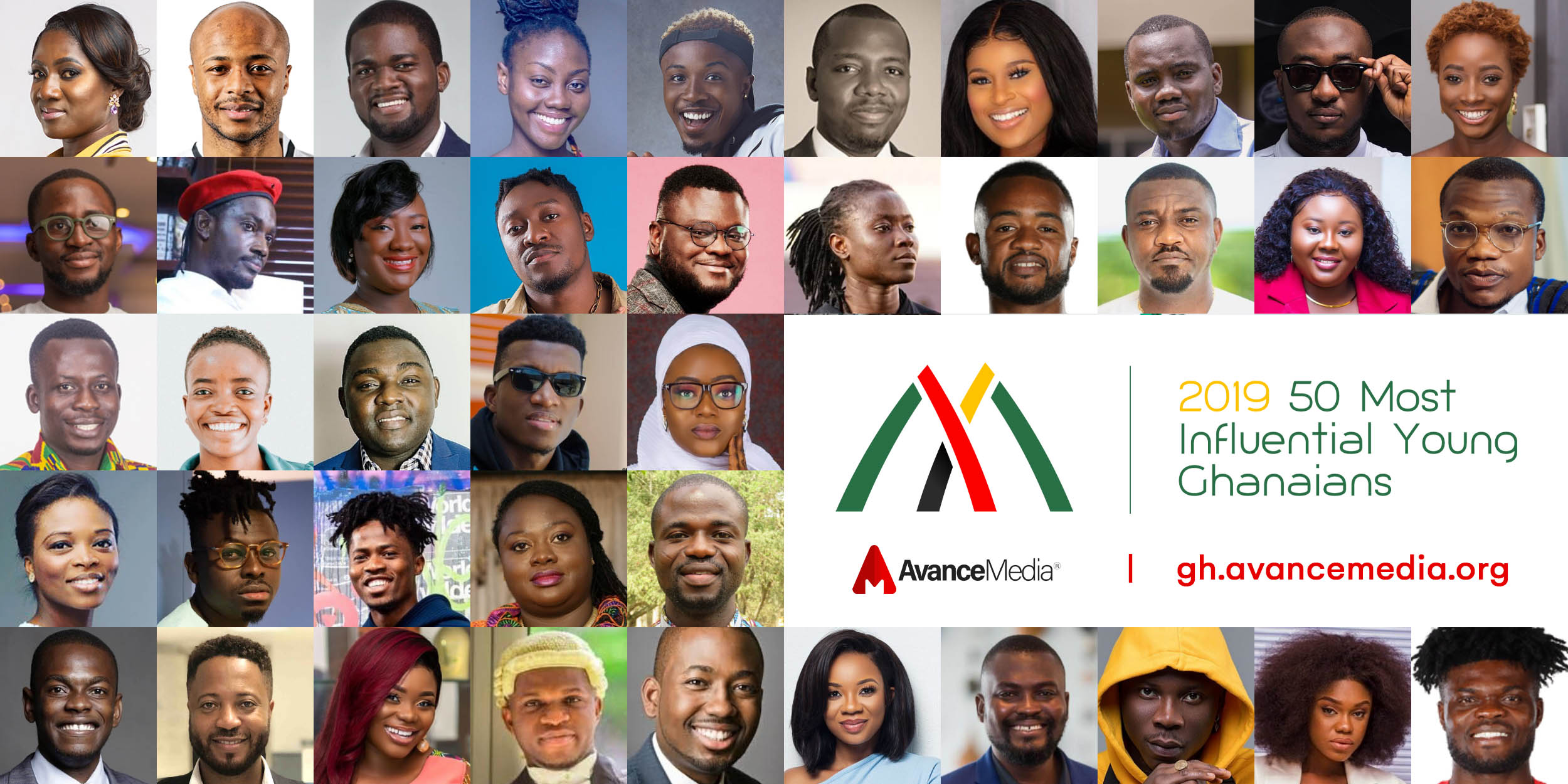 13 Jan

Profiles: Avance Media 2019 50 Most Influential Young Ghanaians

The most anticipated annual list of young Ghanaians, 50 Most Influential Young Ghanaians, which is curated by leading PR & Rating firm, Avance Media, has been released.

Currently in its fifth year, the annual ranking by Avance Media has helped highlight the works of young Ghanaians across the world and has seen notable personalities such Anas Aremeyaw Anas (2015 & 2016), Kow Essuman (2017) and Prophet Daniel Amoateng (2018) voted as the Most Influential Young Ghanaians in the previous years.

Honourees cut across diverse sectors with these inspiring young change-makers and leaders making great strides as entrepreneurs, musicians, activists, media personalities, social entrepreneurs, public servants and politicians.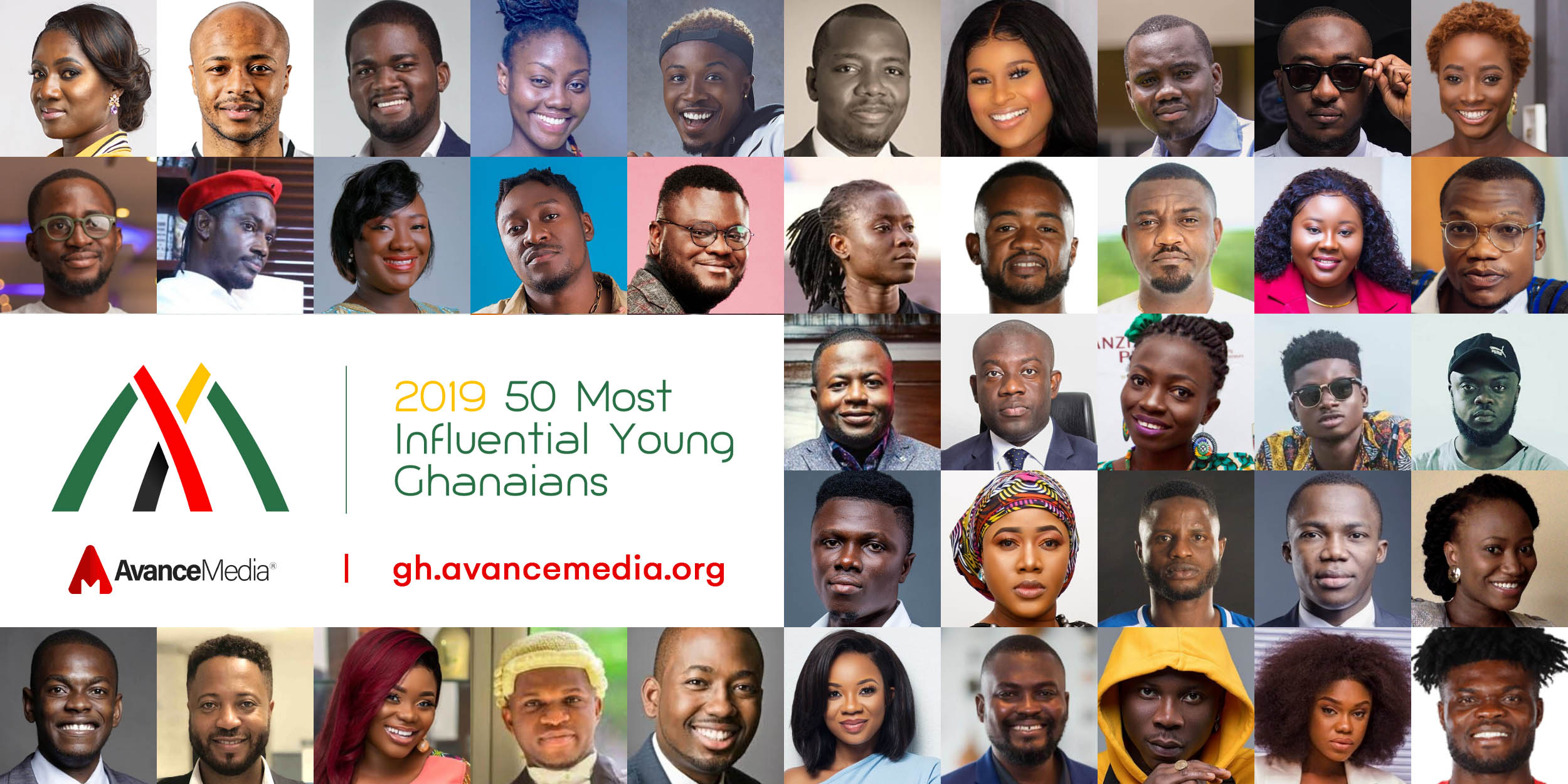 According to Prince Akpah, founder and MD of Avance Media, "the list serves as an encouragement to young Ghanaians who are accomplished in their industries and continue to build a distinguished brand for themselves and influence over others. This list also urges those honoured to continue striving harder so their stories can inspire other young people to also contribute their quota to the development of Ghana and the continent of Africa."
Public voting has been opened via gh.avancemedia.org for the public to decide who among the 50 honourees served as the most influential young person in 2019.
Avance Media is also spearheading related annual rankings for Nigeria, South Africa, Tanzania and Kenya.
Below are profiles of the 2019 50 Most Influential Young Ghanaians
BUSINESS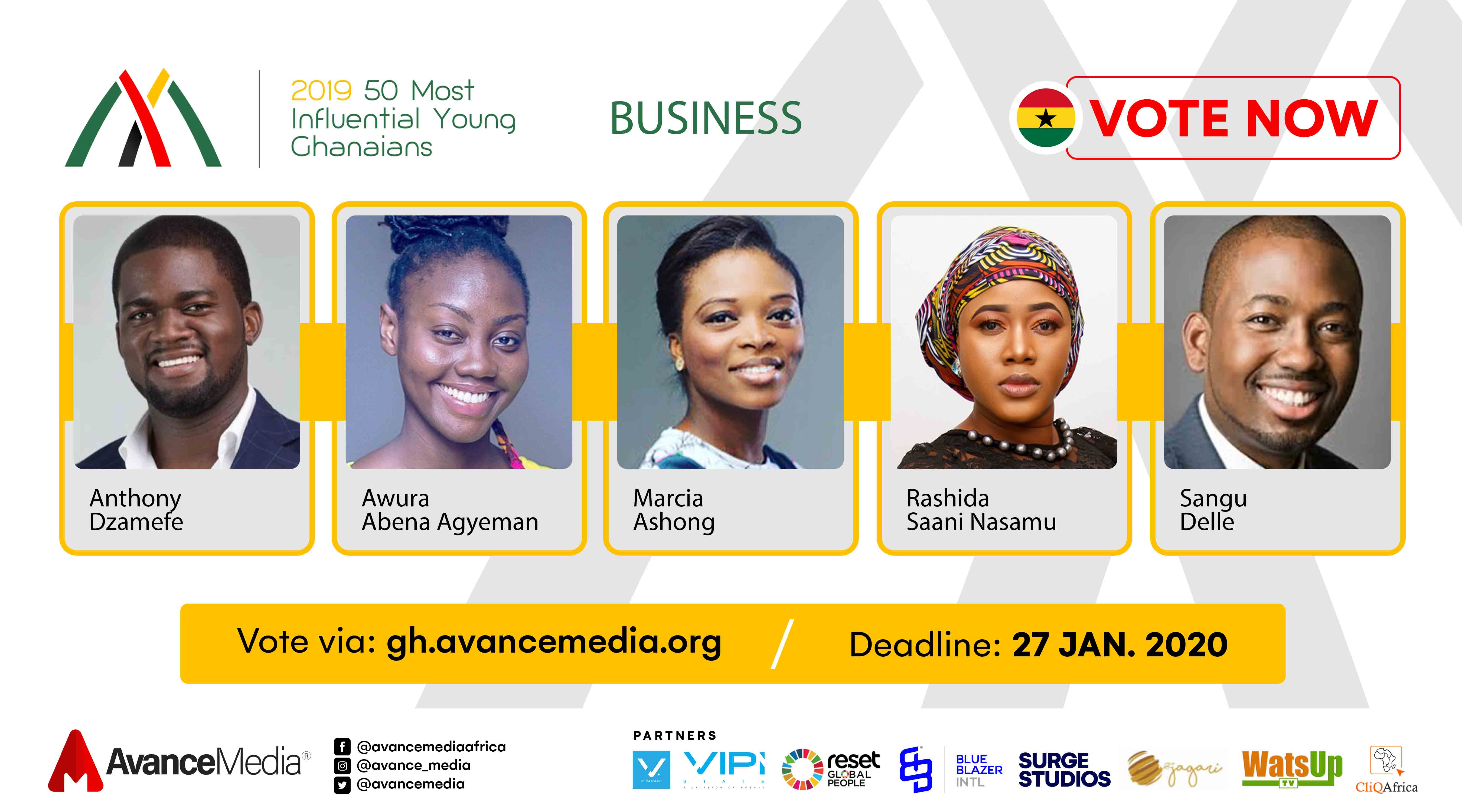 Anthony Dzamefe [CEO, Caveman Watches]: Before owning his own company and producing watches, Anthony Mensah Dzamefe, began life as a Marketing Officer for a hotel in Accra while making media appearances to sell the company's brand and products.
Established in 2018, Anthony decided to build wristwatches that will be known for their style, undiluted durability and classic touch of our prehistoric origins. Before Caveman, he founded TimepieceGh in 2015, with just GHC50.
Awura Abena Agyeman [CEO, Wear Ghana]: Nyame- Nhyiraba Awura Abena Agyeman is a fashion entrepreneur.
Prior to becoming an entrepreneur, she worked in the banking industry for 4 years. Her work involved managing the bank's relationship with its small and medium sized enterprises. She was responsible for managing enterprises in agriculture, trade and light manufacturing.
She is currently focused on building WEAR Ghana – the company she co-founded at 26 – into a profitable and sustainable business. She has 6 years' experience leading the team as C.E.O. Awura Abena believes that Africans are capable of greatness and is passionate about growing WEAR Ghana to become a global leader in African-themed fashion.
She has a strong interest in investing in young people, especially women and is using WEAR Ghana as a tool for creating stable jobs for them. She dedicates her time towards coaching and inspiring entrepreneurs because she is keen on contributing towards the creation of a generation of African entrepreneurs who transform the continent.
She holds a BSc in Agricultural Economics from the Kwame Nkrumah University of Science and Technology.
Marcia Ashong [CEO, The Boardroom Africa]: Marcia Ashong is Founder and CEO of TheBoardroom Africa (TBR Africa) and Brace Energy. TBR Africa an initiative that champions women in executive leadership across Africa by working with venture capital and private equity investors, development finance institutions, companies and organisations across the continent to improve female representation in boardrooms and investment committees. Brace Energy is a nascent pan-African oil and gas service company and fully licensed to operate in Ghana and Uganda.
A lawyer by training and former oil and gas industry executive, Ms Ashong has worked across North America, Europe, the Middle East and Africa. She has previously consulted on a World Bank-led project and the Norwegian Oil for Development Program on developments in the extractive industry. In 2010, she founded the Ghana Oil Club (GOC), the leading professional organisation for Ghana's burgeoning oil and gas sector.
In 2019 she was named among the 100 Most Influential Africans for developing the strongest network of women leaders in Africa and among others working with corporates in and out of Africa to diversify their boardrooms. In 2017 she was named amongst Ghana's 20 Under 40 business leaders. Her desire to champion women in the workplace is rooted in her own experience as a rising star in the oil and gas field. Previously the youngest-ever African Country Manager for a major multinational oil and gas company. She has over a decade of experience in legal, consulting, project management and business development.
Rashida Saani Nasamu [CEO, I-ZAR Group]: Rashida is a Communication Consultant and an entrepreneur who worked as a broadcast journalist in Ghana for over ten years.
With extensive knowledge in Public Relations and other communication management tactics, she founded her company which has helped to develop practical projects that have supported business goals and clients such as MSH-USAID, Ghana Health Service, NTP, UNDP on Ghana's Constitutional amendment (CRC) and global Bridge.
Sangu Delle [CEO, Africa Health Holdings]: Sangu Delle is the Managing Director of Africa Health Holdings, an innovative company based in West Africa, focused on building Africa's healthcare future. He also serves as Chairman of Golden Palm Investments Corporation, an investment holding company focused on building world-class technology companies in Africa. GPI has backed startups such as Andela, mPharma and Flutterwave, GPI portfolio companies have raised over $900 million in venture financing.
Sangu is the co-founder of Cleanacwa, which is a non-profit working in underdeveloped communities in Ghana to make sure that water and sanitation, basic human rights, are provided. He is also a Trustee of the Peddie School, a member of the Harvard Medical School Global Health and Service Advisory Council, an Elected Director of Harvard University's Alumni Association, and an advisory panel member for AXA.
ENTERTAINMENT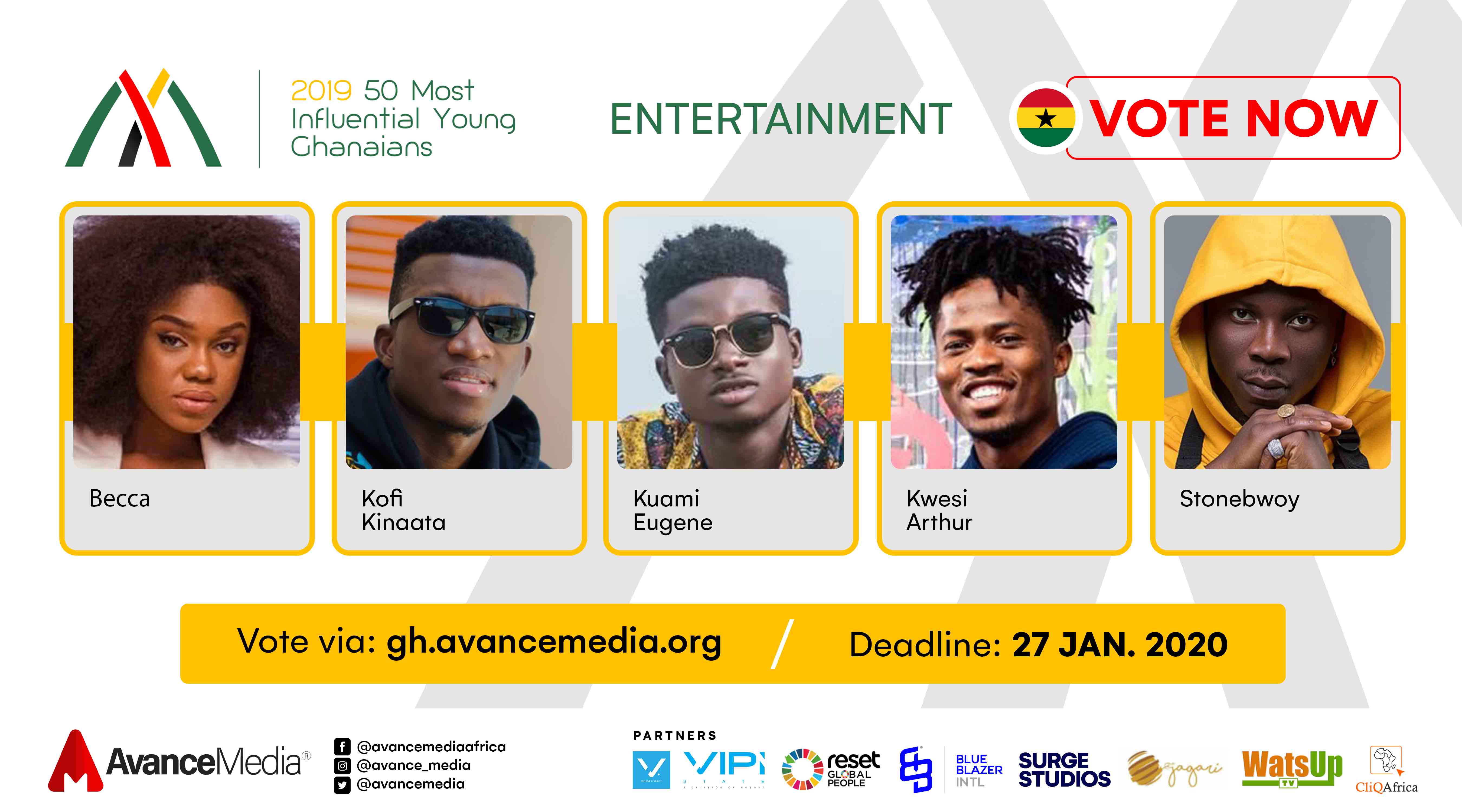 Becca [Musician]: Rebecca Akosua Acheampomaa Acheampong known in the entertainment industry as Becca, is a musician and songwriter. Her debut studio album Sugar was released in 2007; it earned her several nominations at the 2008 Ghana Music Awards.
She serves as an ambassador for various causes and has been speaking to students on the SDGs across Africa. She has also stood out as the Ghanaian musician who has performed on several international platforms including the Global Citizen Concert, Afro Nation etc.
Kofi Kinaata [Musician]: Martin King Arthur popularly known as Kofi Kinaata is an award-winning musician and songwriter noted for his fante rap and freestyle.
His annual concert, 'Made in Taadi Concert' has become one of the biggest musical concerts out of Accra which attracts fans and people from all classes in society.
Kuami Eugene [Musician]: Eugene Kwame Marfo popularly known by his stage name Kuami Eugene is a multiple award-winning highlife and afrobeat musician and songwriter. He is signed to Lynx Entertainment and is known for several songs of his, including "Angela", "Wish Me Well", "Ohemaa", and many others.
Kwesi Arthur [Musician]: Kwesi Arthur, is a multiple award-winning rapper and musician who hails from Tema.
He was nominated for the 2018 BET Awards, Best International Act category and is currently considered one of the best young artists in Ghana and Africa. He has successfully collaborated with numerous Ghanaian musician, including Sarkodie, Medikal, KiDi, Jason E LA, Nasty C, R2Bees, B4bonah, M.anifest, EL, Stonebwoy, Shatta Wale.
Stonebwoy [Musician]: Livingstone Etse Satekla, known by his stage name Stonebwoy, is a multiple award-winning Afropop, dance hall and reggae musician.
He is the CEO of Burniton Music Group and serves as a global ambassador for sanitation when he was made the brand ambassador for Voltic Natural Mineral Water. He won the Best International Act: Africa category at the 2015 BET Awards and Artist of the Year at the 2015 Ghana Music Awards. He is recognized as the king of reggae and dance hall artists in Africa. He was listed as part of the 2019 top 50 young CEOs, by YCEO and Avance media in 2019.
LAW & GOVERNANCE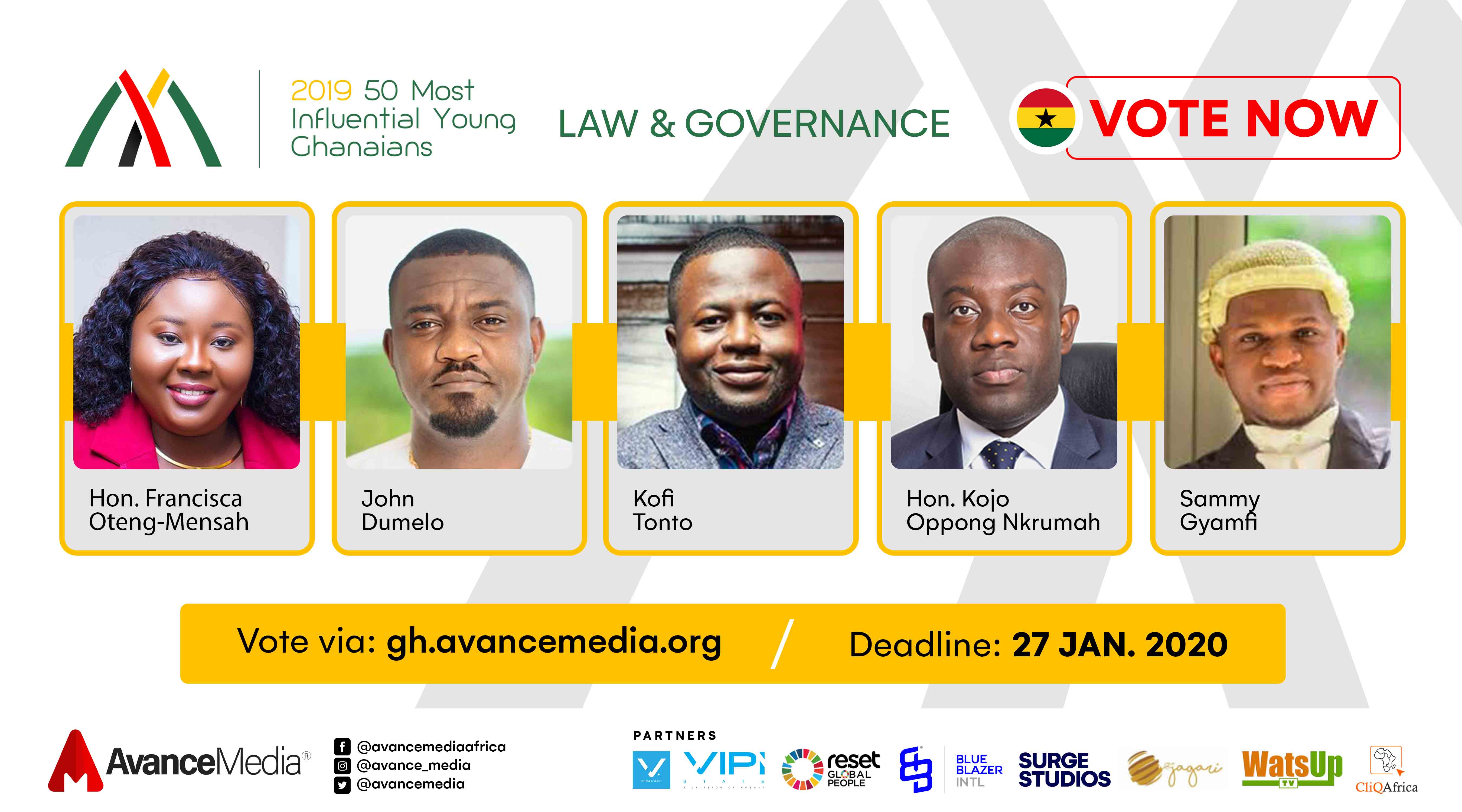 Hon Francisca Oteng-Mensah [Member of Parliament, Kwabre East Constituency]: Francisca Oteng-Mensah is the member of parliament of the New Patriotic Party for the Kwabre East Constituency and is known as the youngest parliamentarian of the fourth republic of Ghana at the time of her election in 2016.
Before her appointment as a member of parliament, she was employed as a Secretary at the Angel Group of Companies owned by his father. She is currently the chairperson of Ghana's National Youth Authority.
John Dumelo [Parliamentary Candidate, National Democratic Congress]: John Dumelo is a Ghanaian actor and Humanitarian, born on the 3 of February 1984 to Mr. John Dumelo and Mrs Antoinette Dumelo. John Dumelo attended the Christ the King International School in Accra for his basic education. He had his secondary education at Achimota Senior High School also in Accra and further studied in the Kwame Nkrumah University of Science and Technology in Kumasi in the Ashanti Region of Ghana where he studied Civil Engineering.
John Dumelo first appeared on the screens in 1991 In the film "Baby Thief". Thereafter he's acted in over 200 films in Ghana and beyond. He's also won several awards across the globe including being awarded by the City of Philadelphia (USA) in 2013 for his philanthropic work across Africa. John is a farmer with over 300 goats, 150 cattle and 700 acres of maize.
John Dumelo is also the 2020 NDC parliamentary candidate for the Ayawaso West Wuogon constituency having won the NDC primaries in August with over 88percent of votes. His love for politics spans a period of 12 years. He was actively involved in the 2008, 2012 and 2016 campaigns for the NDC.
Kofi Tonto [Head of Information and Public Affairs, Embassy of Ghana in the United States]: Kofi Tonto serves as the head of information at Ghana's Embassy in the United States of America. In previous roles, he founded the African Youth Excellence award which he used as an advocacy agency to nurture young Africans in the diaspora.
Hon Kojo Oppong Nkrumah [Minister, Ministry for Information]: Hon Kojo Oppong Nkrumah is a member of parliament and the minister for Information in the current NPP administration.
As a former journalist and entrepreneur, he contested and won a parliamentary seat for the Ofoase-Ayirebi constituency in the Eastern Region of Ghana.
As Cabinet's spokesperson on the Economy, he also serves as a member of the Finance and Constitutional committees of the 7th Parliament of Ghana.
Sammy Gyamfi [Communications Director, National Democratic Congress]: Sammy Gyamfi is a lawyer and politician who serves as the official spokesperson of the opposition National Democratic Congress. He previously served as the president of the Student Representative Council in the Ghana School of Law.
LEADERSHIP & CIVIL SOCIETY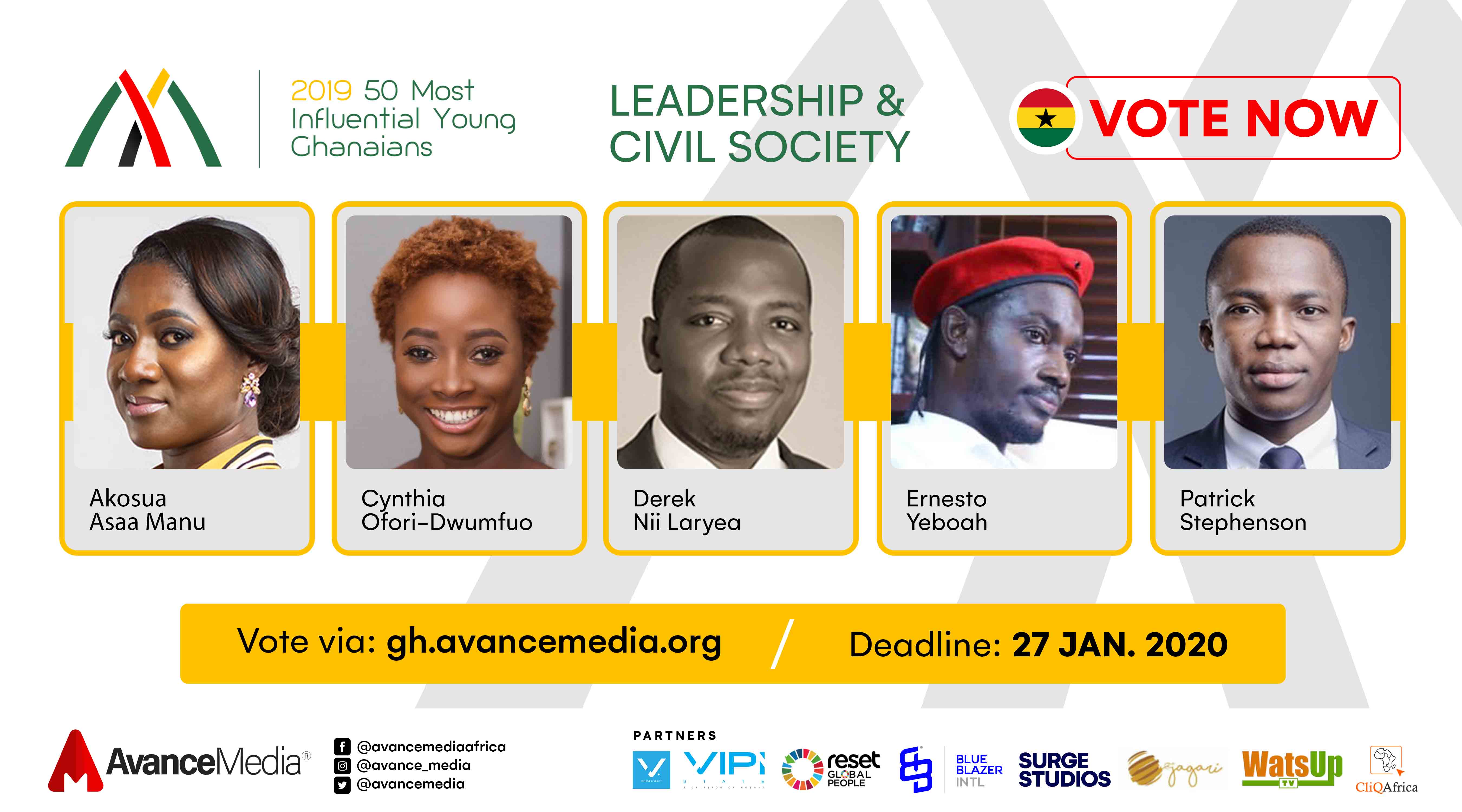 Akosua Asaa Manu [Deputy CEO, National Youth Authority]: Until her appointment as Deputy Chief Executive Officer of the National Youth Authority, Akosua Asaa Manu was the Deputy Director of Communications at the office of the First Lady, a role she held from 2017.
Before her work with the First Lady OF Ghana, she worked with GCB Bank in various capacities from 2007 to 2015 and left as a Systems Administrator. She currently holds the enviable position of a Diamond Associate in Max International.
Akosua Manu holds a Bachelor of Science degree in Economics from the University of Ghana.
Cynthia Ofori-Dwumfuo [Group Head, Marketing and Corporate Affairs, Hollard Ghana]: Cynthia heads marketing and corporate affairs of Hollard Ghana where she is responsible for formulating and driving strategic marketing initiatives aimed at enhancing the Hollard brand and sustainably growing its various subsidiaries – Hollard Insurance Ghana Limited and Hollard Life Assurance Ghana Limited.
With over 12 years of marketing communications experience spanning three continents, Cynthia has led public relations in Ghana and West Africa for Ogilvy, a global ad-agency network, Now Available Africa and Global Media Alliance – managing projects for multinational and local clients across West and Central Africa. She also worked in the USA and UK, notably for Vox Global, a Fleishman Hillard public affairs company. Early in her career, she honed her skills in strategy at reputable Ghanaian management consulting firm, Shawbell Consulting.
Cynthia holds an M.A. in Communication from Clemson University, the USA, and a B.A. in Economics from KNUST, Kumasi.
Derek Nii Laryea [Head of Research and Communications, Ghana Chamber of Telecommunications]: Derek serves as the head of research and communication for the Ghana Chamber of Telecommunications, an umbrella organization that regulates and promotes the interests of Telecommunication companies in Ghana.
He serves as the Lead on Fiscal Policy, Access and Affordability for the Alliance for Affordable Internet's coalition work in Ghana driving Public Policy engagements and Government Relations to inform government's fiscal policy in the long term.
Ernesto Yeboah [Commander-in-Chief, Economic Fighters League]: Ernesto Yeboah is a founding member of the radical Nkrumaist movement in Ghana seeking economic freedom for all. Known as the economic freedom fighters, he led his team and other Ghanaians in the #DroptheChamber campaign.
He is an ardent activist, speaker and author.
Patrick Stephenson [Head of Research, IMANI Centre for Policy and Education]: Patrick Stephenson has worked with Accra based think tank – IMANI in various roles since February 2011 and currently serves as its Head of Policy Research & Finance. He works with researchers across four Centres in Energy & Infrastructure, Social Policy, Science Technology and Innovation, and Economic Governance and Political Affairs. The influence of his work at IMANI has contributed immensely to IMANI being named among the top 4 most influential think tanks in Africa, and most influential in Ghana for the last 5 years. In previous capacities, he has worked as the Economic Research Analyst for First Atlantic Bank Ghana Limited, a consultant for the World Bank's Trade and Competitiveness Global Practice Team on Private Sector Development Strategy in Washington DC, USA and as a consultant for the Ghana Climate Innovation Centre. He currently consults on compliance for mPedigree Network-an mHealth supply chain and brand protection technology company operating in 14 African markets, and provides financial, investment, and political risk, advisory services for a number of private sector clients in key markets across Africa.
A 2015 DANIDA fellow on aid effectiveness in Africa and a 2019 Mandela Washington Fellow, he is passionate about the creation of opportunities for young people to actively contribute to governance, building inclusive and truly democratized systems of governance, and credible policy formulation and implementation. He is a member new cohort of global voices for open trade for the Atlas Network for 2019. His current areas of research include, commodities value chains, technology in trade facilitation, the use of data for policy making, and emerging trends in data science in impact on policy formulation and implementation, market efficiencies, development (social and economic sectors), and corruption/anticorruption.
LIFESTYLE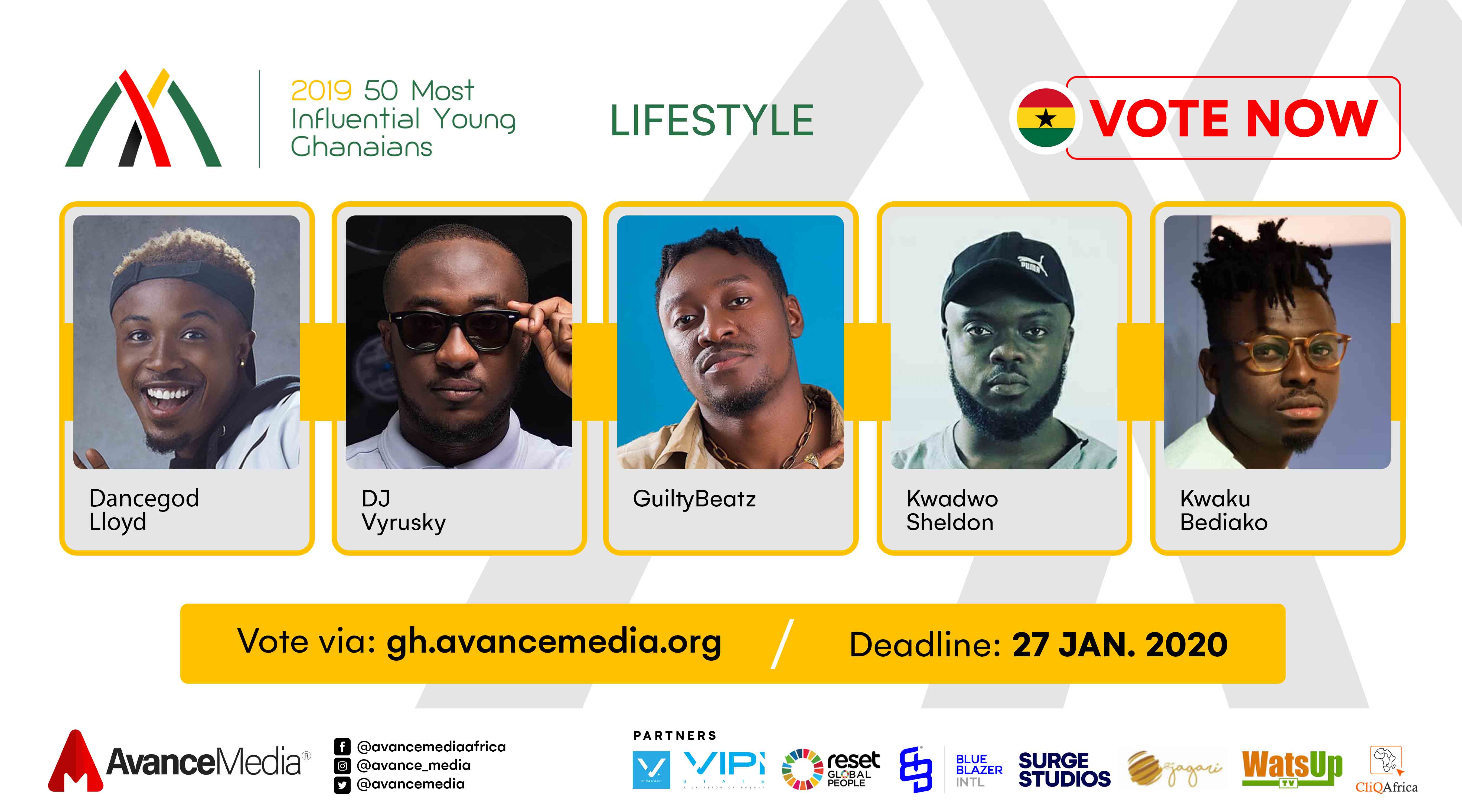 Dancegod Lloyd [Dancer]: He is a dancer who also serves as the co-founder of the dancing academy known as the Dance with Purpose Academy. He is famous for his choreography in popular music videos for leading musicians in Ghana and Nigeria.
DJ Vyrusky [Disc Jockey]: known privately as Kofi Amoako, DJ Vyrusky is an award-winning disc jockey who serves as the DJ of Starr FM;s Starr Drive and was awarded the 2017 DJ of the Year at the Ghana DJ Awards.
DJ Vyrusky has also released a couple of singles featuring popular musicians such as Shatta Wale, Kuame Eugene, Kojo Cue, Kidi etc.
GuiltyBeatz [Music Producer]: known privately as Ronald Banfu, GuiltyBeatz is a DJ and record producer.
In 2019, he earned the enviable credit for three songs on Beyonce's album, The Lion King: The Gift. He became a household name when he released a hit single titled "Akwaaba" which features Mr Eazi, Pappy Kojo & Patapaa. This was after his debut single in 2016 which he released featuring Mr Eazi titled "Chance".
Kwadwo Sheldon [Social Media Influencer]: Kwadwo Sheldon is digital Video content creator, Marketer, and a Social Media Influencer.
He was the head of Digital media content at 'OMG digital' and oversaw the successful implementation of Various content Strategies that catapulted the company to the top.
Kwadwo Sheldon has over 300k+ social media followings with millions of reach and impressions
He has a background in Consumer Marketing and is the founder of 'House of Content', a creative ad agency that creates digital media content for brands.
He has worked with some of the top brands in the country and was recently voted 'Content Creator of the year'
He is an ardent follower of Manchester United.
Kwaku Bediako [Fashion Designer]: Kwaku is the founder & Chief Creative Director of Chocolate Clothes Ghana.
He started the clothing company in 2013 which is inspired by the rich African values and culture. In 2014, he dressed the Black Starts for the 2014 World Cup and has been featured on CNN, BBC and Vogue Magazine. In 2019, he also dressed dozens of celebrities who visited Ghana including the founder of Twitter Jack Dorsey, Musician Cardi B, and Comedian Steve Harvey
MEDIA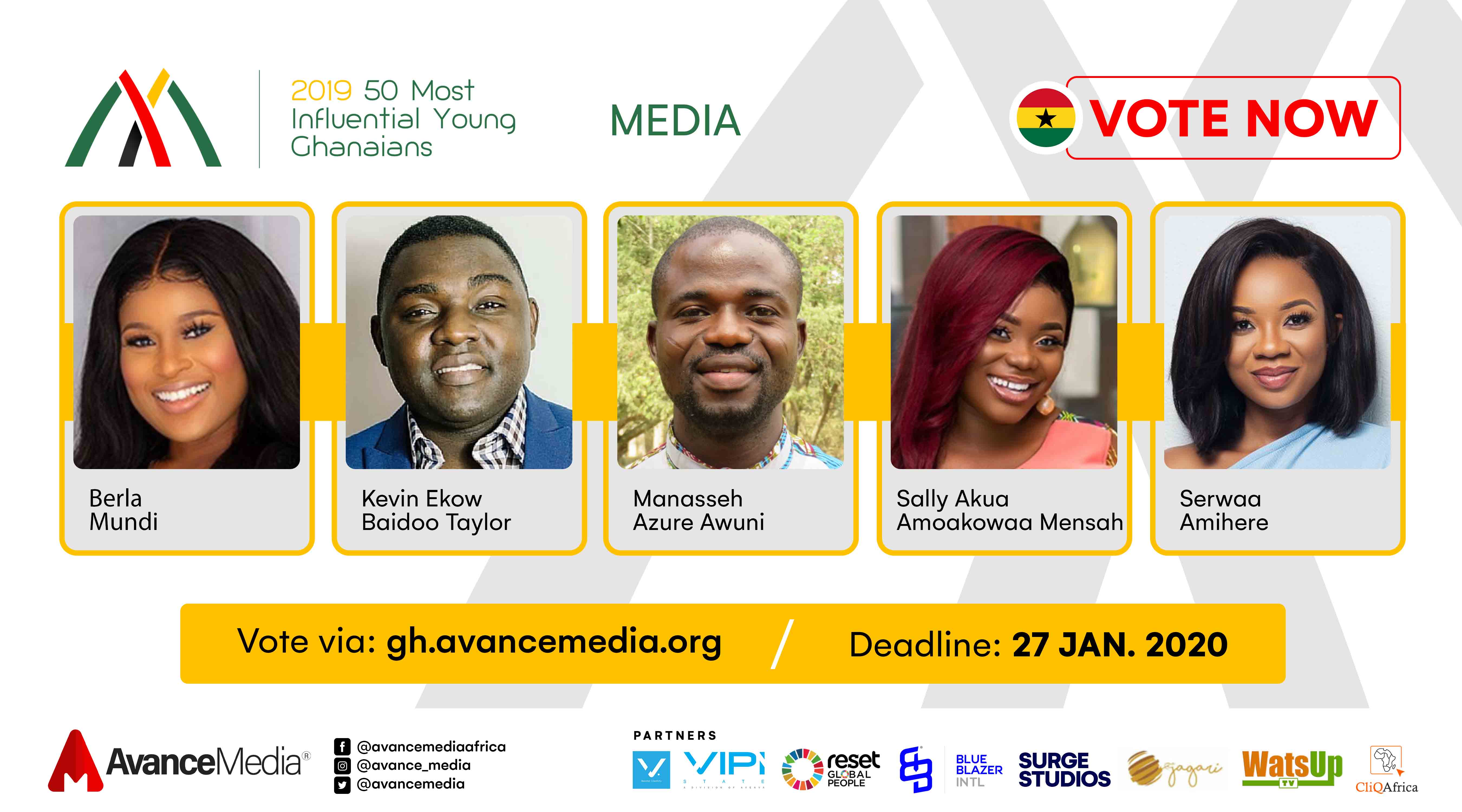 Berla Mundi [On Air Personality, Media General]: Berla Mundi is a multiple award-winning Broadcast Journalist who is described as one of the leading media women in Ghana. He currently works with media general where she co-hosts the morning show on TV3 and the drive time show on 3FM.
She previously worked with GhOne TV, Live FM and Starr FMM. She also positioned herself as a youth leader, developing interests in female empowerment, youth advocacy, and sustainable development projects across the continent.
Kevin Ekow Baidoo Taylor [Social Commentator, Loud Silence Media]: Kevin Taylor is a broadcast journalist in Ghana with extensive experience in radio and television broadcasting. In 2012, he founded Loud Silence Media in Accra. Loud Silence is a production house specialising in human interest stories for local and international viewing.
He is widely known to use his social media channel through investigative journalism to expose corruption in government.
Manasseh Azure Awuni [Freelance Journalist]: Manasseh Azure Awuni, is a freelance journalist and author who previously worked with the Multimedia Group.
He is known for his controversial investigative and anti-corruption reports that have caused a national uproar and also land some government officials in prison.
In 2019, Manasseh and Joy FM aired a documentary titled "Militia in the heart of the nation" which detailed how a private and unlicensed security group affiliated to the governing NPP operated from the seat of government annexe, the Osu Castle.
Sally Akua Amoakowaa Mensah [On Air Personality, Angel TV]: Sally is a former beauty queen, entrepreneur and TV presenter who serves as the general manager of Angel TV, and hosts the talk show, The Purple Room. She is the CEO of Jay & Jay Co. Limited and the founder of Street Aid Ghana. In 2018 her company Jay & Jay Co. Limited launched Miss Golden Stool, a beauty contest which aims to celebrate the rich culture of the Ashanti Region.
She first garnered national attention in 2011 when she was crowned Ghana's Most Beautiful in the sixth season of the TV3 beauty pageant.
Serwaa Amihere [On Air Personality, GhOne TV]: Serwaa Amihere is a broadcast journalist and news presenter who works with GHOne TV. She also hosts Cheers, a weekend sports show telecast on GHOne TV. She started as the producer of the award-winning current affairs show, State of Affairs hosted by Nana Aba Anamoah.
She hosts the channel's morning Show Host, GHToday and serves as Brand Ambassador for Amor Emergency Contraceptives.
She went to Yaa Asantewaa Secondary School and studied banking and finance at the Methodist University College, Ghana.
She was voted 2018 Most Influential Young Ghanaian in Media.
PERSONAL DEVELOPMENT & ACADEMIA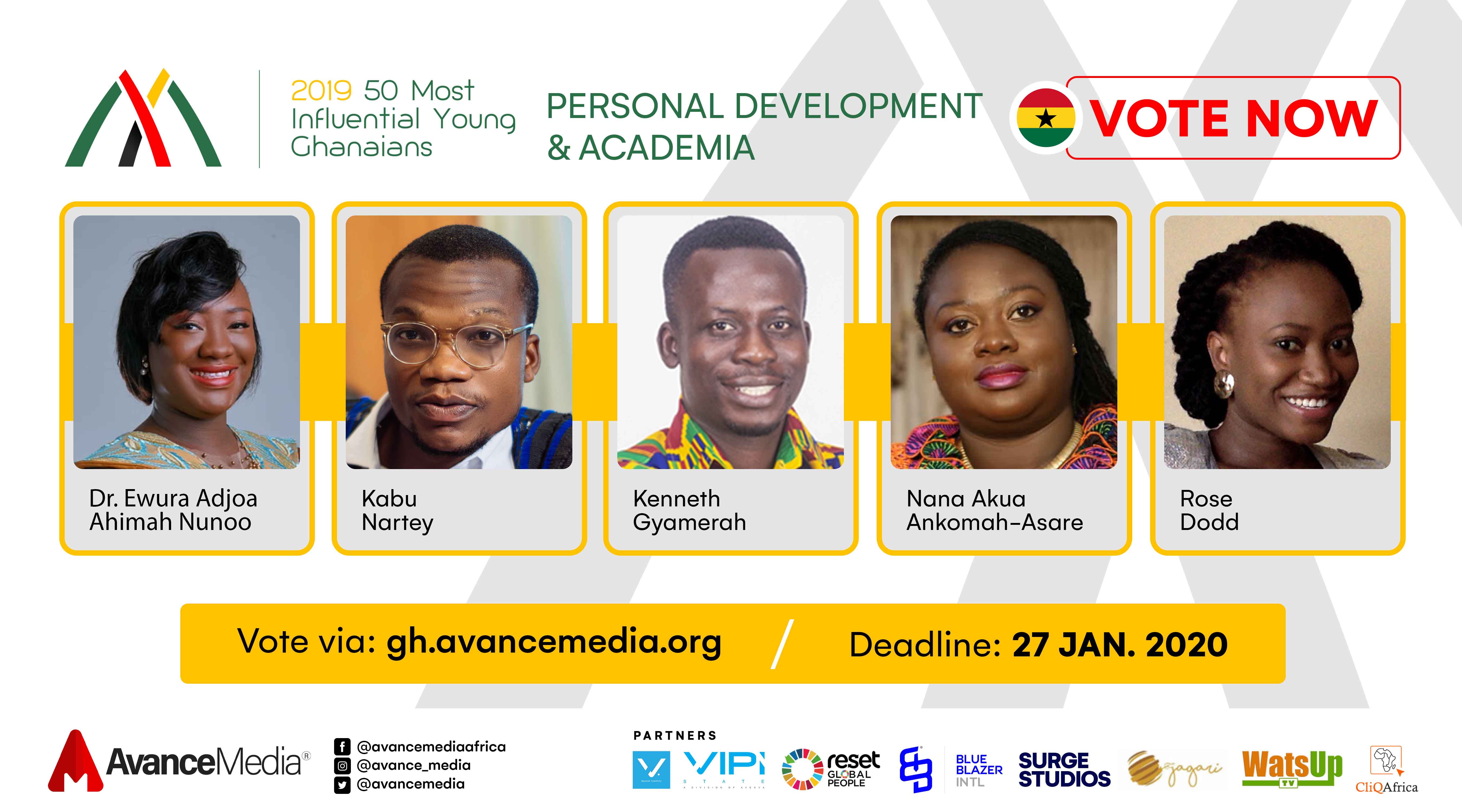 Ewura Adjoa Ahimah Nunoo (Dr) [Medical Doctor, Swan Clinic]: Dr Ewura Adjoa Nunoo is an award-winning doctor and health advocate who currently works as a senior medical officer in charge at Swan Clinic, Adenta.
She actively goes on radio and television to discuss public health issues. Since October 2017 till date, she has been doing a free breast cancer screening for both men and women and has screened about 600 women and 50 men so far. She also uses her Facebook, Twitter and Instagram accounts to educate the general public on current health issues. She is a role model and a mentor to a lot of young women in Ghana at the moment and where health advocacy is concerned, her name is mostly mentioned. She is an inspiration to her colleagues and has motivated most of them to follow her footsteps. She's a true leader by example.
Kabu Nartey [Student, Ghana Institute of Journalism]: Kabu Nartey is a multiple award-winning student and journalist who was awarded the Student Journalist of the Year at the 2019 Ghana Journalists Awards.
As a Kufuor Scholar fellow, Kabu has demonstrated exceptional leadership skills as a former secretary of the National Union of Ghana Students in 2018.
As a student, he has led his school, Ghana Institute of Journalism, to win many awards in the area of debate and public speaking and was adjudged the Best Public Speaker at the Ghana University Debate Championship held in Cape Coast in 2016.
Kenneth Gyamerah [Education Advocate]: Kenneth Gyamerah is an award-winning advocate for Quality Education with over 7 years of work experience in the education sector. He is a Chevening Scholar, Royal Commonwealth Society Associate Fellow, Global Youth Ambassador, Member of UNCTAD Young Leader and YALI RLC fellow. Since 2016, he has used his expertise and capacity as Representative of the Queen's Commonwealth Essay Competition to promote Literacy initiatives which have empowered over 3,000 students in Ghana.
He has also been involved in international consultancy works specifically in youth development, education and resourcing of youth actors in the Global south. His extensive works in education have been featured on international platforms such as Global Partnership for Education (GPE), Thomson Reuters, TheirWorld, Times Education Supplement Magazine in the UK and The Commonwealth Voices. He has represented Ghana in High-level forums such as the UNCTAD Youth Forum in Geneva, OECD Forum in Paris, ECOSOC Youth Forum, New York and the G20 Global Solutions Summit in Berlin. In 2018, I was featured in the 50 Most Influential Young Ghanaians list. He is currently working as an external youth consultant for CIVICUS World Alliance for Citizens Participation on their Youth Action Lab.
Nana Akua Ankomah-Asare [Managing Director, Primetime Ltd]: Nana Akua A. Ankomah-Asare is a communications expert with 11 years of experience in planning and executing communication campaigns, television programmes and events. She has spent seven (7) of those years as Lead Consultant for the National Science & Maths Quiz (NSMQ), in charge of the programme's successful production from inception to finish. The National Science & Maths Quiz is a competition targeted at Senior High Schools in Ghana and aimed at promoting the study and application of Science and Mathematics at the Senior High School Level, as well as inculcating in students the desire to study and pursue courses in the Sciences and Mathematics while creating a healthy academic rivalry among the Senior High Schools.
She is currently the Managing Director of Primetime Limited, a Communications Agency with expertise in Publishing, Planning and Implementing Advertising Campaigns, Direct Community Contact, Public Education Campaigns, Event Management, Public Relations and Multimedia Productions, with the National Science & Maths Quiz and Science Festival as its flagship production. Primetime is a wholly-owned Ghanaian Agency incorporated in June 1992, and a proud winner of numerous national and international awards.
Rose Dodd [Lecturer, Ashesi University]: Rose is a lecturer at Ashesi University in the faculty of Business Administration where she teaches Foundations of Design & Entrepreneurship I, Leadership for Engineering.
As an old student of Ashesi, Rose bagged as an MBA from the University of Illinois and serves as a part-time business model consultant for entrepreneurs and start-ups. She recently created a social enterprise, Kaya Childcare, which is an early childhood development and education centre for infants and children of underprivileged single-mother street porters in Ghana.
SCIENCE & TECHNOLOGY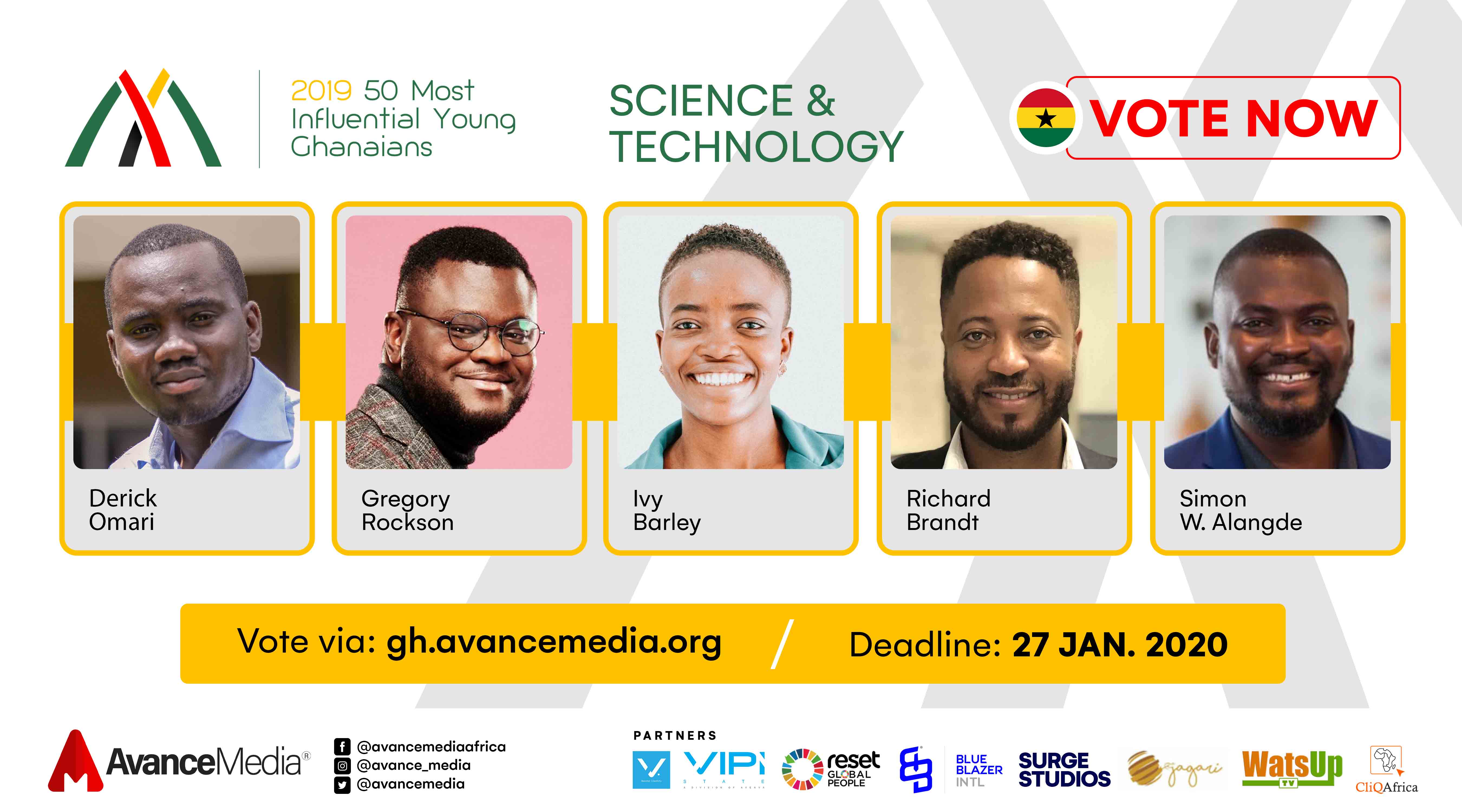 Derick Omari [CEO, Tech Era Ghana]: Derrick is a Passion driven change-maker in the social enterprise field with a demonstrated history of working in the education technology and non-profit management.
He is the CEO of Tech Era Ghana, a social enterprise that facilitates and provides practical, relevant and inclusive tech education and supporting technologies in Africa to schools, institutions and corporate bodies.
His work caught the attention of Her Royal Majesty, Queen Elizabeth II and received the prestigious Queens Young Leaders Award in 2018 at the Buckingham Palace. His work also drew admirable attention from the President of Ghana and Ashesi University which earned him the Ashesi University Presidential Award from His Excellency, President Nana AkuffoAddo and Dr Patrick Awuah, President of Ashesi University.
Gregory Rockson [CEO, mPharma]: Gregory Rockson is the Co-founder and CEO of mPharma, a drug benefits manager in Africa. He holds a Bachelor's Degree in Political Science from Westminster College.
He was a Public Policy and International Affairs Fellow (PPIA) from Princeton University and a Rotary Scholar at the University of Copenhagen. mPharma works with drug manufacturers, service providers and third-party payers to develop products and services that improve the access and affordability of high-quality drugs for patients across the continent.
Ivy Barley [CEO, Developers in Vogue]: Ivy Barley is a social entrepreneur and co-founder of Developers in Vogue, an organization that provides training, mentorship and job placement for African women in tech.
Developers in Vogue aims at creating a relevant community of amazing African Women in tech who are passionate about using technology to revolutionize Africa and beyond. Ivy was one of the 30 women featured in the Women in Tech book by the German Federal Ministry of Economic Cooperation and Development.
Ivy holds a Master's Degree in Mathematical Statistics.
Richard Brandt [CEO, Codetrain]: Richard Brandt is the founder and CEO of Codetrain. Codetrain empowers young Africans to rise digitally by transforming them into professional software developers and matches them to job opportunities so that they can realise their dreams.
Codetrain has two locations in Ghana, Accra and Kumasi where students get in-person training in mobile and web app development in the training program. With students flying in from several African countries to join their Ghanaian counterparts to become software developers, Codetrain is set to be a Pan-African leader in tech skills training and recruitment.
Richard was selected among the 100 best innovators in the world to join 'Startup Chile", one of the biggest startup accelerators globally. While in Chile, he presented guest lectures at local universities such as the Universidad de Mayor.
Upon his return to Ghana, he decided to contribute to Ghana's national development with digital skills and entrepreneurship training, mentoring and coding bootcamps in universities and high schools across Ghana, impacting over 20,000 youth.
Simon W. Alangde [CEO, Wineloya Digital]: Simon W. Alangde is a Digital Skills Education & Policy Consultant and an experienced Social Network & Digital Media Strategist.
As the CEO of Wineloya Digital, he led his team to become Google's Partner in Ghana for the Digital skills program. Since 2016, his team has trained 100 thousand youth in Ghana (18-35 years old) and still counting.
In partnership with Africa118, he is providing FREE websites for 1000 companies in Ghana, this initiative is sponsored by The Norwegian Agency for Development Cooperation.
Anything digital gets this young man excited but he looks nothing like a geek. He's got a soft spot for the arts. So don't be surprised to meet his smiling self at a fashion or a music show. For instance, He is the Executive Director of BBT Music Label whose frontliner is SOOREBIA, one of the Ghanaian Northern based celebrated Rappers.
SOCIAL ENTREPRISE & PHILANTHROPY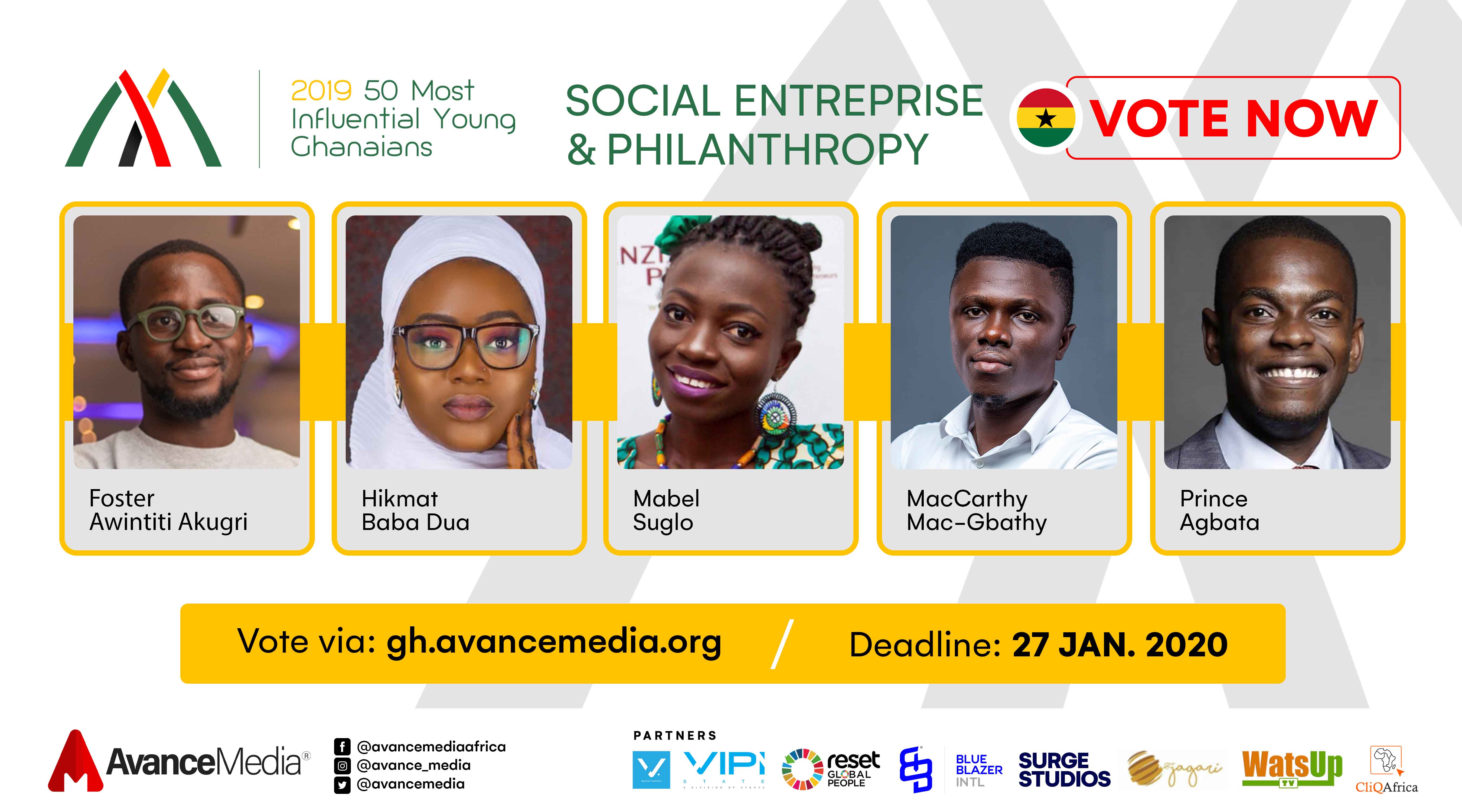 Foster Awintiti Akugri [President, Hacklab Foundation]: Foster Awintiti Akugri is the Founder & President of the Hacklab Foundation. He is currently the Incubator Manager for the Stanbic Bank Incubator Ghana (SBIncubator Ghana), an initiative of Stanbic Bank Ghana Limited, a member of the Standard Bank Group.
He was the youngest participant at the World Economic Forum's 48th Annual Meeting, Davos, Switzerland in 2018. He was listed among 30 under 30 Future of Ghana Pioneers Class of 2019.
He is a public speaker focusing on leadership, technology, entrepreneurship, smart industries, ecosystem development, digital transformation, education, youth engagement models and Concept of the African Dream. He has been on platforms such as TEDxKNUST, National Volunteers Forum, International Mentorship & Volunteerism Summit.
Hikmat Baba Dua [CEO, League of Young Female Leaders]: Ms. Hikmat Baba Dua is the Founding Executive Director of the League of Young Female Leaders. She founded her organization in 2013 to empower and advance the status of girls and young women through its core modules; mentorship, advocacy, and literacy development. Her organization provides a platform to discover and nurture the next generation of female leaders in diverse fields through its mentorship module and this has opened doors of opportunity to some of its members such as; the Young Women in Leadership Program, the Pan African Youth Leadership Program, the Girl20 summit, the John Agyekum Kuffour Foundation scholars program among others.
Over 200 girls have benefited from the mentoring program which provides a unique peer and inter-generational mentorship for its fellows. The literacy development module of the organization offer members a safe space in which to explore their reading, writing, speaking and listening lives with guided mentorship. They also are well equipped with appropriate education and healthy lifestyles. These safe spaces are girls' clubs that cultivate strong, self-confident, hopeful community. The organization currently has grown from leading 1 club in 2014 to 10 clubs in 2019 with a total of 200 girls.
For her immense contribution in leading change as a young leader, Ms. Baba Dua has been recognized and awarded severally. She is a 2019 recipient of the Millennium Excellence Foundation (MEF) President's Outstanding Youth Prize in Community Social Service and a MEF Laureate. She is also a 2019 Honouree of the Future of Ghana 30 under 30 Top Pioneers. In 2016, she was named among the International Literacy Association 30 Under 30 which recognizes young, innovative leaders who are powerful advocates of literacy worldwide. She was recognized as the 2015 Advocate of the Year by the Africa Youth Awards and was also named among Junior Chamber International (JCI) Ghana Ten Outstanding Young Persons in Ghana 2015 receiving the award for Personal Accomplishment and Achievement. She is also named among the 2015 cohort of Women Deliver 200 Young Leaders under the age of 30 who are working to build a world where the health and wellbeing of girls and women is a priority.
Mabel Suglo [CEO, Dignified Wear]: Mabel Suglo is a social entrepreneur, and founder of Dignified Wear, a social enterprise that trains and employs disables and rural women to manufacture local fabrics and beads related products.
As a past winner of the Anizha Prize, she is passionate about connecting communities with resources to affect change and create opportunities for people with disabilities and rural women from deprived communities in Ghana in taking ownership of their lives.
MacCarthy Mac-Gbathy [CEO, Hopin Academy]: MacCarthy is the Co-Founder and director of HOPin Academy, an organisation which gives entrepreneurs and startups the relevant tools, platforms and resources to reach their goals. He runs Hopin Academy on daily bases as his full time engagement, He also the director of a young transport company (M&Mxpress).
He is a private consultant in business and project development mostly focused on entrepreneurship and Job creation interventions. He also serves on various executive councils, board member and advisor of initiatives with the agenda of job creation, skill development and entrepreneurship He is a trainer, facilitator and moderates' topics on entrepreneurship, Marketing, Branding, Visual storytelling and sustainable businesses.
Prince Agbata [CEO, Coliba]: Prince Kwame Agbata is the Co-founder and CEO of Coliba Ghana Limited, a leading Ghanaian Plastic Waste Recycling Company, Committed to The Environment overseeing operations, manufacturing, cooperate relations and partnerships to raising investments.
He co-developed and initiated the IDEA Africa Innovative Library project that puts libraries in each rural communities in Ghana through innovative cost model of $500 per library setup. 17 libraries have been built through this initiated he rolled out during his stay with IDEA Africa Ghana.
SPORTS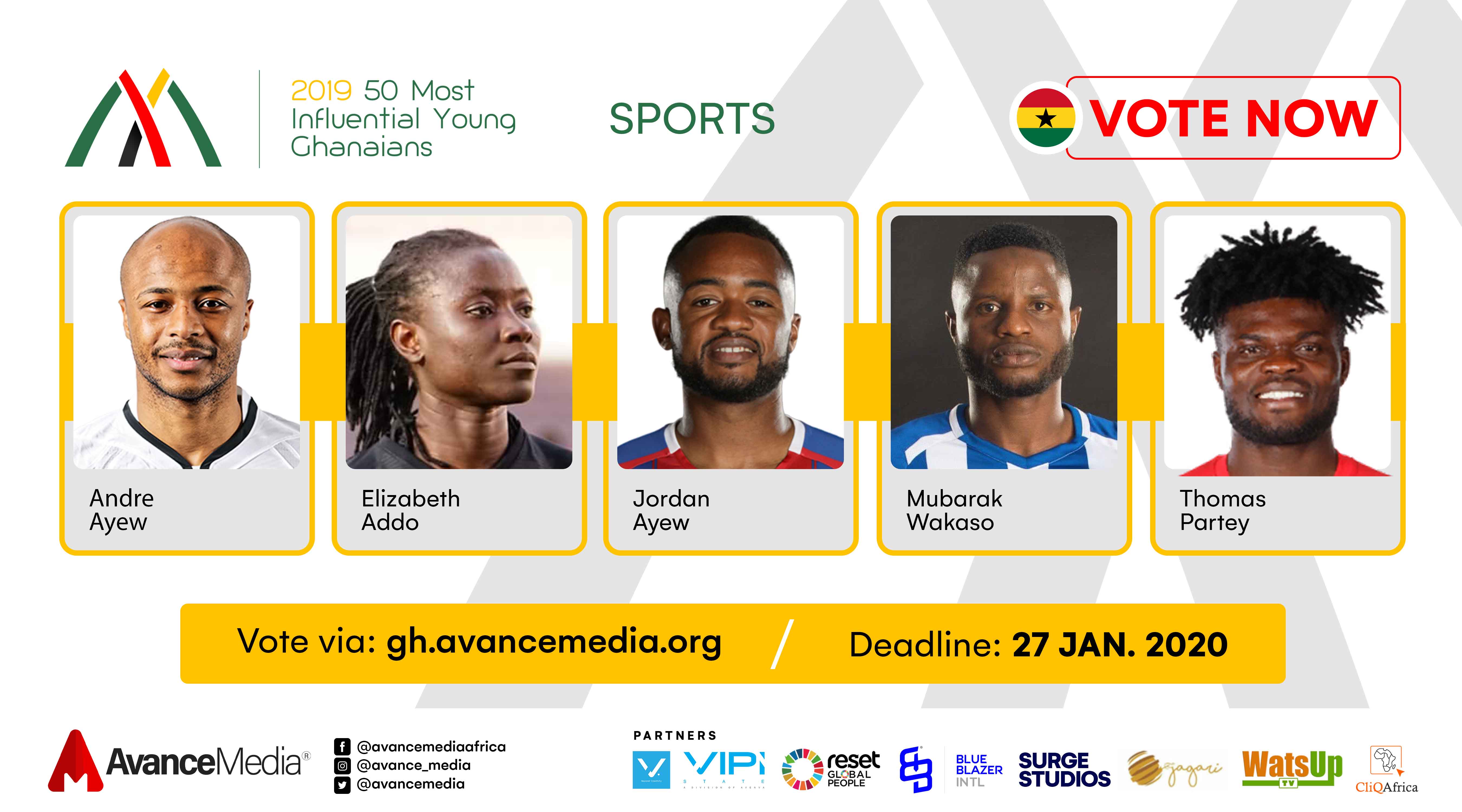 Andre Ayew [Footballer, Swansea City]: André Ayew also known as Dede Ayew in Ghana, is a professional footballer who plays as a winger for EPL club Swansea City and captains the Ghana national team.
Ayew began his career in Ghana, playing for Nania, while debuting for the club at age 14. In 2005, he signed with his father's former club, Marseille and has played for other top clubs including Fenerbahçe, Lorient, Arles-Avignon, and West Ham United
In 2011 Ayew was named the BBC African Footballer of the Year and Ghanaian Footballer of the Year.
Elizabeth Addo [Footballer, Jiangsu Suning]: Elizabeth Addo is a footballer who plays as a forward for Chinese club Jiangsu Suning in the Chinese Women's Super League and the Ghana women's national team.
At the age of 14, she starred with the under-14 national team at the 2007 FIFA U-14 Women's World Cup held in Switzerland and captained the team to finals and eventually the championship. She captained Ghana at 2008 FIFA U-17 Women's World Cup held in New Zealand and was the deputy captain for Ghana's U17 female team (Black Maidens) at the 2010 2010 FIFA U-17 Women's World Cup.
Jordan Ayew [Footballer, Crystal Palace]: Jordan Ayew is a professional footballer who plays as a forward for the EPL club, Crystal Palace and the Ghana national team.
Jordan Ayew was part of the 2015 Africa Cup of Nations team in Equatorial Guinea that took a silver medal as a result of losing out to Ivory Coast on a penalty shootout whom they clinch the African Cup, which occurred on 8 February 2015.
Jordan has been associated with various clubs such as Marseille, Lorient, Aston Villa, Swansea City and currently Crystal Palace.
Mubarak Wakaso [Footballer, Deportivo Alavés]: Mubarak Wakaso is a footballer who plays for Spanish club Deportivo Alavés and the Ghana national team as a midfielder.
He spent the better part of his career in Spain, starting at Elche in 2008 and going on to also represent Villarreal, Espanyol, Las Palmas, Granada and Alavés. He also competed professionally in Russia, Scotland and Greece.
Wakaso scored his first goal for Ghana in a friendly with Cape Verde on 14 November 2012.
Thomas Partey [Footballer, Atlético Madrid]: Thomas Teye Partey is a professional footballer who plays as a defensive midfielder for Spanish club Atlético Madrid and the Ghana national team.
He has had stints with other clubs such as Mallorca, Almería and Atletico Madrid B.
On 5 September 2017, Thomas scored his first international hat-trick in a 5–1 win against Congo in a 2018 World Cup Qualification match.